Bala Krishna Leela – Aadya Venkatesh
Aadya Venkatesh Class III Student of Chinmaya vidyalaya Anna Nagar takes great interest in her spiritual journey and loves giving talks in English and Tamil in various spiritual topics. She has won many prizes in reciting sloka, singing songs and Bhajans. Aadya won first prize in Mukunda Mala and special mention in Hari Ashtakam recently.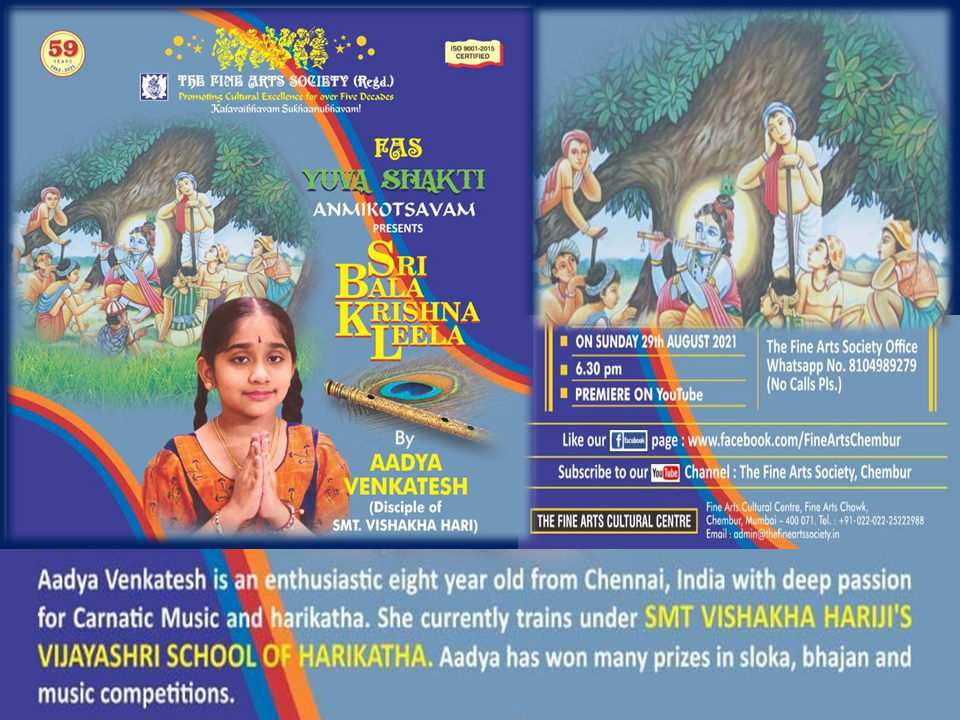 EQQ1 - The Quiz and the Quotient
B. Jai Adithya of Std 8, won a prize in the EQQ1, The Quiz and The Quotient (junior category). This was conducted by INDIA SCIENCE AND ENGAGE WITH SCIENCE. Children were asked to watch science films on India science TV Channel, answer questions on pre-selected films, review the film and take part in the quiz. Children from various prominent schools of the country took part in it.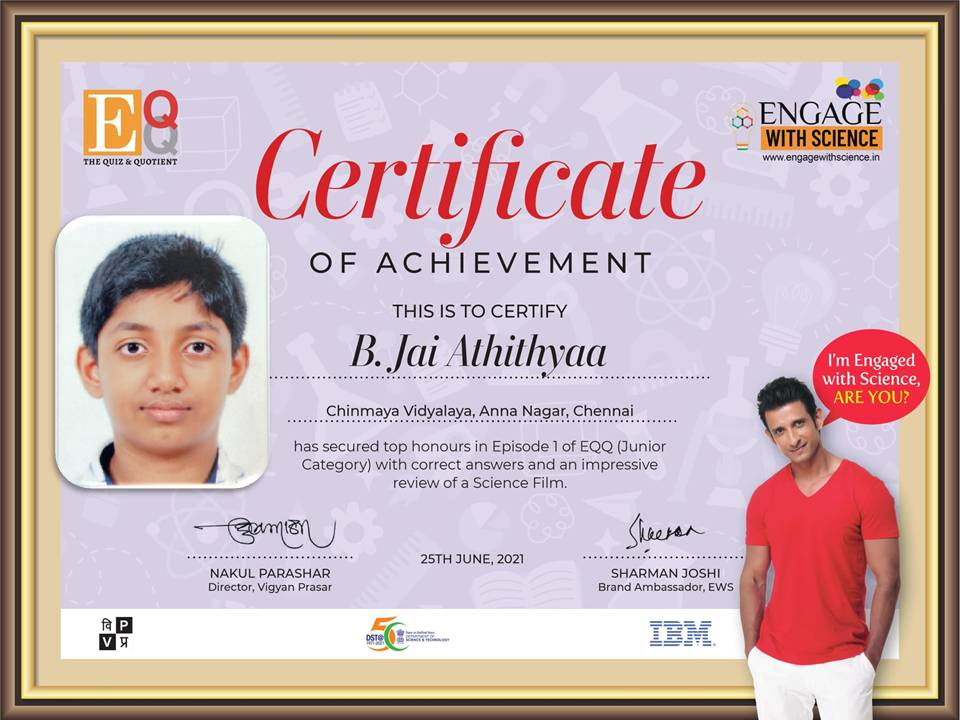 National Level Talent Carnival-2021
In the National Level Talent Carnival-2021 conducted by Shree Ojas Yogalaya, A.R.Hemasree of class IX D secured the 1st prize in the dance competition with her brilliant performance.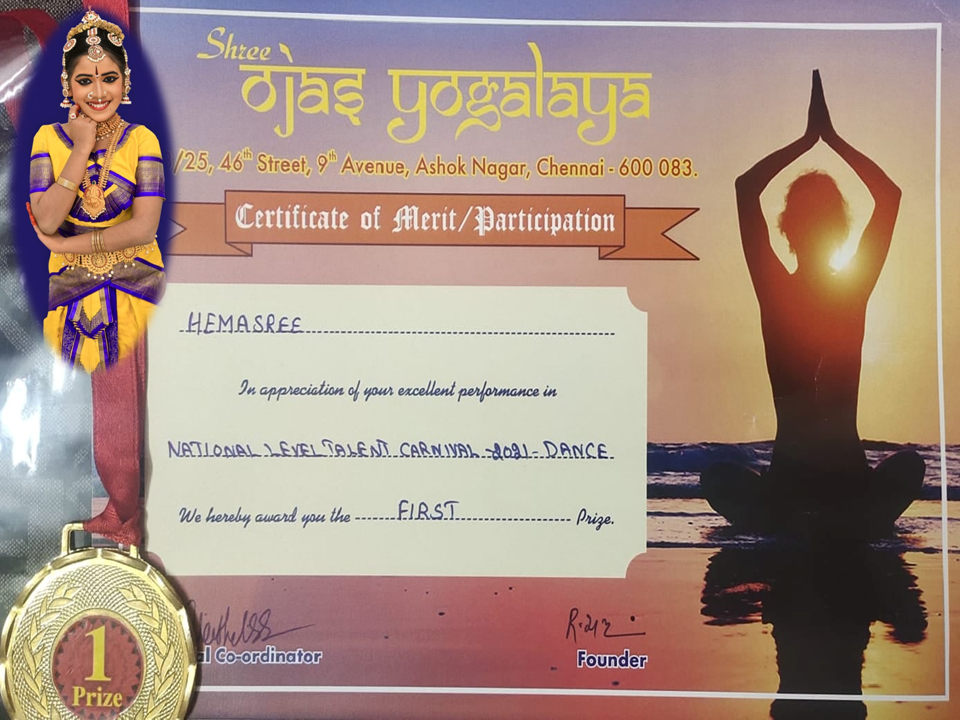 Online Dance competition – 2021
VIDYA'S ACADEMY OF FINE ARTS conducted an Online Dance competition on 20-7-2021 for kids between 9-12yrs. Keerthana R Menon from VI-D participated and won the First prize.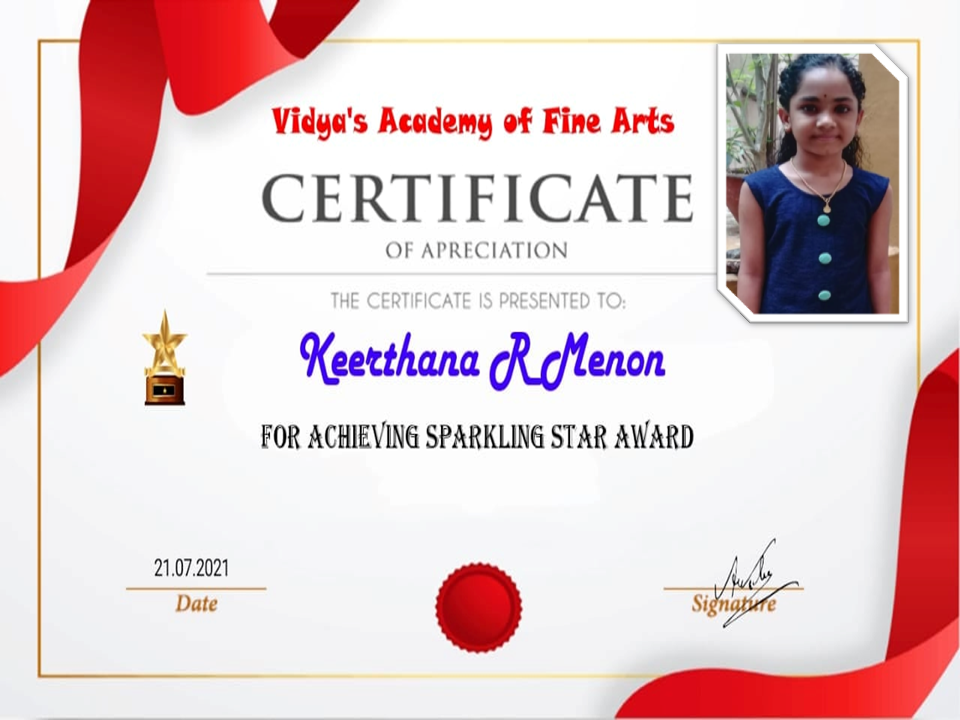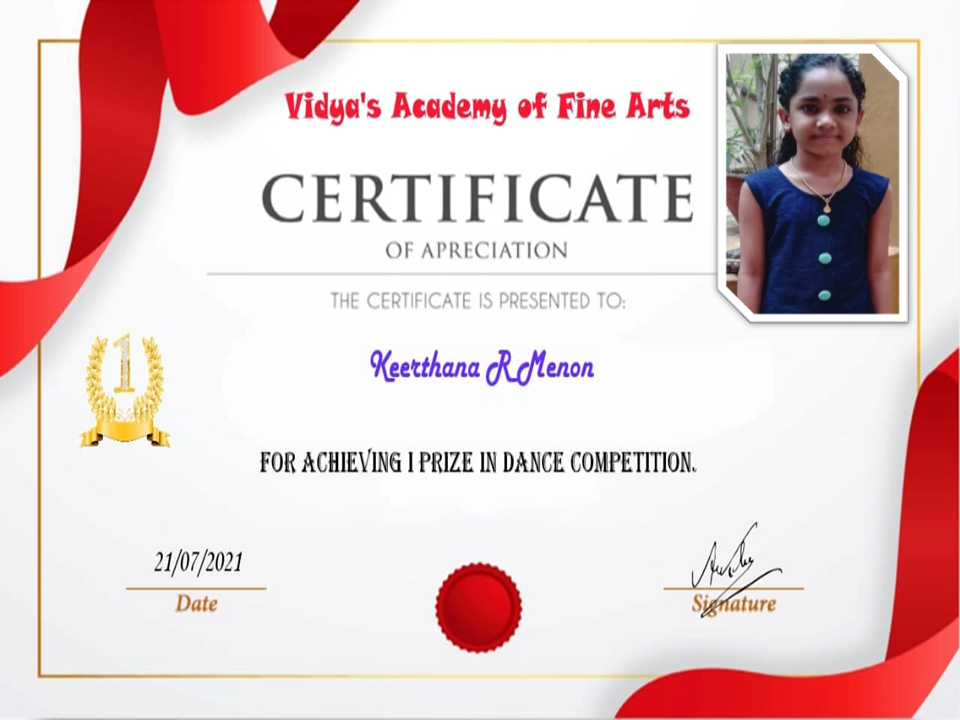 National level Speech competition on Yoga – 2021
Aero Events and Promotions conducted various competitions for kids on 4-7-21 to celebrate International Yoga day. Sashini Manikandan of II C participated in the Speech competition on Yoga at the National level under 7- 9 years category. She was one among the winners.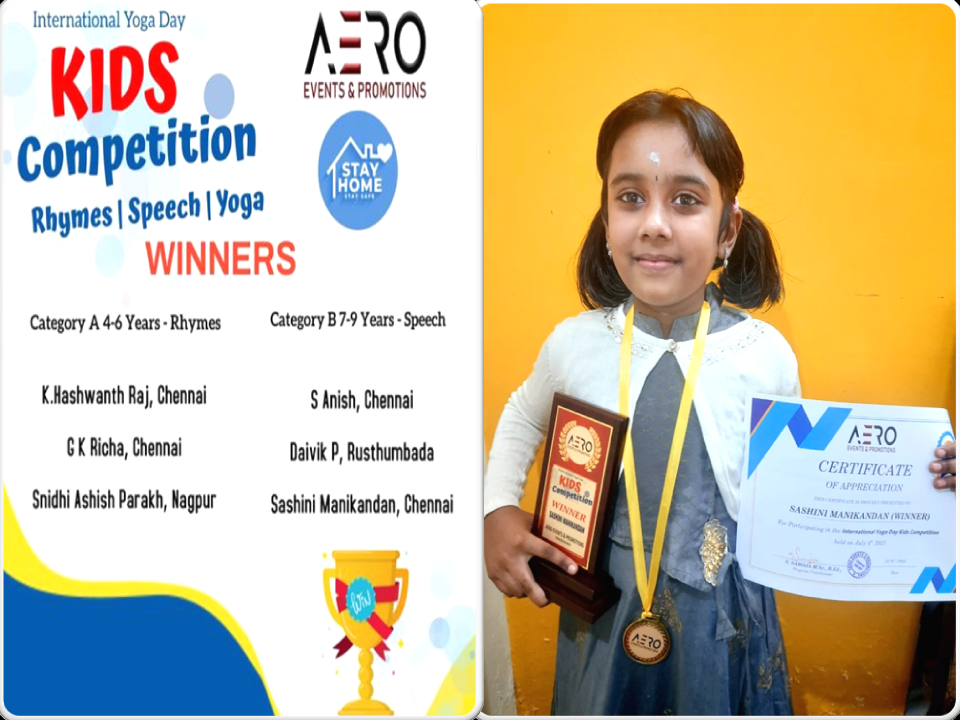 Panel discussion - An initiative of Govt. of India
We are proud to inform that our Principal, Mrs. V. Gowri Lakshmi, was invited to participate in a panel discussion titled, 'Are we doing enough for online education?' on 27.05.21. This event was a part of engage mentor dialogue series, organized by Engage with Science, an initiative of Govt. of India, to foster science education in an interesting and easy-to-learn manner. The eminent panelists invited for discussion were, Dr. Biswajith Saha, CBSE Director (Skill education and training) and Principals from schools of various parts of the country. Dr. Saha briefed about the various platforms made available by CBSE to make teaching-learning effective during the pandemic period.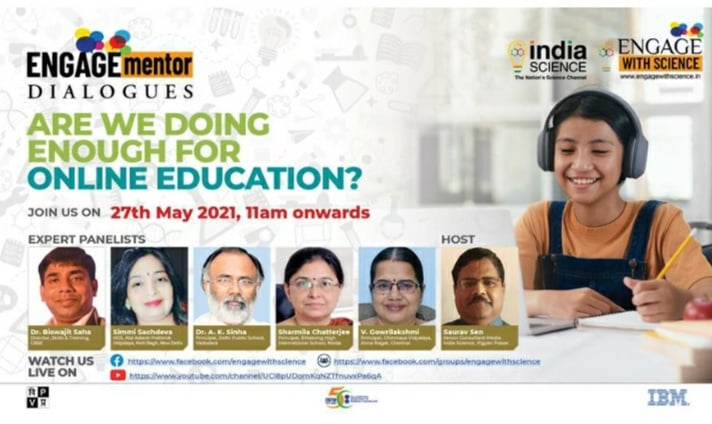 Ignite 2021
Igniting minds conducted 'Ignite 2021'-an online cultural in the first week of June in which Megha Kumaran of class 12 C participated and secured the first prize in Vocals and the third prize in Costume couture.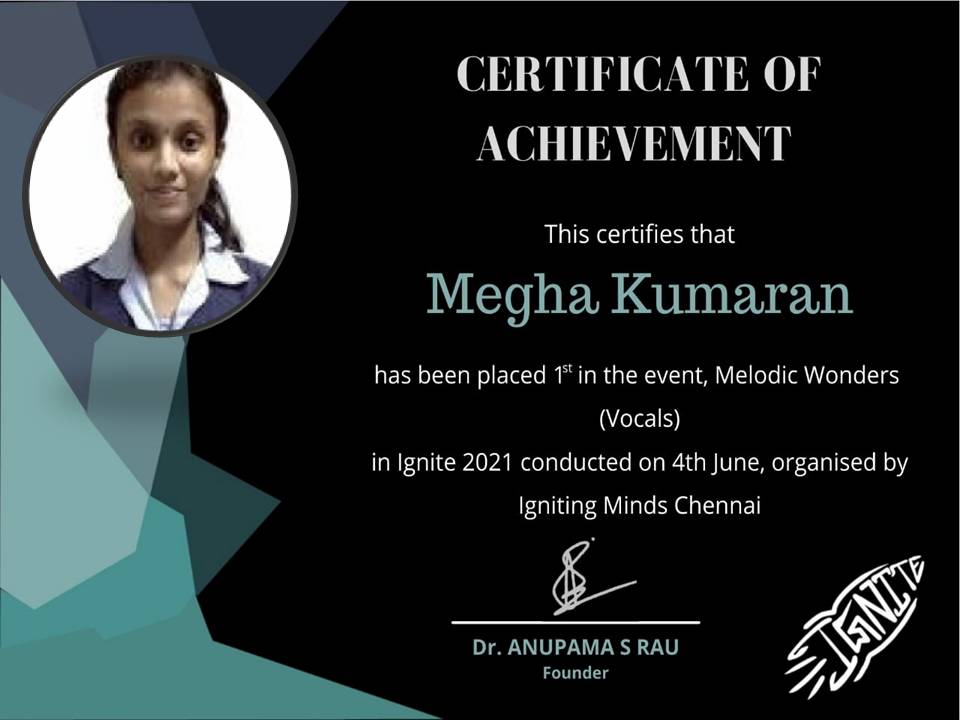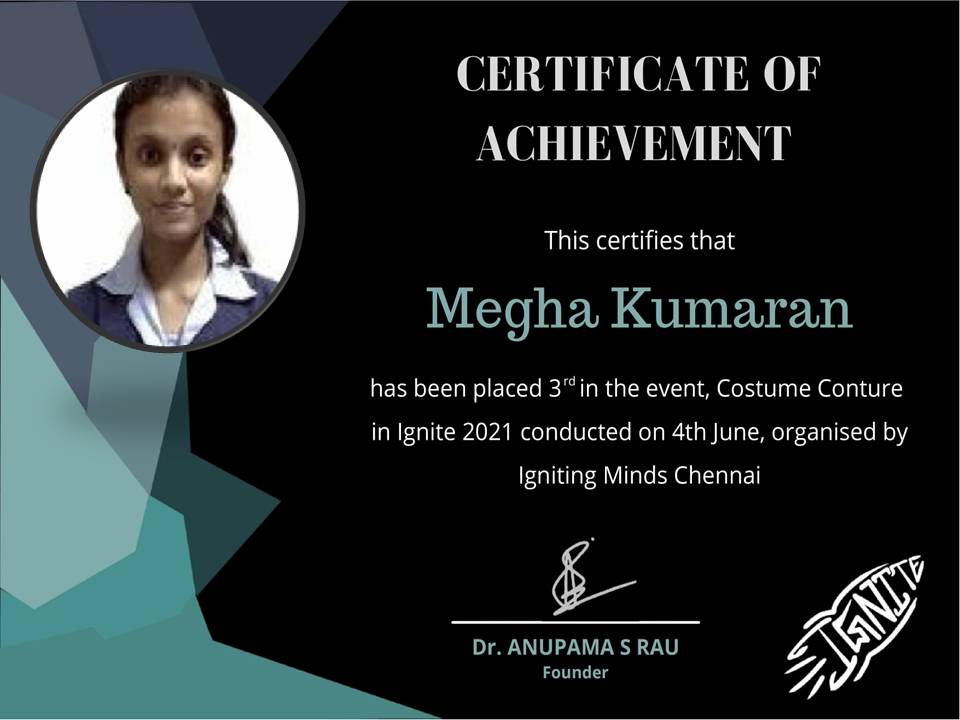 Years of Service Award
On 24th April 2021 (Saturday), the management honored the teachers and office staff who had retired, completed 25 years and 10 years service in Chinmaya Vidyalaya, at Chinmaya Taylors Road. Mrs. Lakshmi Prabha (Vice Principal), Mrs. Rajeswari Sivanandan (English) and Mrs. Jayasree.P (Science) along with office staff Mr. Govindan and Mr. Saravanan received their mementos from Swamiji for having served the institution relentlessly for 25 long years with utmost sincerity and dedication. Mrs. Pabitra (Yoga), Mr. Arumugasamy (PT), Mrs. Chitra. B (Chemistry), Mrs. Latha. G (Commerce), Mrs. Hemamalini. V (Hindi), Mrs. Roshni (English), Mrs. Bhanupriya (Tamil), Mrs. Radhika. B (English), Mrs. Jyothi Pramod (Social), Mrs. Seema Pradeep (KG), Mrs. Kousar Ganesan (KG) and office staff Mrs. Rajalakshmi and Mrs. Surya received mementos from Mr. O. V. Nambiar, our Zonal Director, for their committed service in the institution for 10 years. Mrs. Uma Badrinarayan (Math) who retired in 2020 received the memento from our Hony. Correspondent Shri R Surya kumar for her unstinted service to the institution.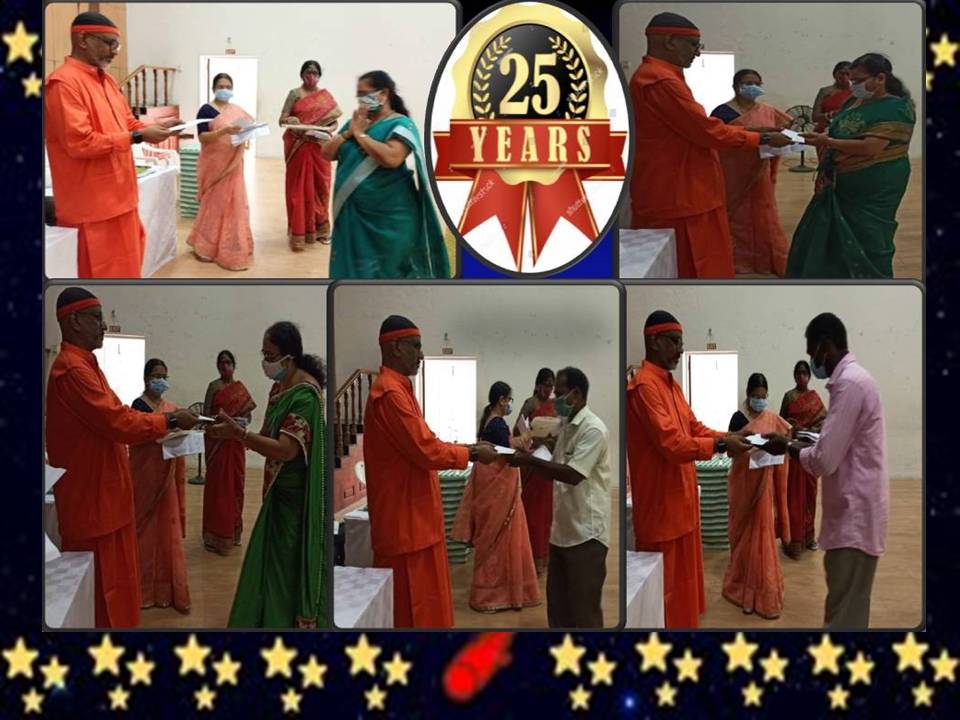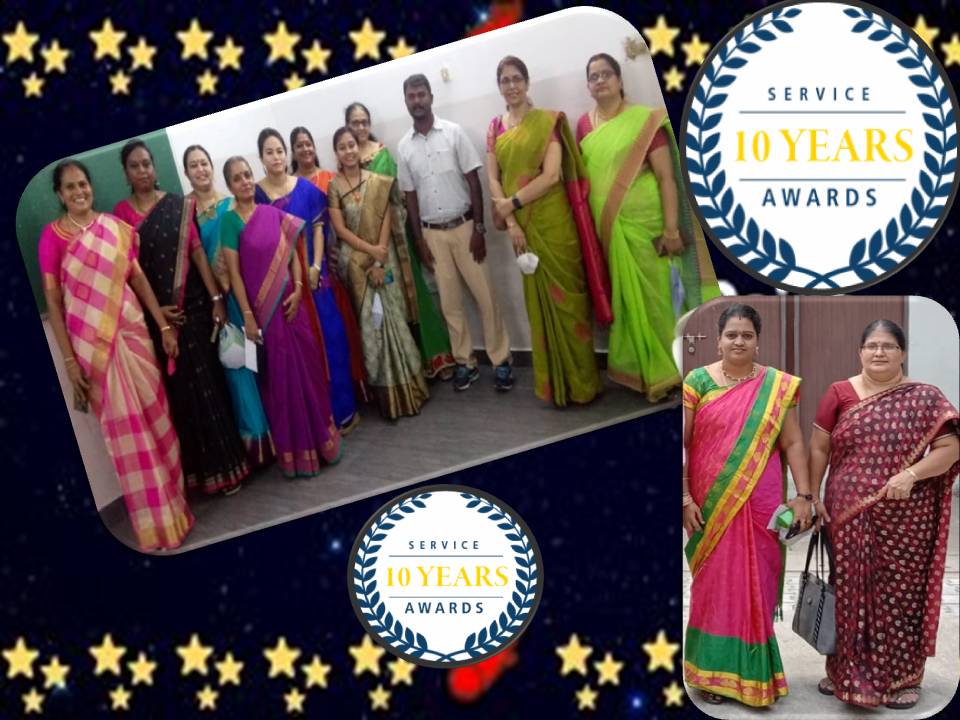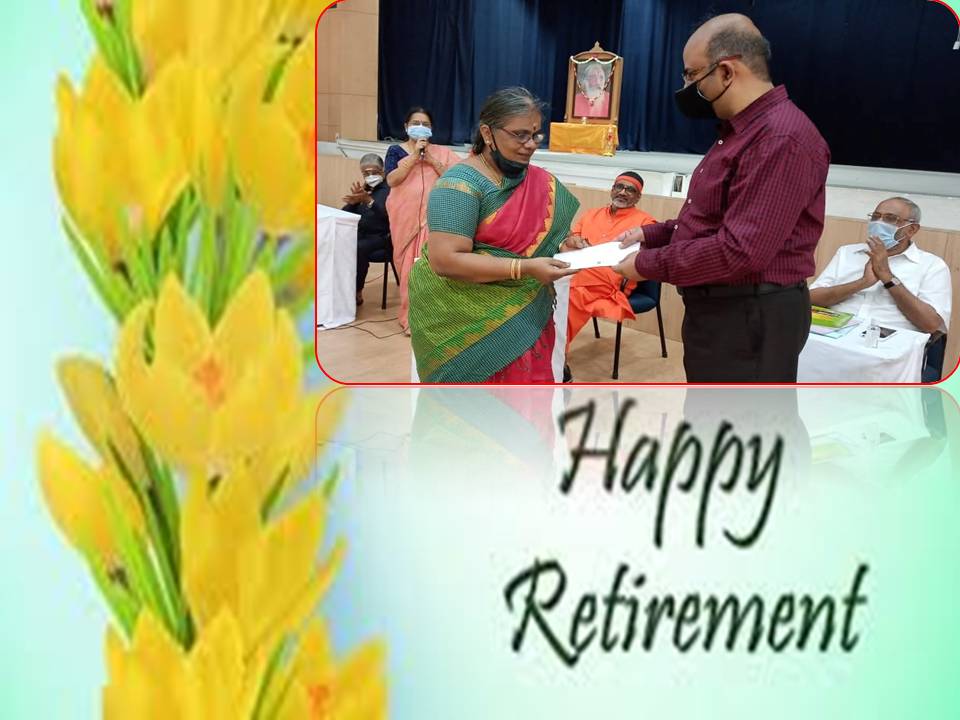 BEST TEACHER AWARD
Our school teacher, MRS. PRASANNA RAVI was proudly presented with the BEST TEACHER AWARD for the academic year 2020-21 on 20th March 2021 by The International Association of Lions Club and The Hindu Educational and Charitable Trust, Chennai. Congratulations and best wishes to her.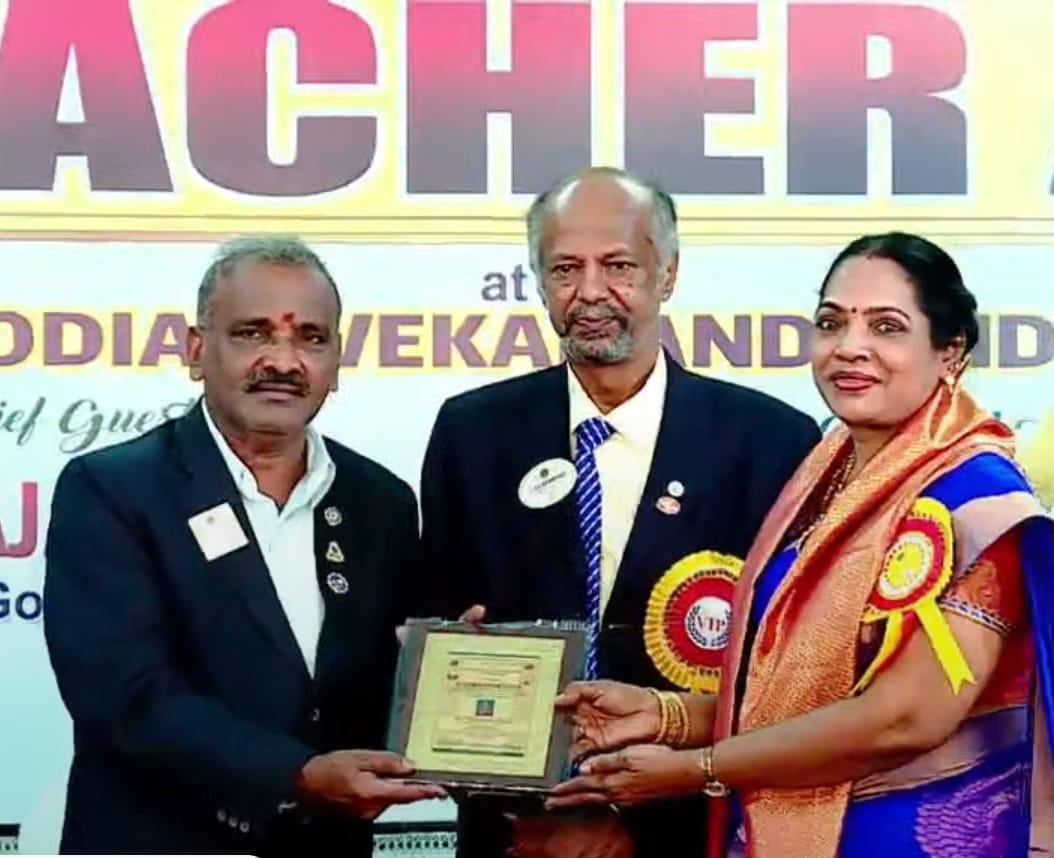 KALA UTSAV – State level classical dance competition
Samagraha Siksha- Department of School Education conducted a state level classical dance competition KALA UTSAV on 9th Dec 2020 in which Megha Kumaran of class 11C represented Chennai district and won the second place. She also received a cash award of 3000.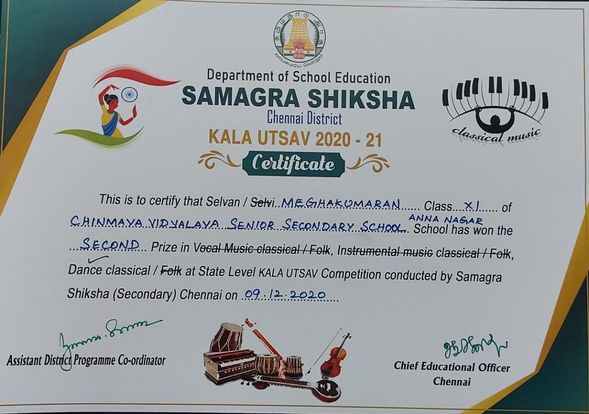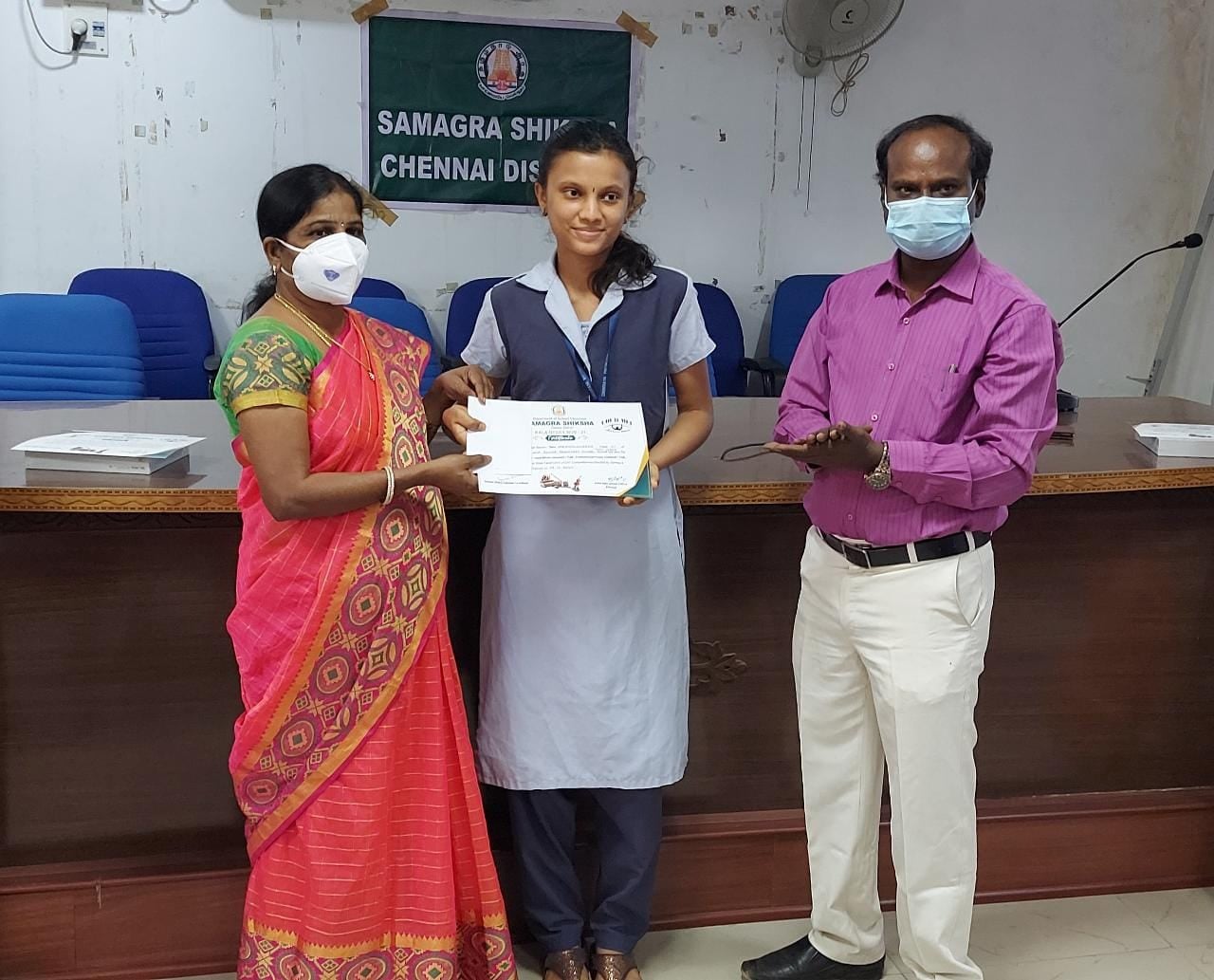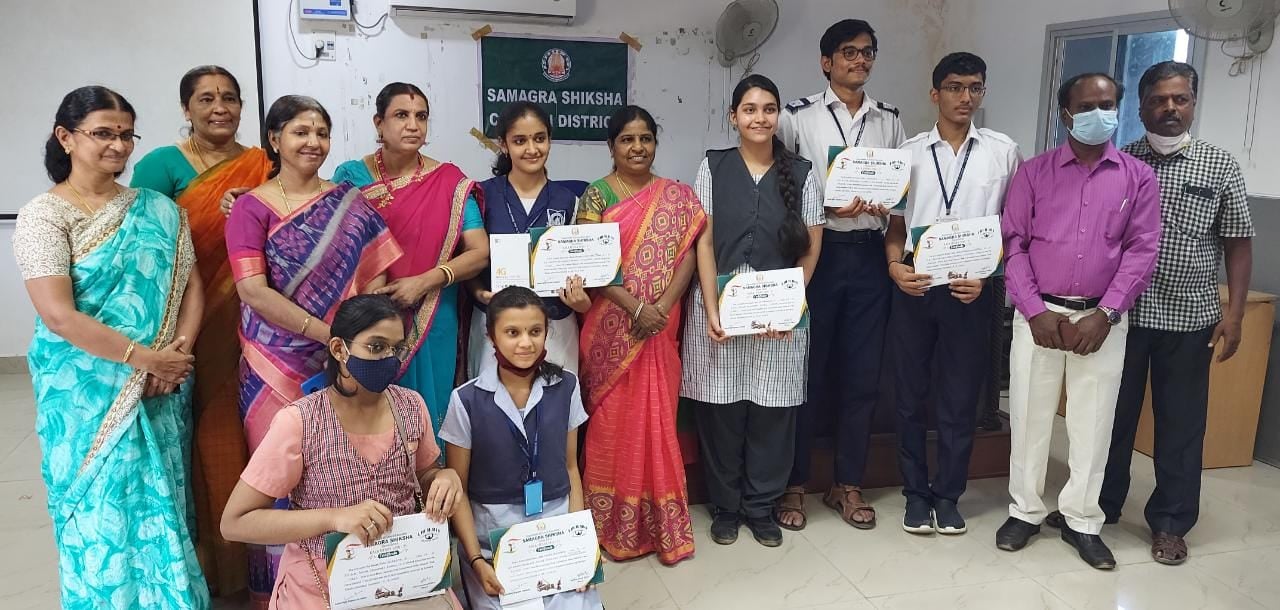 Art Integration and Drawing competition
In the Art Integration and Drawing competition 2020-2021 Organised by Kola Perumal Chetty Vaishnav Sr Sec School for students from West cluster Sahodaya School complex. In the same Competition Sahana Kannan of Std VIII secured the second prize. She had made her art form using the Sharada script.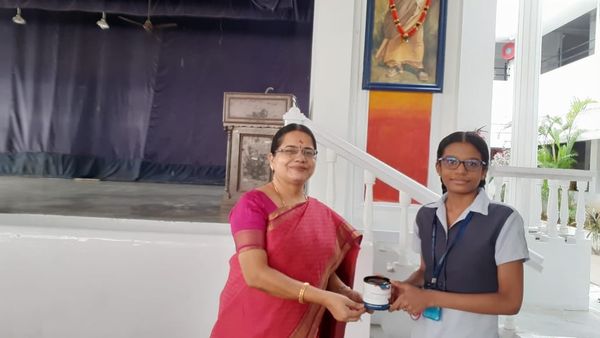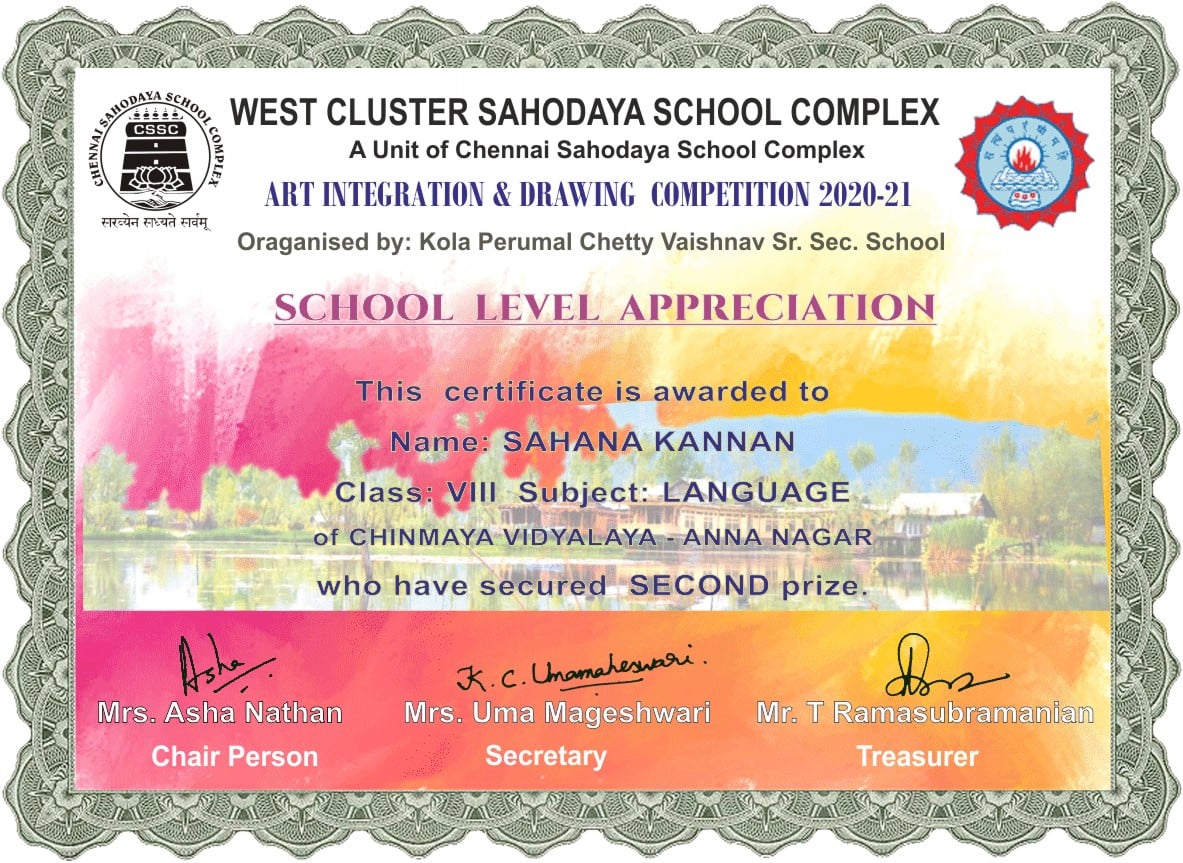 Chinmayam Alapa – Online competiton
This year CV Avadi organised an online PPT making competition called Chinmayam Alapa. Our School students Prajan Elango and D. V. Yuvan Chandar of Std IX got an opportunity to take part in this competition which took place on 12th February 2021. They presented the PPT on the topic "Rasayana - Chemical Science" and won the "Best Speaker" award.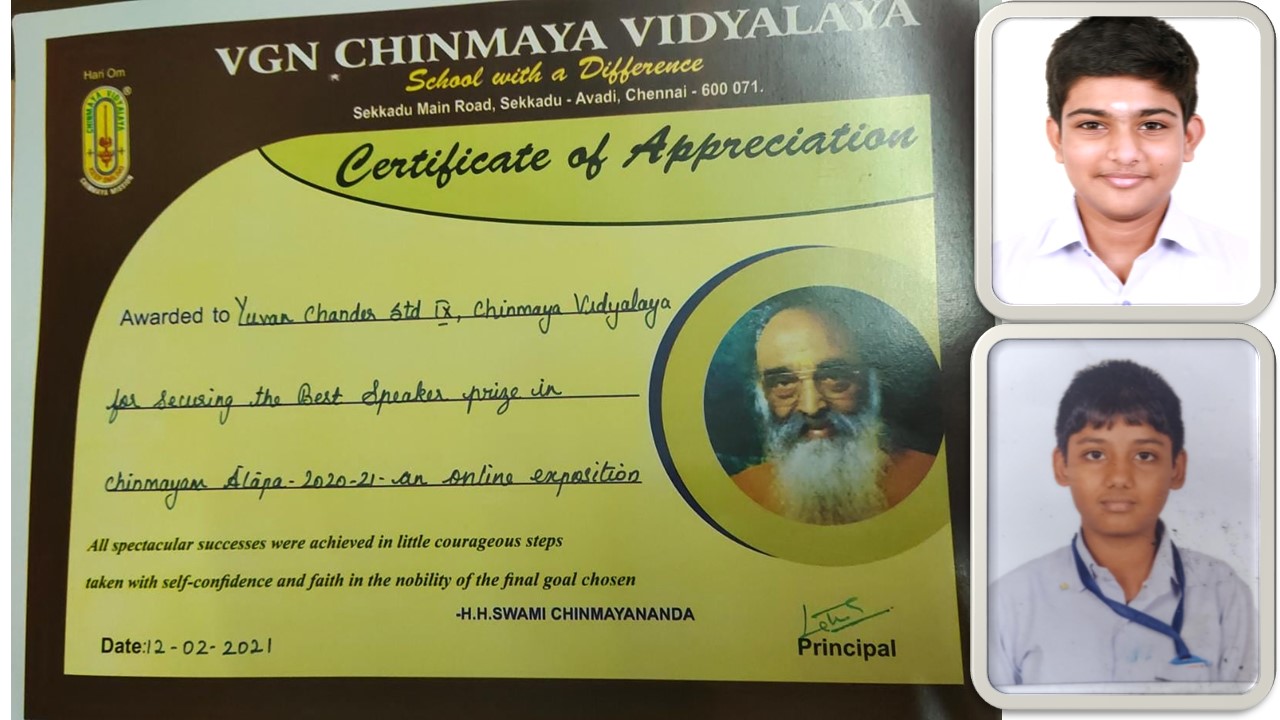 KALA VEDHI-2020 (Stage of Arts)
"SANGRAHA CULTURAL TRUST" conducted a Bharatanatyam Competition "KALA VEDHI-2020 (Stage of Arts) In association with "Bharat Kalachar" on 20th Feb 2021 at YGP Auditorium, chennai. About 40 plus students participated in Junior Category "SOLO PERFORMANCE". Saankhya Venkateshwaran, class 9 student of Chinmaya Vidyalaya, annanagar who is learning Bharatanatyam under Guru Shri Madurai R Muralidharan and Guru Smt Chithra Muralidharan won the first prize in the event.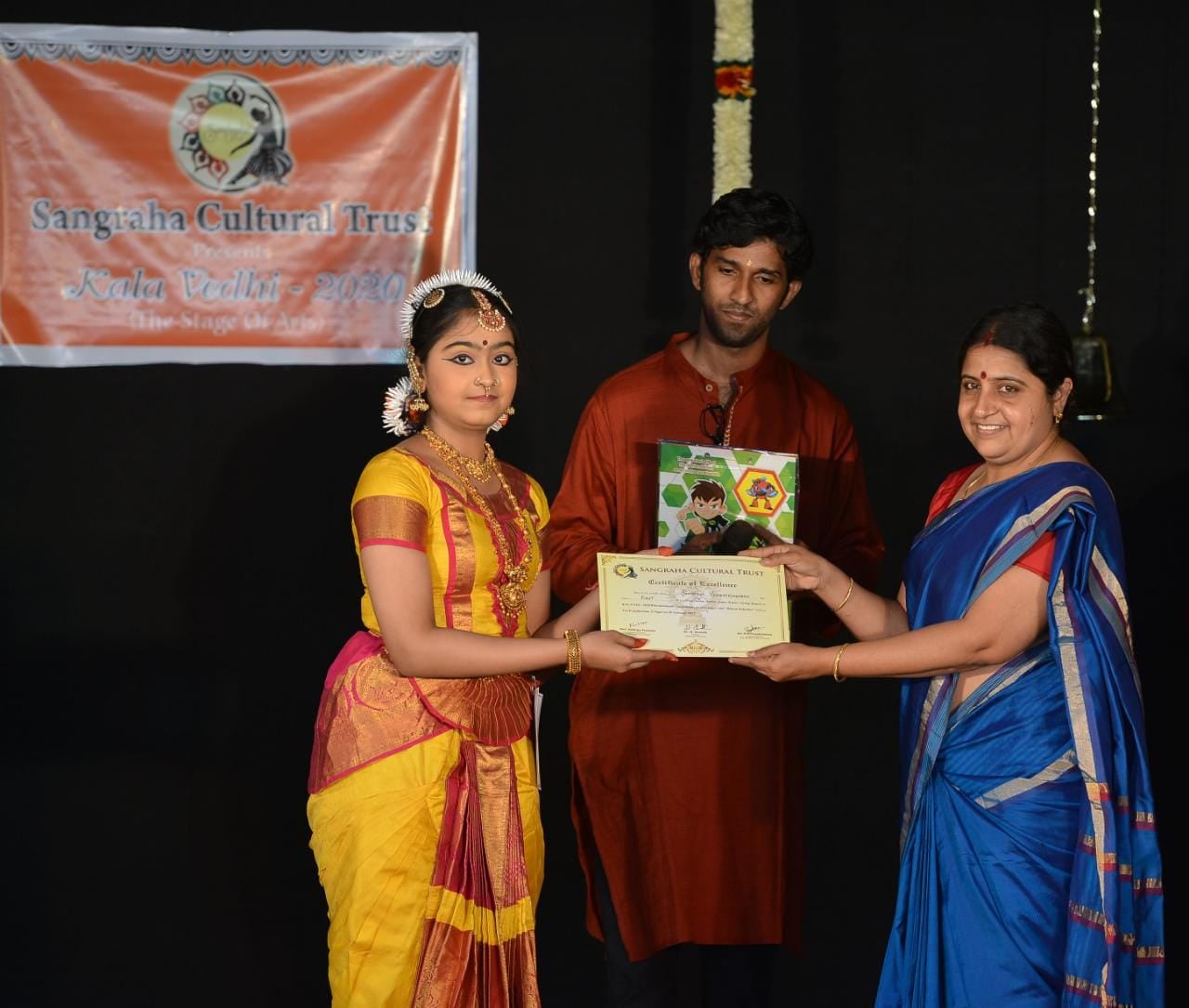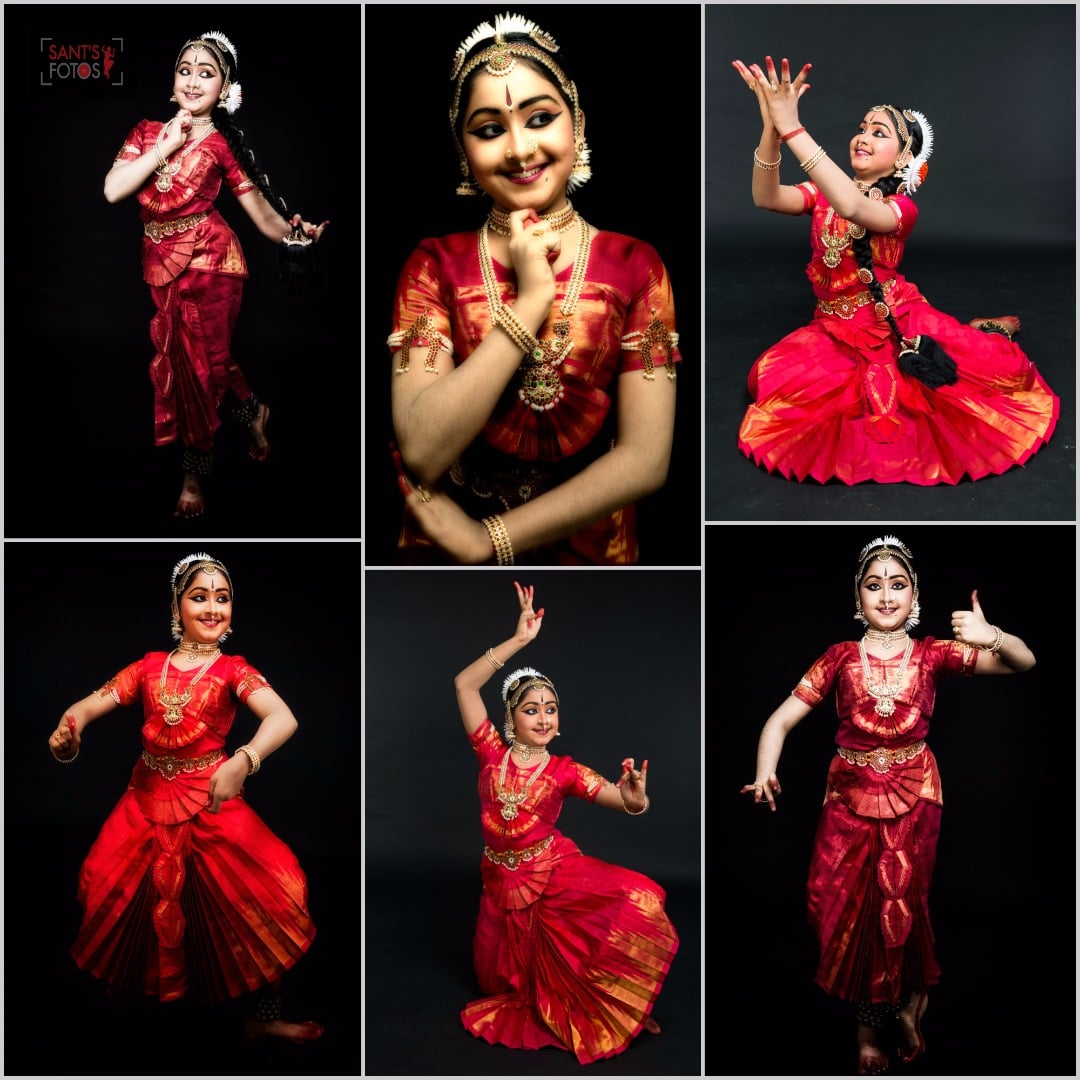 State Silambam Championship
KB Silambam Academy – Madurai conducted State Silambam Championship on February 20th and 21st in which S Maanasa of Std I-D secured Gold medal in Surul vaal veechu, Eratai kombu veechu, Otrai kombu veechu and Stick fight under Sub junior Category.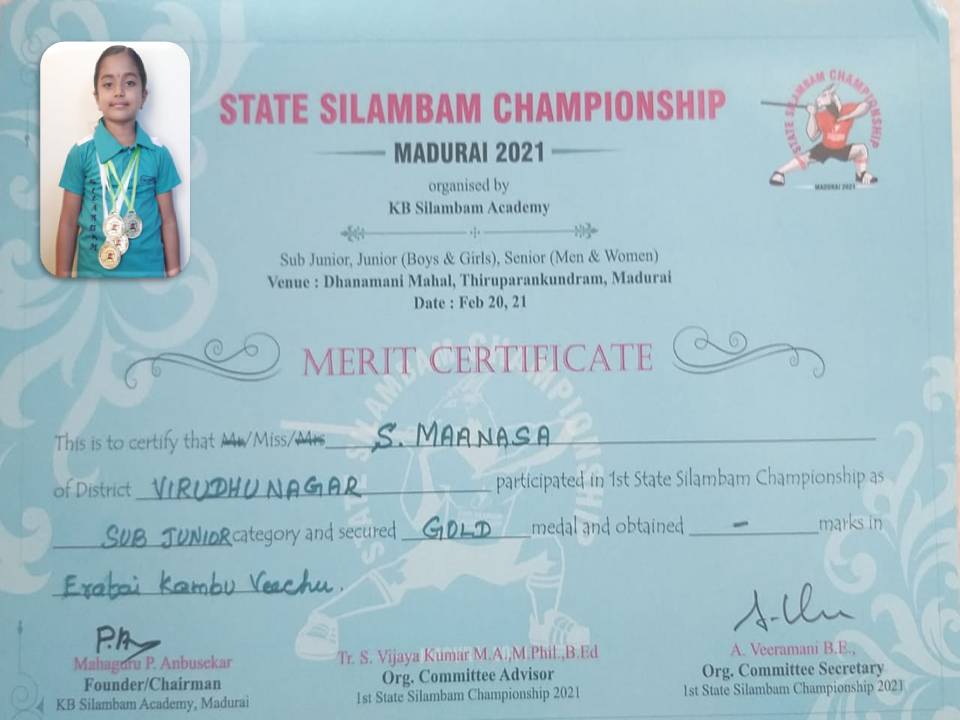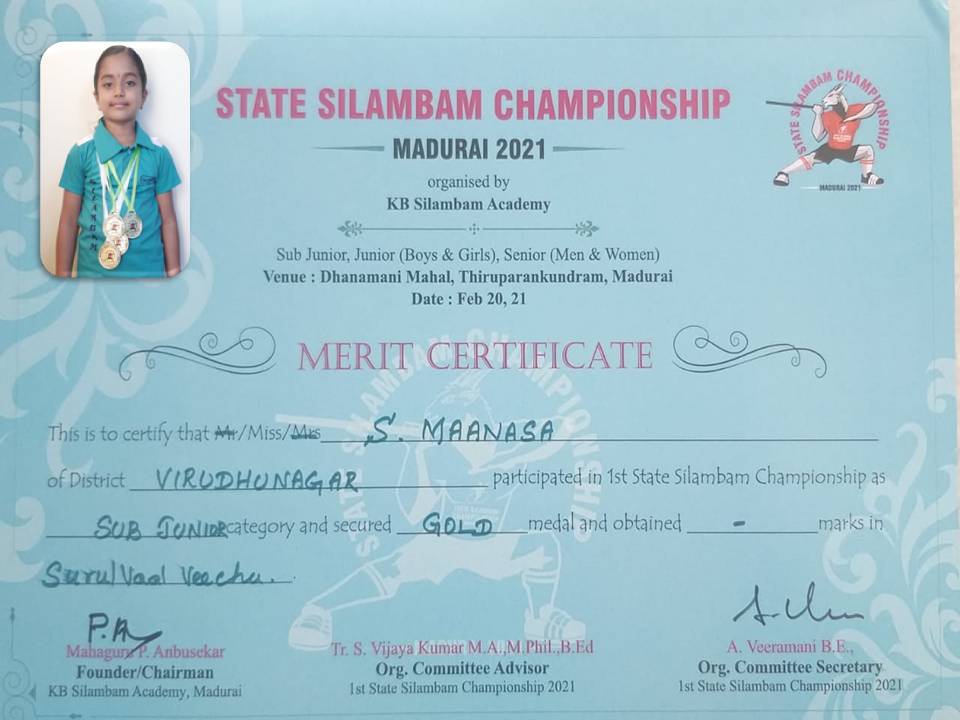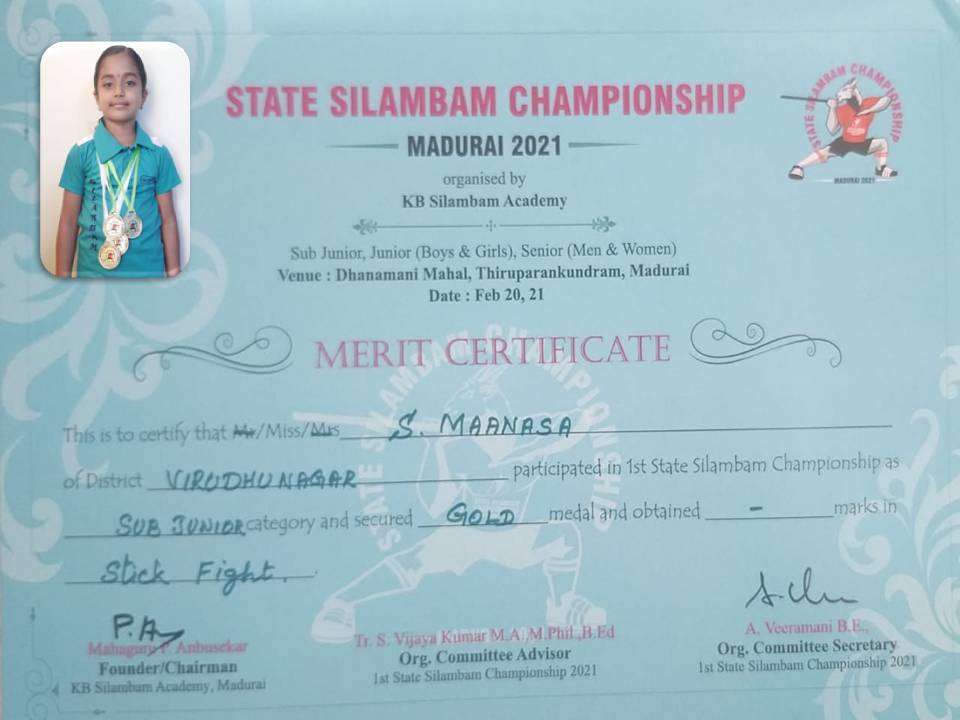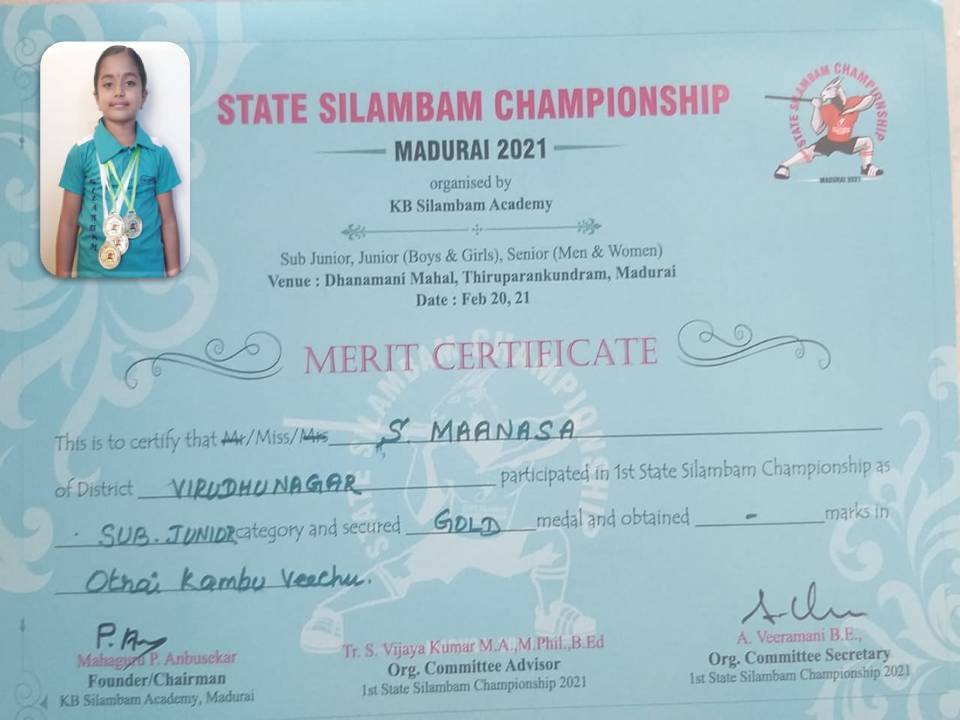 International Science festival 2020 - Art integrated project
Aswathy Pramod of Std XI participated in the International Science festival 2020 organized by Ministry of Science and Technology, ministry of Earth Science, Ministry of Health & Family Welfare government of India in collaboration with Vijnana Bharathi by council of Scientific & Industrial Research and Presented the song in relation to science and won the consolation prize, she received the cash amount of Rs.2000/-. The song she presented was Art integrated project in the subject biology.
Bharat Ko Jano - quiz competition
Bharat Ko Jano (Know Your Country) quiz competition is prepared and staged among the school and college students so as to present a true and glorious picture of our country before them. Master Aryan Monish Chandran of class VII C secured the "topper" position (Junior Category) in the Bharat Ko Jano Online quiz contest 2020-21, conducted by Bharat Vikas Parishad – Anna Nagar Branch and represented Tamil Nadu and Pondicherry Prant in the National Level. Vinay P Ramesh and Pracheta Sumedh waikar were also felicitated for winning the zonal level.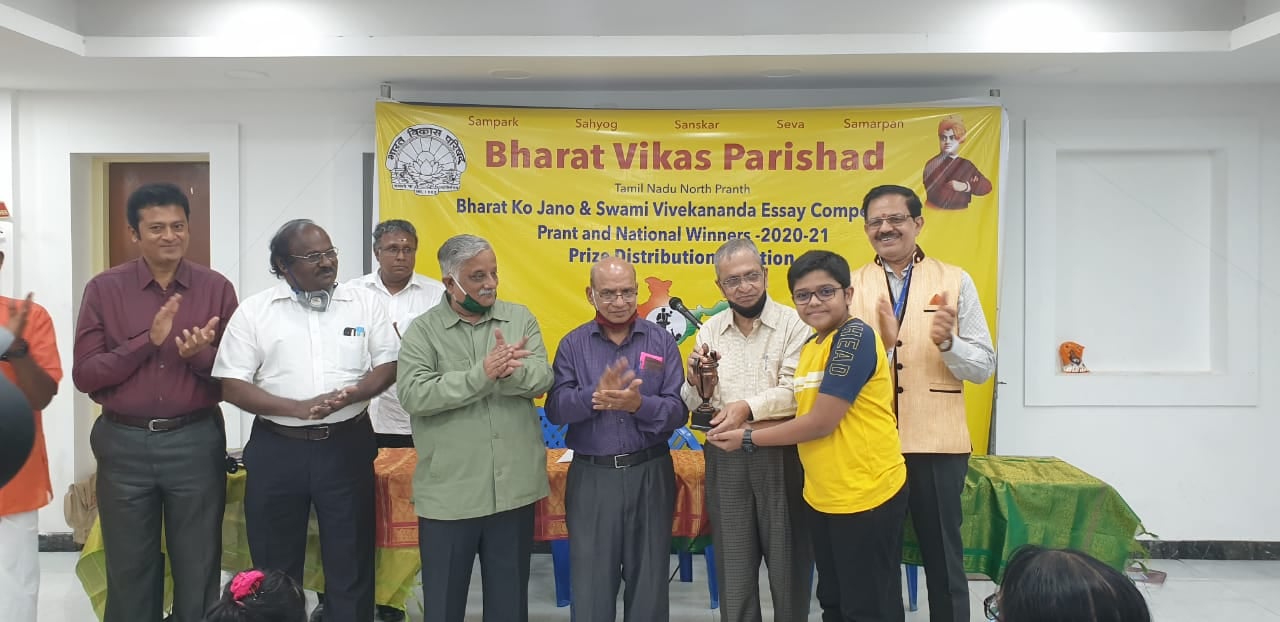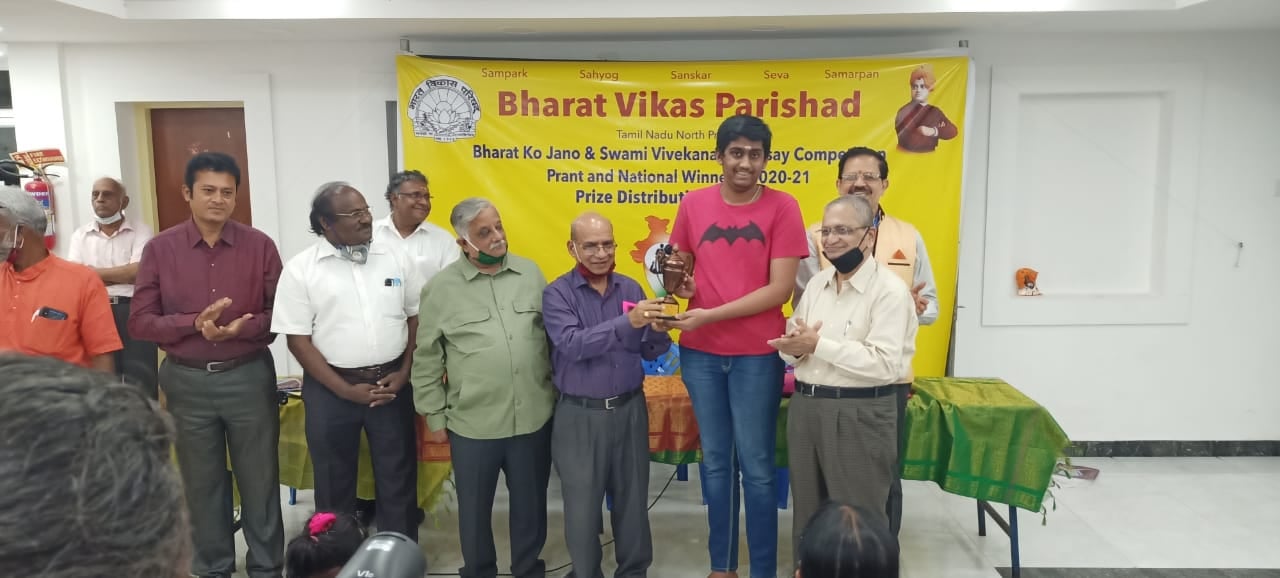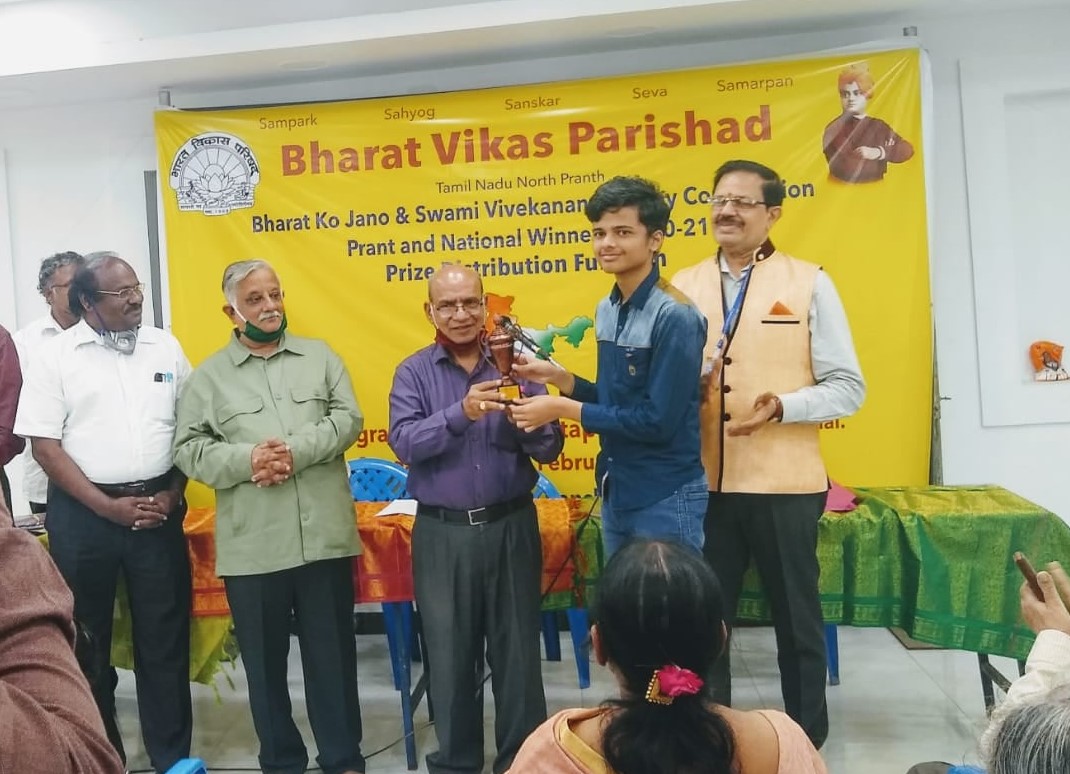 Gita Chanting Competition - Egmore Sanskrit school
Egmore Sanskrit school conducted the 64th Gita Chanting Competition on 18.01.2021. This year the competition was conducted online and prizes were given to the winners later. The following students of our Vidyalaya won the Star Award. Suvidh S – LKG Sahana Anand – Std I M Sai Shivani – Std II R Vainavi Sri – Std II Sahishnu of Std 7C, his mother and sister also got prize in Egmore Sanskrit school Geetha Chanting Competition.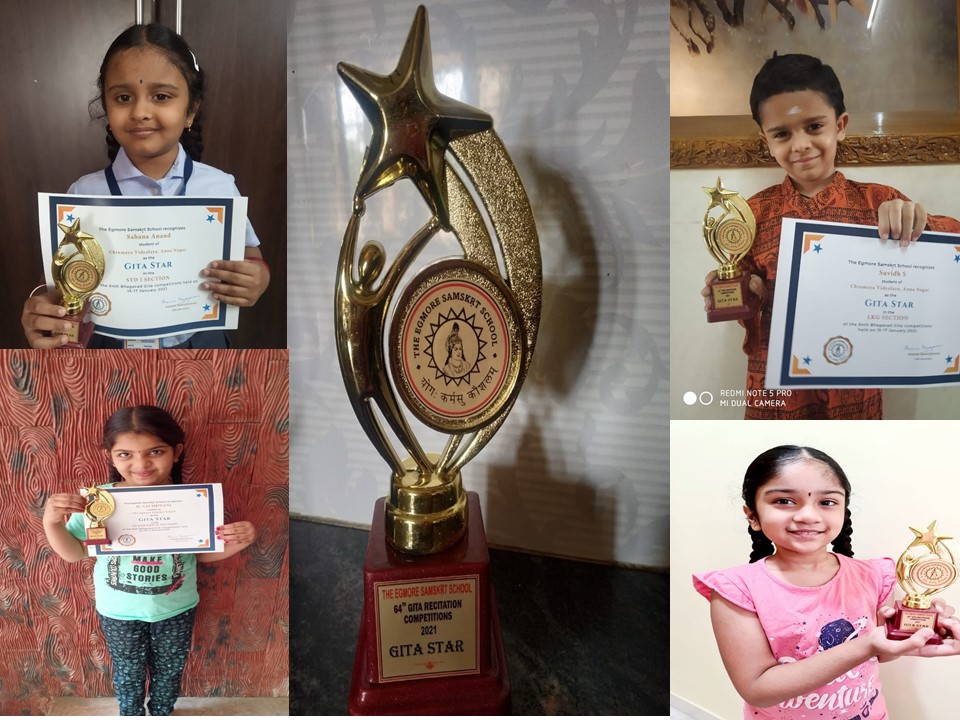 Inter school competition - Swami Vivekananda Jayanthi
In commemoration of Swami Vivekananda Jayanthi, Dr.Nalli Kuppuswamy Vivekananda Vidyalaya - Korattur, has conducted an inter school competition in which Gowri Siddharth of UKG-D won the 1st prize and Surabhi B of LKG-B won the 2nd prize for Vivekananda's sayings.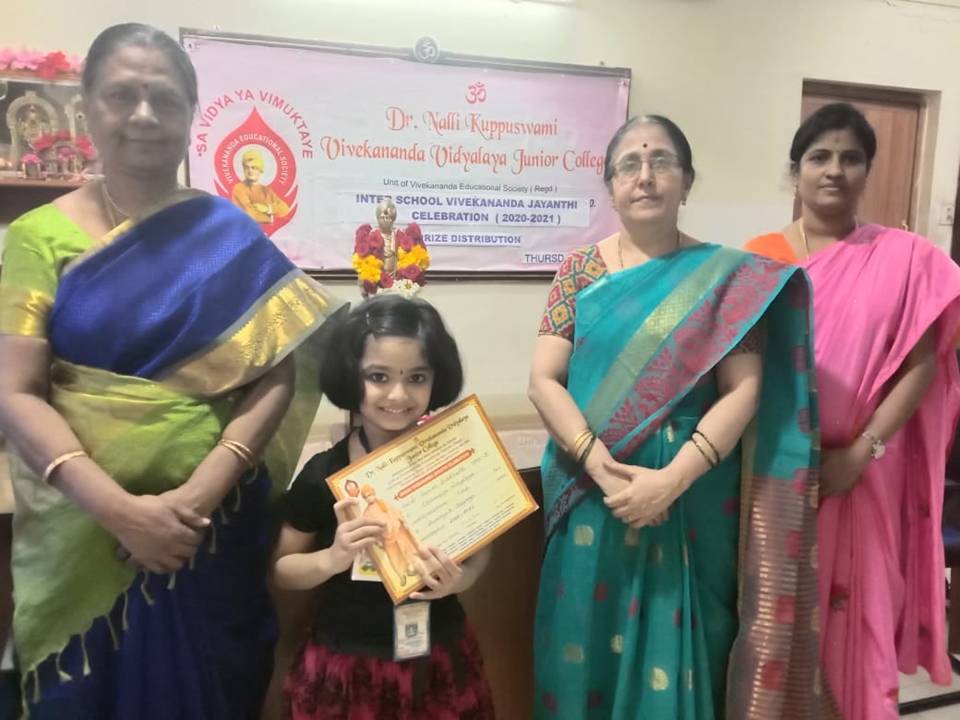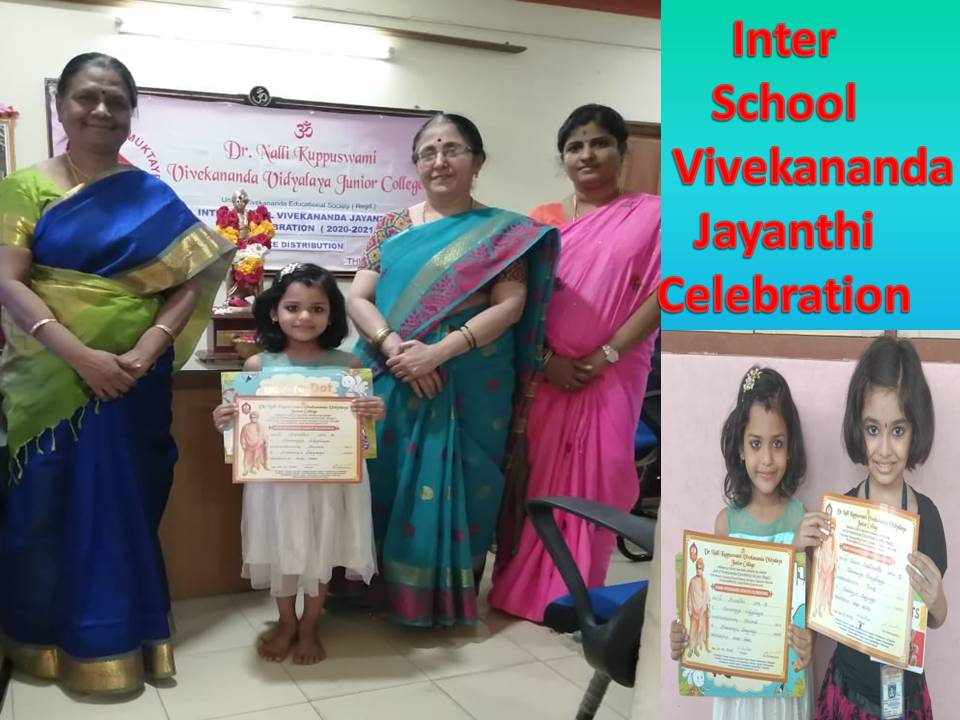 Bharat Vikas Parishad Bharat Ko Jano online Quiz contest
Bharat Vikas Parishad Bharat Ko Jano online Quiz contest for schools was conducted on 11th December. This competition was conducted for Junior and Senior levels. From our school 4 students from Junior level and 4 students from Senior level participated. They competed with 400 students from 28 schools. Vinay P. Ramesh and Pracheta Sumedh Waikar of Std.10 from senior level and Aryan Monish Chandran of Std 7 from junior level got selected for pranth or zonal level competition which was held on 26th December 2020. In the Pranth level Master Aryan Monish chandran has been selected to represent BVP TN-North Pranth at the incoming National level BKJ Quiz Competition scheduled to be conducted on Jnuary 31, 2021. Best wishes to Master Aryan Monish Chandran.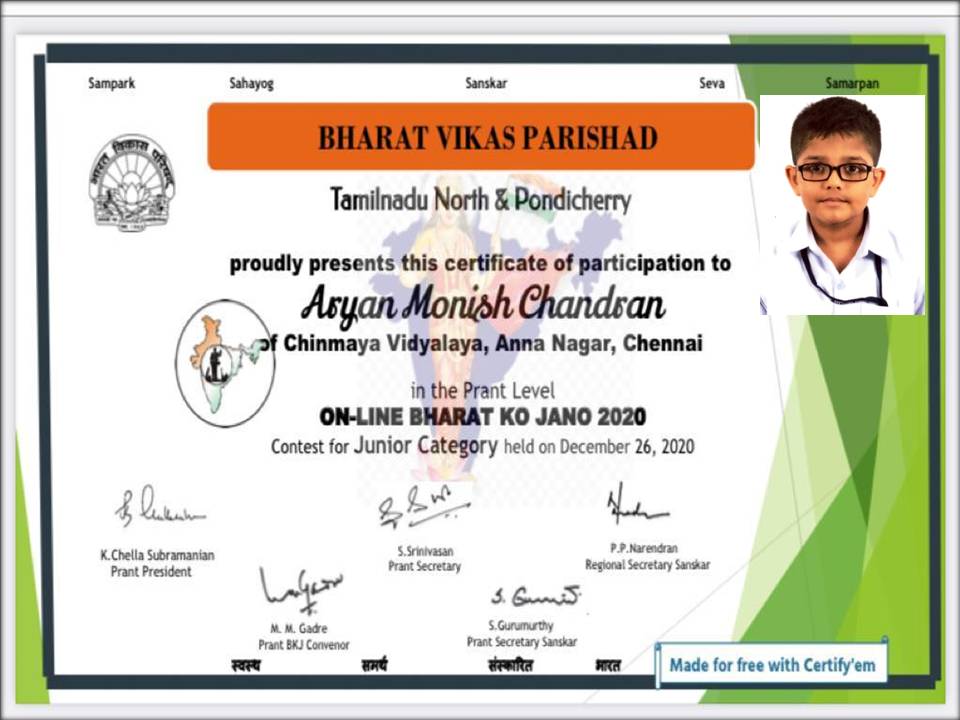 Microsoft Innovative Educator Expert for 2020-2021
Microsoft has selected the following teachers for the fourth consecutive year from our school as Microsoft Innovative Educators. Our hearty congratulations to 1. Mrs. Devi Senthilkumar 2. Mrs. Latha. T 3. Mrs. Renuka Krishnakumar 4. Mrs. Hemamalini Thiruloganayagam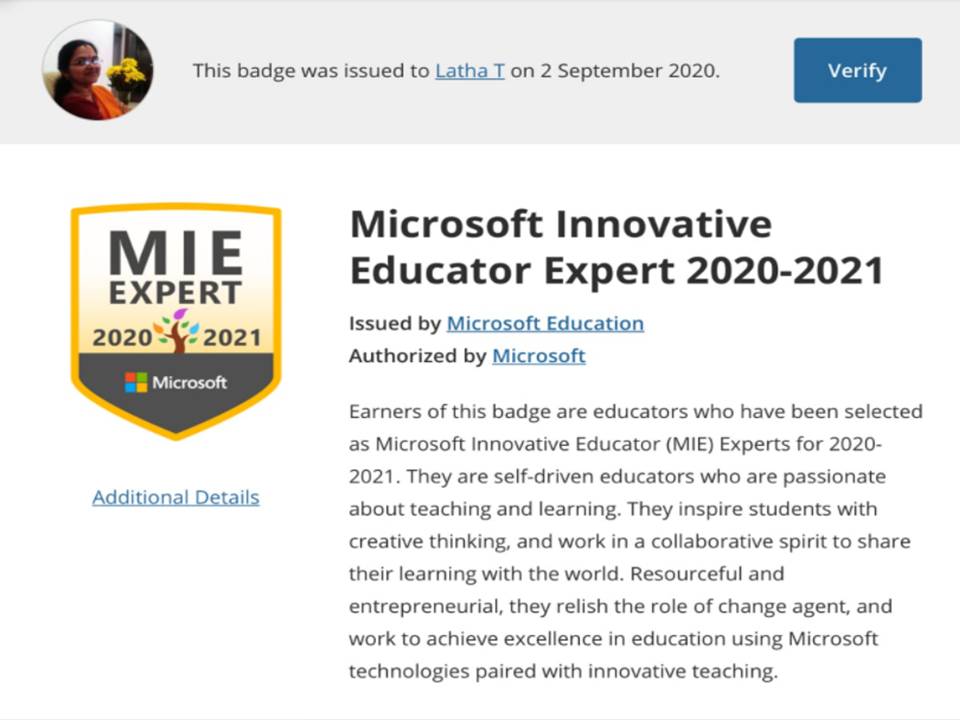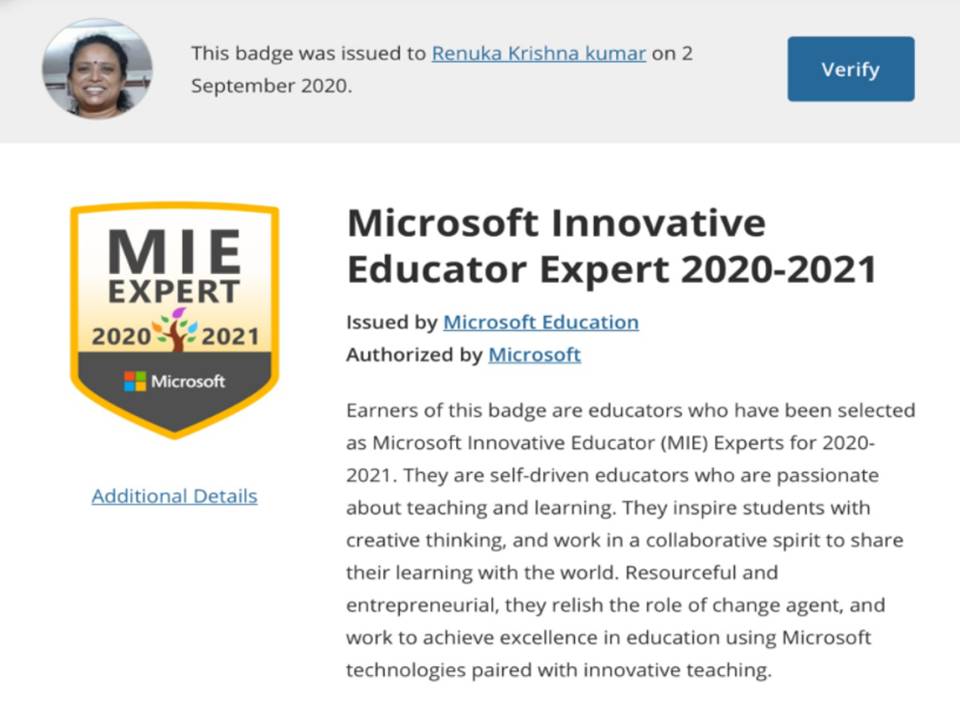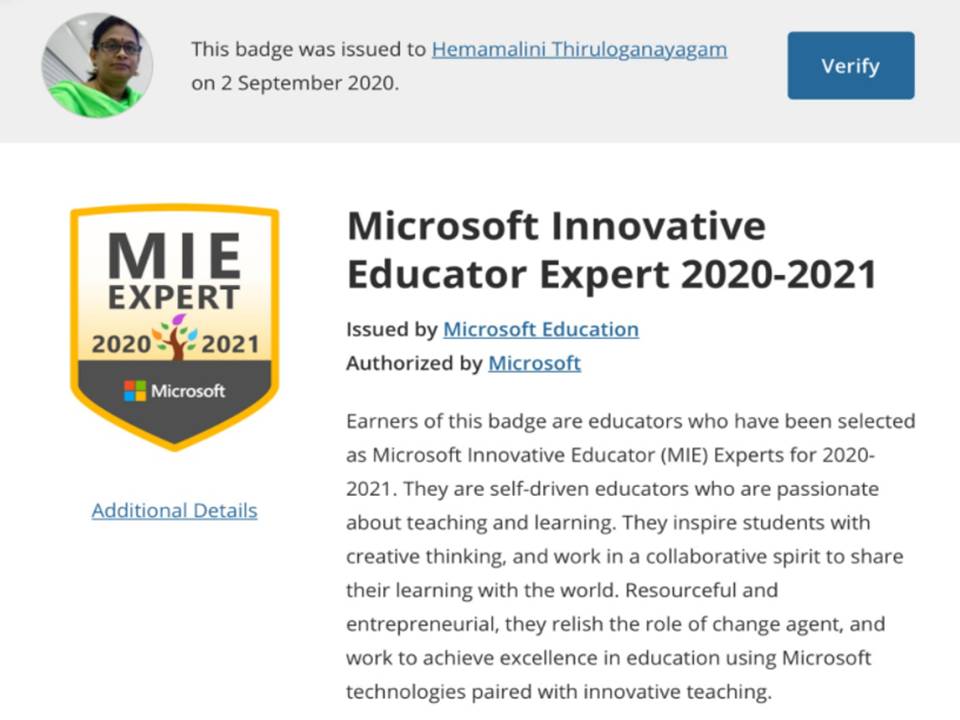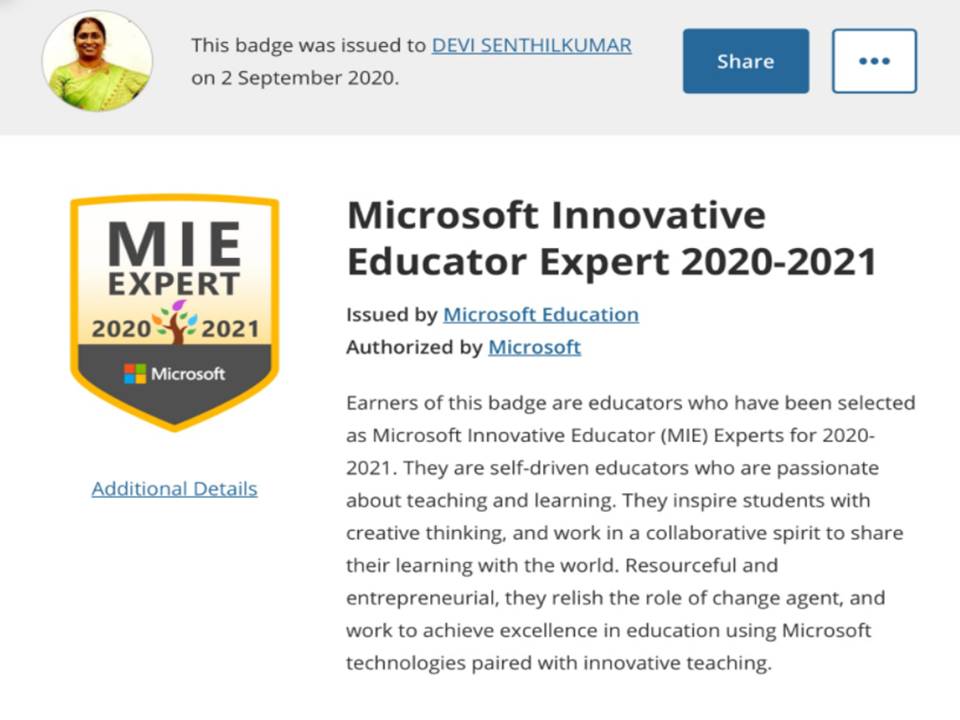 National Online Quiz Competition
Petroleum Conservation Research Association conducted Sakshsam National Online Quiz Competition 2019. In School level 40 students participated, from that 2 students were selected for District level from Class IX. They won Cash prize Rs. 3000/- each and also a certificate by PCRA. 1. ShreyasViswanath - IXD(2019) 2. Ishan.M.K - IXB(2019) Congratulations to both of them.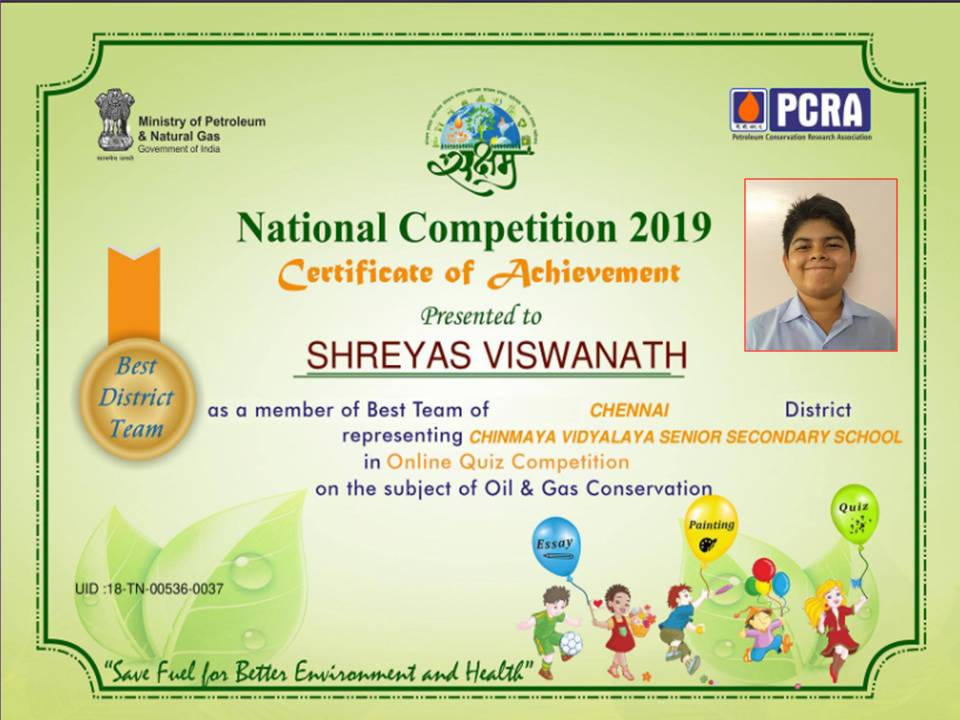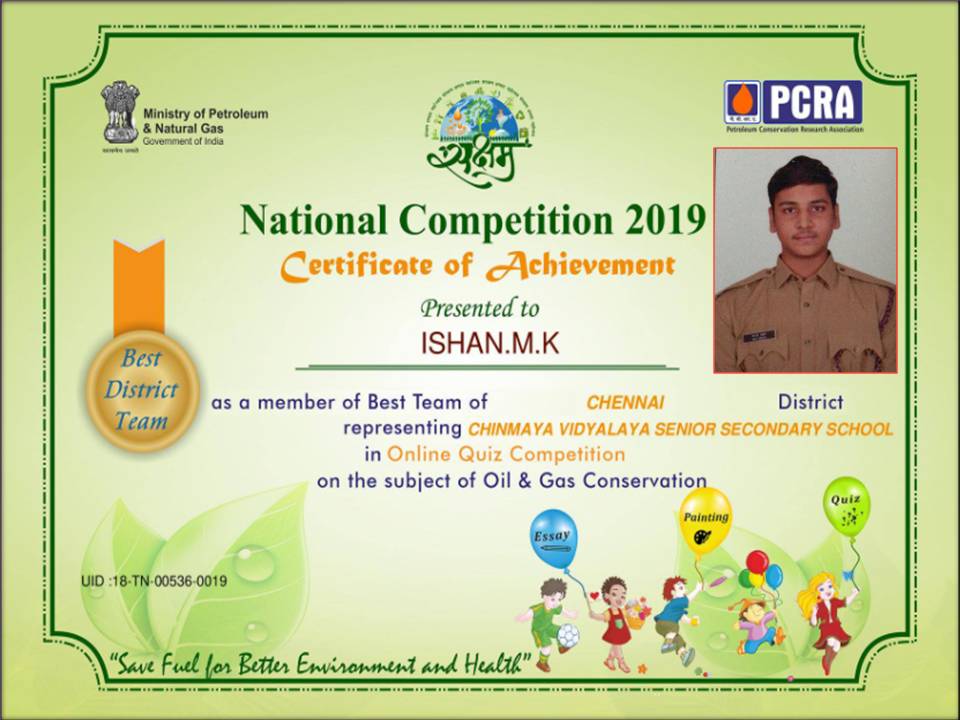 State Level Art Competition 2020-2021
Following students stood first in the State Level Art Competition 2020-2021 conducted by CIART (Centre for Indian Art Resources and Training), Mumbai, in the month of April 2020. 1. Shakthi Samhita of Class 2D category (1-4) 2. B Kaarunika of Class II C 3. Shara R of class 5B category (5th-7th) 4. Shriya of Class 9B This online competition conducted by CIART was to draw attention to the importance of art in school curriculum. All were now entitled to participate in CIART National Level Drawing and Colouring contest. Our best wishes to them.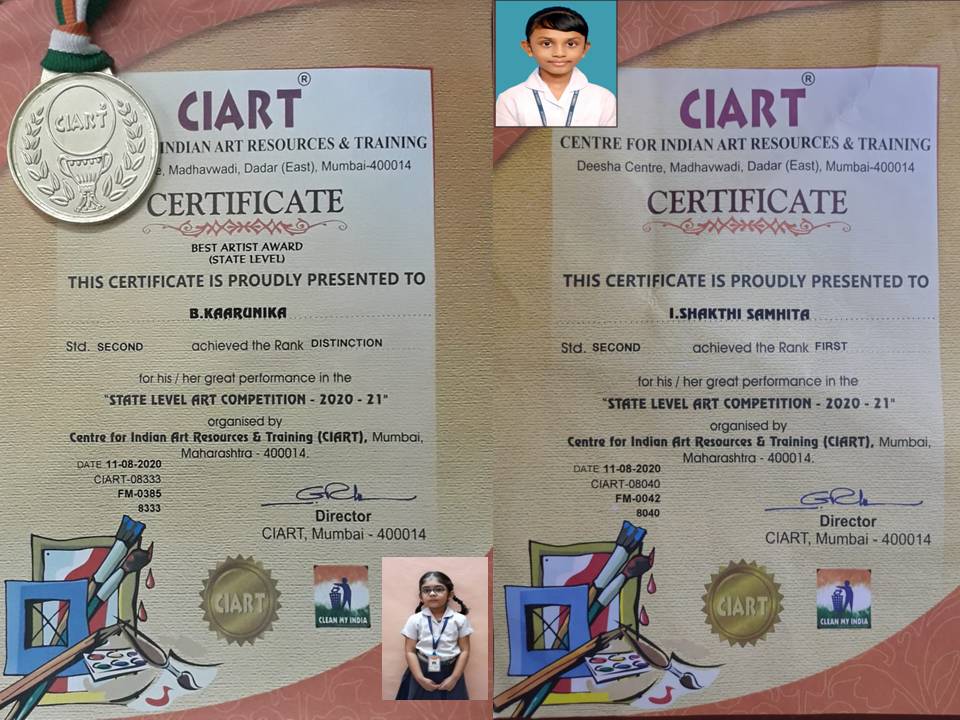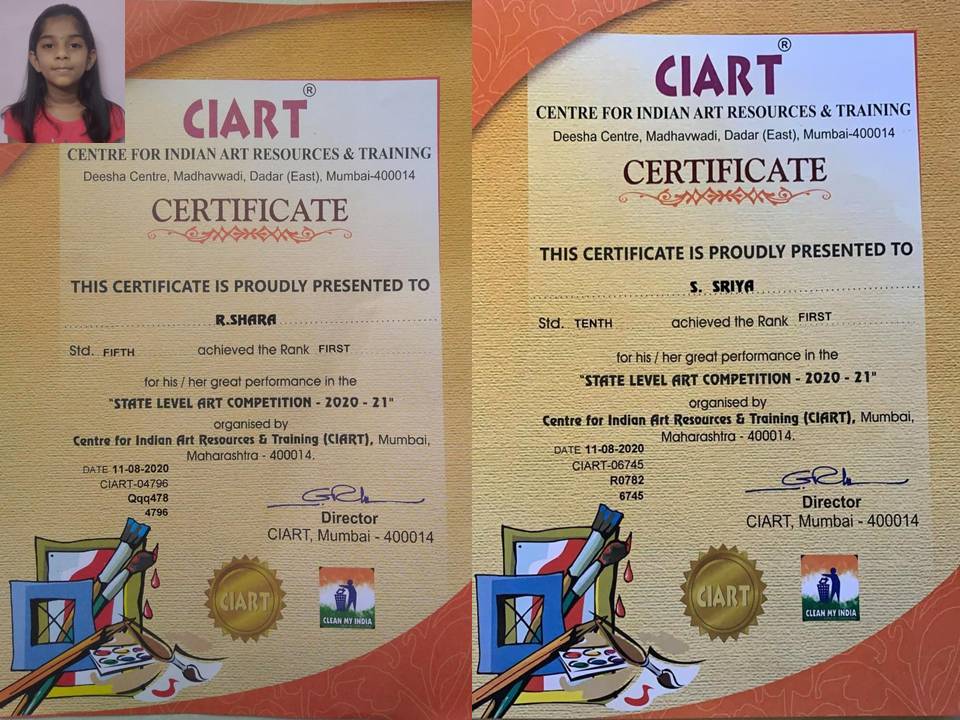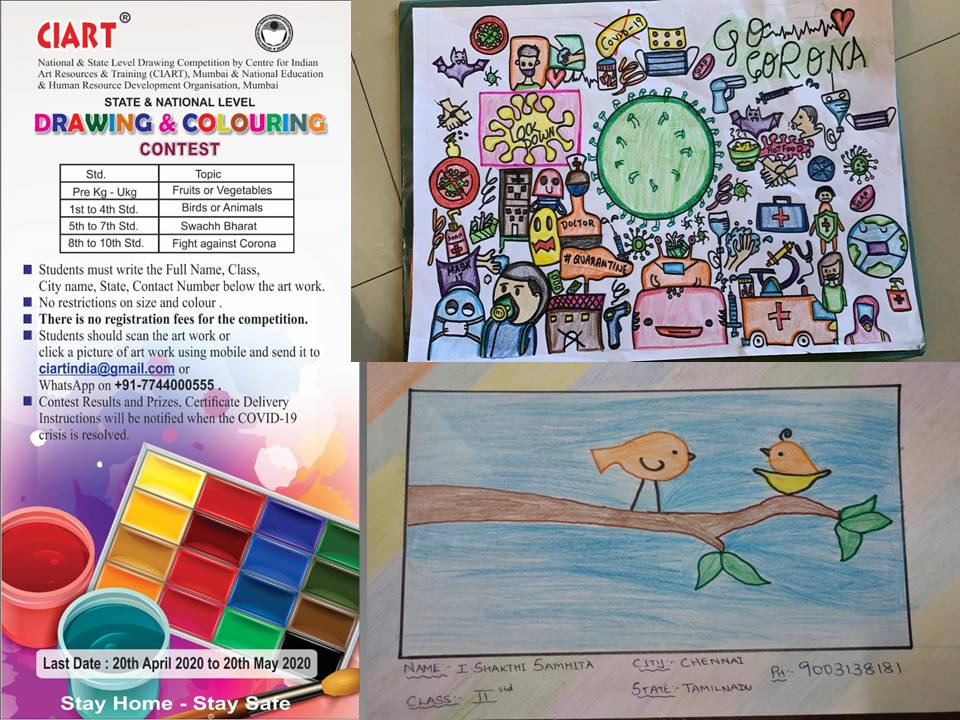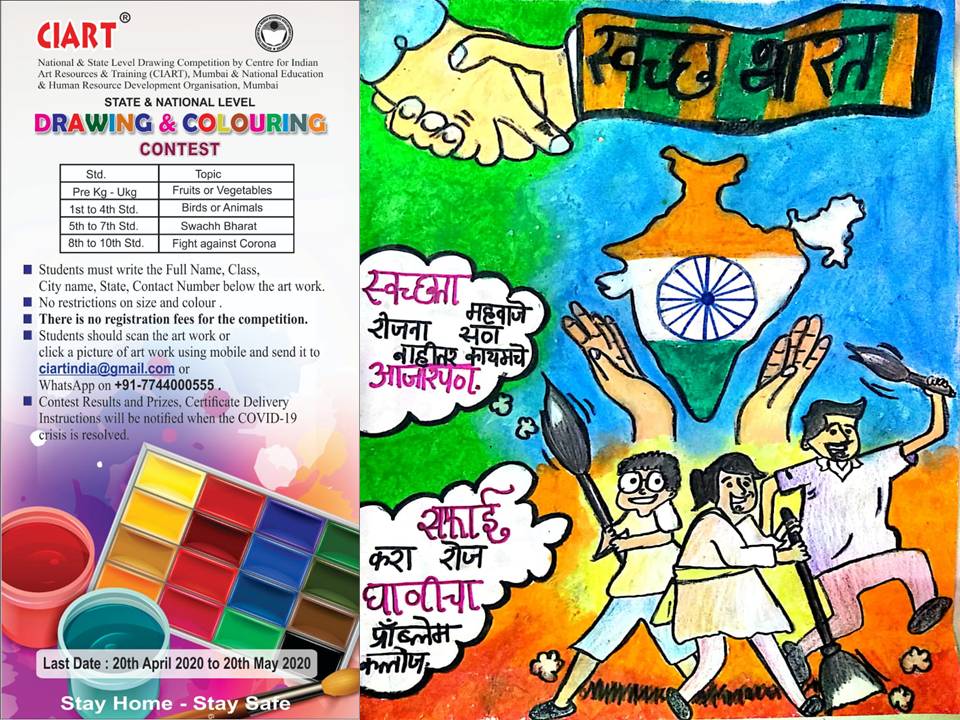 Online Talent Hunt Competition
Rakshitha A of Class VIII C, participated in Online Talent Hunt Competition conducted by Srusti Jana Natya Kala Kendra, Bangalore. She got 2nd Place in Best Talent Performance Category. Best wishes to her.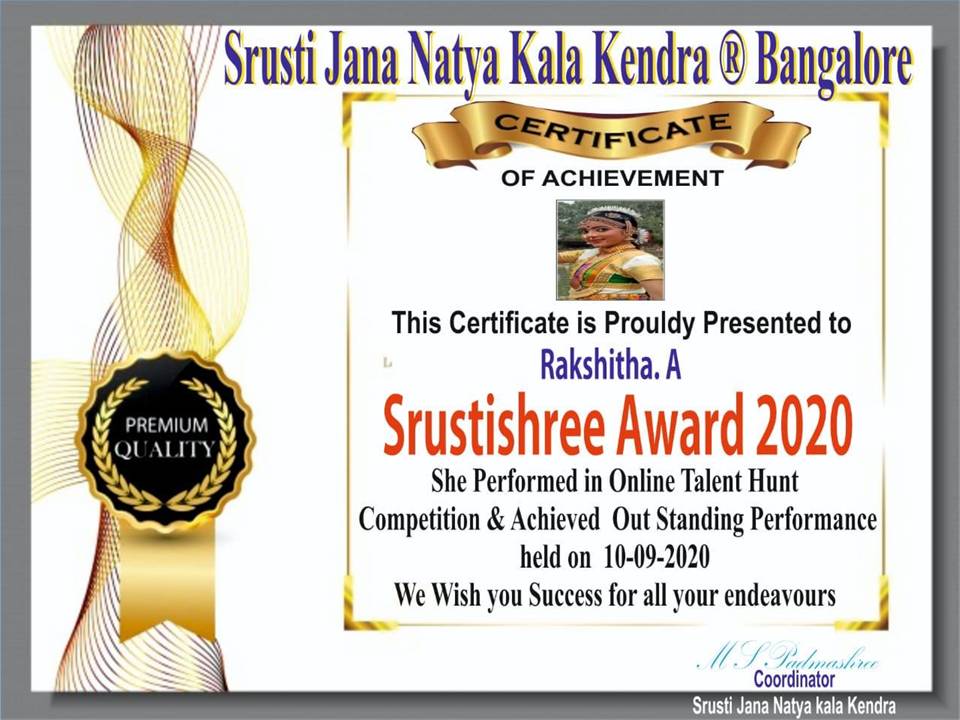 West Chennai Sahodaya cluster award 2020
Each year the West Chennai Sahodaya cluster schools honour teachers for their contribution in the field of education. Mrs Usha Joseph , head of the KG dept was the recipient of the award for 2020 from our school. The ' Teacher's day award function 2020' was held at Union Christian public school, Chetpet on 22nd September at 10 am through virtual platform. The chief guest was Dr Sajeev Abraham George, professor, operations and supply chain, chairman, PGDM program, S P Jain institute of management and research, Mumbai. As it was a virtual platform ,the award was presented to Mrs Usha Joseph by our principal Mrs V Gowrilakshmi..The program was viewed online by all associated with the west Chennai sahodaya cluster schools.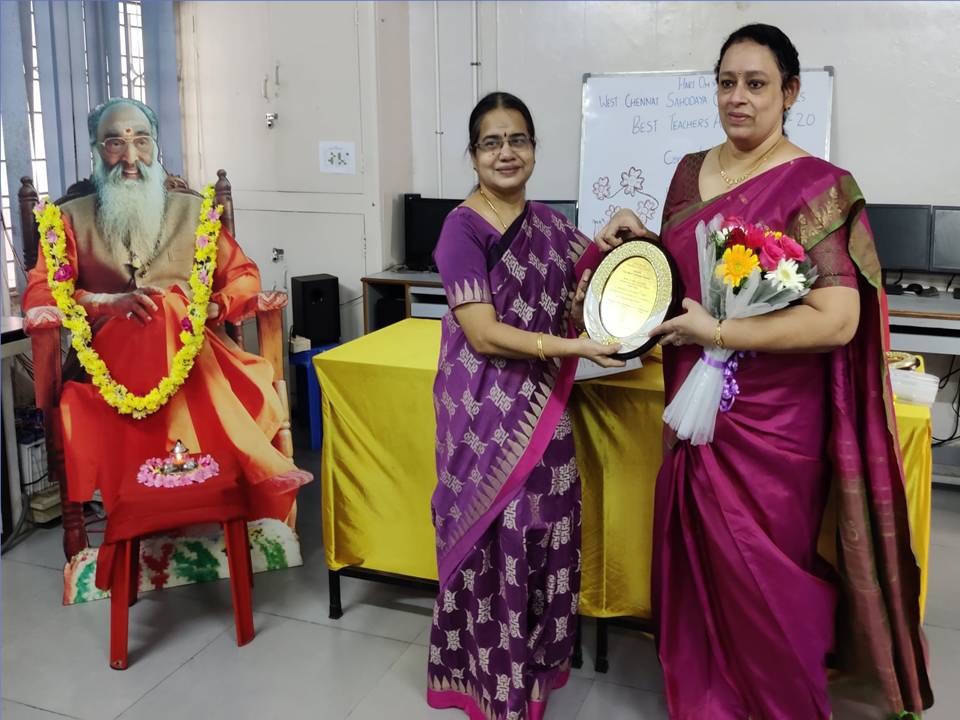 District level art contest
San academy conducted a virtual district level art contest in the academic year 2020-2021 in which our school Aditi of class 5D has secured second place under poster making category. In the same competition Dheena dhatchayini of class 7B has also won first place under drawing and painting category. Congratulations to the winners.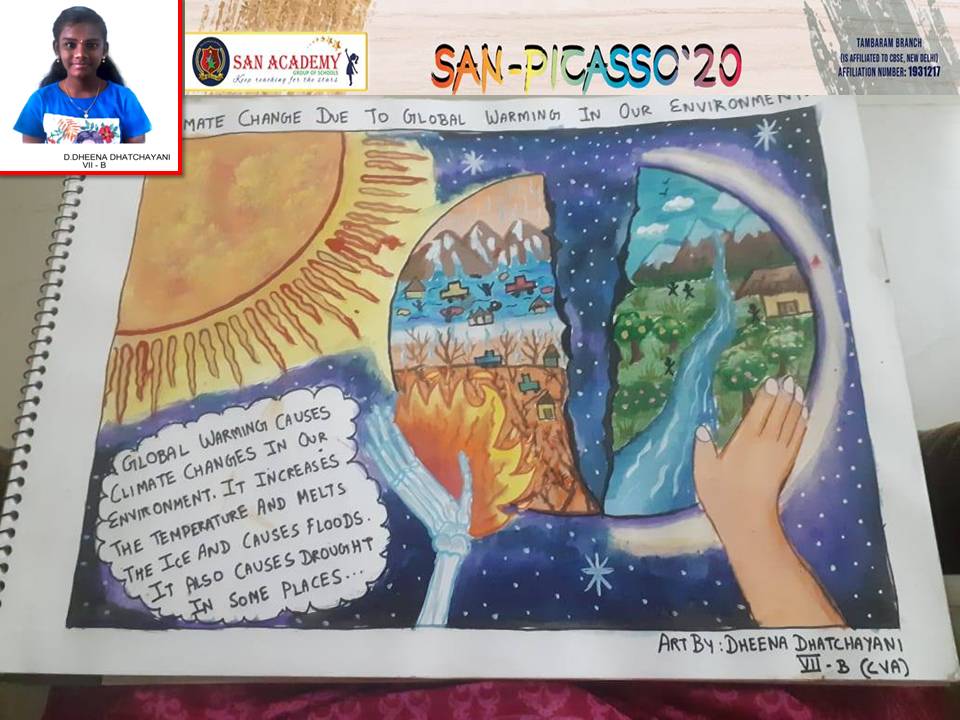 Kalaanubhavam'20
We are proud to share the news that our school students participated in Kalaanubhavam'20 conducted by National Public School, Gopalapuram and won the following prizes. In the Solo Dance category, Megha Kumaran won the first prize. The first prize for Choreography was bagged by Rashmeta Sai, while Megha Kumaran got the second place. In Instrumental category, Varun Gopal got the second prize. Congratulations to all winners.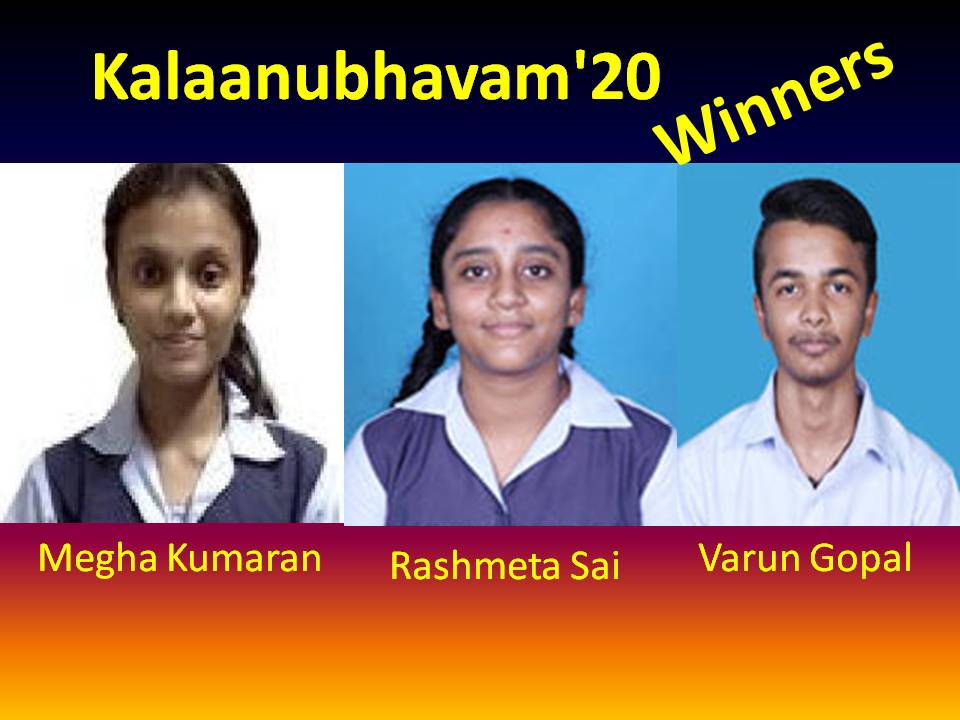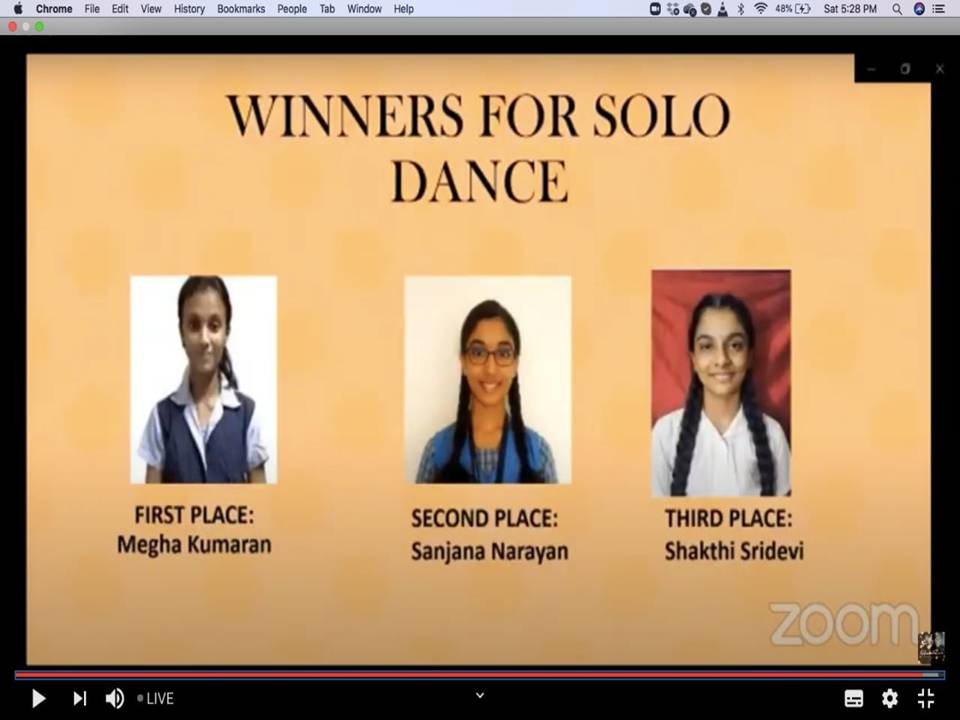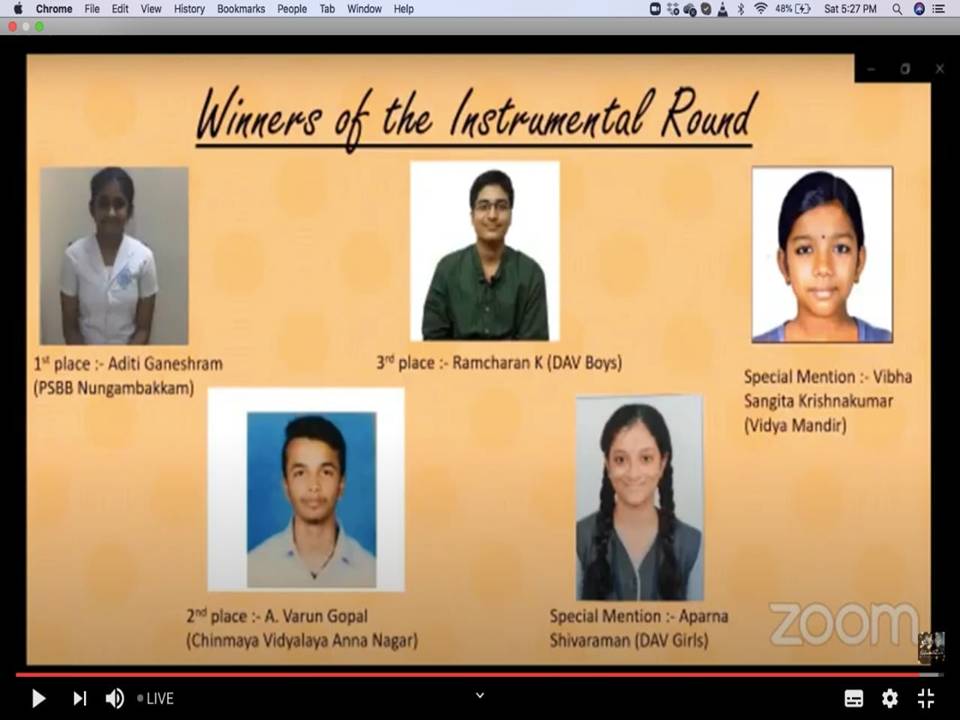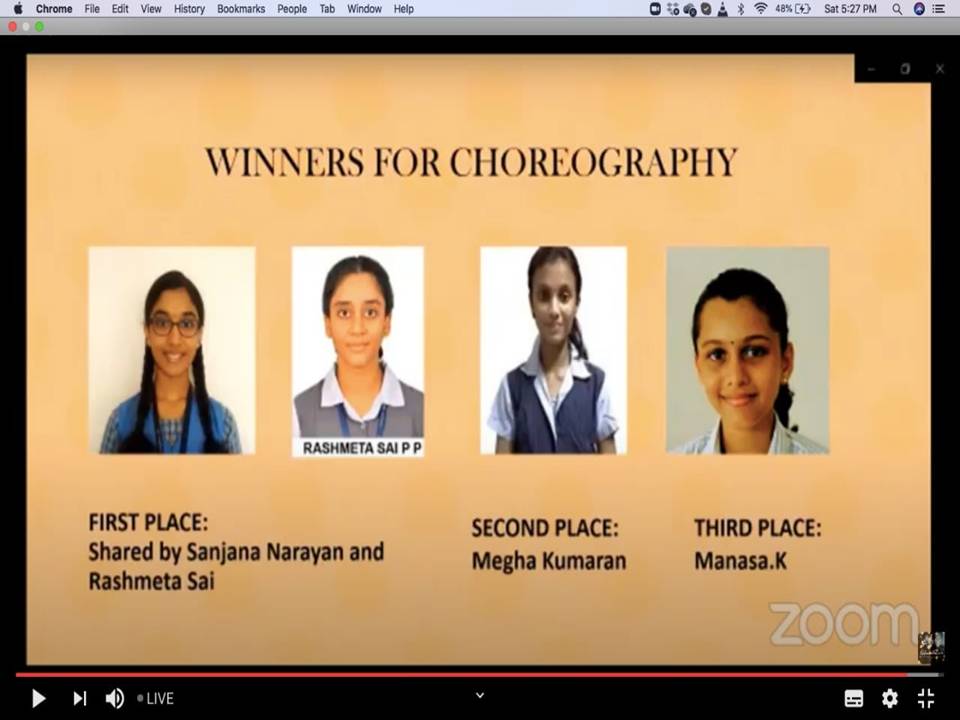 Interschool classical dance competition
In the Interschool classical dance competition 'Vallal Pandithurai' conducted by Velammal group of schools, Megha Kumaran of Class XI won the first place and secured a cash prize of Rs. 20,000/- Congratulations to her.
QUARANTINE CHAMPION 2020
Devadarshini of 3D participated in various dance competitions and won various prizes. She won 2 nd prize in age category 7-10 in QUARANTINE CHAMPION 2020 international online solo dance competition conducted by Pushpanjali Bharathanatyam Academy of Performing Arts. OUTSTANDING PERFORMER in Sub Junior category for RASHTRIYA KANAK NRITYA SITARA AWARD 2020 online solo dance competition. 3rd prize in junior category of online Bharathanatyam dance competition PRATHIYOGA conducted by SRI MUDRA SCHOOL OF DANCE. 2nd runner up in NRITHYANJALI online solo dance competition conducted by SN INTERNATIONAL ACADEMY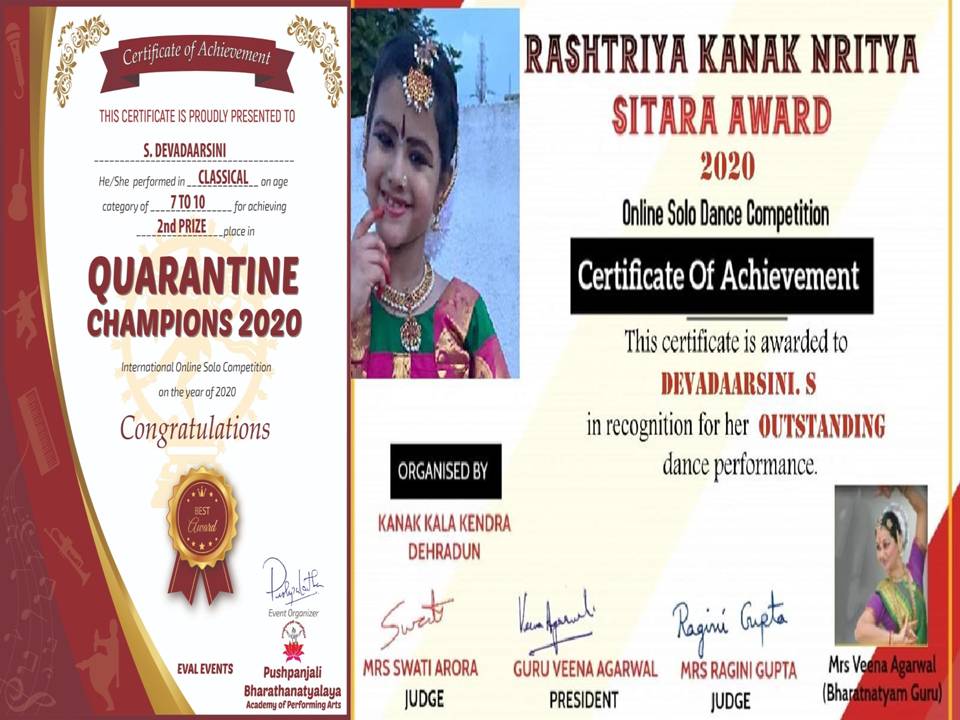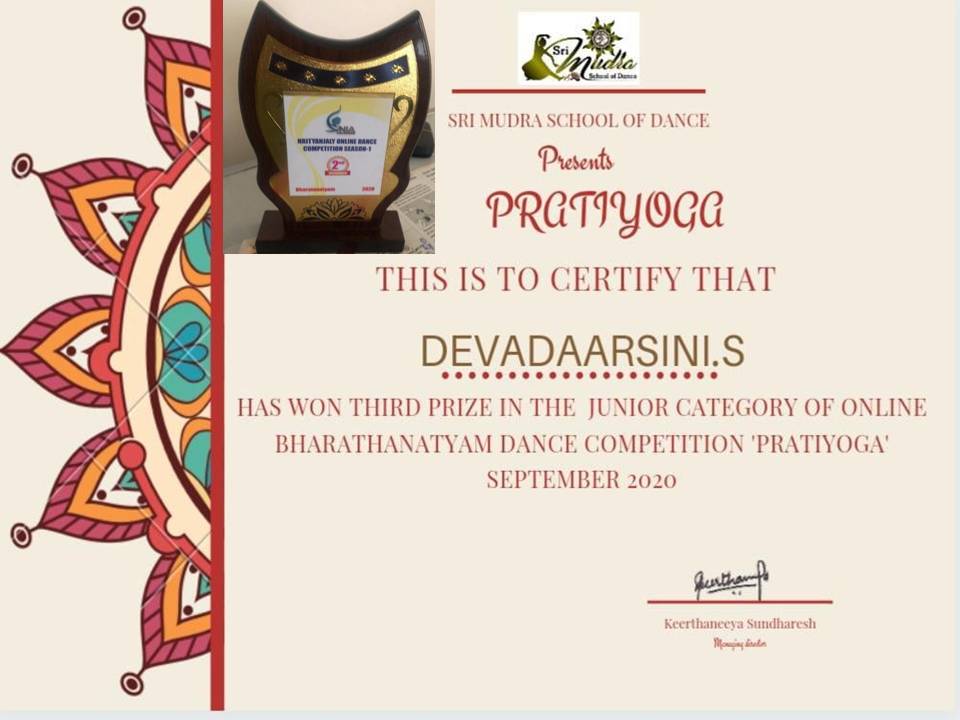 School Toppers in Hindi
Every year Madhubun Educational publishers will be honouring School Toppers in Hindi. This year from our Vidyalaya two students namely Harshini.R and Neha Honniganur were honoured who has scored 98% (School –Hindi toppers) , in Std X board exam (2019-20). Dr. N.Srinivasan , HOD of Hindi department was also honoured on this occasion. Congratulations to the Hindi Teacher and the students.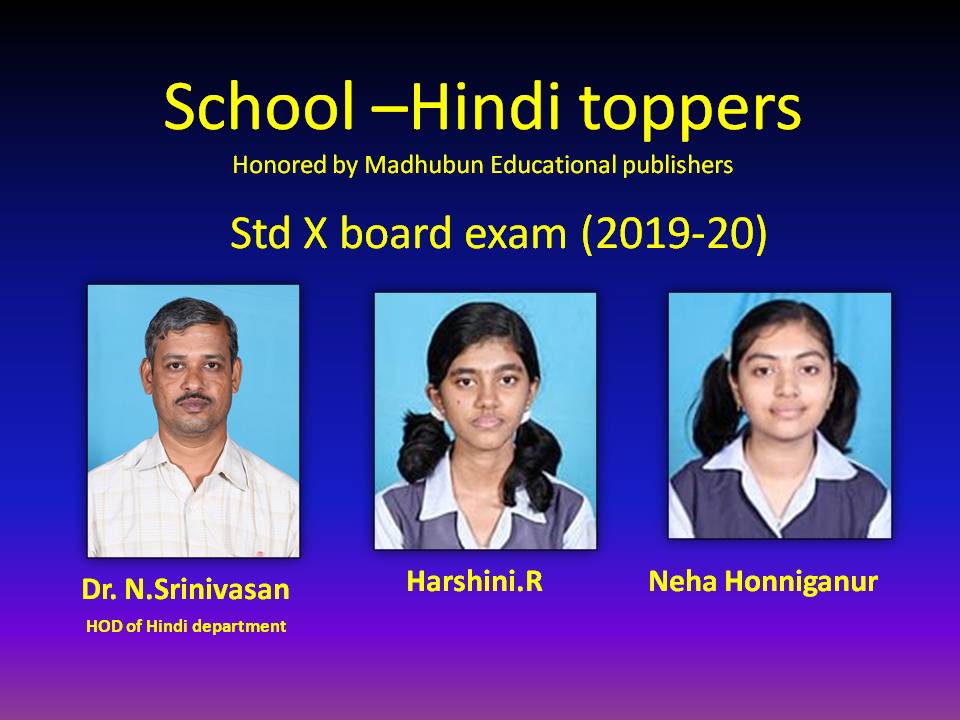 Astra 2020 - Bhavans Rajaji Vidhyashram's
Bhavans Rajaji Vidhyashram's – conducted Astra 2020 an online city-level cultural competition on 25th and 26th September 2020 , which served as a platform for students from various schools to showcase their talents. Over 400 students took place from 30 different schools across Chennai. The students of class 11 and 12 from our school had taken part in all the events, which happened online through Microsoft teams. Our school won the third place in Stand-up Comedy and first place in "Whose Line is it anyway". Srikesh of class XII also secured the title of Mr. Astra Runner-Up 2020. All the winners will be receiving E- Certificates and cash prizes via mail. This is the third consequent year that our school has bagged the Mr. Astra Title. Congratulations to the participants and the prize winner.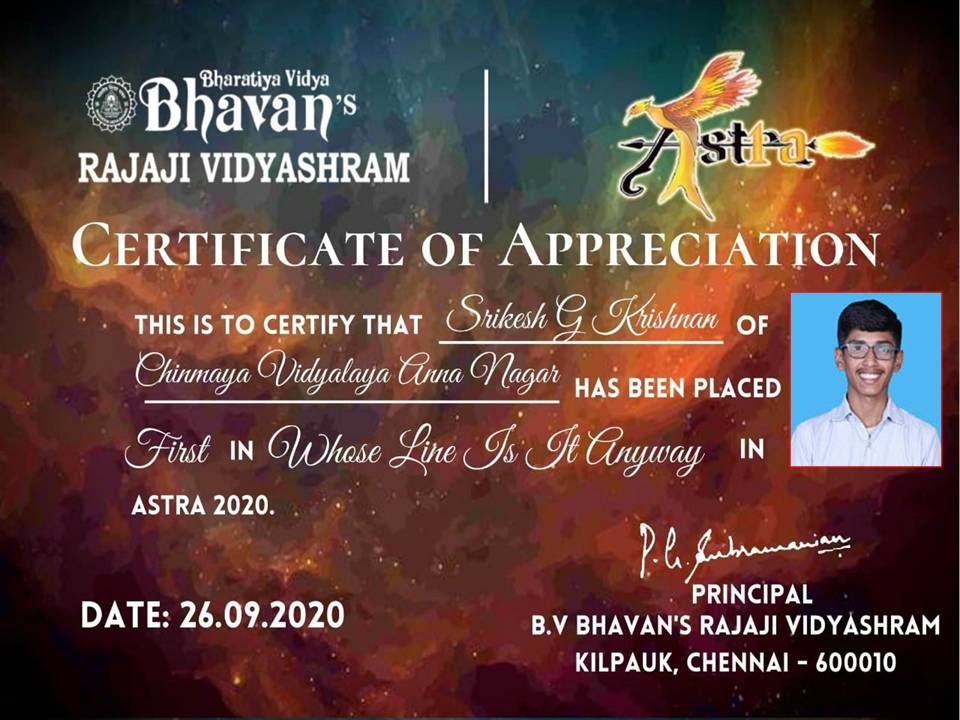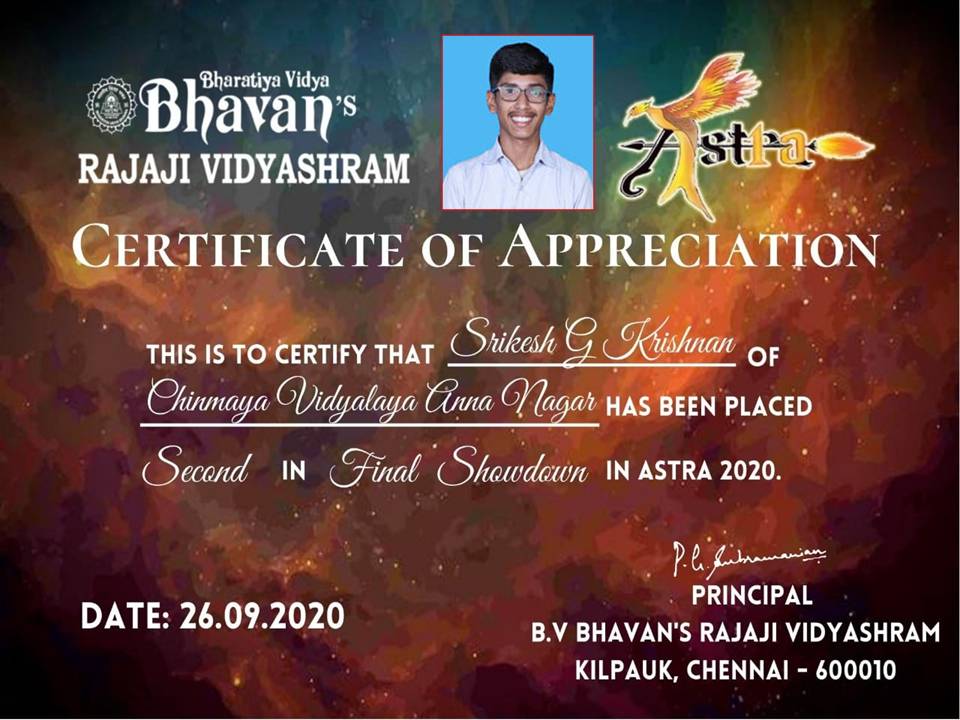 Genesis Online 2020 - Asan Memorial Senior Secondary School
Genesis Online 2020, an interschool cultural competition, was organised by Asan Memorial Senior Secondary School from 26th to 29th September, to provide the students of various schools with a platform to showcase their talents and compete with other schools in the city. Our school students participated in all events of Genesis and, won first in 'Beatboxing' –Tarun kasa , first in 'Dance'- Megha and Saankhya, second place in 'Meme Making'- Vasudev Iyengar , Bazar Harshitha. They also won third place in the 'No Filter event'- Sowjanya. Two students from our school participated in the final showdown event and Tarun Kasa won the title of Mr. Genesis. Although the online platform lacked the energy enthusiasm and experience of the live events, Genesis 2020 allowed the students to participate and enjoy a cultural competition in the midst of a global pandemic. The opportunity to receive live feedback and constructive criticism from the judges facilitated the participants to understand what they must improve on. Congratulations to the participants and the prize winners.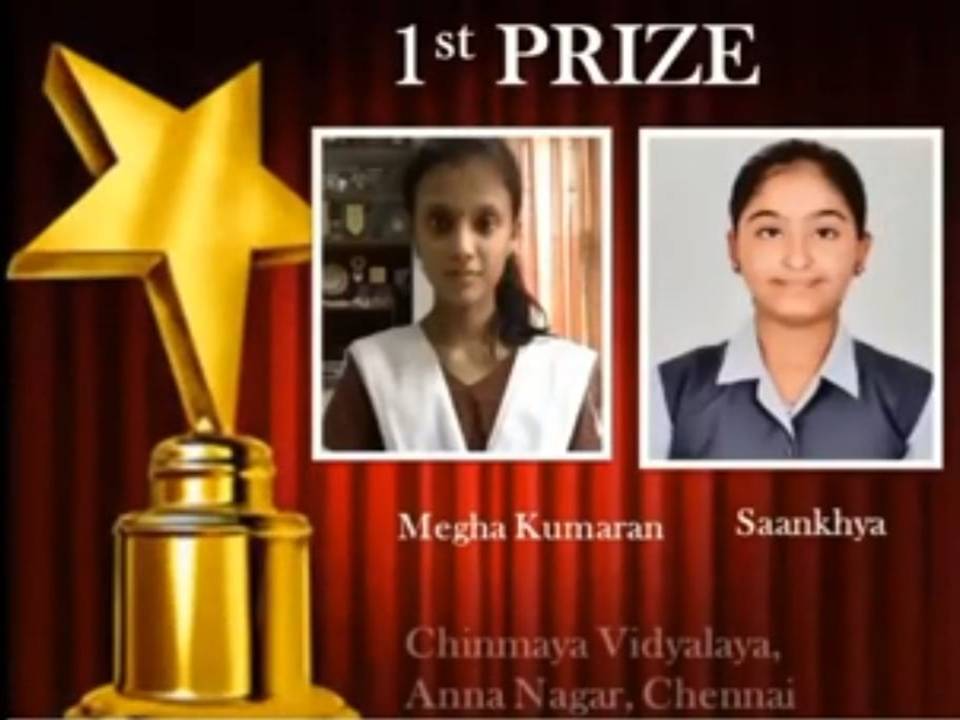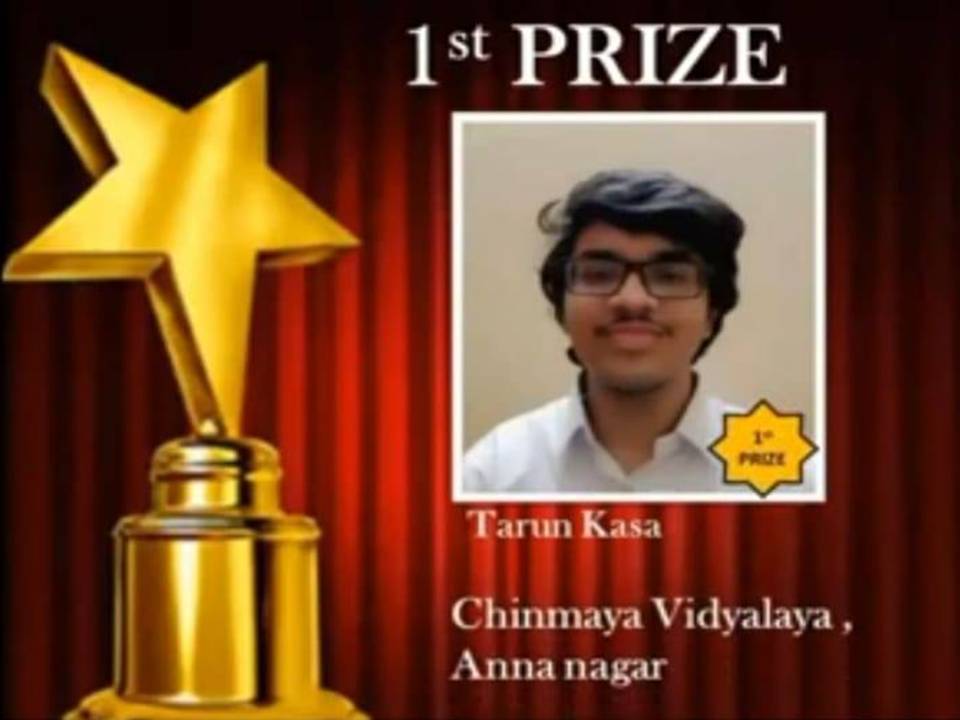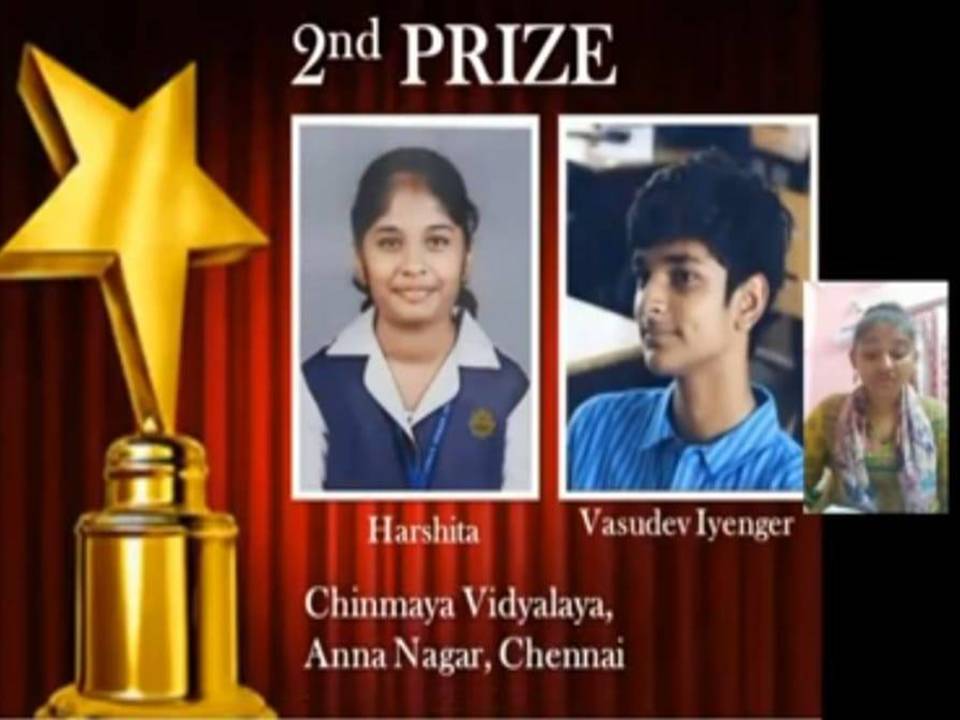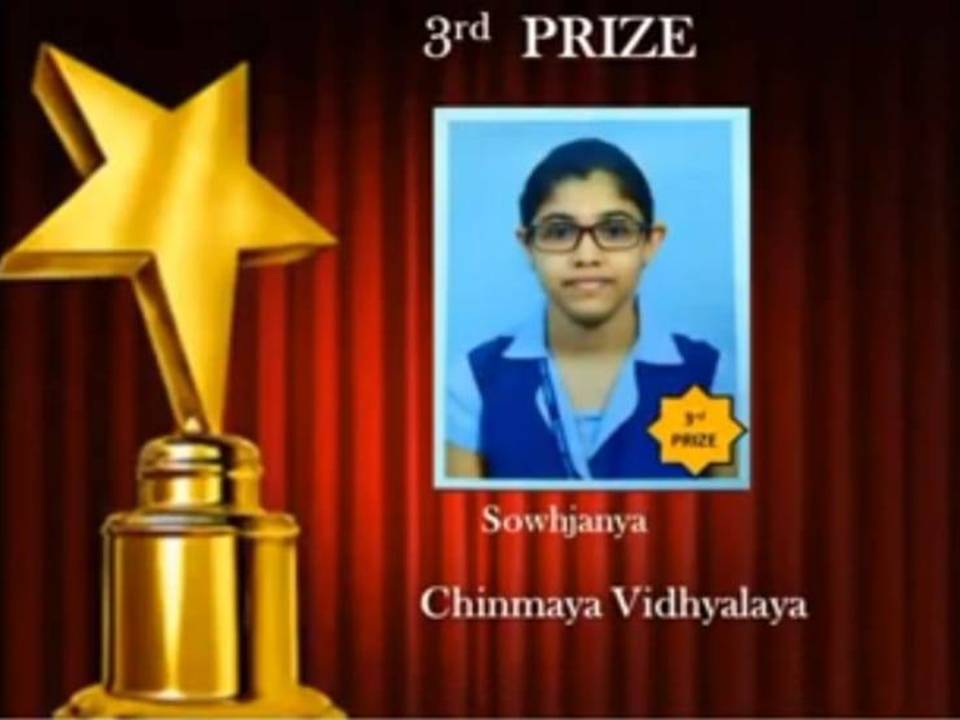 State level talent show
K.Rishitha of std 5 took part in state (7 states) level talent show that was organised by Chinmaya Vidyalaya Nagapattinam, in the month of July and won the first prize in Bharathanatyam. She has also taken part in National level Dance competition 2020, conducted by Nrithya Kinkinni and was awarded' the Natarajan Shironmani' . Congratulations to Rishika and all our best wishes for her future endeavours too.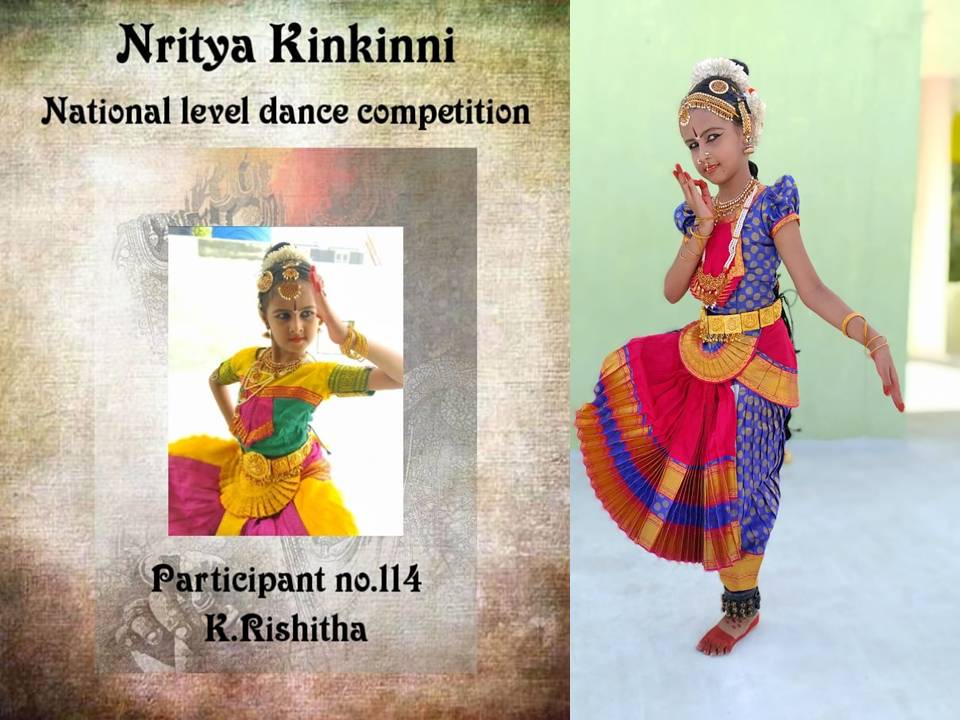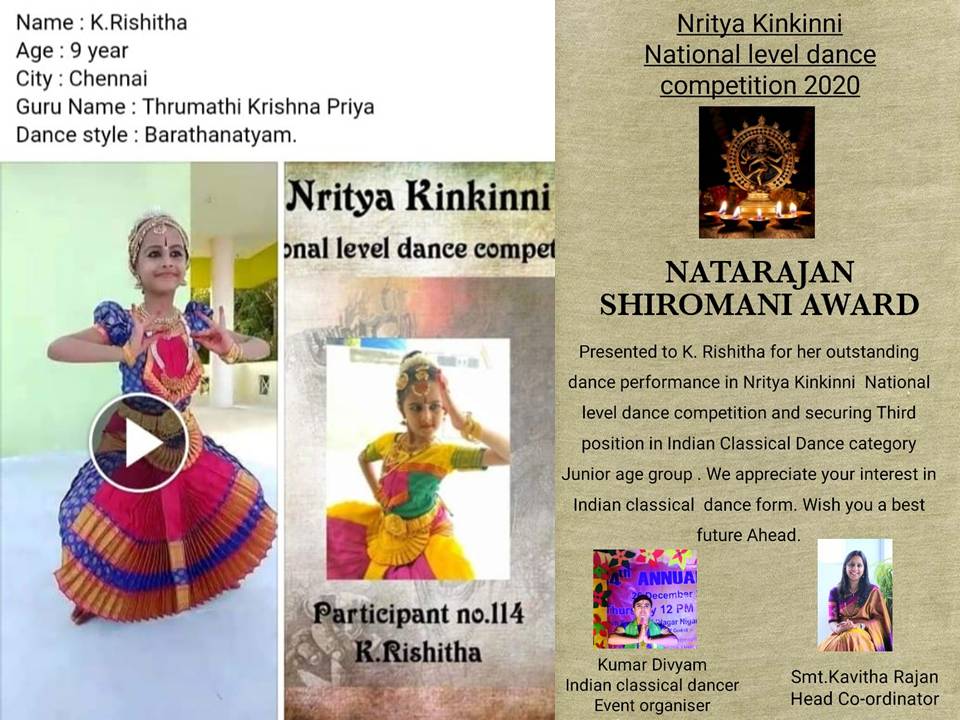 Recitation competition
The Udumalaipet Bhagavatha Bhajana Seva Mandali , a service oriented organization at Nanganallur organised various spiritual events as a part of theirKrishnajayanthi celebrations. ADYA VENKATESH OF CLASS II A of our Vidyalaya took part in the Carnatic music, Upanyasam and the Madhurashtakam recitation competition and bagged the first prize at the state level. She was also selected as the First Runner up in the story telling competition at the All India level,conducted by the Shining Star Company. The Shining Star company, is an established Event Management company based in Delhi. The story telling competition was conducted via Facebook video entries for the age group of under 10 category.
Bharatanatyam competition
Varsha J of Std. VIII D of Chinmaya Vidyalaya, Annanagar participated in many online Bharatanatyam competition and won following prizes 1. ONLINE BHARATANATYAM COMPETITION organized by Srishti Kala Kuteera and has won First Prize with Title "Nrithya Abhirami" and a cash prize of Rs. 1000. 2. Competition organized by A S R S Fine Arts and Padmasri Dr. Siva Chidambaram and has First Prize - Outstanding Performer award along with Title " Nadana Kalai Arisi" and received " Silangai" as special momento. 3. Narthana Krishna series 2 was a National Level Bharatanatyam Competition conducted by S R N K Raichur, Karnataka, Varsha J of our school participated and has won a second prize in this competition. She has received a momentous along with a slot to performed in "Swara", Online dance festival. 4. Reflections 2020 was an online competitions organized by Konrai Foundation, Dance Competition for the theme - Life in the time of Corona and has won First Prize with a cash prize of Rs. 2000.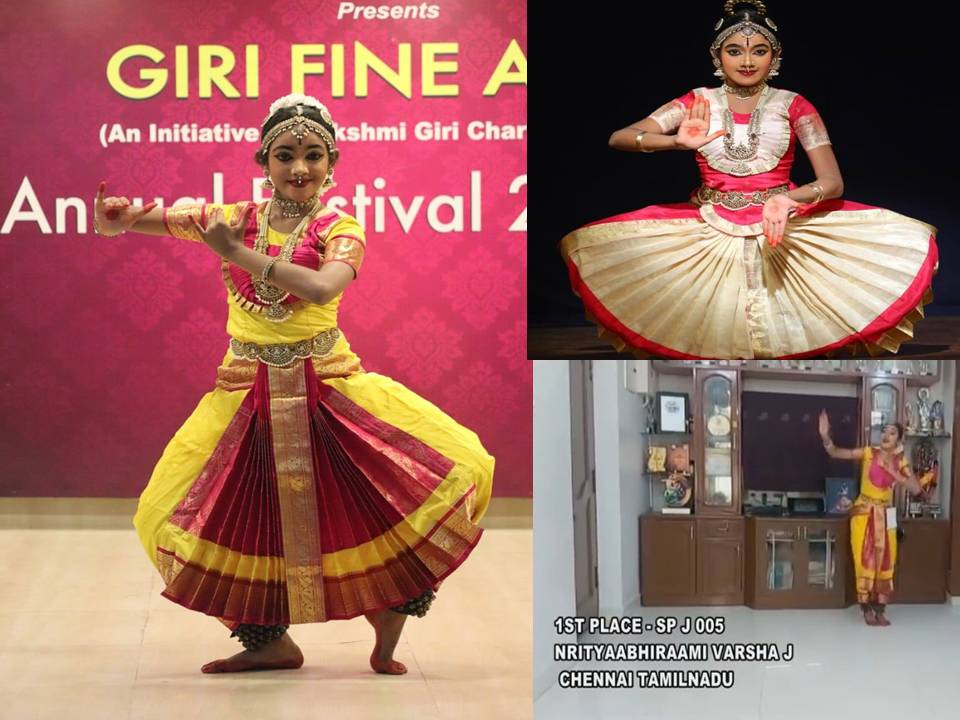 Online Dance Contest
A.R.Hemasree of class VIII D of Chinmaya Vidyalaya Annanagar participated in many online dance competitions and won following prizes 1.International online bharathanatyam contest conducted by indian classical dancers association ands has won First place in Junior section. 2.All India dance competition (AID) fest organized by Sri Mookambika Natya Kalakshetramand has won first prize with cash prize Rs 1100 . 3.National Level Dance Competition 2020 conducted by Nritya Kinkinni and was securing second position along with the title ''Natarajan Shiromani award''. 4.Desh Raag 2020 national level competition organized by Nrutyadham Kala Samiti and has won First prize and Outstanding performance award. 5.India's Online Dance Competition conducted by Dance Dil Se and has won First prize with Rs1100 cash prize. 6.Online Dancing Contest organized by Agra Cultural Organisation from Delhi and has won First prize.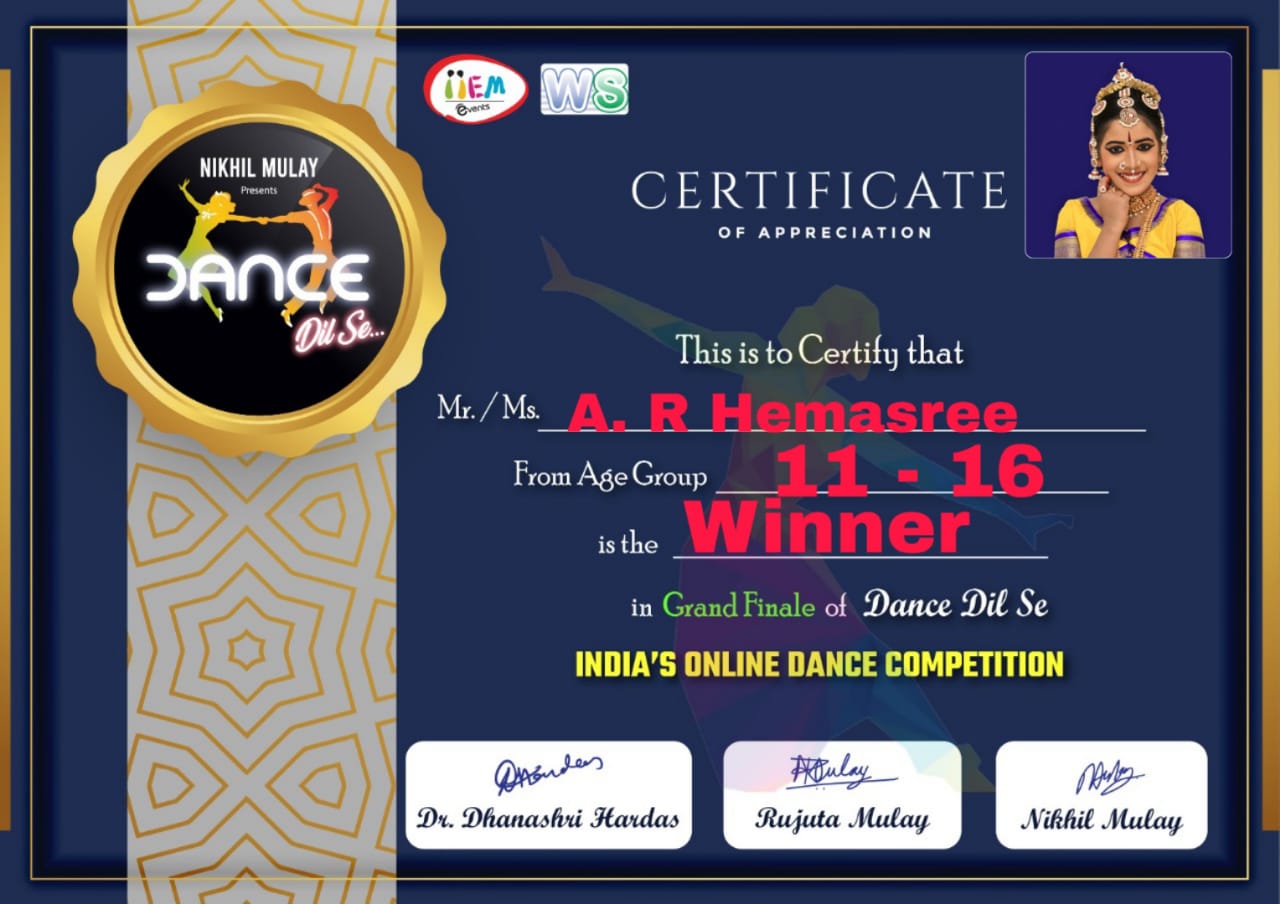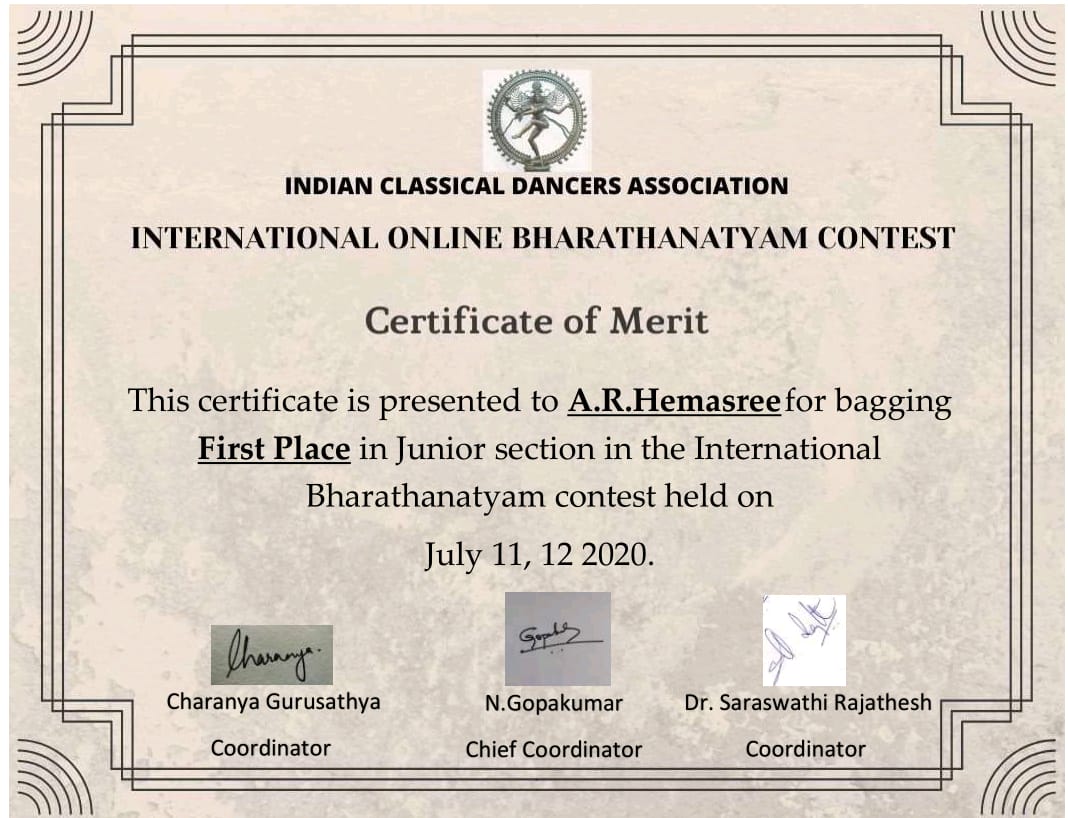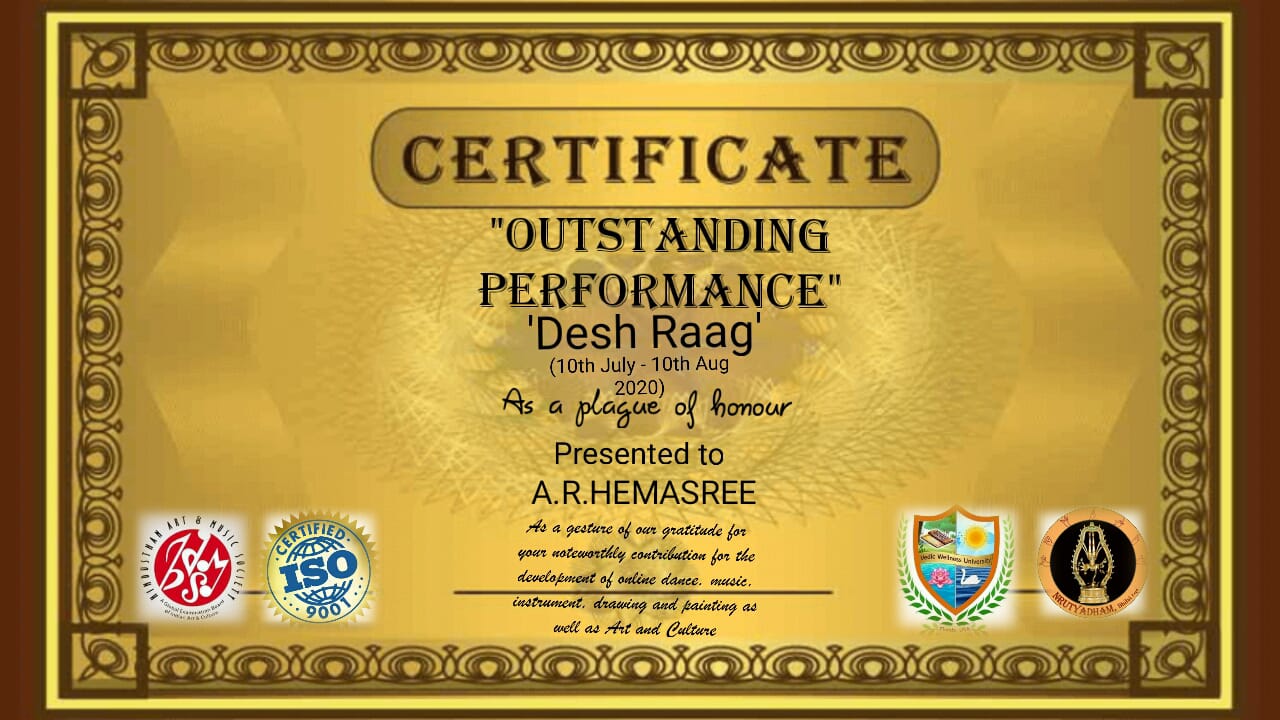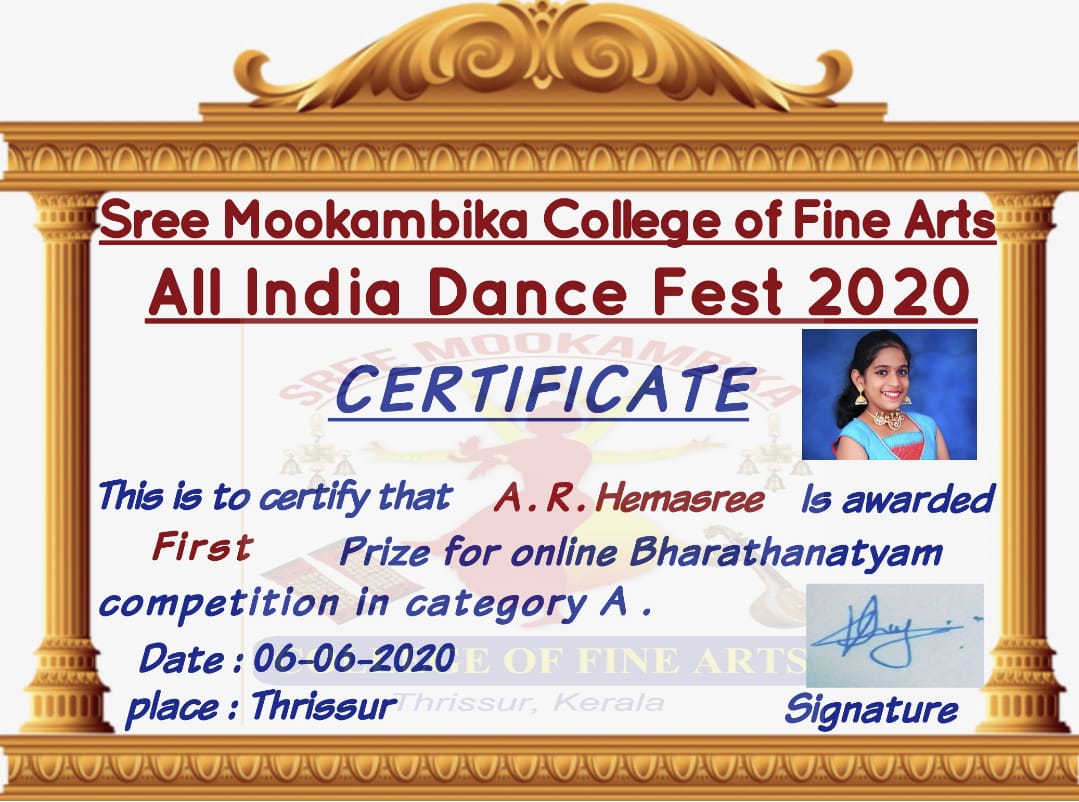 Cricket Tournament
Our Vidyalaya Cricket team has bagged the runner up position in the Inter- School Under -14 Cricket Tournament conducted by V7 Group last week in Ten Sports Village, Thandalam, near Chennai. It lost in the final to Don Bosco School, Egmore, by 10 wickets. Team member Poojith won the 'Man of the Series' award for scoring the maximum aggregate of 262 runs. N.Aswin bagged the maximum number of 11 wickets in the tournament.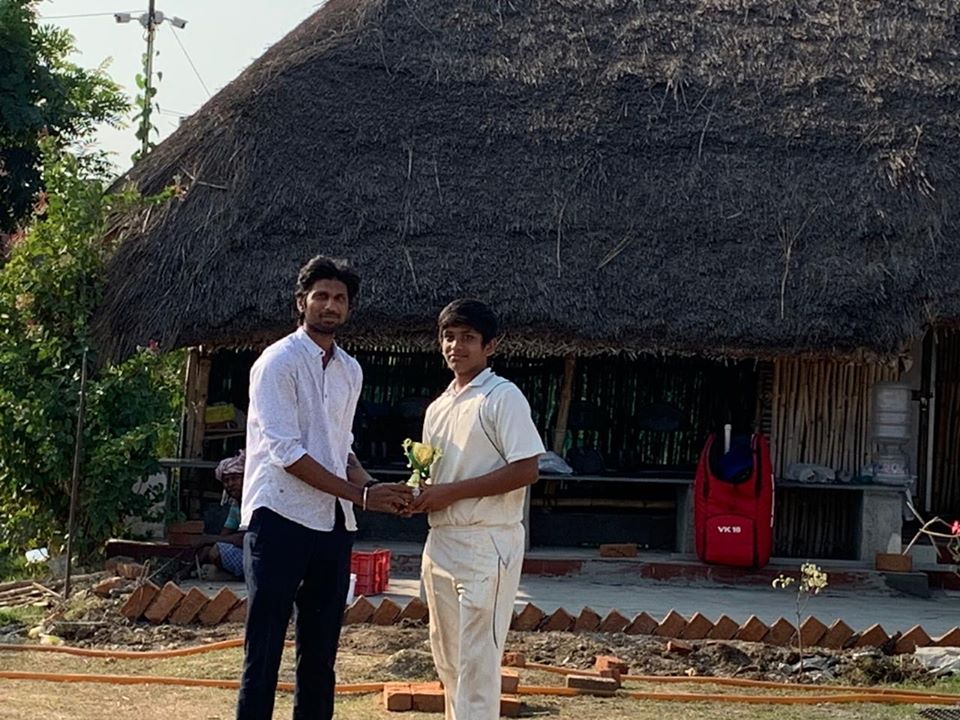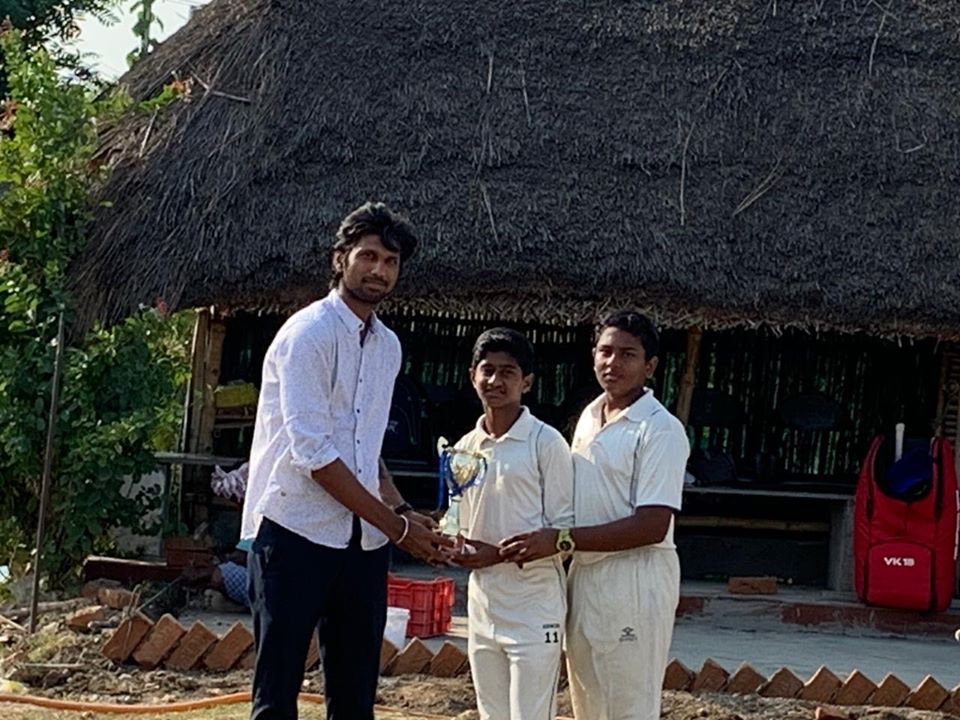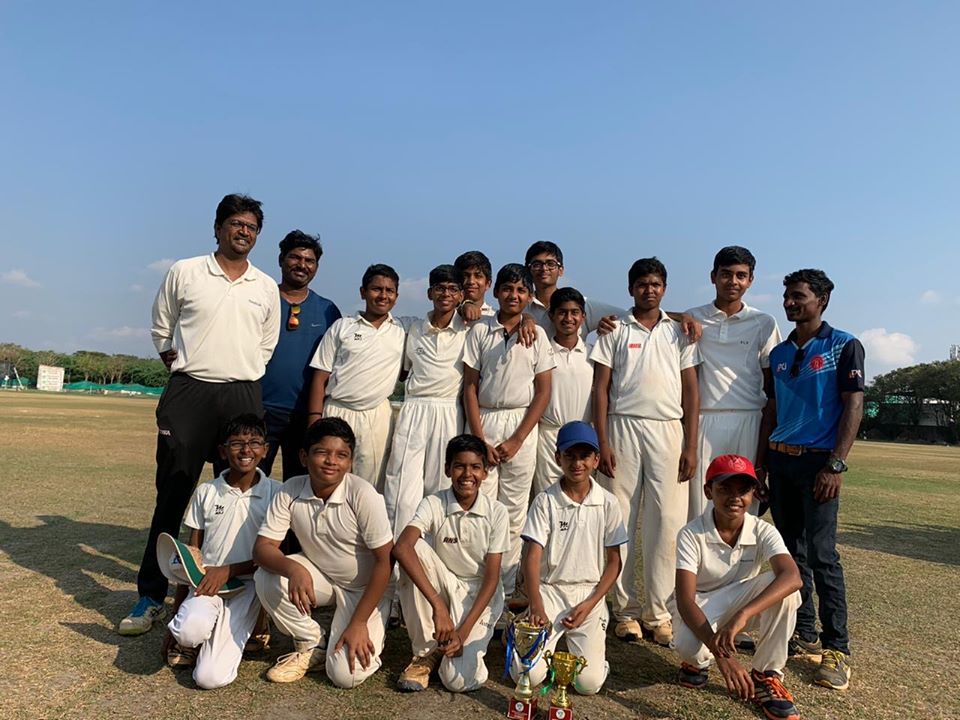 India's first solar vehicle championship - RAMCO Institute of Technology
India's first solar vehicle championship was conducted at RAMCO Institute of Technology, Rajapalayam in Tamilnadu on 2nd February 2020. In this regional round more than 500 students participated from 60+ schools from South Indian states. Students had manufactured solar and battery operated cars and demonstrated their design capabilities. Six students from class 7th from our school participated in this event. Our team 'Rays2miles' won the 1st prize in design, with a cash prize of Rs.2500/- and overall 1st prize and championship trophy with a cash prize of Rs.15000/-.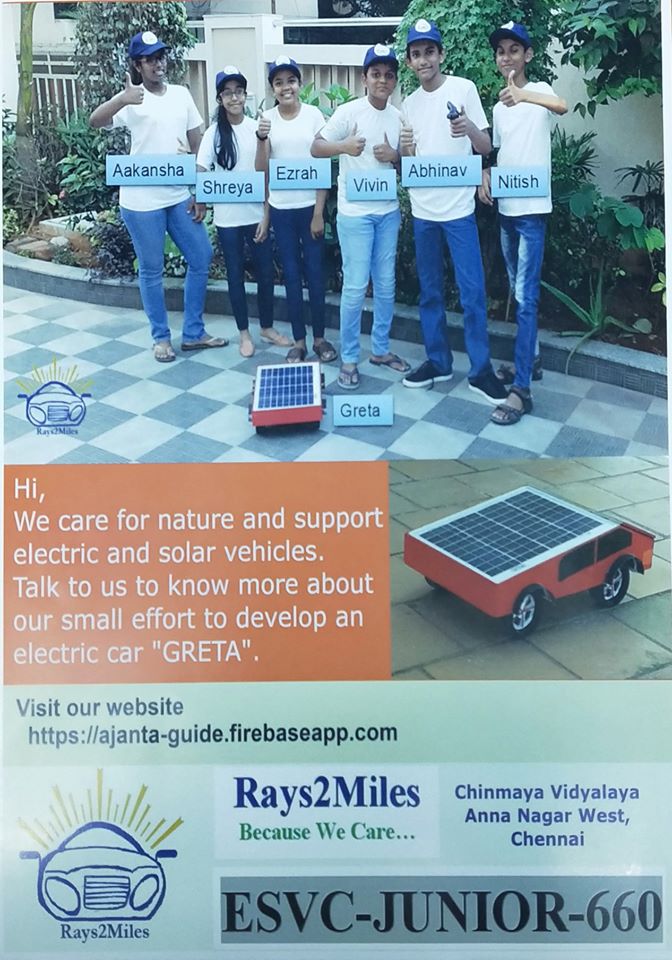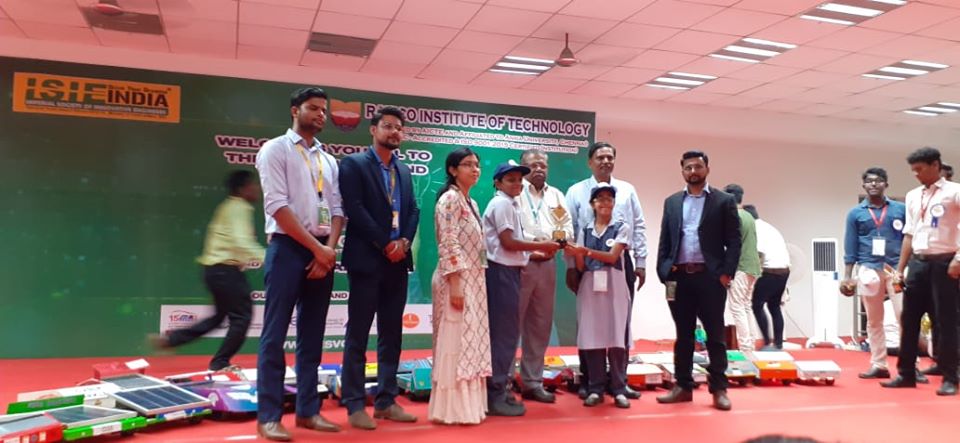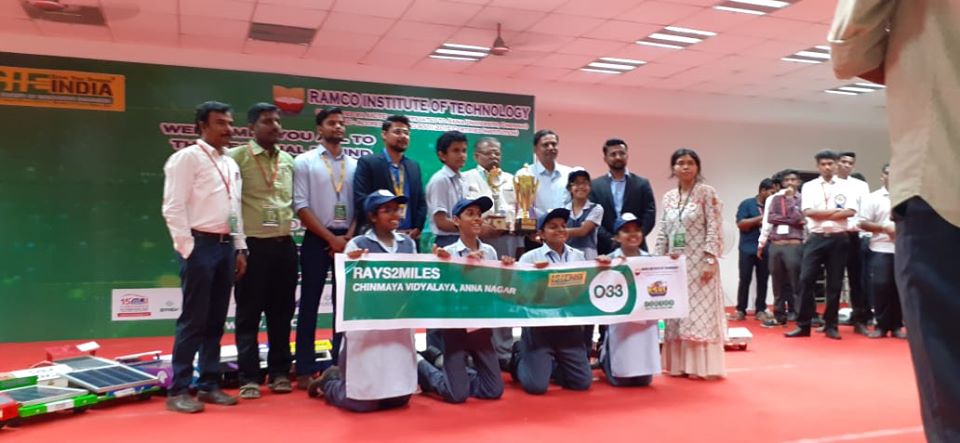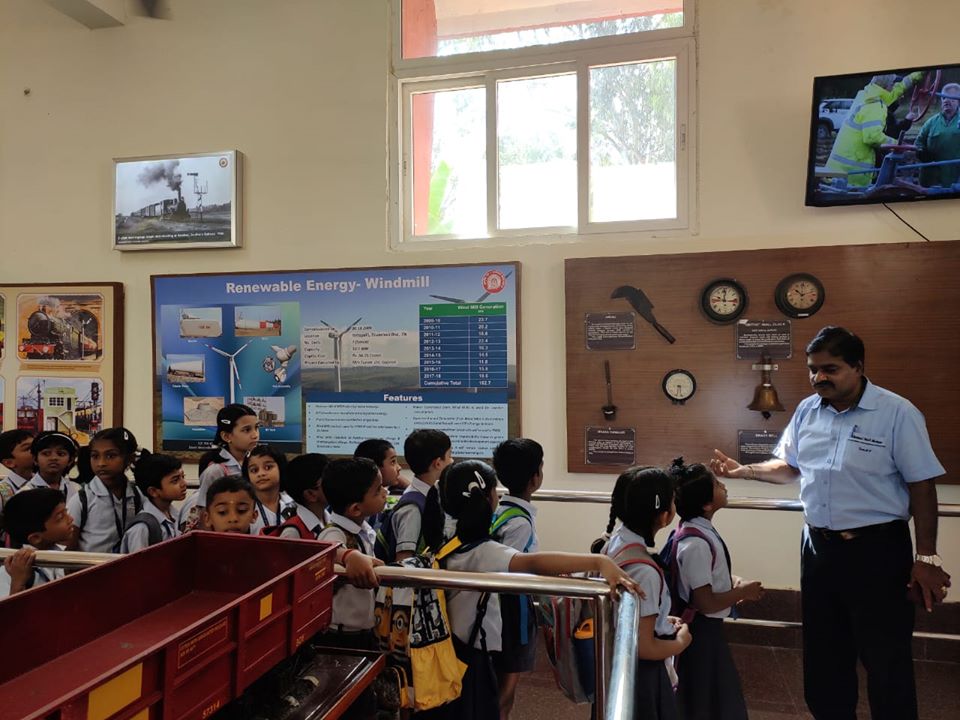 Brain Bee
Chennai Regional Brain Bee for the year 2020, was conducted by Shri Shankarlal shasunbhai College for women-T-Nagar Chennai, in which Hari Vignesh Umashankar of Std XI won the second prize. He was awarded a cash prize of Rs. 2000/- along with a trophy and a certificate. Students from around 20-25 schools participated in this informative competition, which was introduced for students to develop interest in neuroscience. Initially, a preliminary test was conducted, which was a written test to select students for the oral round. Hari Vignesh Umashankar got selected for finals and won the second place. The competition was presided by Dr Lakshmi Narasimhan a world renowned neurosurgeon. Congratulations to Hari Vignesh Umashankar. Congratulations to Anjana A.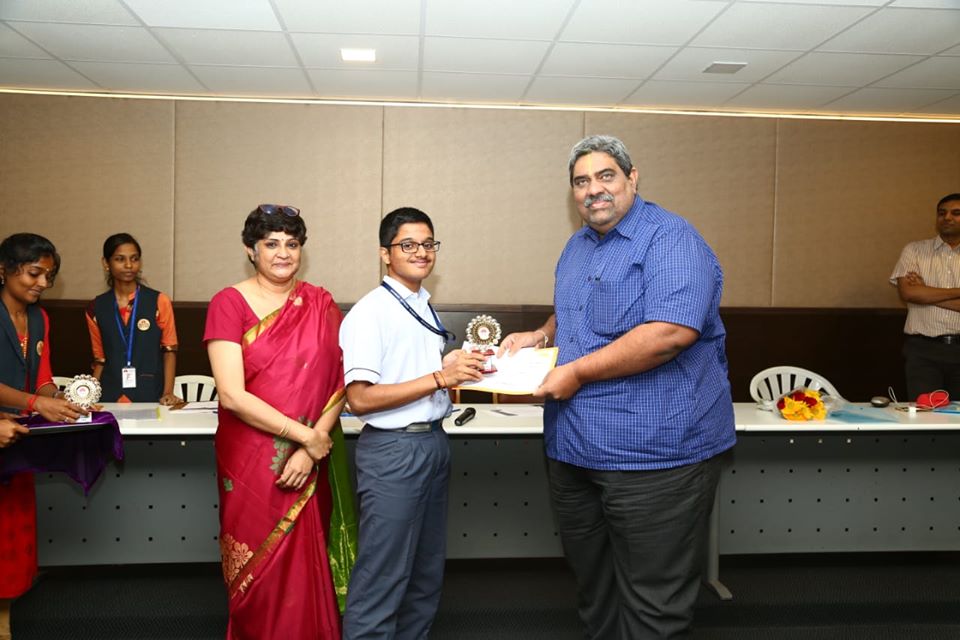 District level chess tournament.
VOC Vidyalaya Matric Hr Sec School Vysarpadi conducted District level chess tournament on 08.12.2019. Anjana A of Class III D has secured I place in U-9 Girls category. She has won a medal, Certificate and a Rolling trophy, which she will be holding for one year. Congratulations to Anjana A.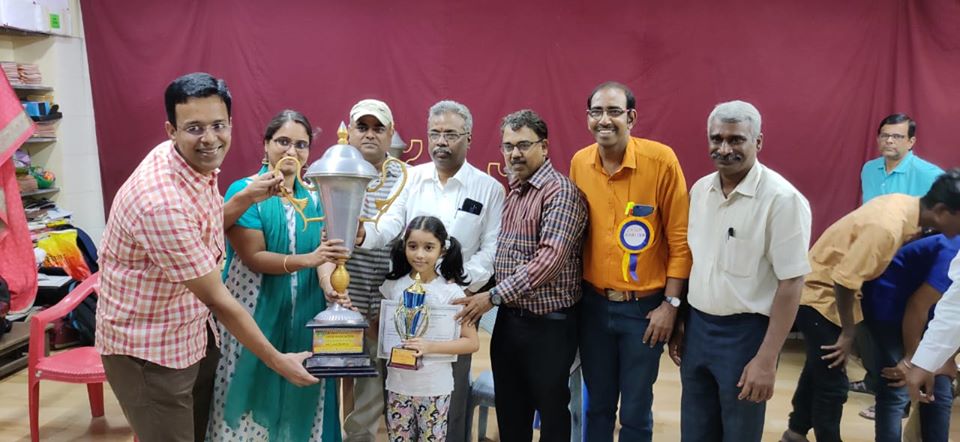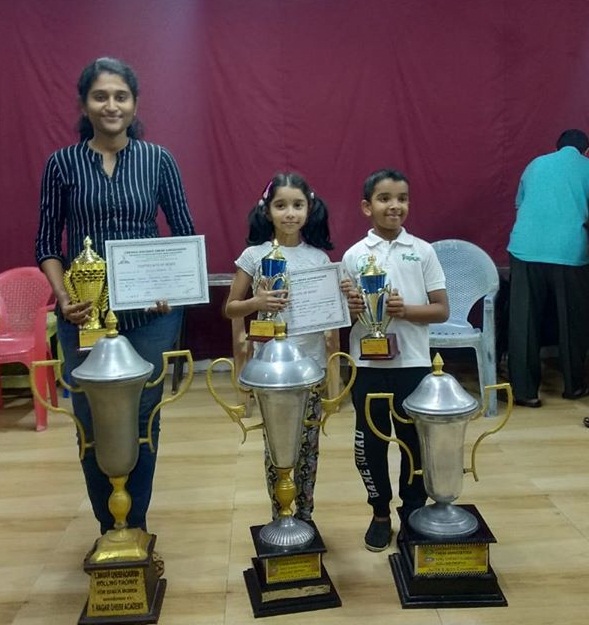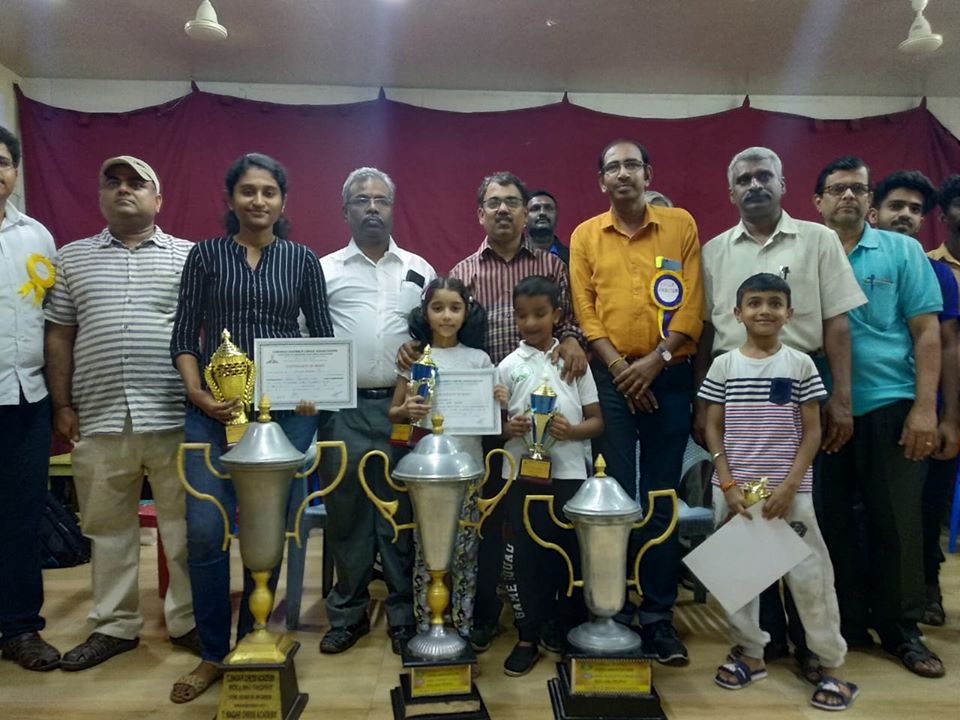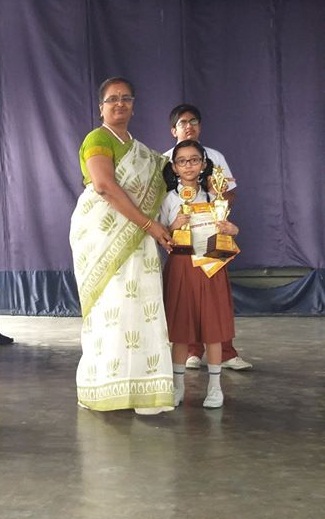 Annual Gita Chanting Competition - 2019.
We are glad to inform that our School has won the overall 4th place in annual Gita chanting competition 2019. The overall shield was received from Guruji H H Swami Tejomayanandaji on 13.12.2019 at Chinmaya Heritage Centre. The prize was received by our Principal Mrs V Gowrilakshmi and Sanskrit Teachers Mr Kannan and Mr Ravi. Congratulations to all the prize winners and participants.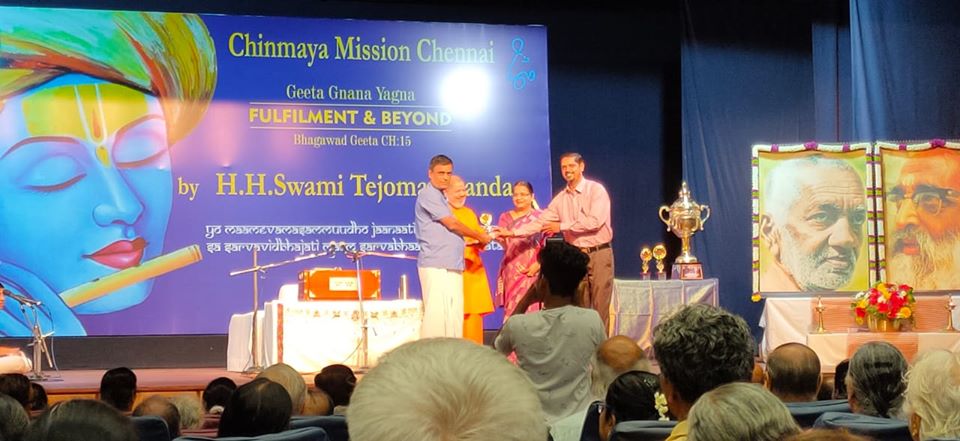 INIYA KURAL THEDAL SEASON- 2
A 'Mega' Light music contest was organized by VOC Vidyalaya Matric Higher secondary school, Chennai on 29th November 2019. More than 300 students participated in and around Chennai Schools.
Ms. T Nivedha of VII –D got 2nd prize in the junior category (age 9-12). She was awarded a trophy, Certificate and a cash prize of Rs 3000/-. She received the prize from Thiru. Sham Sudeen , Cine Play back singer , Music composer and the Proprietor of Gentle men Orchestra and also from Shri V Lakshmanan , Director of Lakshman Shruthi Musical and Orchestra .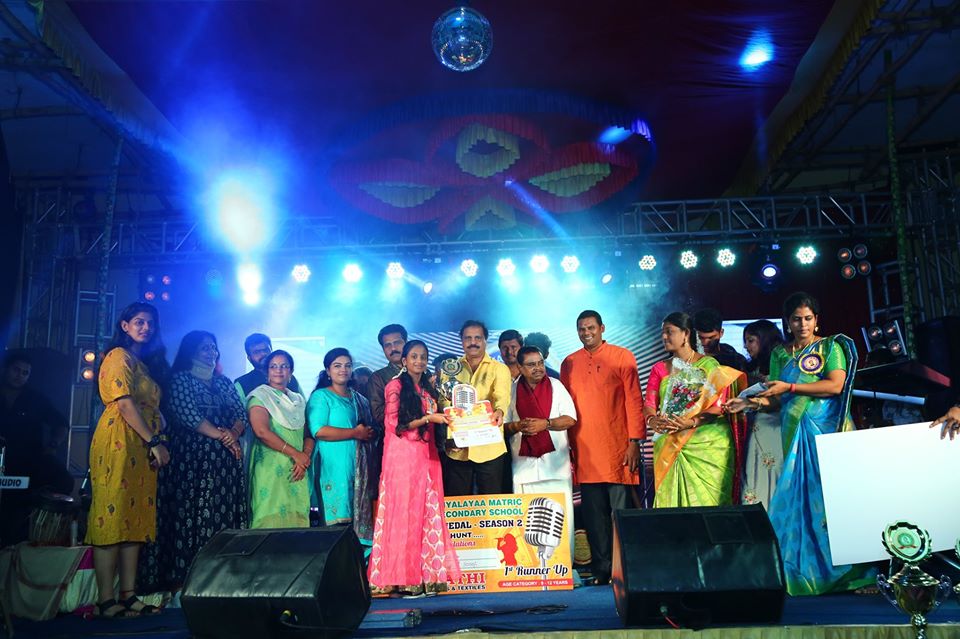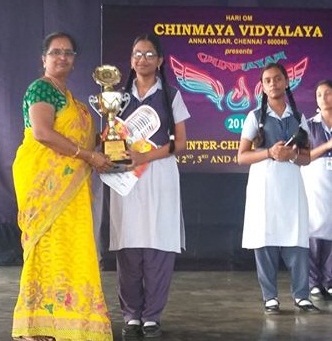 CBSE Science Exhibition
The CBSE Science Exhibition was organized by CPS Thirumazhisai on 29th & 30th November 2019, in which two teams from our school participated. The team comprising of Subhadra and Nageswari exhibited an project on 'Multi-Pack Processor' while the other team comprising of Shreya and Vijaya durga exhibited an project on 'Carbonator'. The overall theme of the exhibition was 'Science and Technology in sustainable development with a thrust on water conservation'.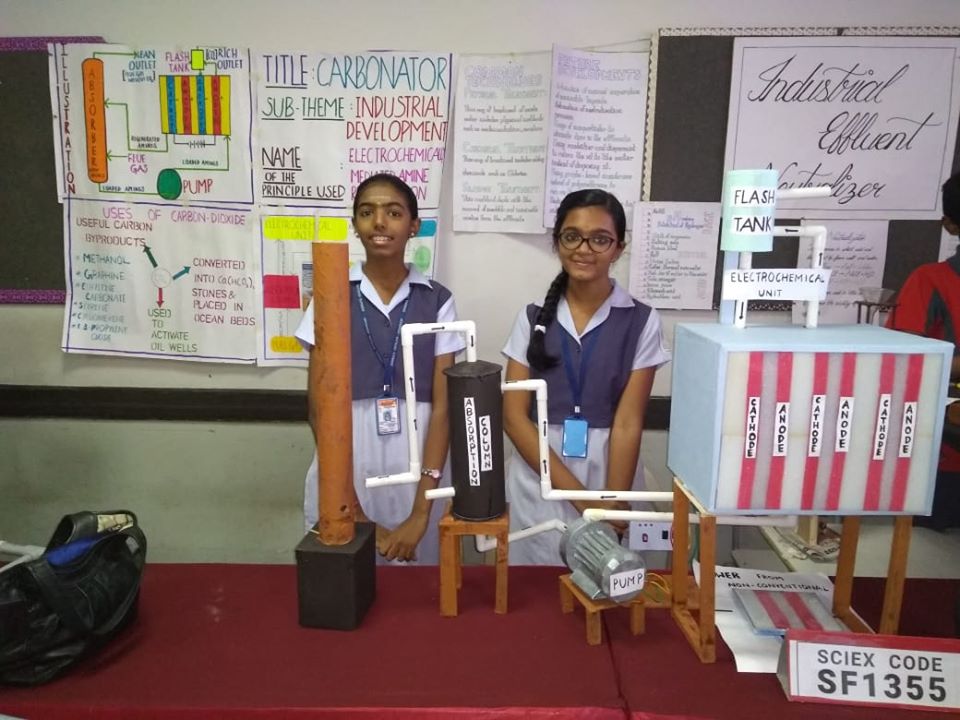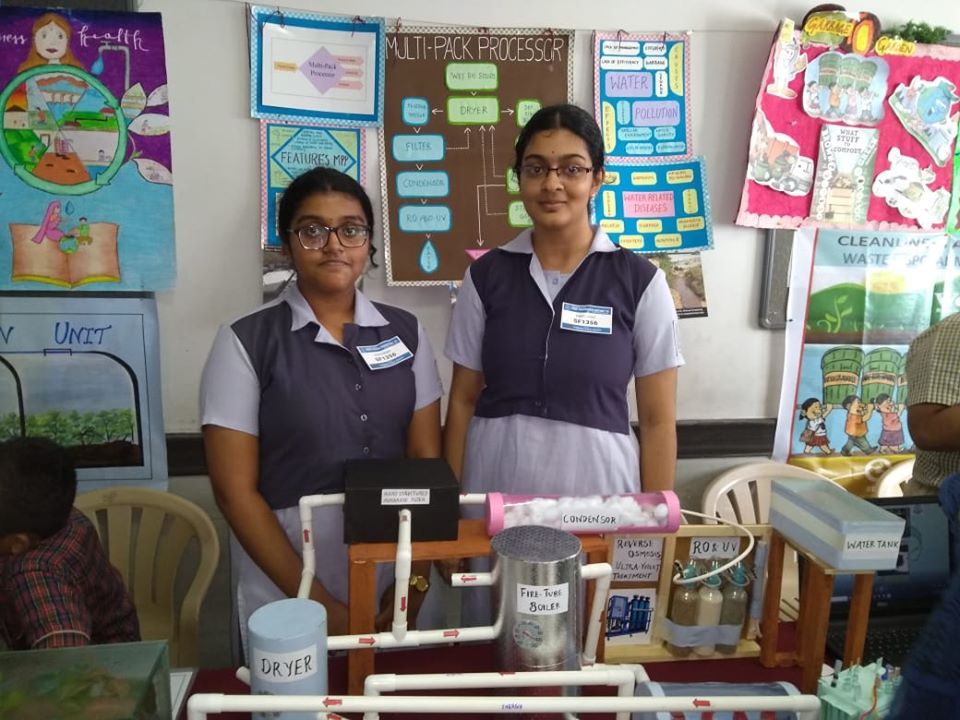 Khel Milan - All India Inter Chinmaya Vidyalaya Football tournaments
Khel Milan All India Inter Chinmaya Vidyalaya Football tournament was held in CIRS Coimbatore from 02.12.2019 to 04.12.2019 for Under 19 Our school Boys team entered Q finals and T Sunil Kumar of XI was awarded best Goal keeper award and our girls team won the winner trophy and Shruthi Tejaswi of IX was awarded best player award.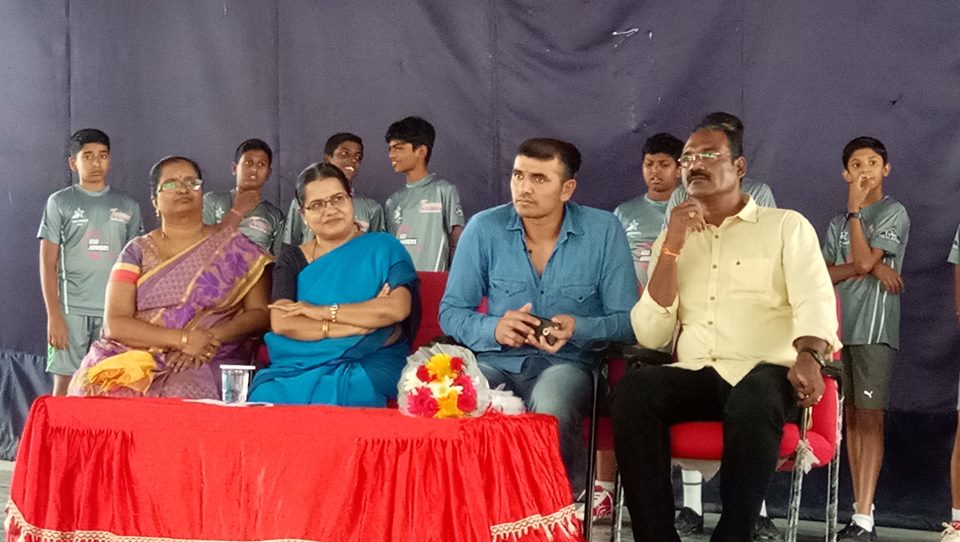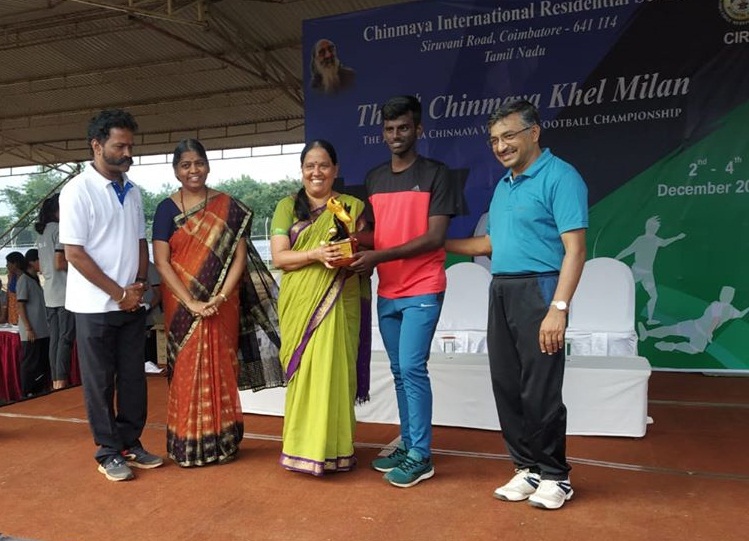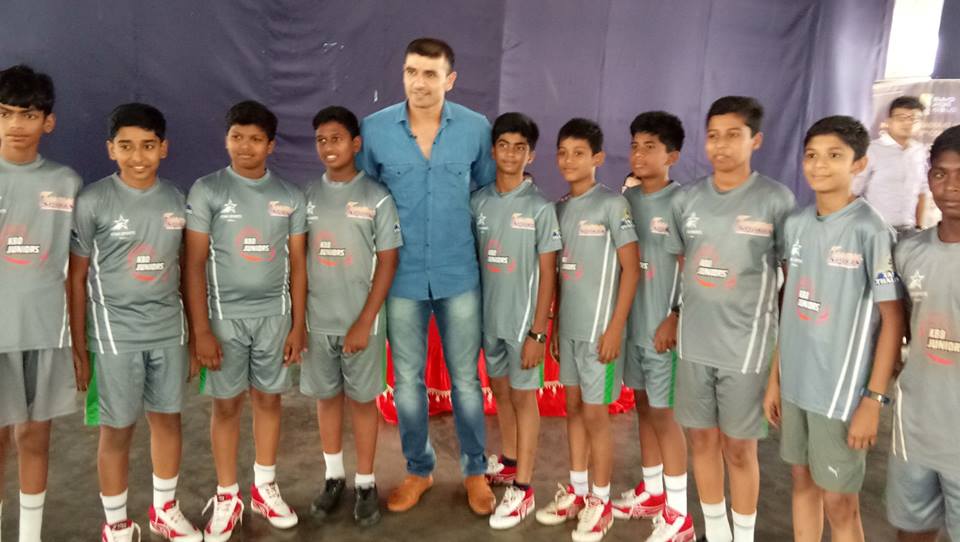 State level Painting Competition
Bhavana Prishaa V of class VII represented our school in category B of the State level Painting Competition on Energy Conservation Organized by the Bureau of Energy Efficiency, MINISTRY OF POWER, GOVERNMENT OF INDIA held on 14.11.2019 at Chennai and got selected for state level competition. She received a certificate and a cash award of Rs.2000/- our hearty congratulations.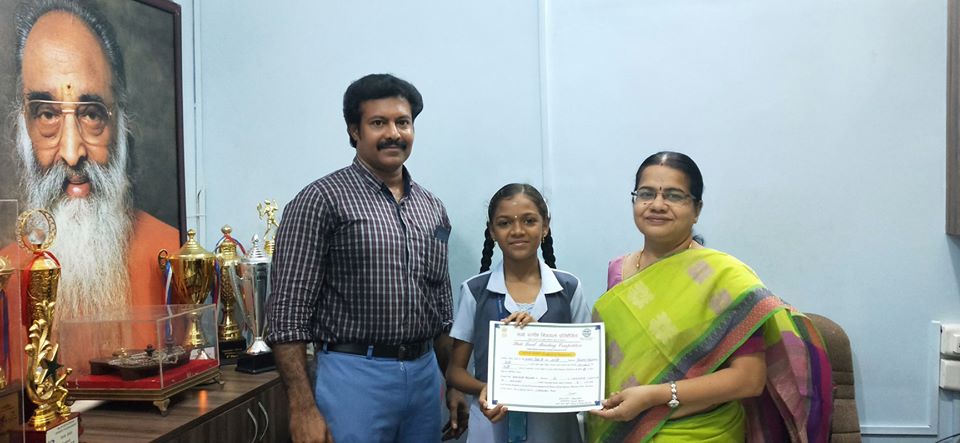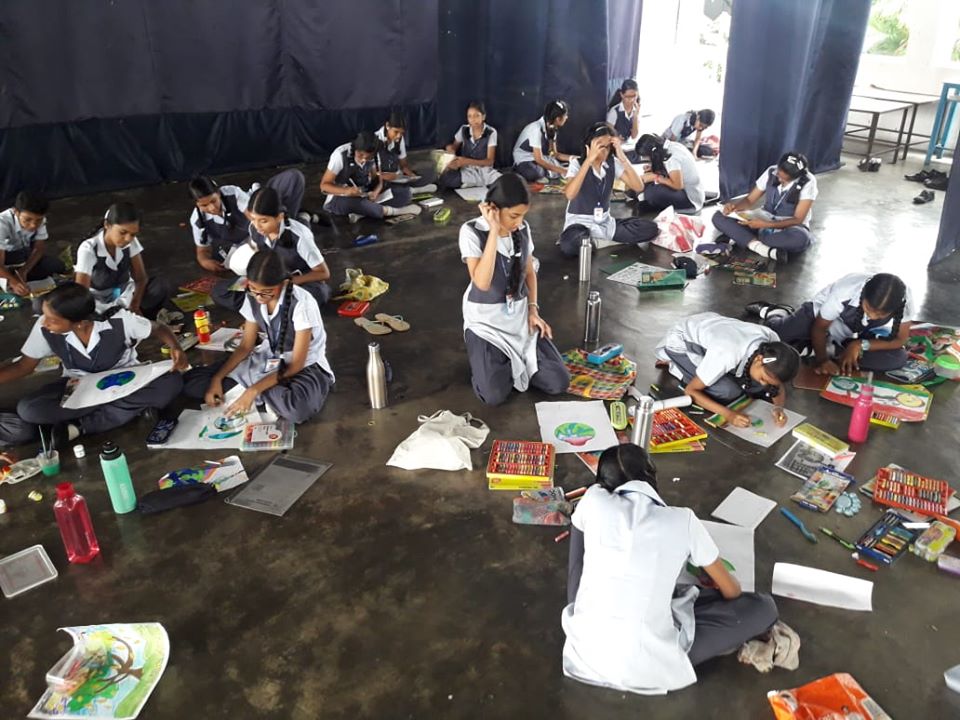 State level badminton tournament
U C Madhavan of IX D participated in the various badminton tournaments in which he won the following awards.
1. Semi finalist and won cash award Rs.1500/- , Rs.200 coupons, trophy, Medal and Certificate in the under 15 Badminton tournament conducted by the ESMA Events.
2. Winner of the under 15- state level badminton tournament conducted by Rotaract club of Aadithya and won cash award of Rs.5000/-, Trophy, Medal and Certificate.
3. He was also quarter finalist in the state level badminton tournament under 19 conducted by Rotaract club of Aadithya and won the bronze medal.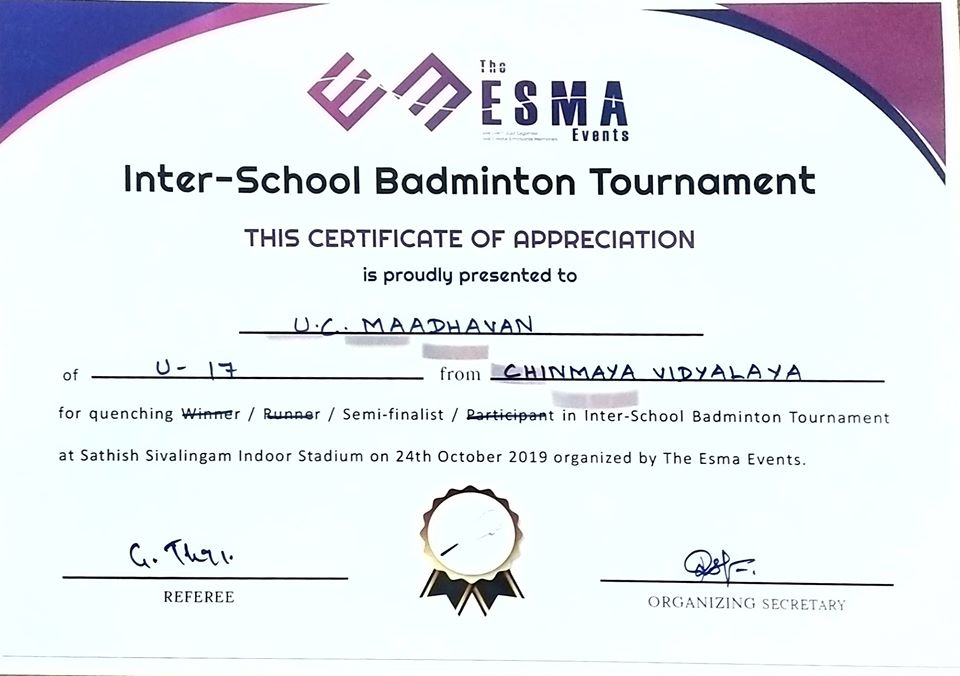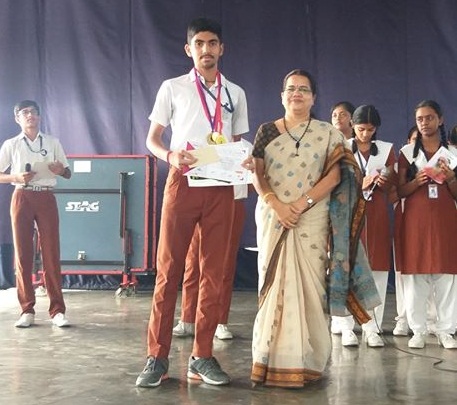 Foot ball tournament for U-14
V-Sports Academy & Apollo hospital organised a foot ball tournament for U-14 and U-16 category. In both the events our school team was the winners. The match was conducted at police training college- ground, Ashok Pillar on 12.10.2019. Congratulations to the winners and the PT department teachers.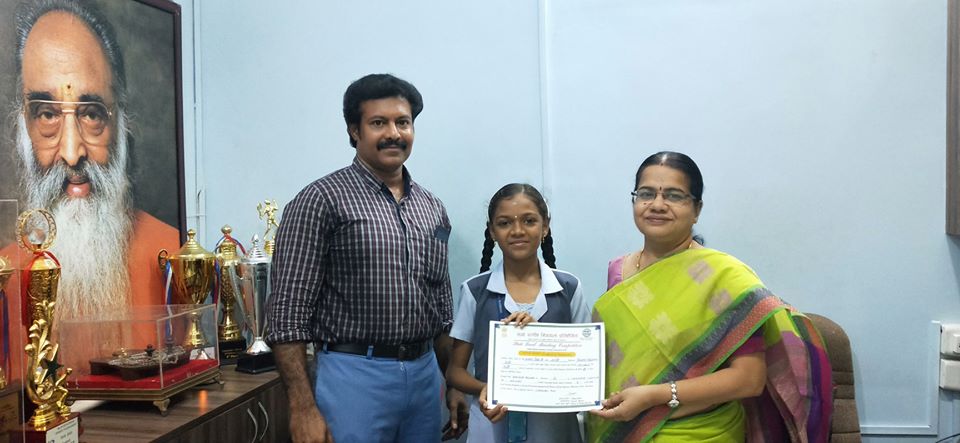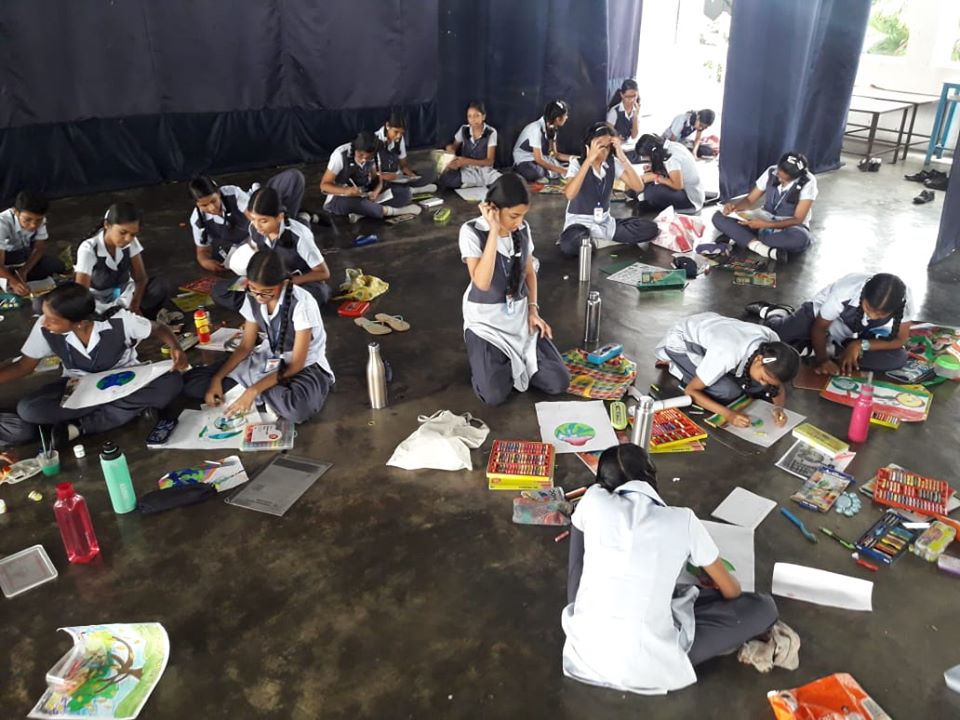 CBSE South Zone Badminton Tournament
CBSE South Zone Badminton Tournament was held at Sri Vignesh Vidyalaya, Trichy in which 350 schools participated from 6 States our students I R Keerthilakshmi and N A Saranya U-17 (Girls) won the title and they were selected for Nationals. In the same tournament Our vidyalaya students P Neha, Anumitha and Shrinidhi U-14 Girls won the Bronze Medal.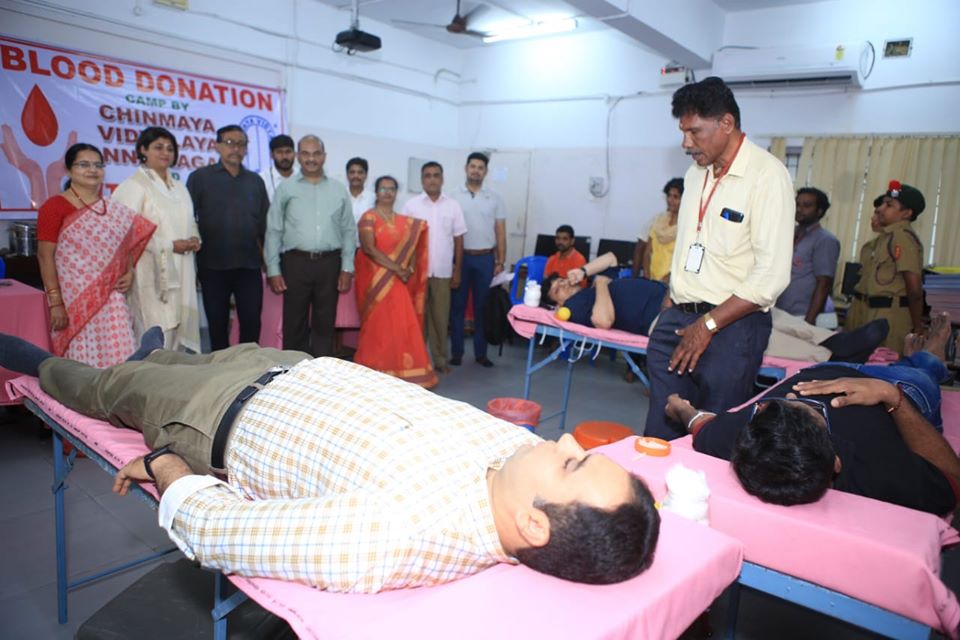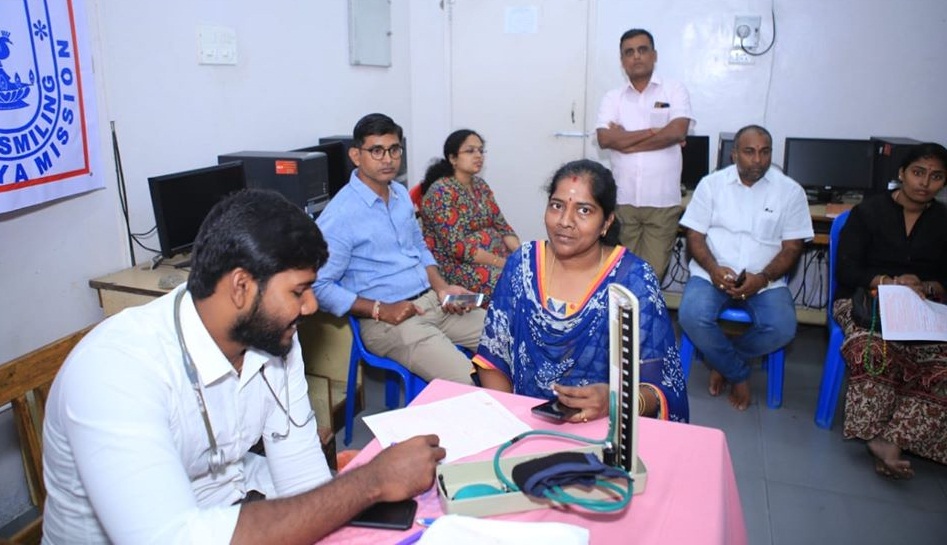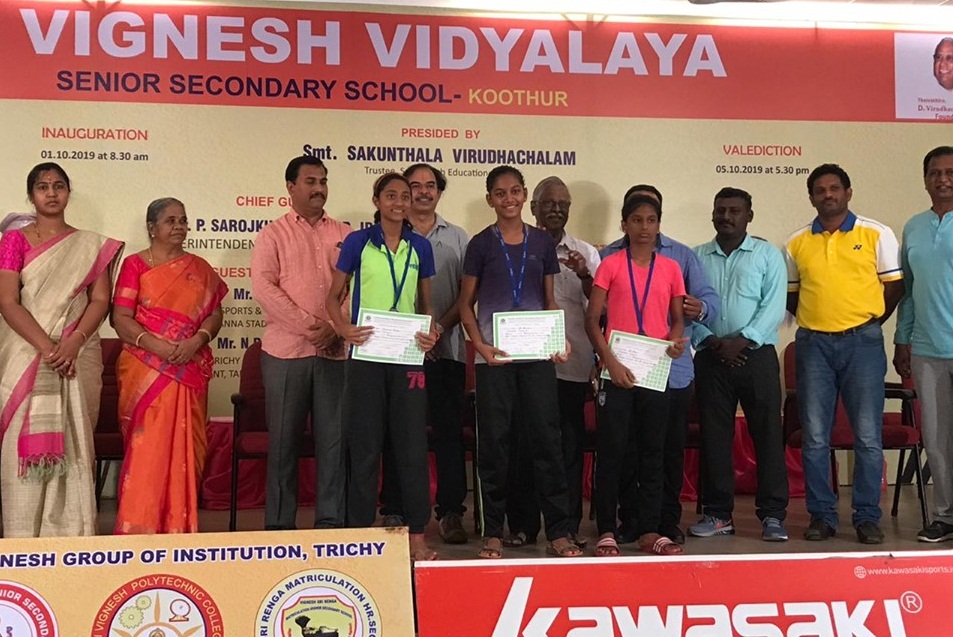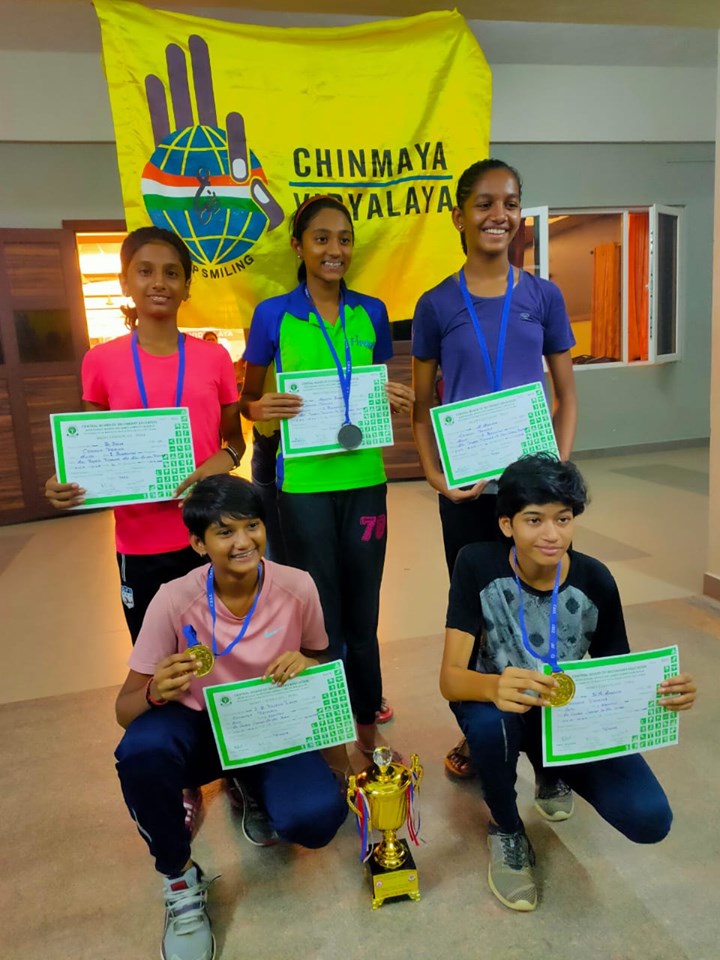 CBSE Cluster VI Table Tennis Tournament
CBSE Cluster VI Table Tennis Tournament was conducted by PSBB Senior Secondary School Nungambakkam and our student Hari Vignesh Umashankar got runner up and entered Nationals in Under 19 Boys individual championship. P Vishvajith, Shiva Saravan G and Sanket Mahipal won the Bronze Medal in U-19 Boys team Championship. M Bhagyashree, Shruthi Tejasvi, Shreya Teajal and Drishti Ajmera won the Bronze Medal in U-17 Girls Team Championship. M Bhagyashree won the Bronze Medal in U-17 Girls Individual Championship.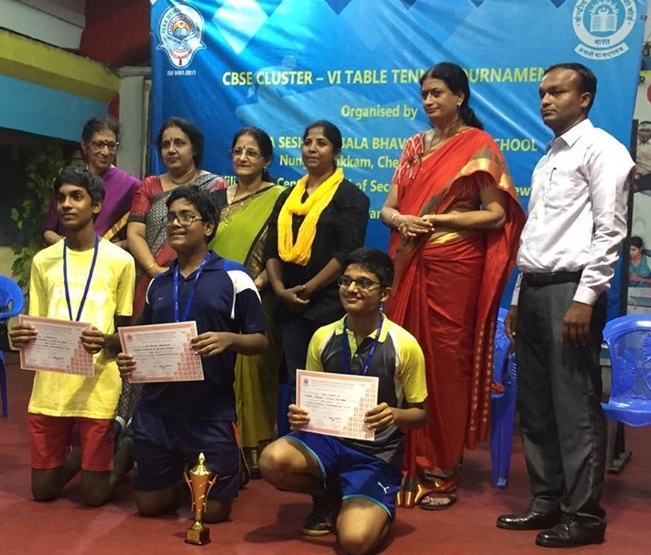 CBSE VI cluster State Level Inter School Foot Ball match
Our Vidyalaya Foot ball team participated in the CBSE VI cluster state level interschool match in which 190 schools from all over Tamilnadu , Puduchery and Andaman Nichobar took part. After winning seven matches they entered into the finals and they played against Lawrence school – Ooty on 29.09.2019 at Mathakondapalli model school, Hosur. It was a proud moment for CVA boys under- 17 to win the cluster VI football tournament which is giving them an opportunity to participate in National level.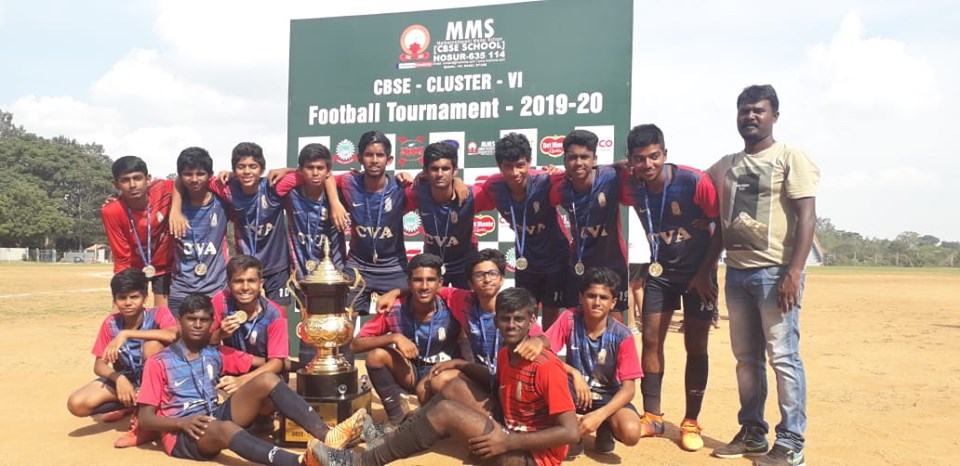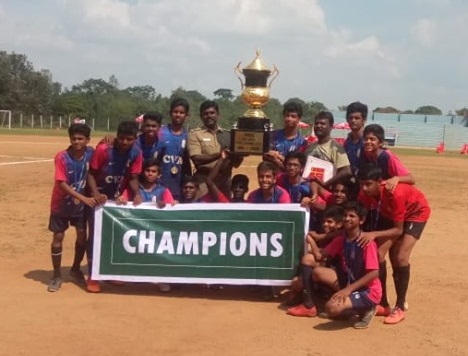 Grand Football Tournament
Real sports Academy in connection with Apollo Hospital has conducted Grand Football Tournament 2019 on Saturday 7th September at police training college ground. Our school football teams both U14 and U10 secured the winner position.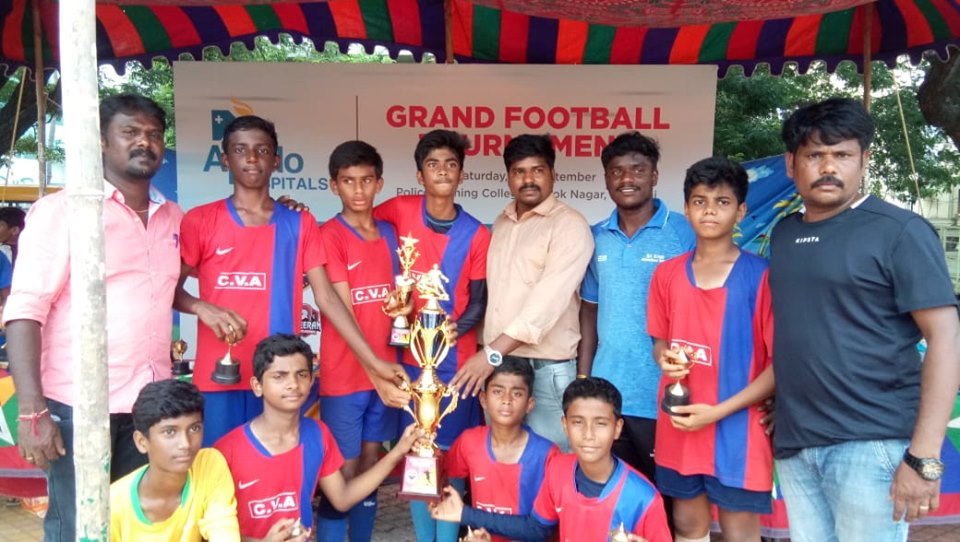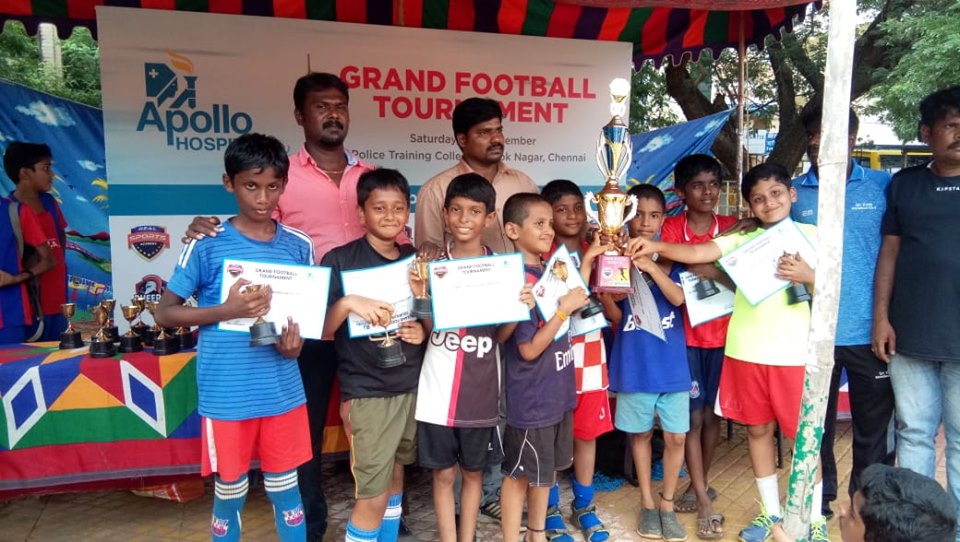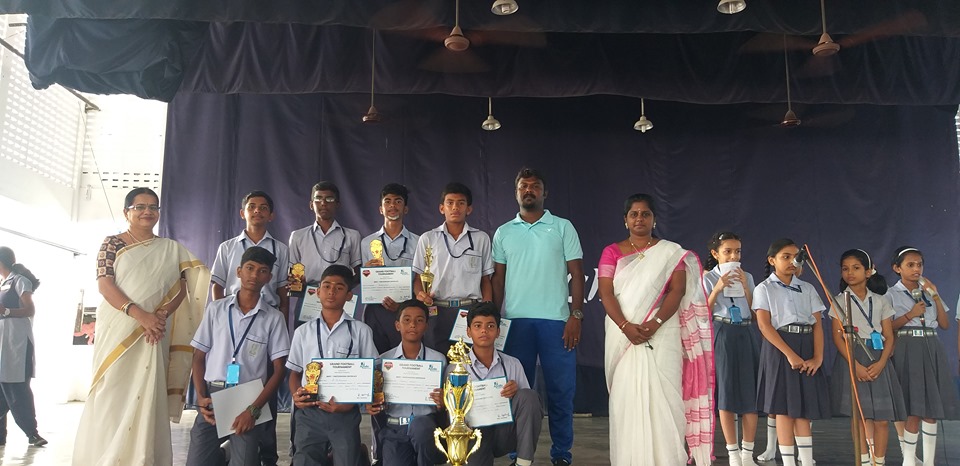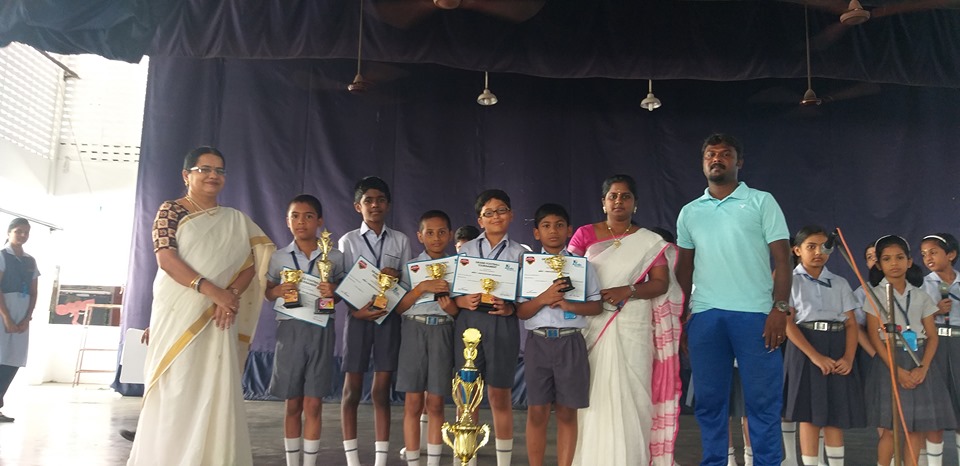 BEST TEACHER AWARD
1. Mrs Jayashree (Science teacher) & Mrs Usha Joseph (KG Head) received the Best teacher award from Lions Club International on 05.09.2019 at Hotel Ashoka.

2. Mrs Rajeswari Sivanandan (English TGT) received the Best teacher award instituted by Hindu Educational and Charitable Trust, Avadi on 11.09.2019 at Jaigopal Garodia Vivekananda Vidyalaya Avadi.

3. Mr M M Subramani computer teacher received the Best teacher award from The West Chennai Sahodaya Clusters Schools on 12.09.2019 at Schram Academy.

4. Mrs Rajashree Menon (English PGT) received the Best teacher award from CIT Institute of Chennai on 15.09.2019 at CIT Campus Chennai.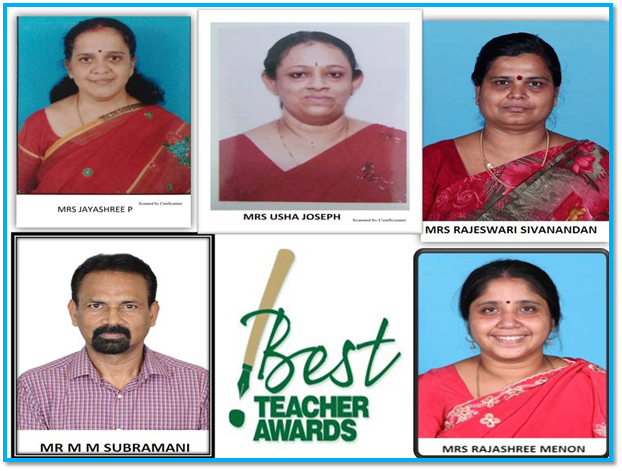 Astra, 2019(a cultural programme)  - Bhavan's Rajaji Vidyashram
Bhavan's Rajaji Vidyashram conducted ASTRA (a cultural programme) in which our school participated won the following
Just A Minute – IIIrd prize
Channel surfing – IInd prize
Shipwreck – Ist prize
Futsal – Ist prize
Western Dance – IIIrd prize
Treasure Hunt- II prize
Band- IIIrd prize
Stand up comedy – Ist prize
Venkatesh menon of our school won the tittle 'Mr Astra' in final showdown and won an I Phone XR and airpods worth Rs.1,70,000. He also won a bicycle from 'Just buy cycles' for securing the first place in stand up comedy. Samaran J secured the runners position in Mr Astra final showdown and won a one plus 7 Pro Phone worth Rs.50,000 Aadithya R also secured the best football player award and won a Bicycle from 'Just Buy cycles'. Our school bagged the overall runner up cup in the event.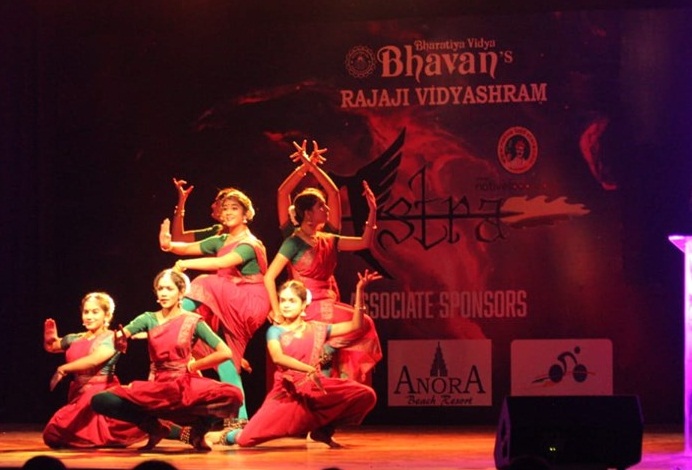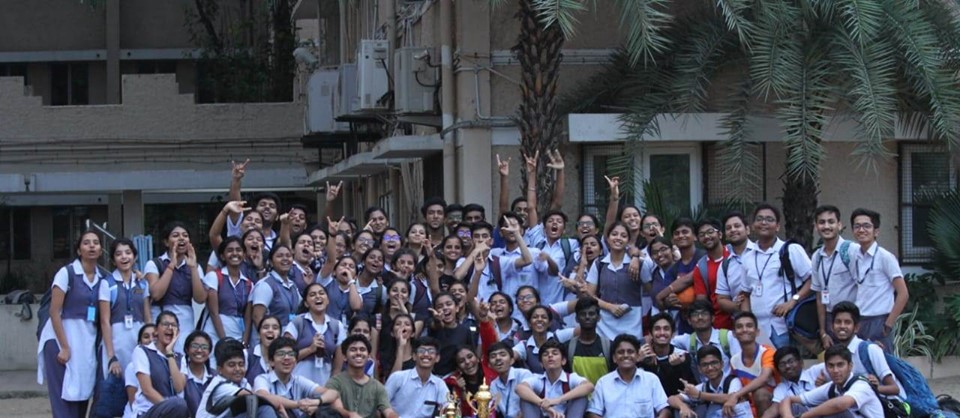 Reverberations 2019
Padma Seshadri Bala Bhavan conducted Reverberations 2019, a cultural event in which the students of our school won the following prizes
Channel surfing – I prize
Shipwreck – III prize
Whose line is it anyway – I prize
Lawyer up – II prize
Plot writing – II prize
Venkatesh menon of our school won the runner up position in the Mr. Reverberation event. He was awarded a MI LED TV. Our school also secured the third position in the overall table.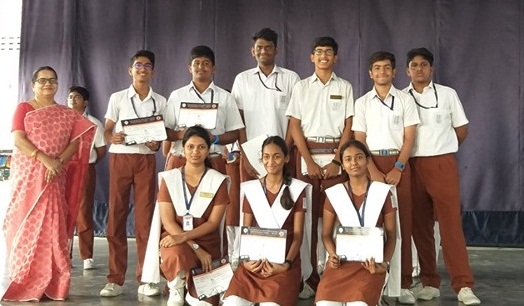 Mock GST Council
A Mock GST Council was conducted by the Central Board of Indirect Taxes and Customs for which students were trained under IRS officers and Assistant Commissioners of Revenue collection. The Council had 11 teams from various schools representing different states in the decision making process regarding GST structure. Two teams from our school represented the states of Maharashtra and Karnataka respectively. Television coverage was also made to increase GST awareness to general public. Team Maharashtra and Team Karnataka from our school secured the Third and consolation prizes respectively in the mock council. Shreya Prem and Rishika Ashok secured the first and third place in the individual speakers ranking. The teams along with their teacher in charge Mrs.G. Latha were invited to the felicitation ceremony at GST Bhavan, Chennai, and got an opportunity to have an informal snack session with the Chief Commissioner. The students learnt by experience the decision making process and got a chance to understand the specifications of GST directly from the IRS officers. Awareness regarding tax payment and GST was created.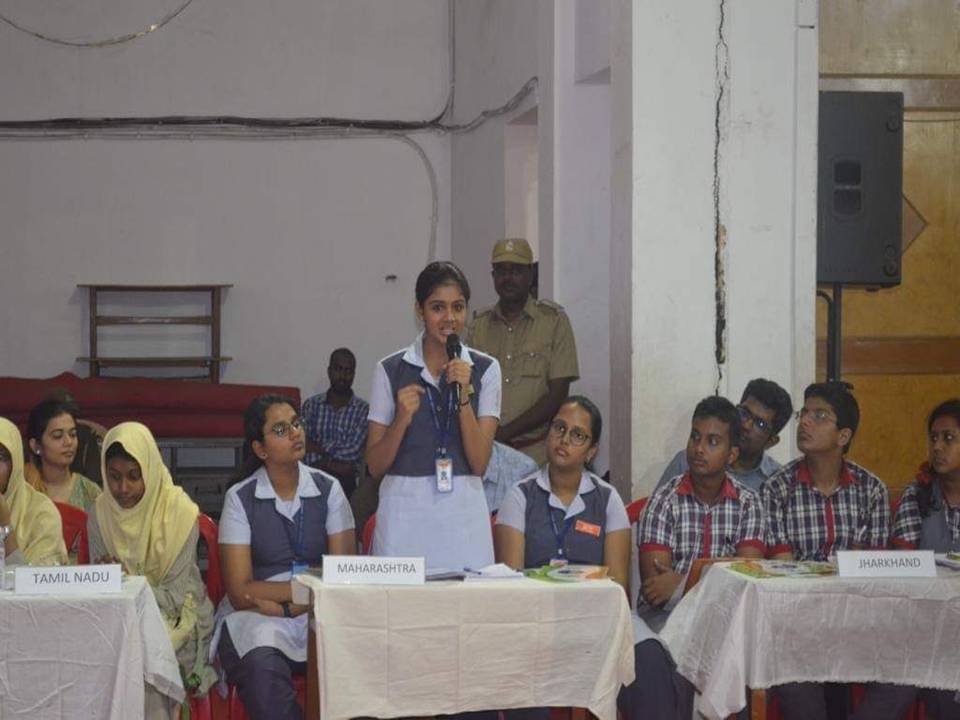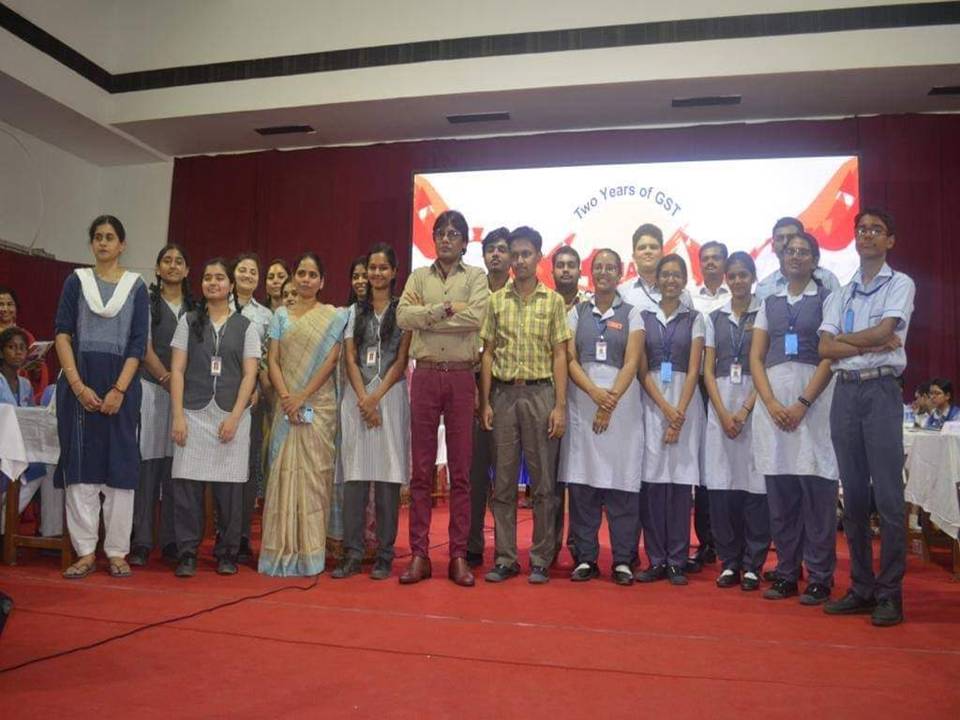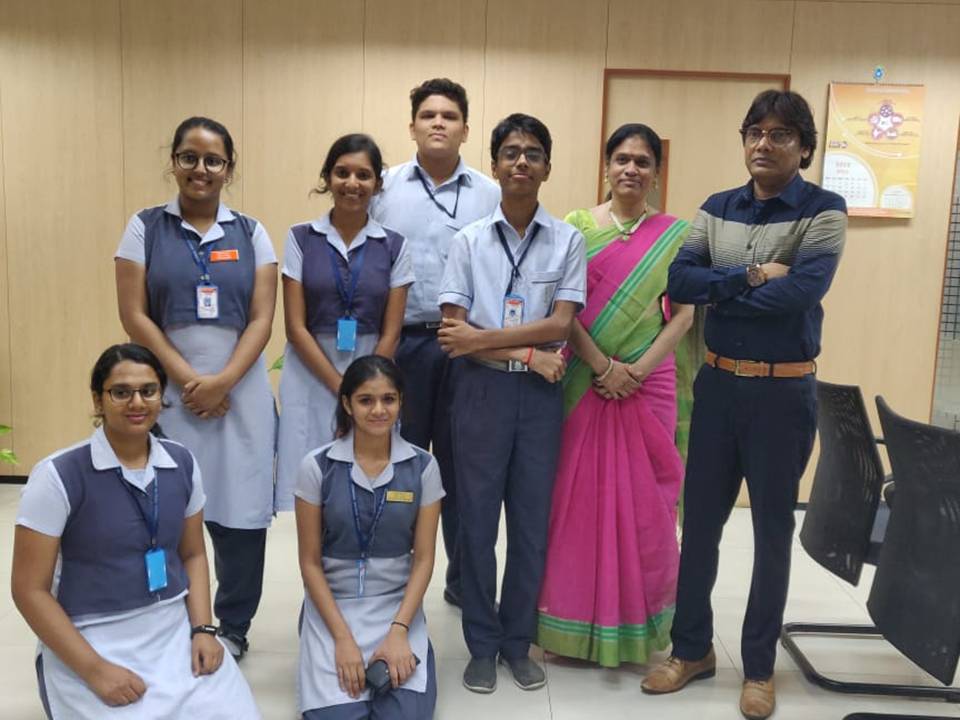 SICA NATIONAL LEVEL DANCE COMPETITION
Megha of class X C participated in the SICA NATIONAL LEVEL DANCE COMPETITION held at Hyderabad. She secured 1st prize and won the trophy(Silver).Congratulations to Megha.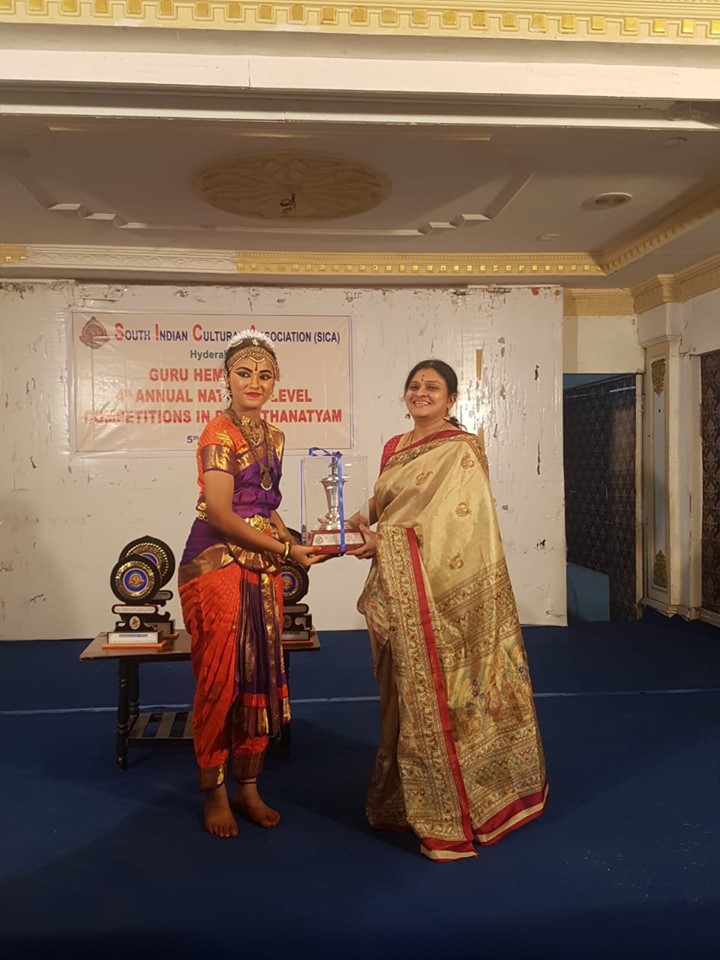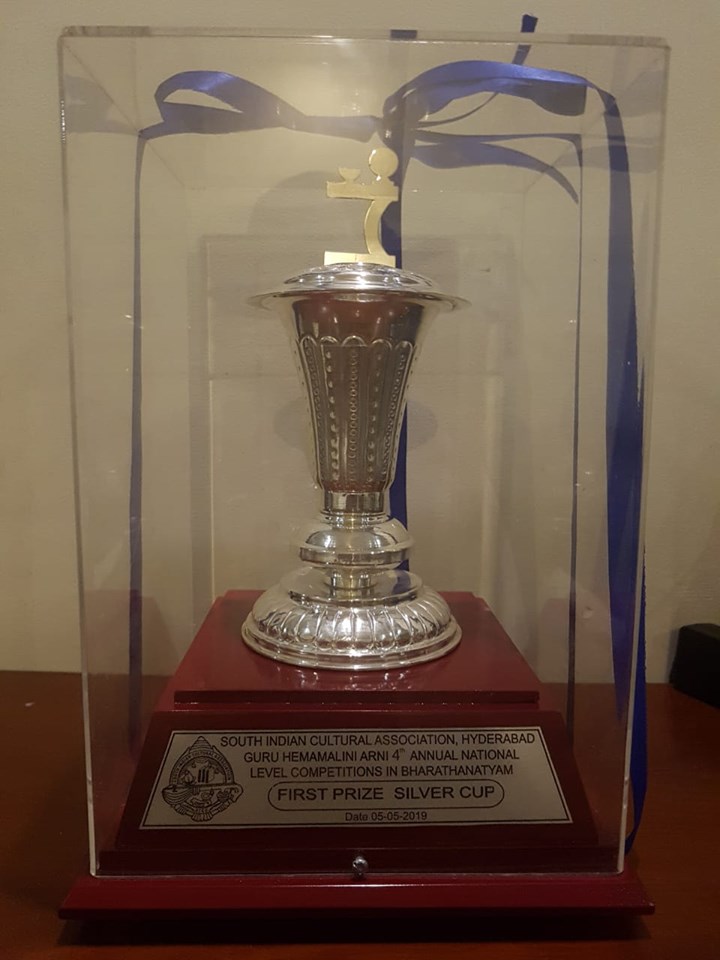 Chinmaya Alankar Award
Miss P S Thvarita Rao a student of class VIII from Chinmaya Vidyalaya Annanagar , an ace Taekwando player received the most prestigious Chinmaya Alankar Award 2019 from H H Swami Tejomayananda on 20 February 2019. The honour was bestowed upon her by the Central Chinmaya Mission Trust Education Cell in a grand function held at Chinmaya International School, Coimbatore. P S Thvarita Rao had received the black belt in this martial art at the tender age of ten and has been winning the gold medals at the district level for the past six years. This 12 year old champion was given the privilege of being the flag bearer of the CBSE contingent at the 64th SGFI National Games held at Manipur this year. She also bagged the silver medal in her event. This paved way for her selection to the World Combat Sports to be held at Hungary in 2019. This south zone reigning taekwando champion was the gold medalist at the 1st National Taekwando tournament held in Lucknow in 2018. The incredible feat of this little super star in District , State , National and International Taekwando competitions have earned her 28 gold medals, 13 silver medals and 11 bronze medals. P S Thvarita aspires to hold the tricolour at the Olympics and hear our National Anthem play in the sporting arena making the nation and global Chinmaya family proud.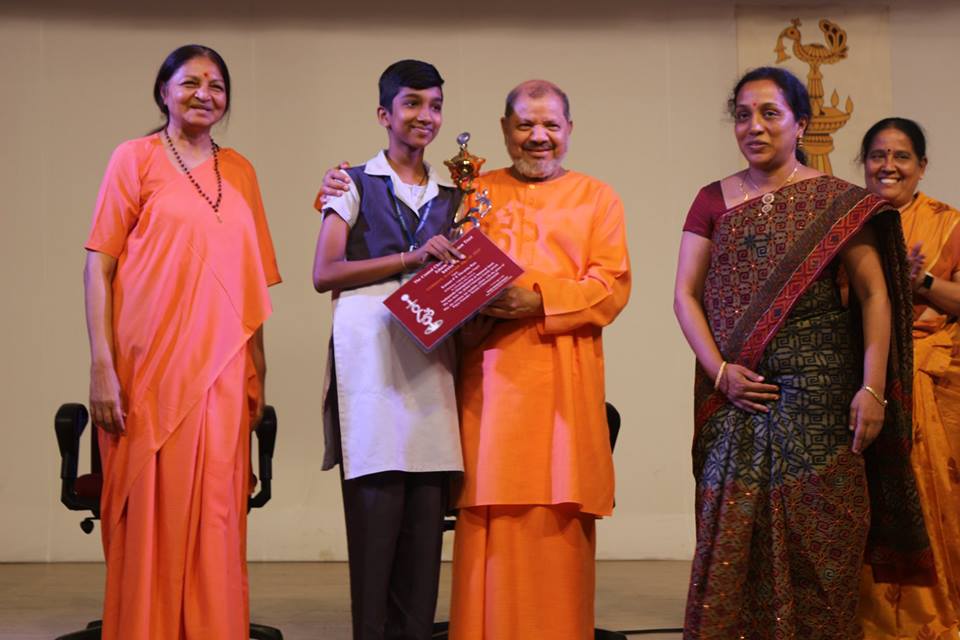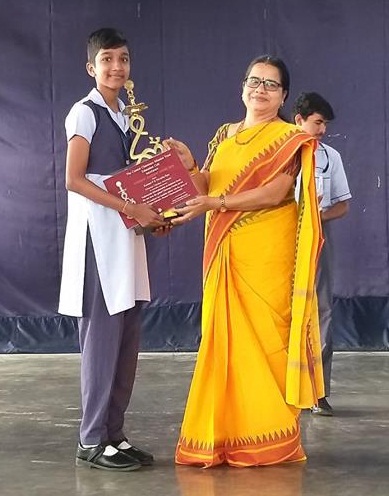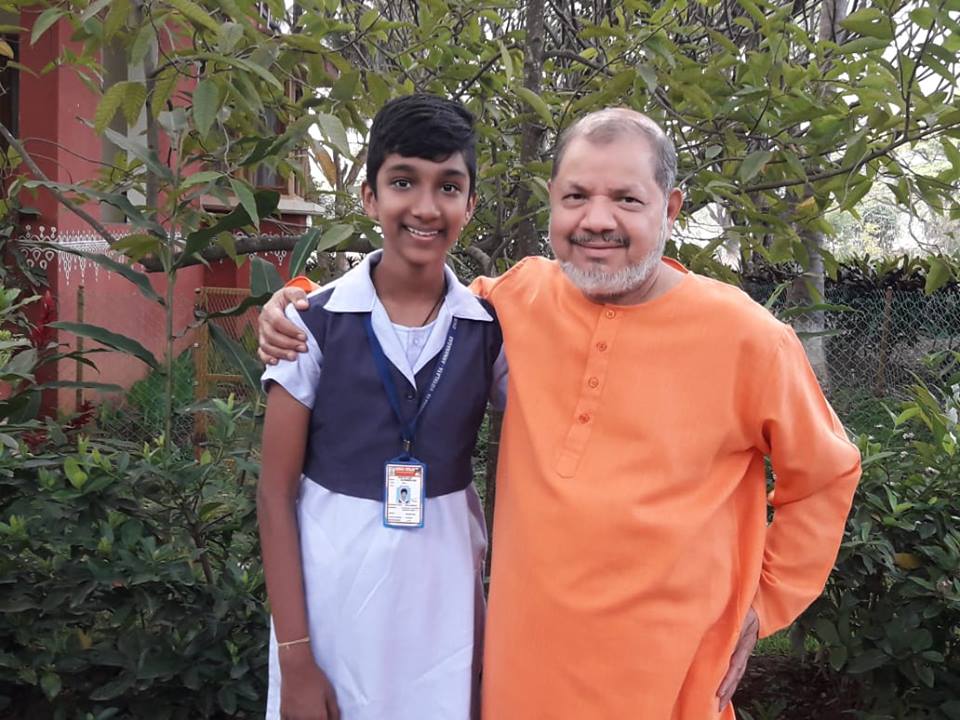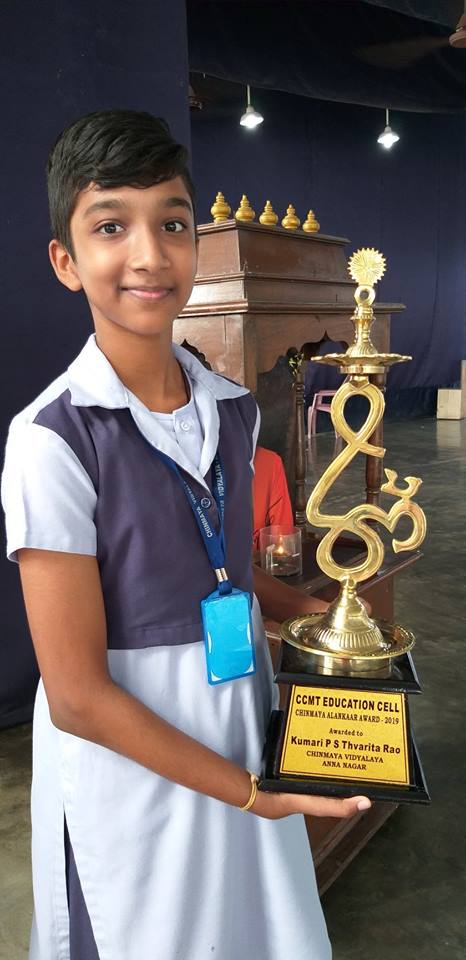 Chennai Soccer league Smt. Ranganayagi memorial football tournament
It was conducted on 12.02.2019. Our school under 12 boys football team won the title. Nagulan won the best player award, Ritesh won the best defender award. Congratulations to the participants and the P T teachers.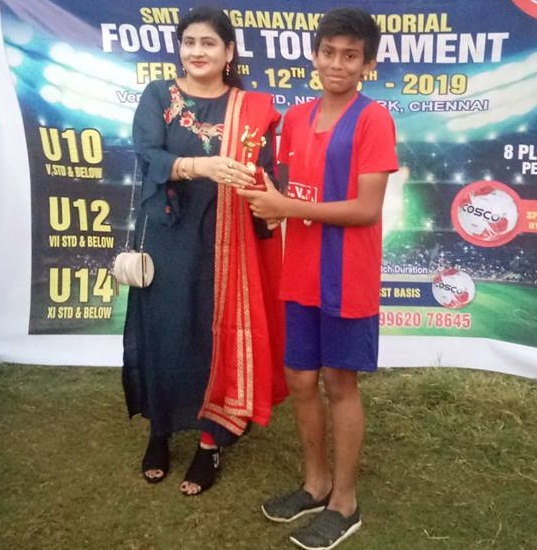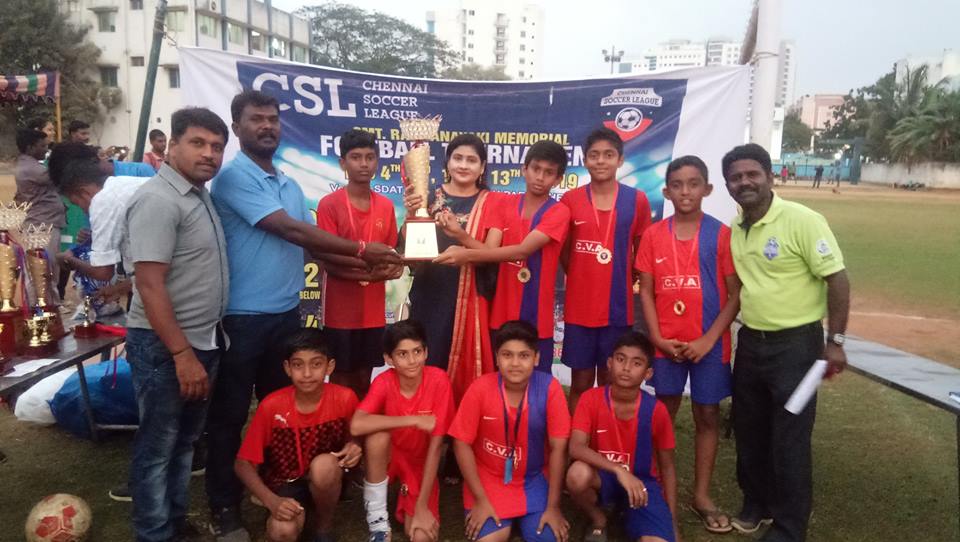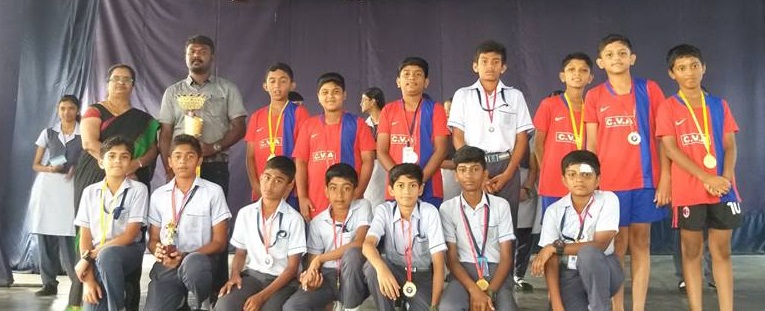 West Chennai Sahodaya cluster inter school badminton tournament
West Chennai Sahodaya cluster inter school badminton tournament conducted by Chinmaya Vidyalaya Annanagar on 6.2.2019. More than 20 schools participated. Winner in girls category were Keethilakshmi -VIII, Saranya - VIII, Neha- VI, Anumitha Rajesh-VII, Srinidhi -VII from our Vidyalya and in the boys category our Vidyalaya students Mukunth Dev- VIII, Madhavan -VIII, Shashank- VII, Kavin - IV won the runner up. Girls category best player award goes to Keerthilakshmi from std VIII. Congratulations to the participants.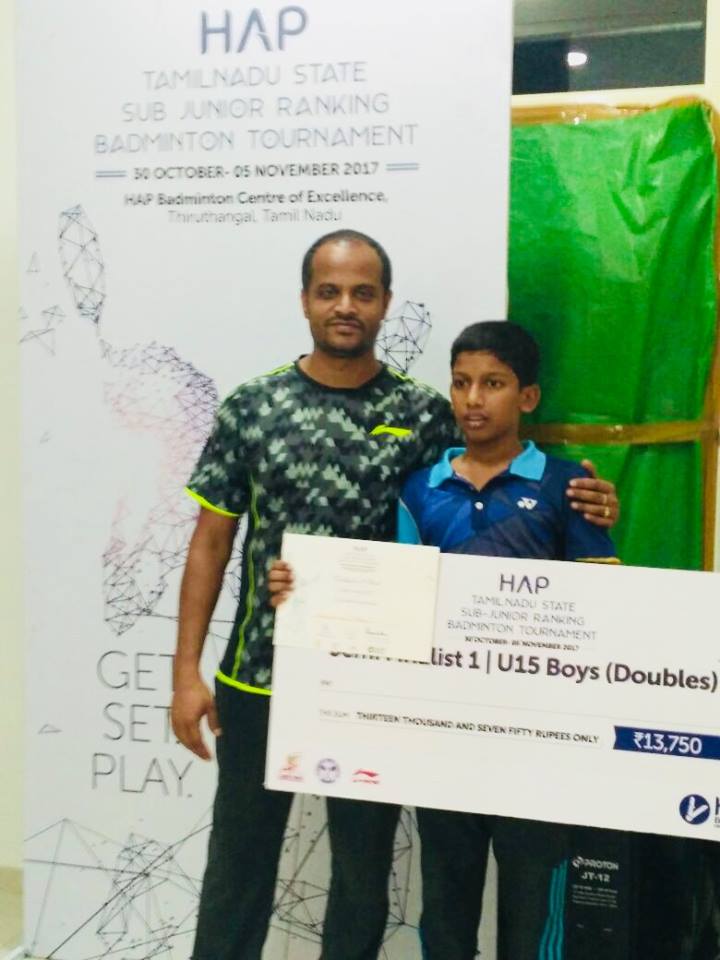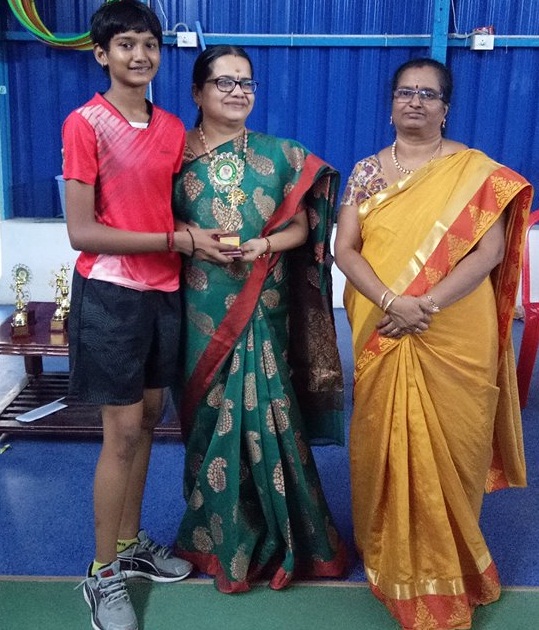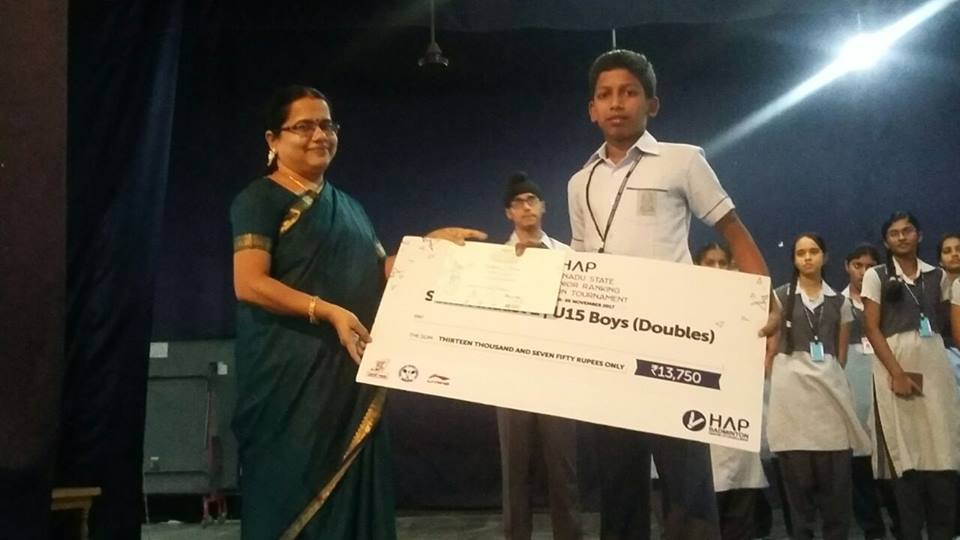 West Chennai Sahodaya Cluster – Athletic Meet
West Chennai Sahodaya Cluster Inter School conducted various events. The Athletic meet was conducted by Chennai Public School Annanagar on 28.01.2019 at Thirumazhisai. The following students won the medals for various categories.
1. Shruthi shree C K VIII C - 100m Silver
2. Shruti Tejasvi S VIII D - 800m Silver
3. S Akshay VIII A - 800m Bronze
4. S Saujanya VII B - Long jump
Congratulations to the participants.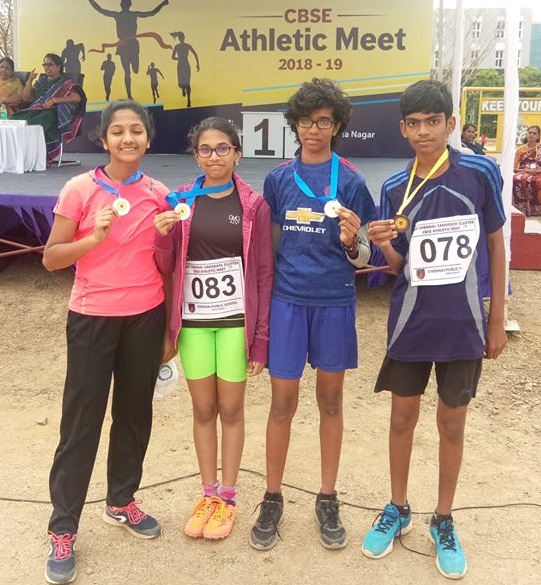 TT tournament
Agarwal Vidyalaya Junior college conducted Inter school TT tournament on 22.1.19, 24.1.19 and 25.1.19. More than 20 teams participated in this event. Our school boys team won the Title. In the same tournament our school Girls Badminton team also won the Title in which 32 teams participated. Our congratulations to all winners.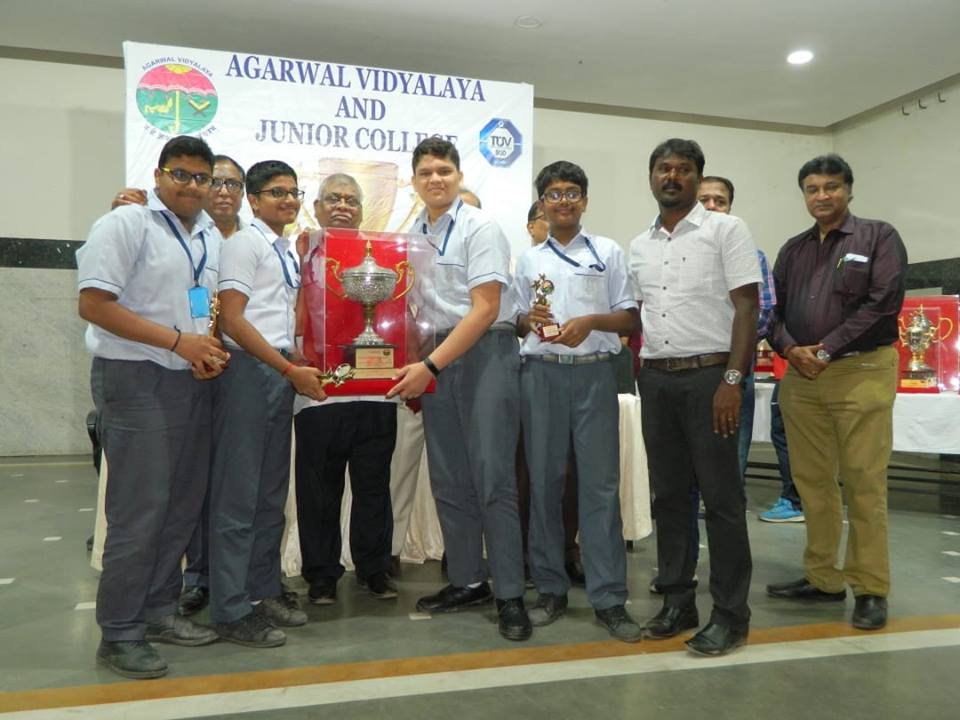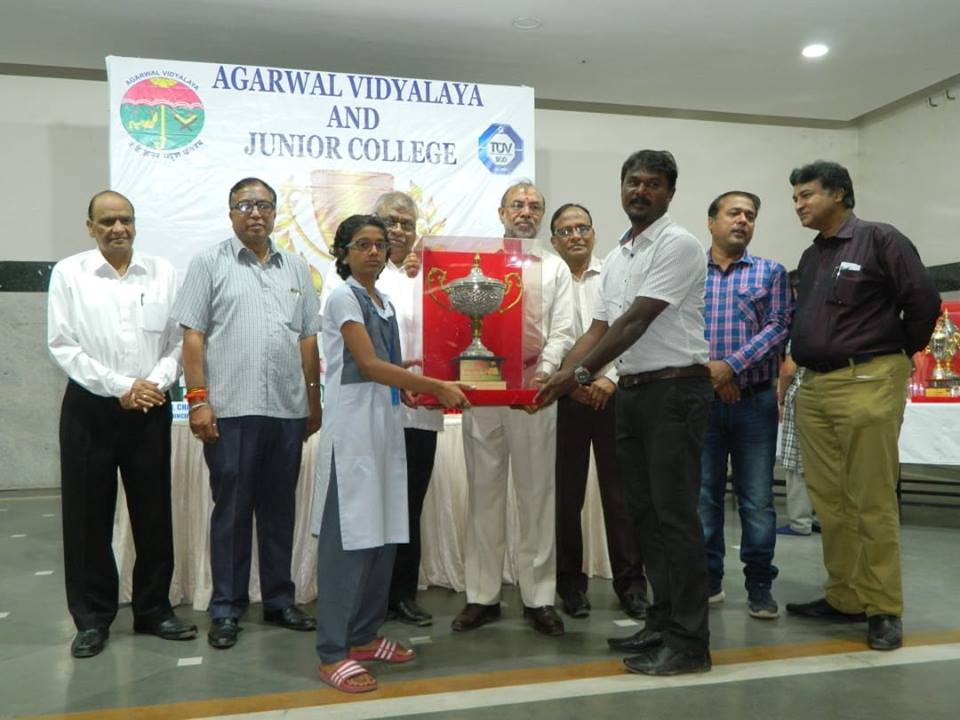 CBSE district level Science Exhibition
The CBSE district level Science Exhibition was conducted on 24 and 25 January 2019. 2 teams from our school participated. Out of 300 participants, Our team of C.P Anirudh and Vishnu J were selected for their mathematical model – Safe crypt to represent our school at the National level. The National level competition was held on 8th and 9th February at the Mayoor school Noida, where the students got an opportunity to display their project.  Congratulations to C.P.Anirudh and Vishnu J for representing our school in the National Science Exhibition.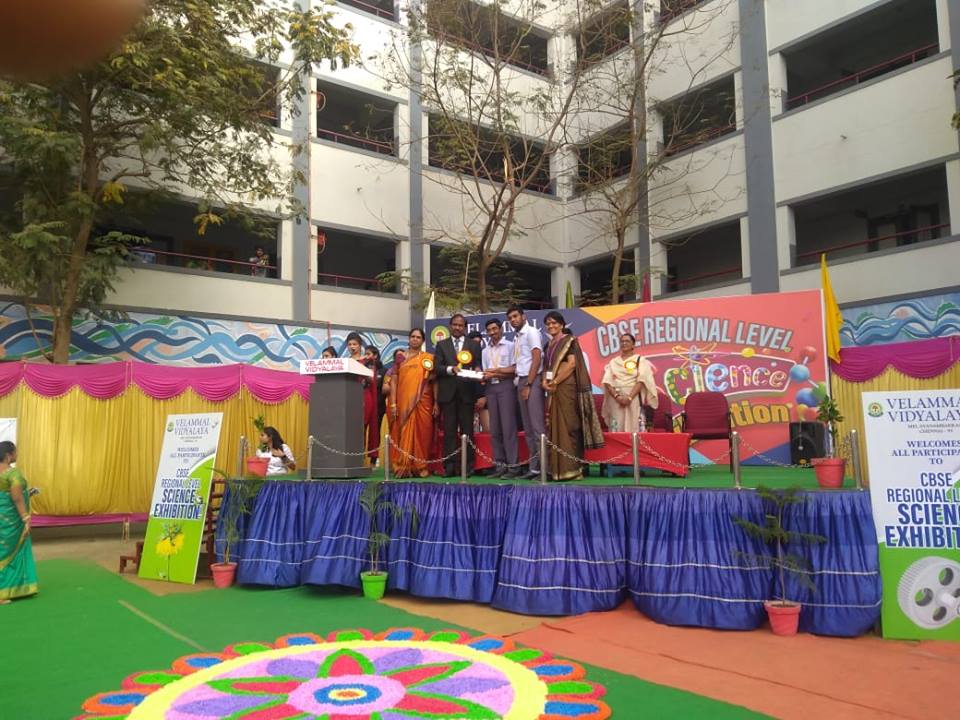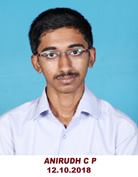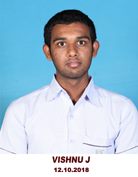 Iniya Kural Thedal
Iniya Kural Thedal Season I organised by VOC Vidyalaya on 23rd February 2019. Pranita N of UKG C got 1st prize in the age group 5 to 8 years. She received a trophy, certificate and Rs. 5000 Cash award. Pranav kumar N of Std VI C got 4th place in the next age category. The Judges were jury members from Super Singer and SA RE GA MA PA. Smt. Vani Jayaram play back singer and Mr. Dhena- Music Director were the special guest. Congratulation to the winners.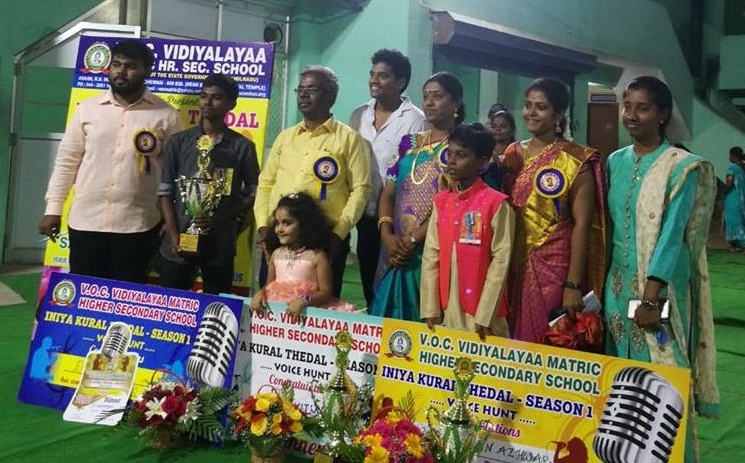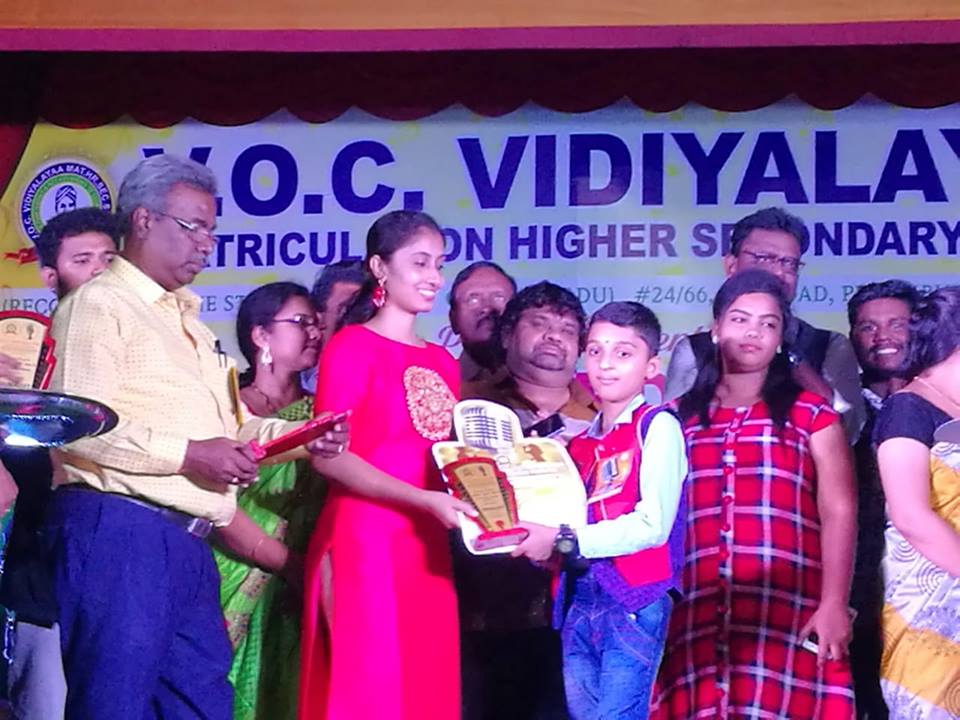 Asian Youth Chess Championship
Anjana A, of class 3D participated in Asian Youth Chess Championship held in Srilanka, from 1st to 10th April, 2019. Participants from twenty three countries took part in this championship. This championship has been organized by Chess Federation Of Srilanka, on behalf of Asian Chess Federation and FIDE. We are proud to inform that Anjana won Silver medal in Team Blitz and 4th place in Individual Blitz. She went through District, State and National level tournaments to enter this championship.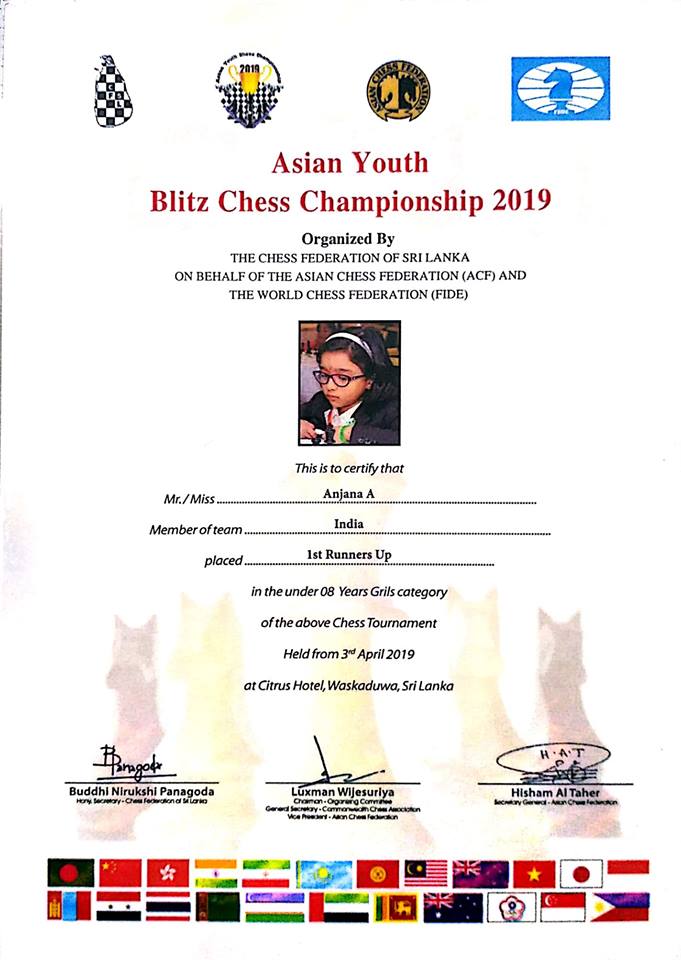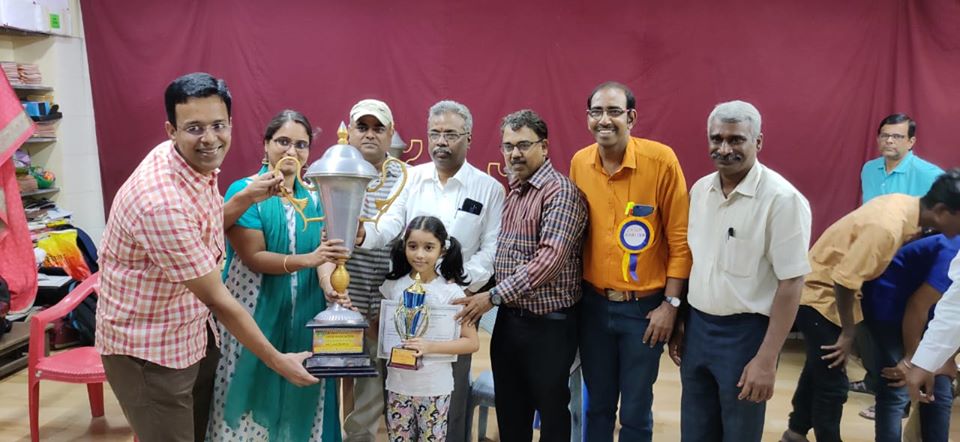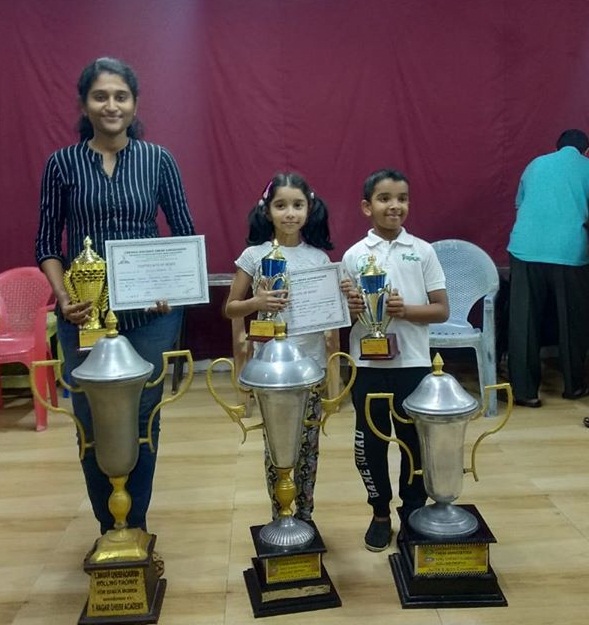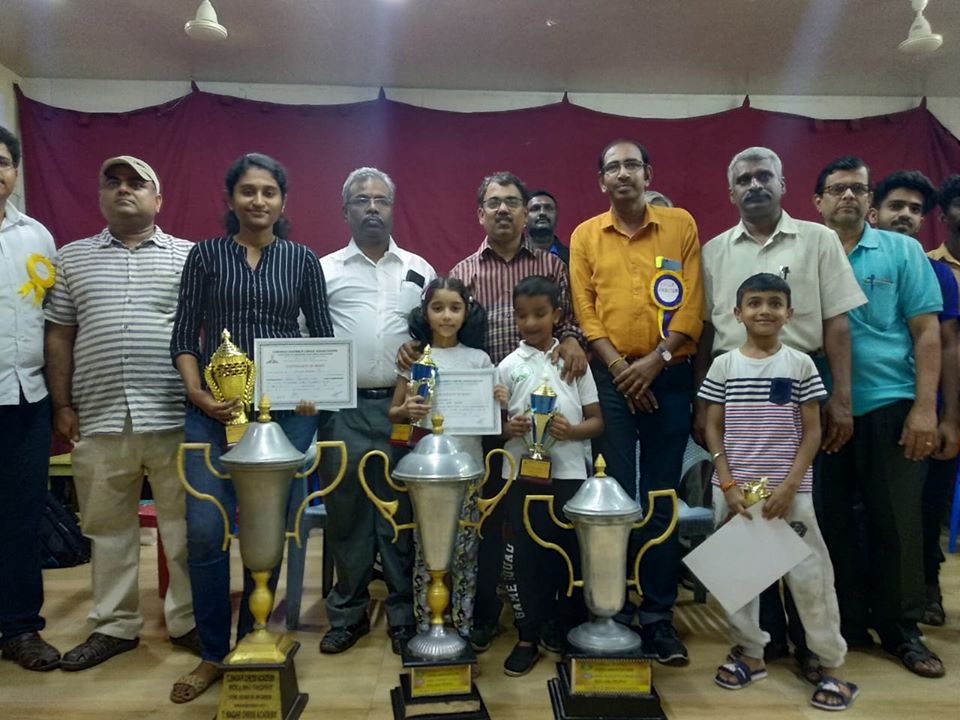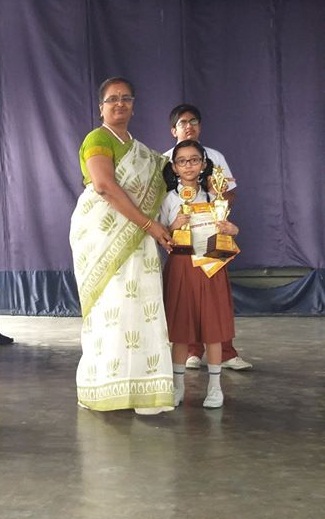 Nazareth College of Arts and Science conducted State level Inter school Basket ball Tournament in which our school Boys team won the III place. The participants were Vasudev Iyengar IX A, Prathoush IX C, Maanav IX D, Vishvajith IX A, Sarvesh VI B, Praveen IX B, Parikshith IX A, Umesh VII C, Satya Lohith VII C,R Aravind IX D, Sai Azad IX D, Akhil IX D.  Congratulations to the Prize winners.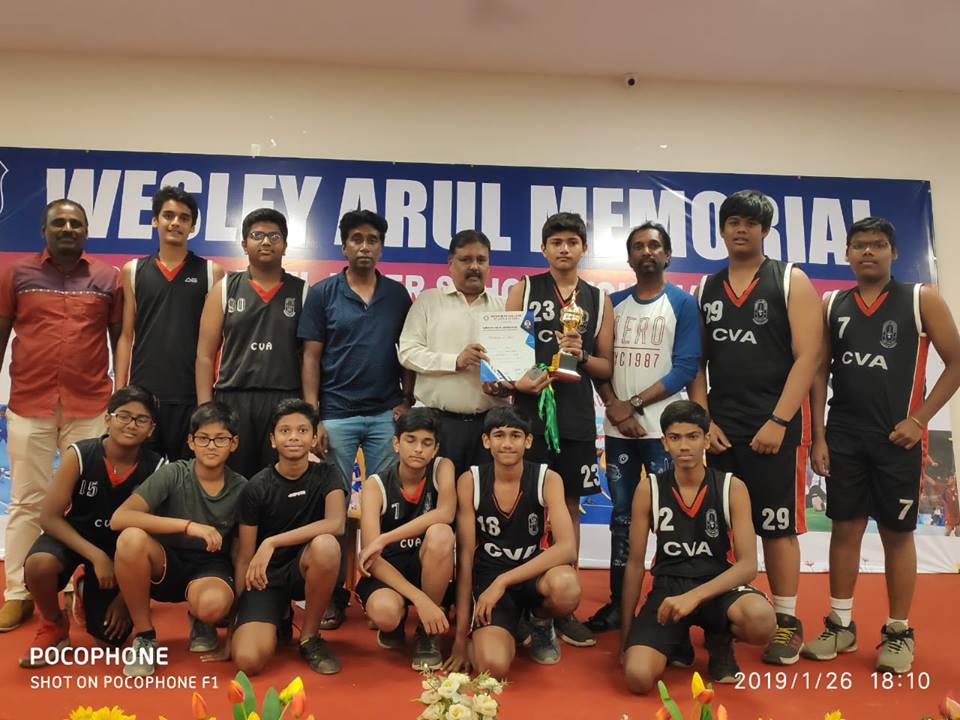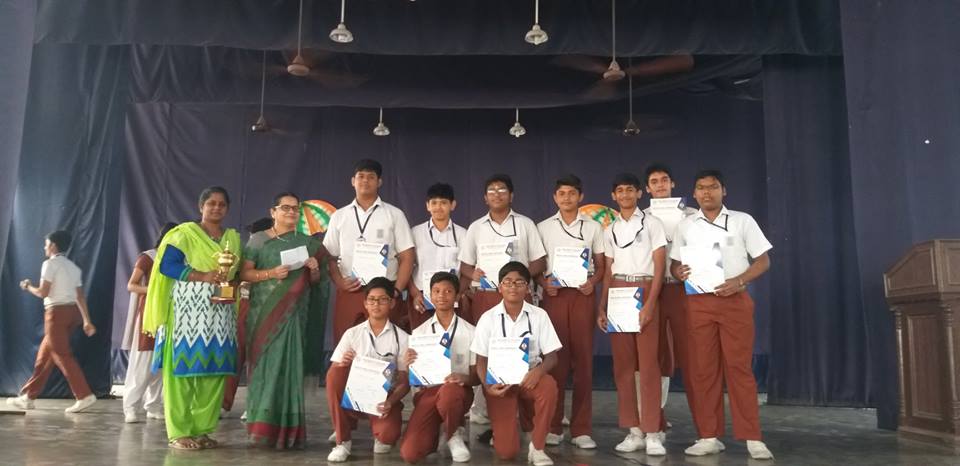 We are proud to announce that our school got, over-all III position in the Interschool Gita Chanting Competition which was conducted for schools all over Chennai. More than 100 school participated in this event. Congratulations to the prize winners and the Sanskrit Department teachers who have given their contributions support in training the students throughout.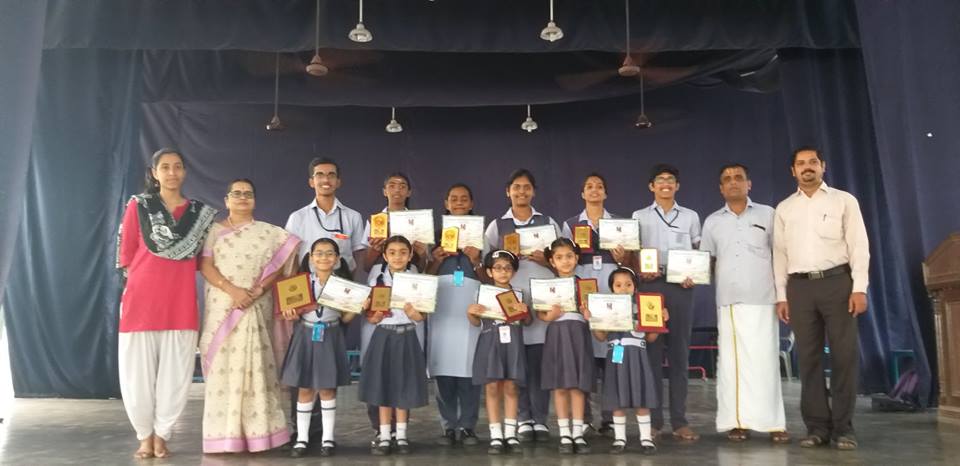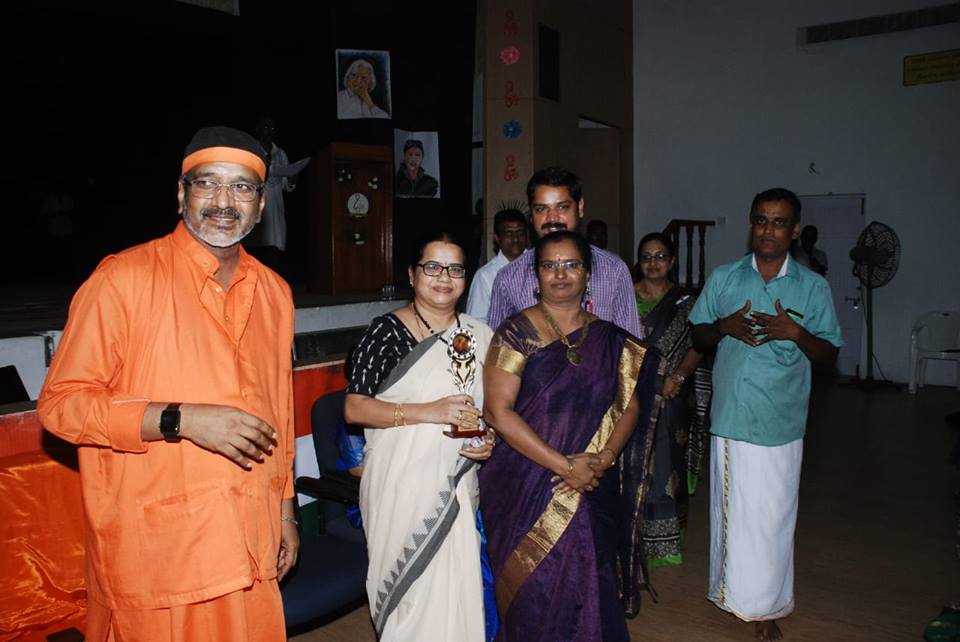 "The Hindu" along with "Speed – High performance petrol" of Bharat Petroleum conducted an Inter-school Quiz competition on 1.2.2019 (Friday) at SBIOA School & Junior college , Annanagar chennai. It's a Quiz based on General Science, participants from all over Tamil Nadu participated in this Quiz which included a preliminary round of written test with 20 questions. In senior category Chinmaya Vidyalaya Annanagar Students Vijay samuel and Abhimanyu A of Std VIII stood II and won the second prize in the final round. In Junior category Tharun Vishwanath and Aakansha Ramakrishanan of Class VI from our Vidyalaya won the 5th place. Students who notched the top place were awarded a trophy and a certificate. Congratulations to the prize winners.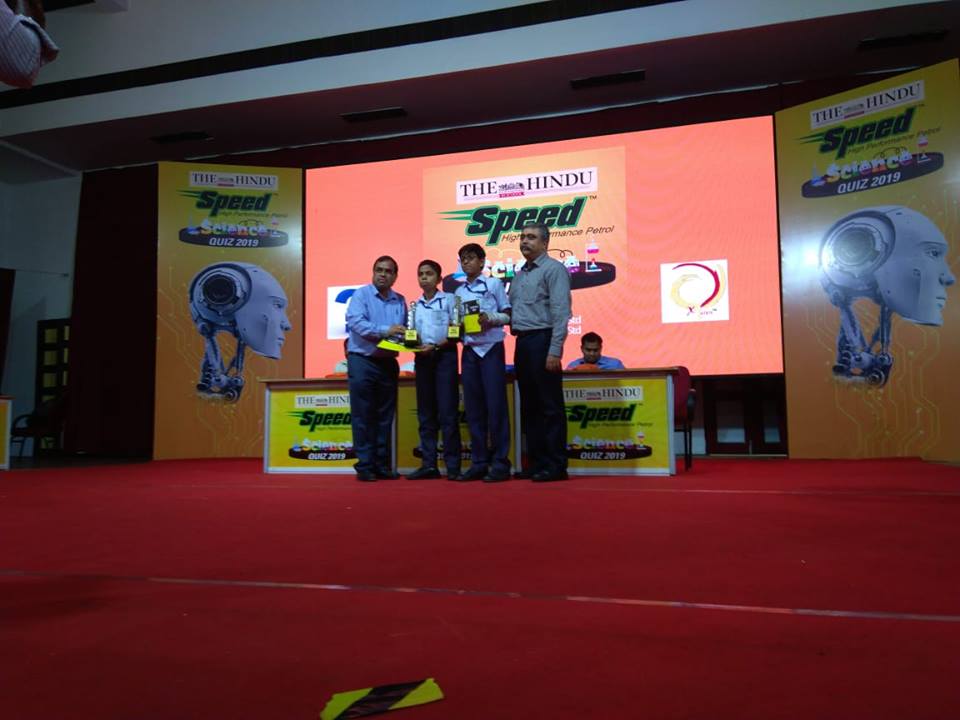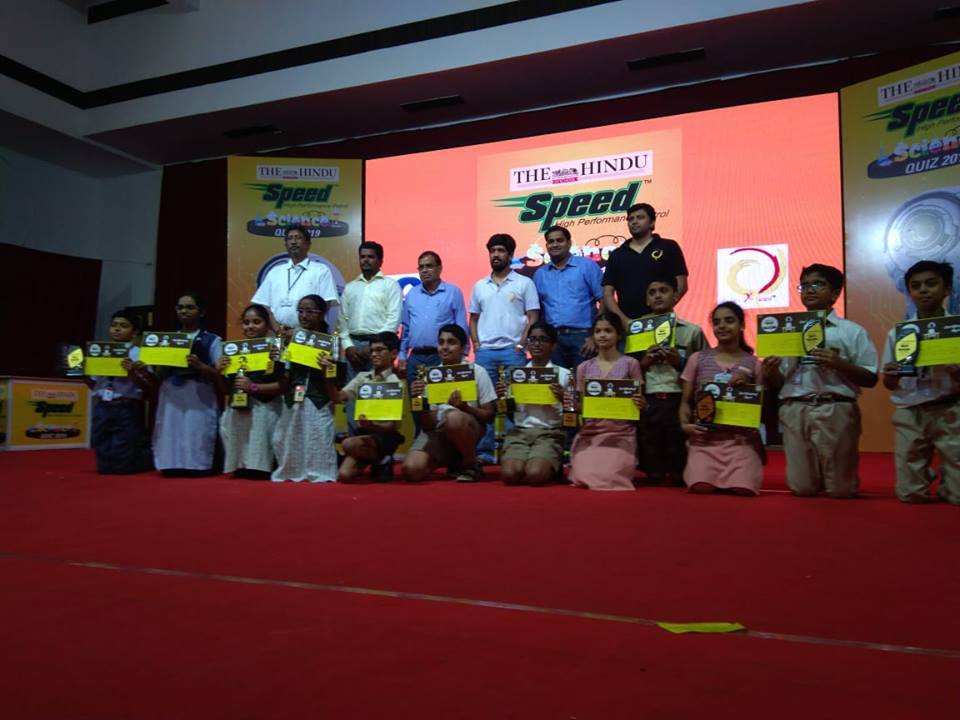 The Sindhi Model school, CBSE, located in kellys conducted Inter school Cultural events on the 29th January 2019. A big group of enthusiastic students from classes I to V participated in the exciting events like clay modelling, group dance, group song , ramp walk, cooking without fire , elocution, hand writing , wealth out of waste etc. With in a short span of time, the students were able to organise and practice for the events.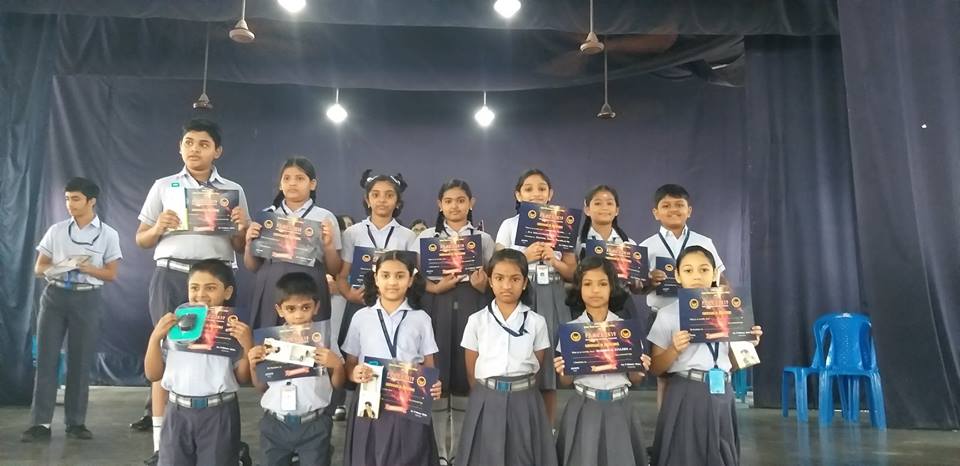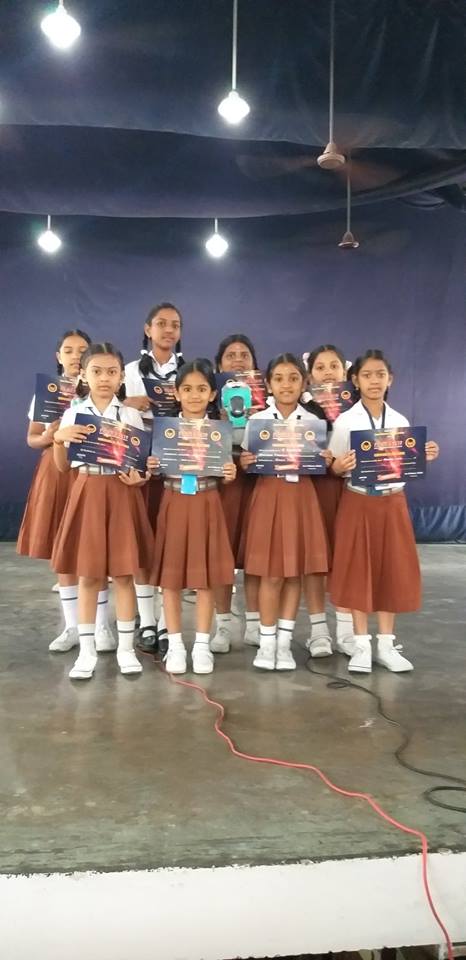 National Teakwondo Tournament – Gold Medal
The Honourable Chief Minister of Tamil Nadu, Mr. Edappadi K Palaniswamy, the honourable Deputy Chief minister Mr. O Paneerselvam the AIADMK Presiduim Chairman, Mr. E Madhusudhanan, Party spokes person and Senior leader Mr. Ponnaiyan and other AIADMK ministers honoured P S Thvarita Rao, class VIII student of Chinmaya Vidyalaya Annanagar for having won 52 medals (28 Gold, 13 Silver , 12 bronze) at District, State , National and International level tournaments. She was felicitated for having won the Gold medal at the 1st National Teakwondo Tournament for schools at Lucknow in the first week of November and later the Silver medal at the 64th SGFI National school Games at Manipur. She will be representing India in the International school Games in the near future.Congratulations and All the best to Thvarita Rao.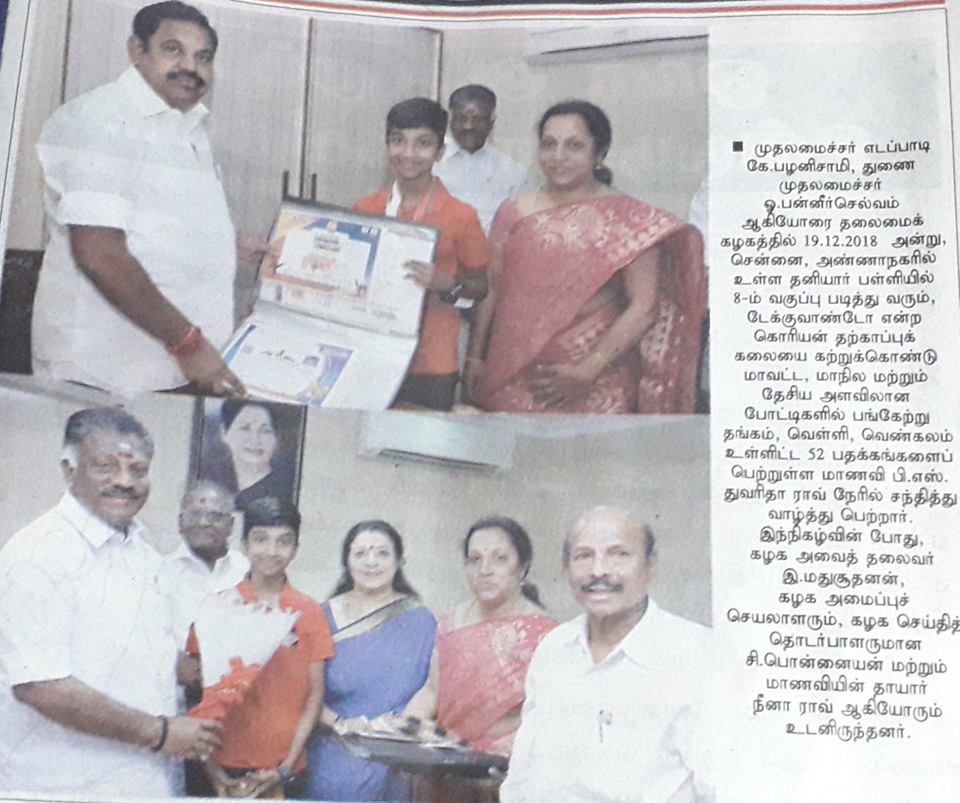 P S THVARITA RAO of Std VIII –C , won the GOLD MEDAL for (U-14), U-32 kg weight category in the 1st NATIONAL TAEKWONDO SCHOOL CHAMPIONSHIP 2018 - conducted under the aegis of SGFI (School Games Federation of India) at GD Goenka Public school, Sushant Golf city, Lucknow. The championship was conducted for students from all over the country. The Gold medalist Thvarita Rao participated in the SGFI National Championship held at Manipur from 25th November to 30th November 2018. She won the silver medal at the 64th NATIONAL TAEKWONDO SCHOOL CHAMPIONSHIP. She received the medal from the Chief Minister of Manipur. She has been selected for the world combat sports Games to be held at Hungary during July 2019. Congratulations and best wishes to P S Thvarita Rao.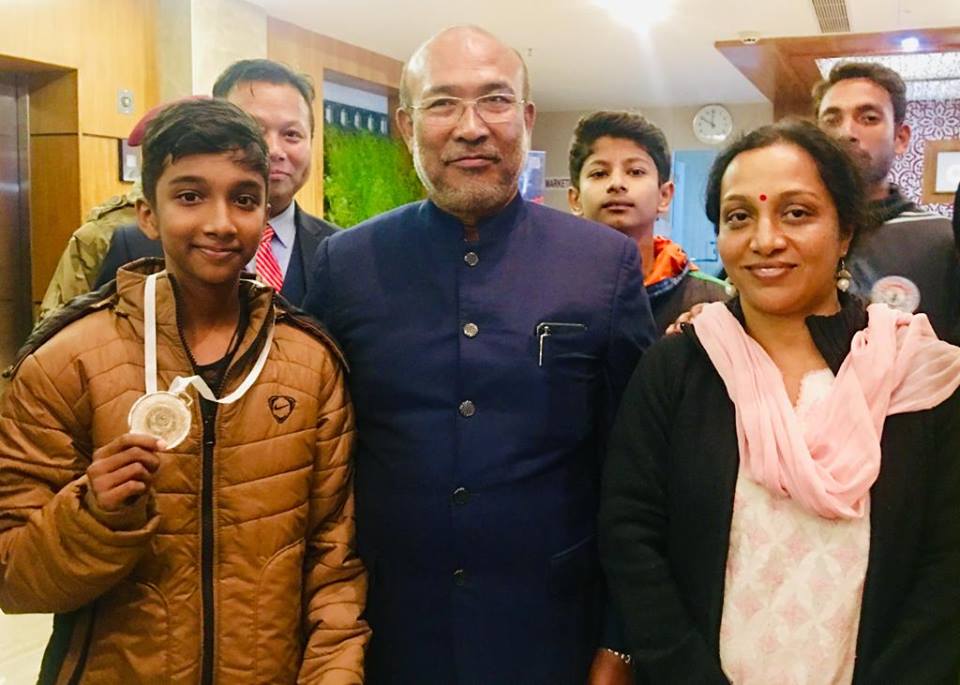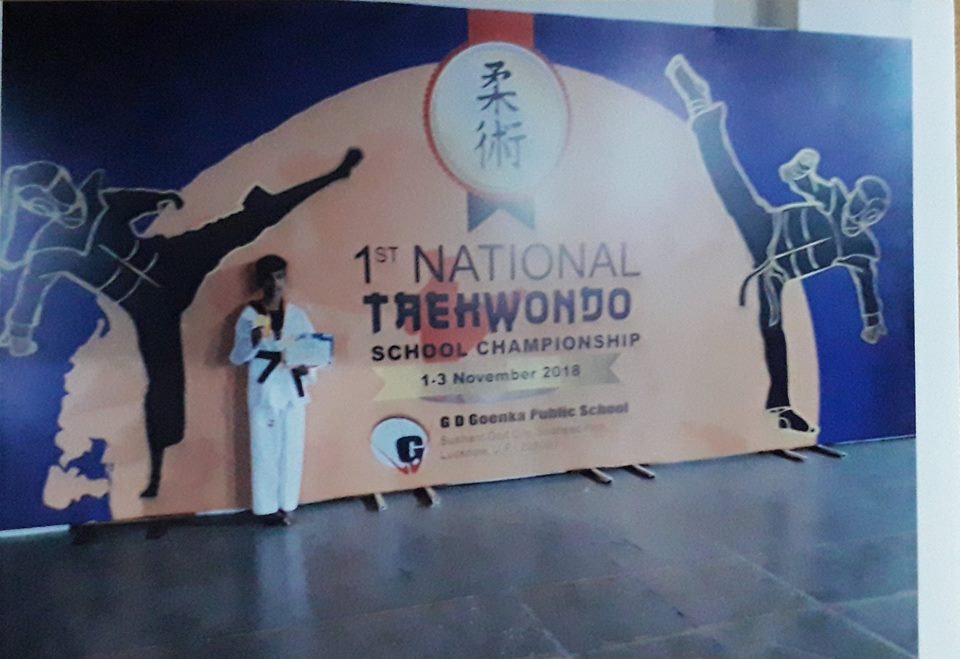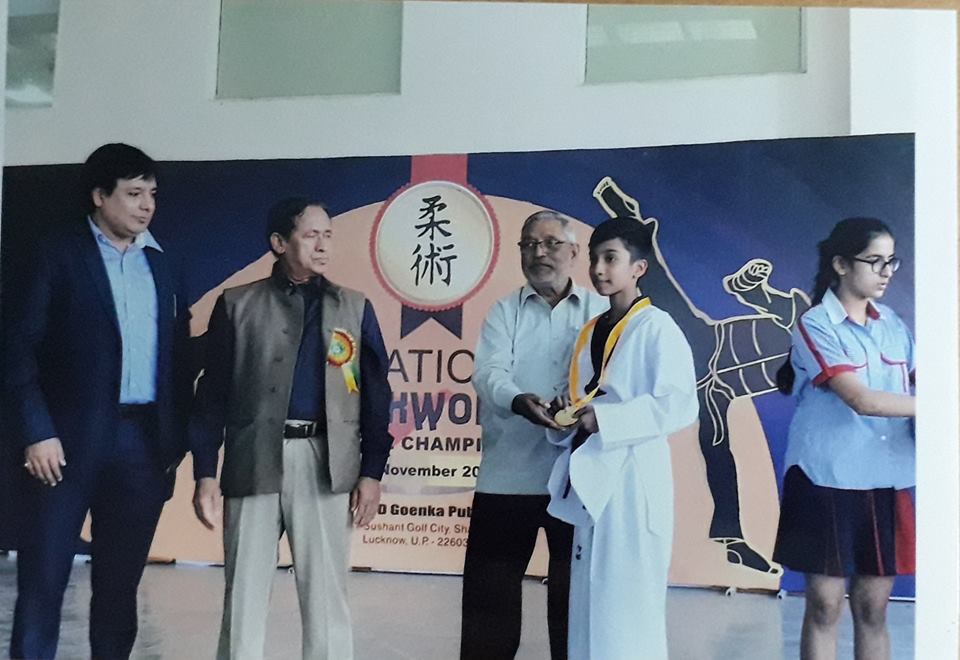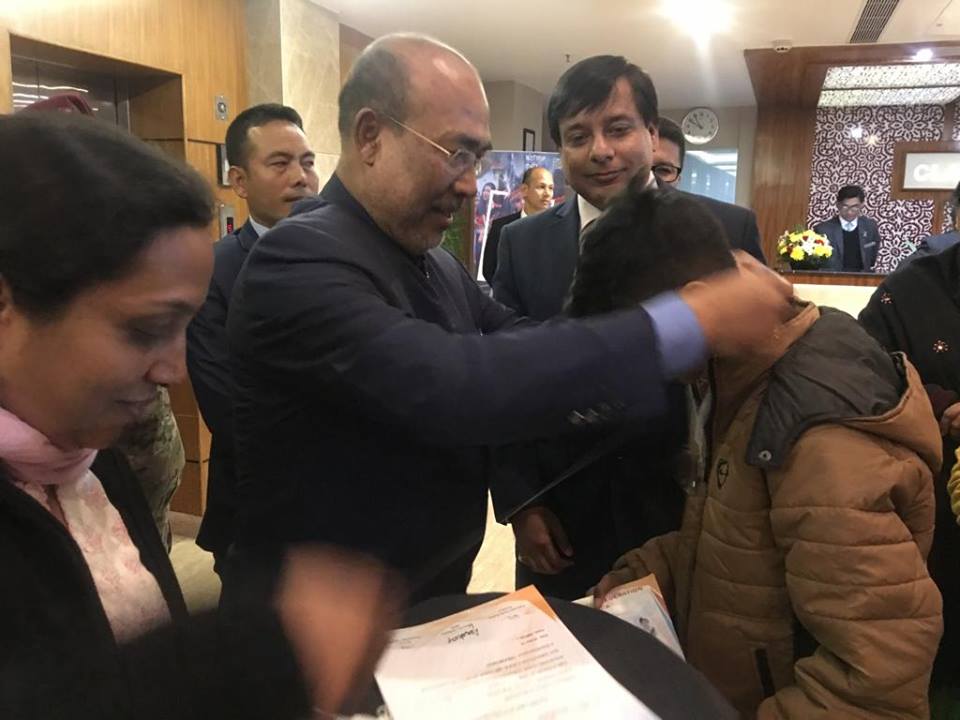 Mrs. T.Hemamalini from Computer Science Department, who is a Microsoft Innovative Educator Expert (MIEE) of our school was selected to take part in Edu Days Event organized by Microsoft on 4th and 5th December, 2018 at Gurgaon. She along with her team members from different parts of India, collaborated on many Skype sessions and showcased a project on the topic-Let's cross the borders- Safe and Secure, under Delocalize category, and their team won the first prize.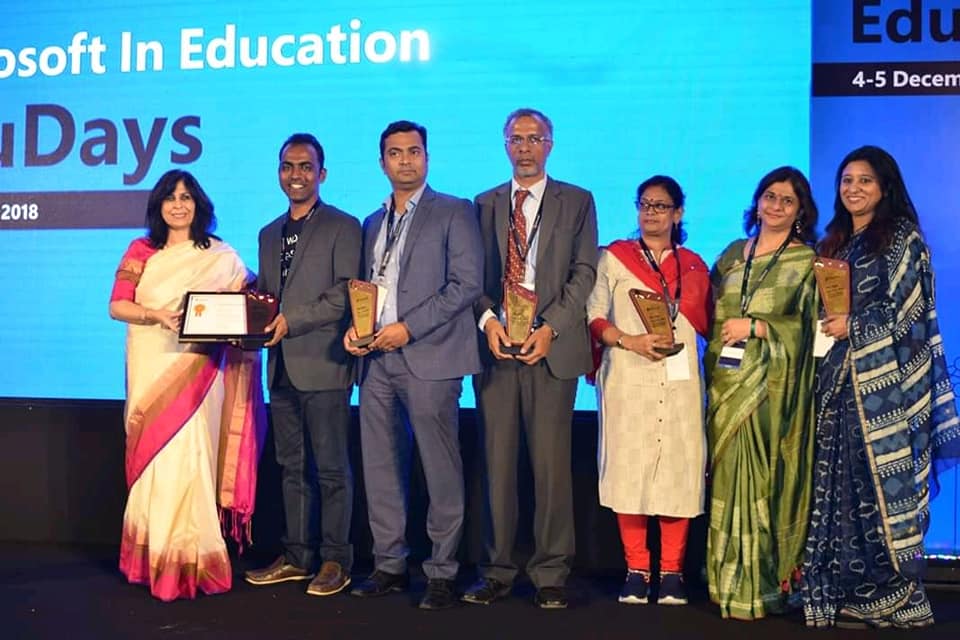 CBSE south zone badminton tournament for the year 2018-19 was conducted by Sri Sri Ravishankar Vidya Mandir Bangalore, Karnataka from 10.10.18 to 13.10.18 in which Somanath D Pai XI-C, Sandeep Krishna IX-D and Shasvat Vijay X-B won the bronze medal in the Under 17 Boys Category. I R Keerthi Laxmi VIII- A, N A Saranaya VIII- B, Neha B VI- A and Anumitha Rajesh VII -D won the Bronze medal in the Under 14 Girls category Congratulations to the teachers and the students.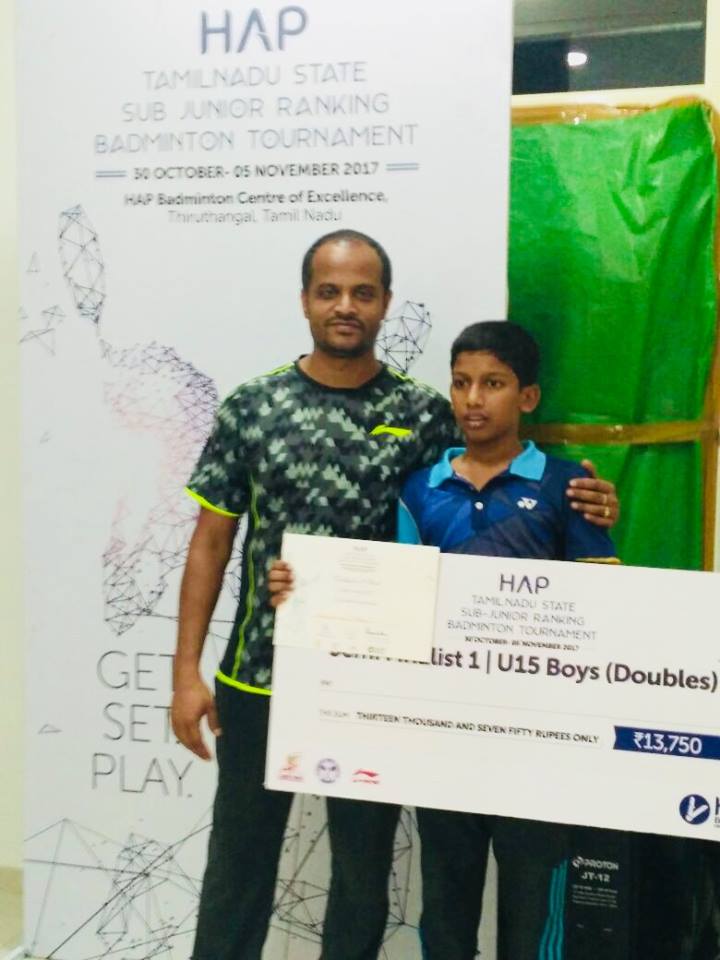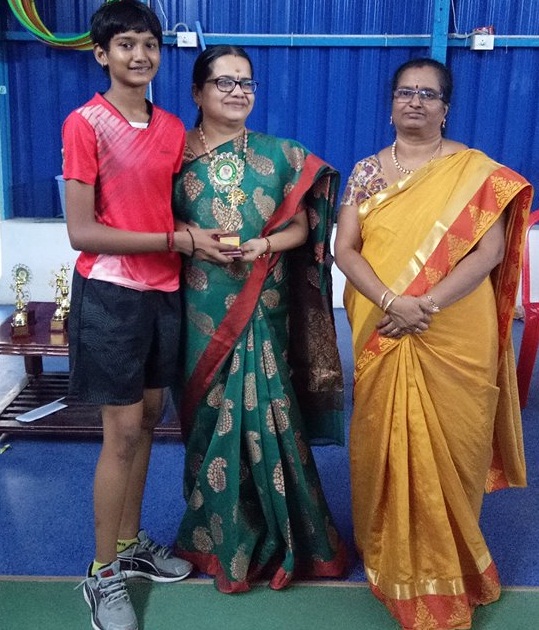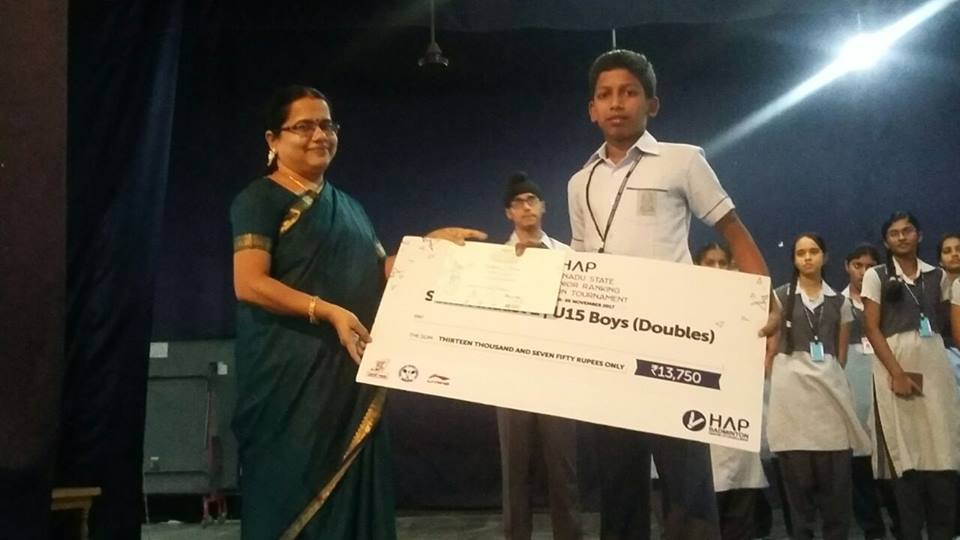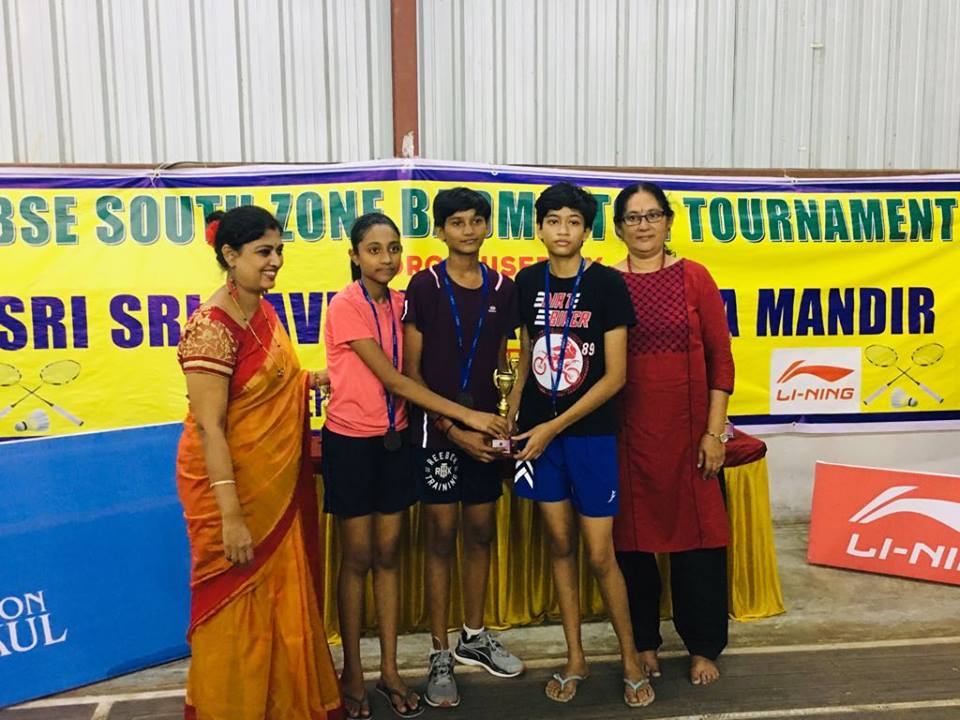 All India Inter Chinmaya Badminton tournament 2018 (Khel Milan) was conducted at Chinmaya Vidyalaya, Kunnumpuram Trivandrum, Kerala from 15.11.2018 to 17.11.2018. 30 teams participated in this event. In the Senior team championship our team were the winners comprising of Somnath D Pai XI-C, Sandeep Krishna R IX D, Saranya N A VIII B and Neha B VI A .In the Individual championship Somnath D Pai was the Runner up and Saranya N A was the winner. 
In the Junior team championship the team comprising of V Shasvat Vijay X-B,J S Mukund Dev VIII-B and I R Keerthi lakshmi VIII-A were the winners. In the Individual championship V Shasvat Vijay X-B and I R Keerthi lakshmi VIII-A were the winners. Congratulations to the students and the teachers.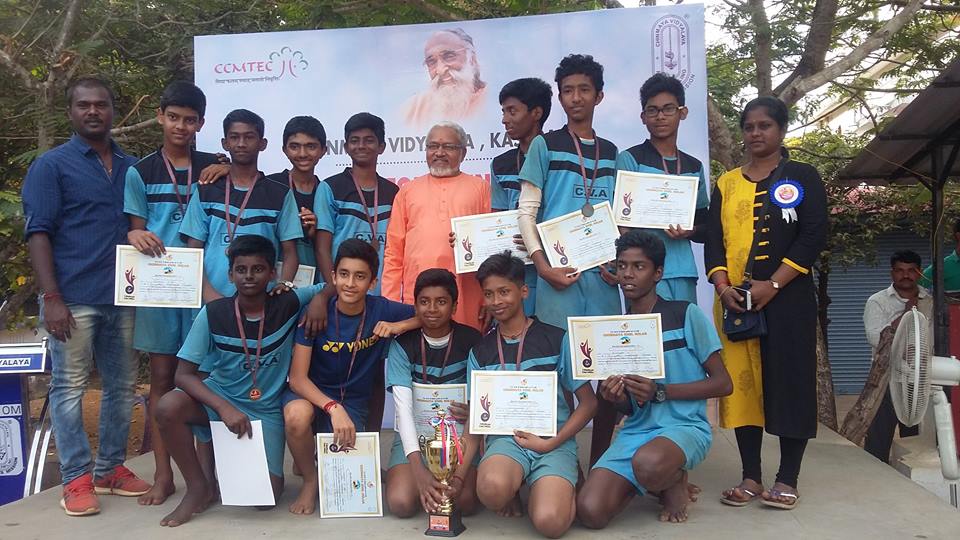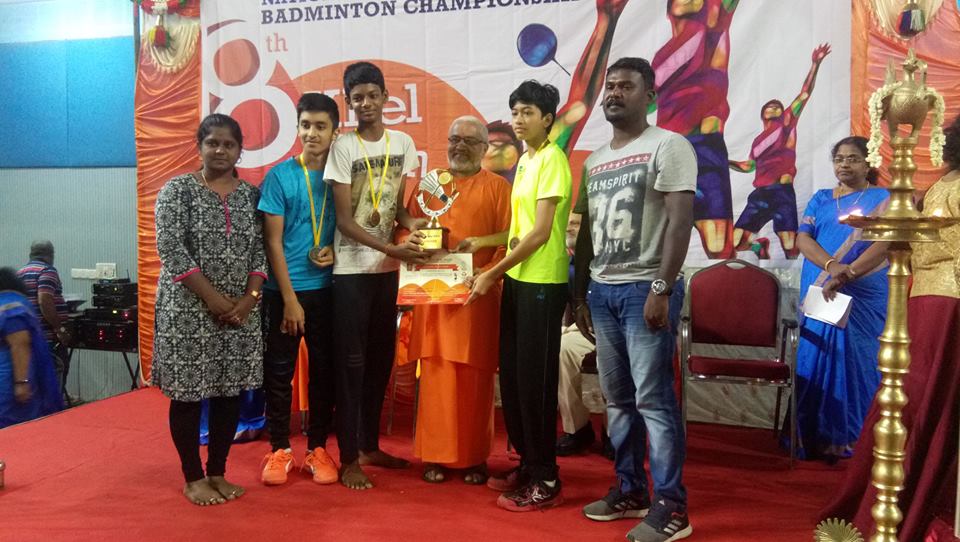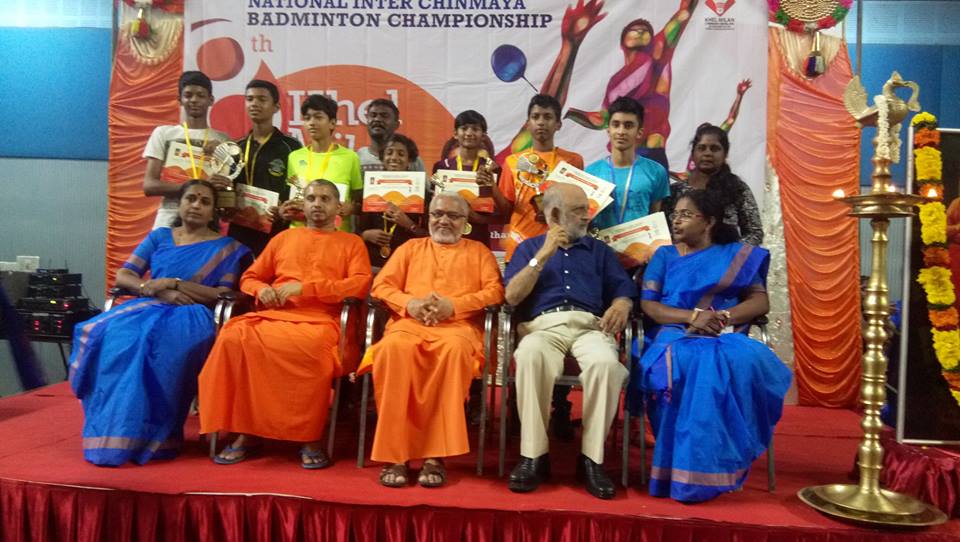 State level sports festival 2018 was organized by Tamil Nadu Dr. Baba Saheb Ambedkar Youth Sports and Cultural Organisation for Badminton, in which 30 schools participated in the under 14 category. Our students I R Keerthi lakshmi VIII-A and Saranya N A VIII B secured the 1st Runner up position and they were selected for the Nationals to represent Tamilnadu team which will be held at GOA.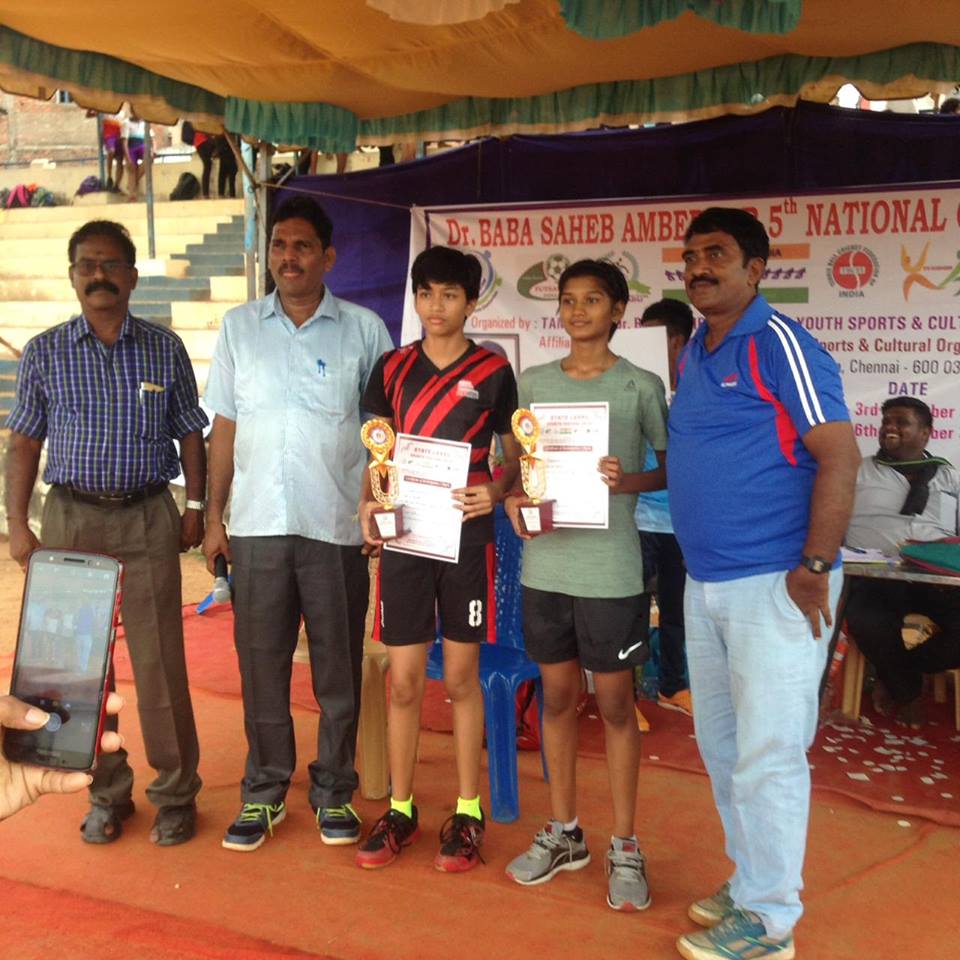 Chennai Public School conducted inter school cultural event "Impulse 2018". Students from Std XI & XII participated in various events in which they won the prizes in the following events- 
IPL auction II prize- Bhagawat, Ananthan and Tarakesh ,
Ad-zap I prize- Shreya , Samaran, Vishnu , Somnath and Venkatesh 
Business plan II prize- Taran and Pranav 
Channel surfing I prize -Shreya , Vishnu, Samaran, Somnath and Venkatesh.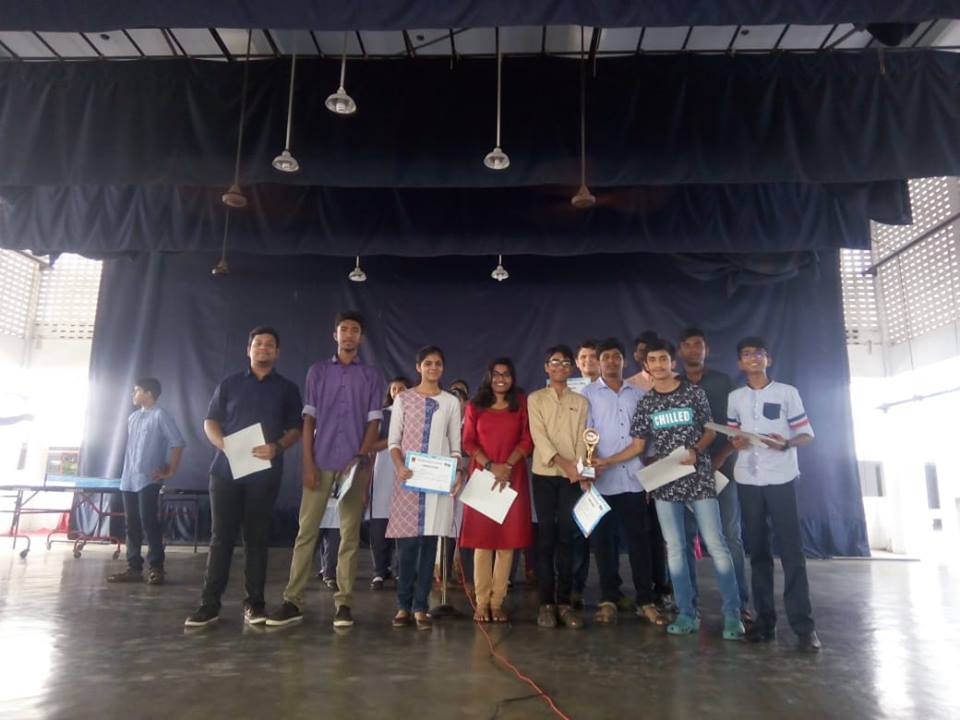 Our Hindi Teacher Dr. N Srinivasan- HOD of Hindi department was honoured by Madhuban Educational publication and awarded Best Teacher award on 14th September on account of (Hindi Diwas) which was held at PhD chamber of commerce New Delhi. 140 Hindi Teachers all over India was honoured on that day. The Chief Guest for the function was Mr. Naveen business head Madhuban educational group and Mr. Jhunjhunwala executive director of S.Chand group.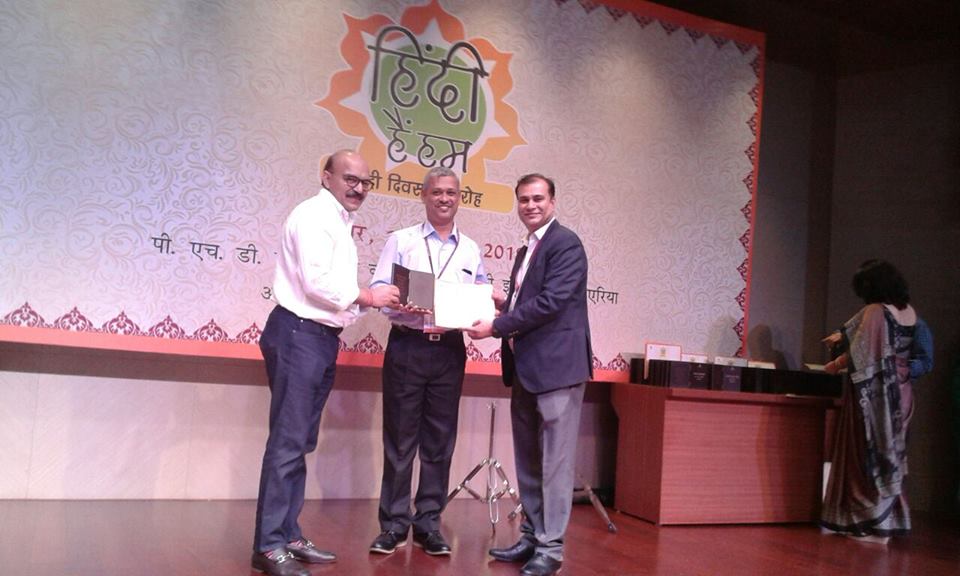 State level Quiz on General Science was conducted by FIITJEE. The final round was held on 14th April 2018 in Sir Pitty Thyagaraja Hall, T Nagar. The prelims were 6 months of online quizzing. The Grand finale had a written prelims and an onstage live quiz. 
Abhimanyu A of Std VIII B was qualified for the final. His team-mate was selected by lucky draw. In the final, they had scored 200 points. He has won the 1st prize out of 500-600 participants and he has received a certificate and a Lenovo Tab as a gift, in the Junior category. Congratulations to Abhimanyu. A and we wish him all the best for his future endeavour too. You can also watch the grand finale in the you tube link "the science quiz fiitjee"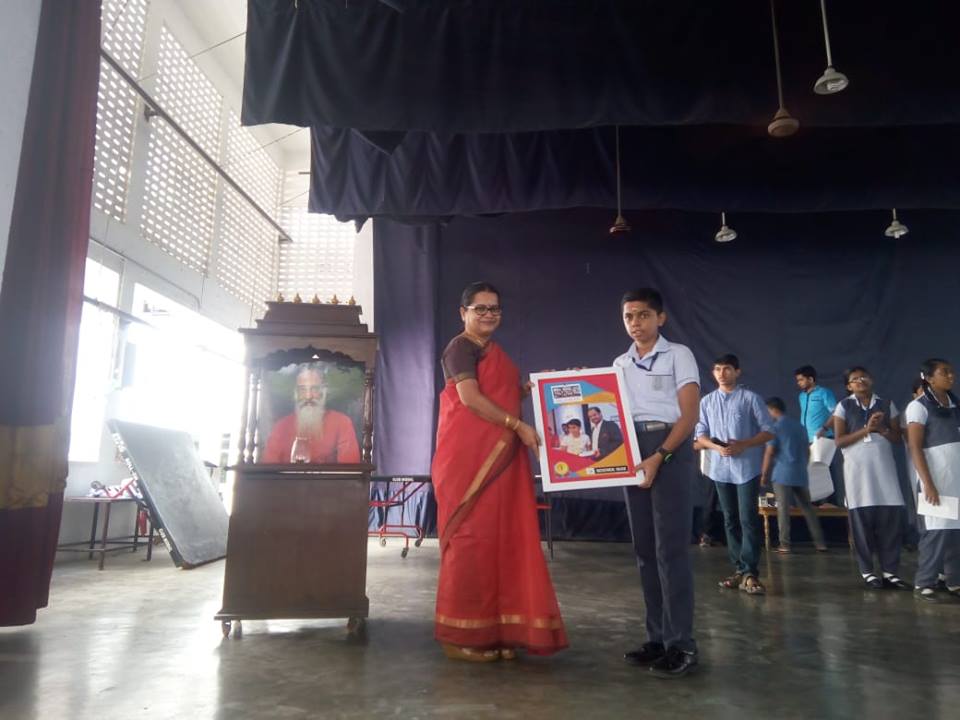 Mrs.Rita Pethe , the dance teacher of Chinmaya Vidyalaya received the Best Teacher Award from West Chennai Sahodaya Cluster Schools at Chinmaya Vidyalaya,Taylors Road on 07.09.2018 which was conducted by Chinmaya Vidyalaya, Virugambakkam. She has worked in the field of education for 20 years and has been teaching dance and piano to student's right from Kindergarten to Std XII. She has also choreographed many programmes in and outside the school and won many accolades.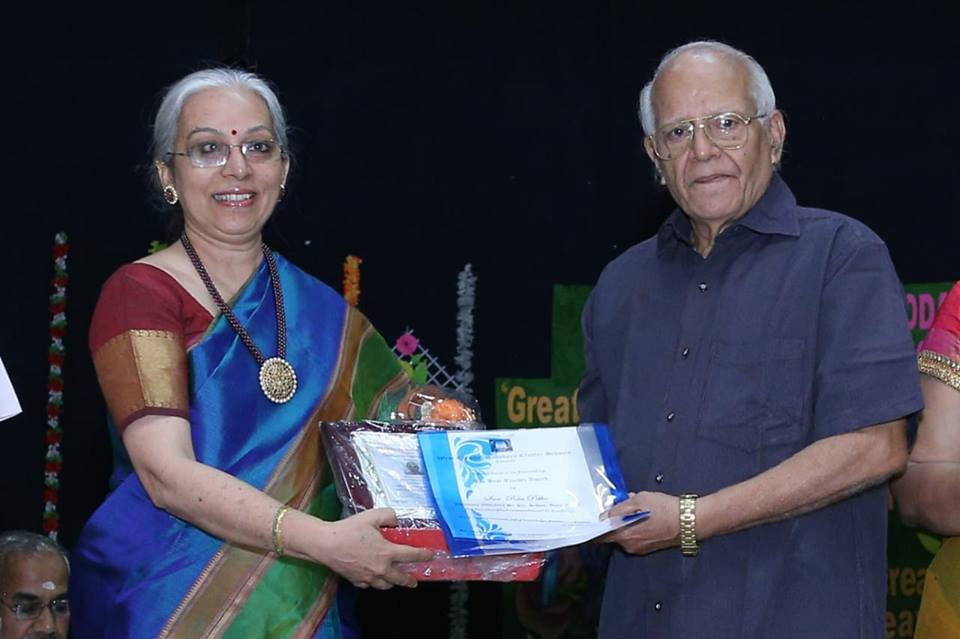 Mrs.Shanthi Muralidharan from Tamil Department who has 25 years of service in the field of education and Mrs.Rama.B from Social Department with 22 years of service received the Best Teacher Award from Lions Club Periamet,Chennai District, on 5th September 2018 at an award function held in Hotel Ashoka , Egmore.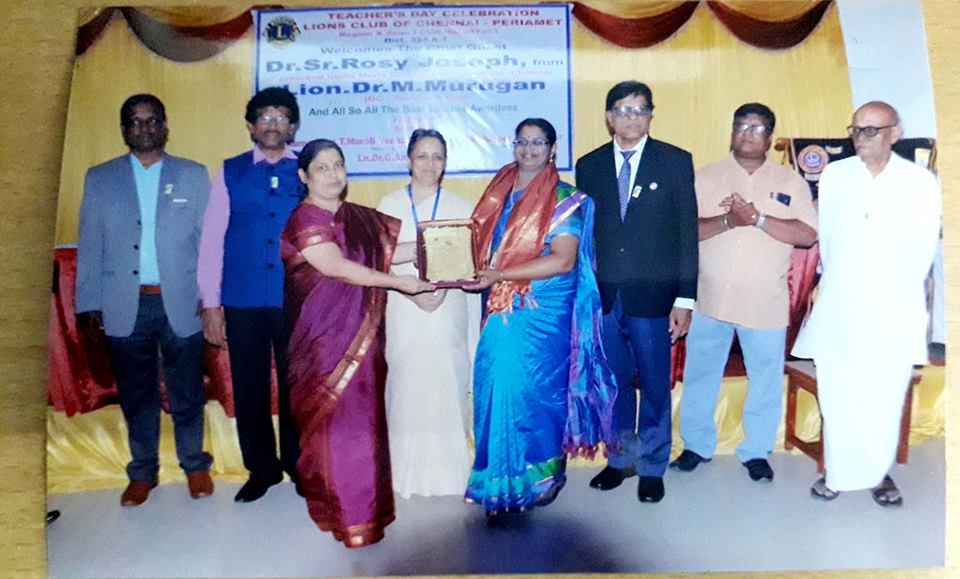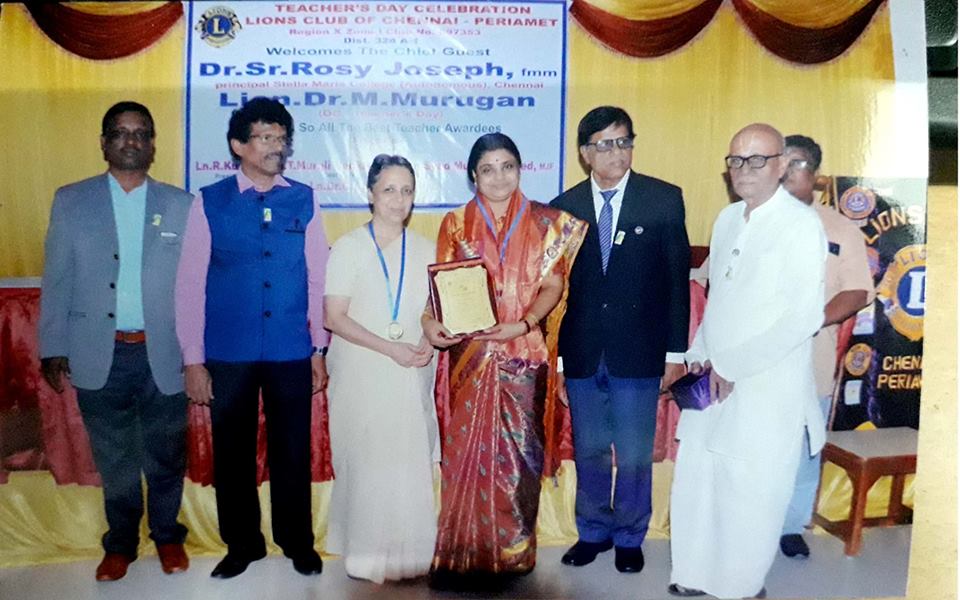 KINDER LOUNGE International Institution has conducted Kinder Lounge Super Singer Programme for Junior's. PRANITA.N of U.K.G – C from our Vidyalaya has participated in this program. The program was conducted on 8th Sep 2018. She was selected one among the 15 out of 200 Students from all over Chennai. The judges for the program were U.K. Murali, Santhosh (Music Composer), Venkata Ramana (Cricketer), Nandakumar (IRS officer).She was the TITLE WINNER of the show and she received the cash amount of Rs.7500/- and a Trophy in the GRAND FINALE which was conducted at AAVIN AUDITORIUM ARUMBAKKAM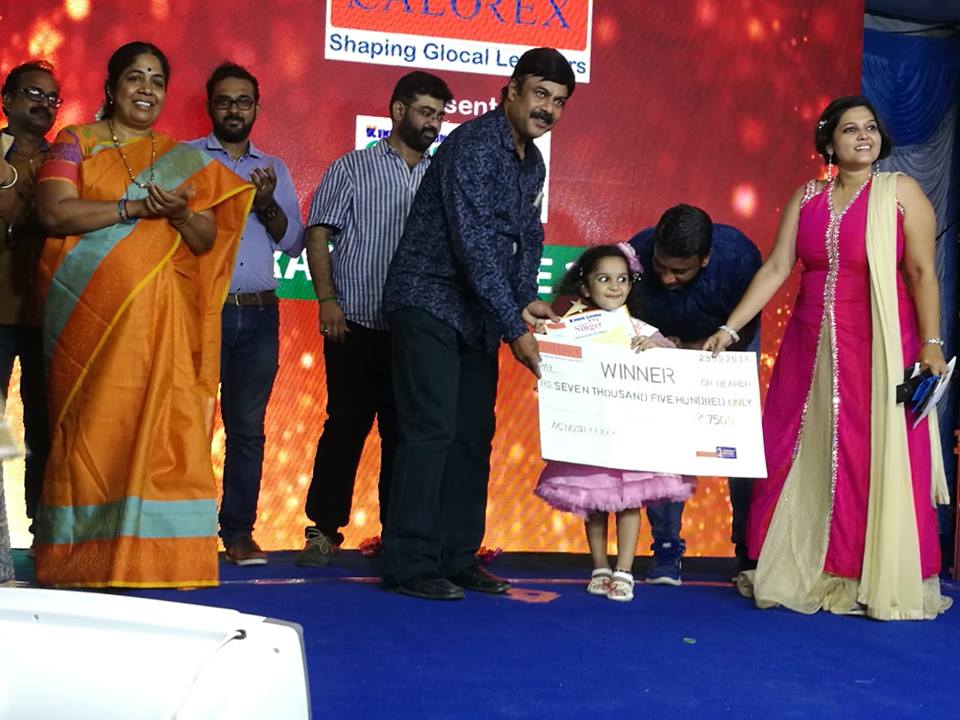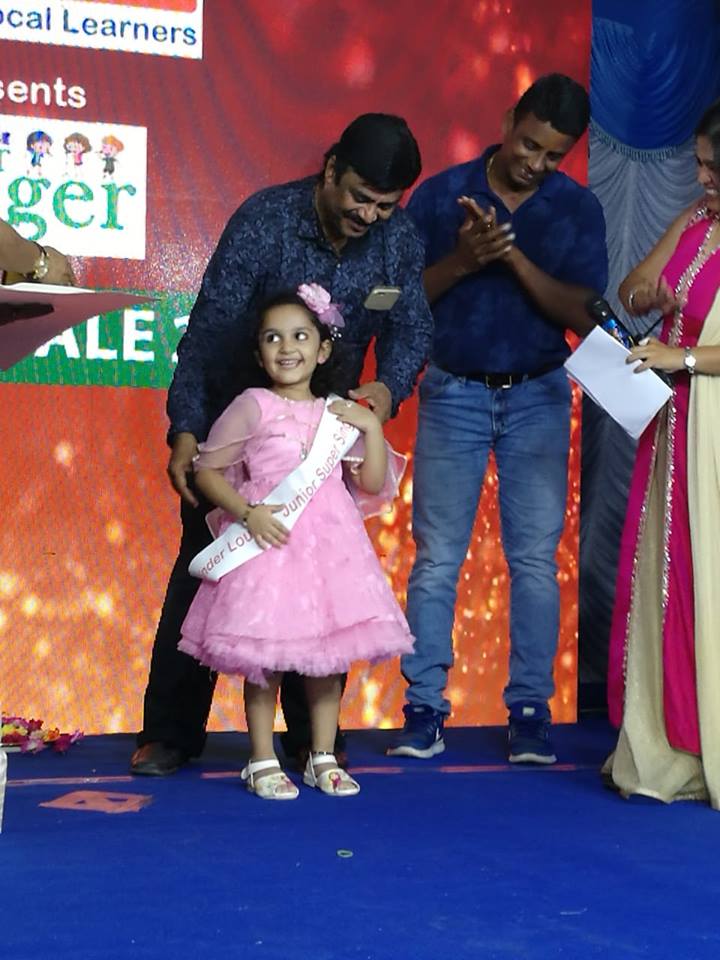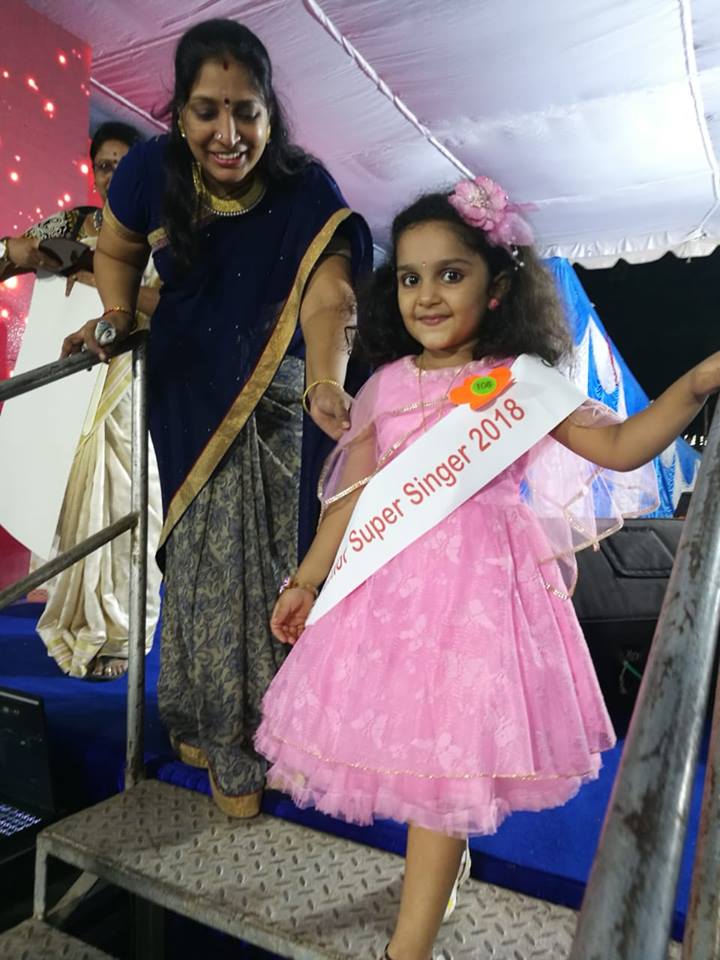 Bharani Vidyalaya senior sec school-Karur conducted south zone JUDO tournament. Students from Tamil Nadu, Pondicherry, kerela, Karnataka, Telangana, Andra Pradesh, Goa, Maharashtra, Andaman Nicobar and Lakshadweep participated in this event. Lokesh of Class IX from our Vidyalaya secured bronze medal U 17 open weight category in this event. Congratulations and best wishes to him.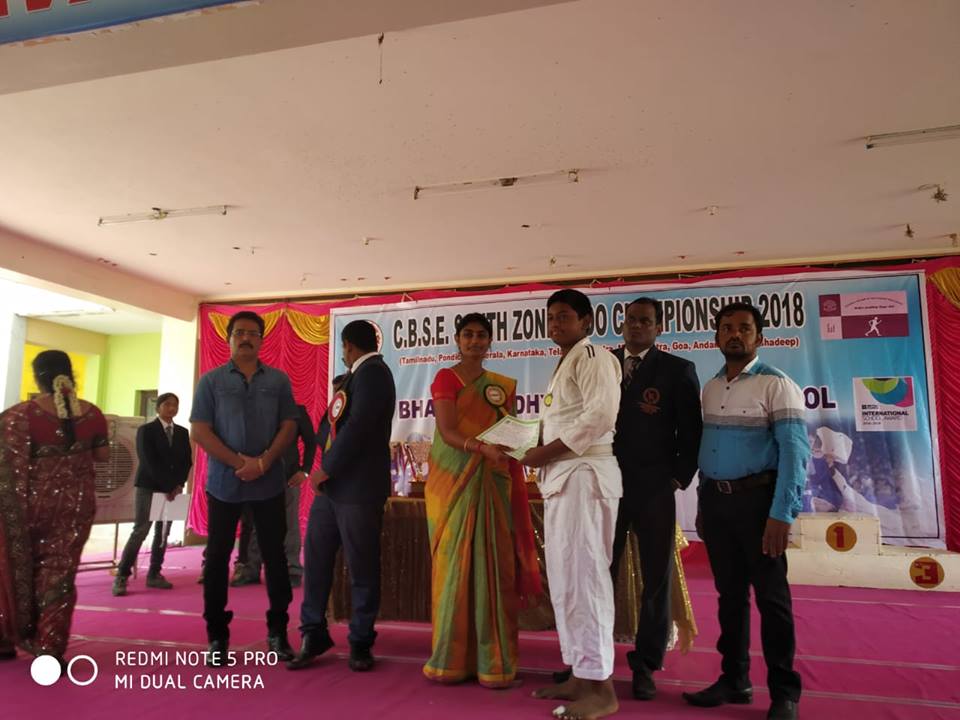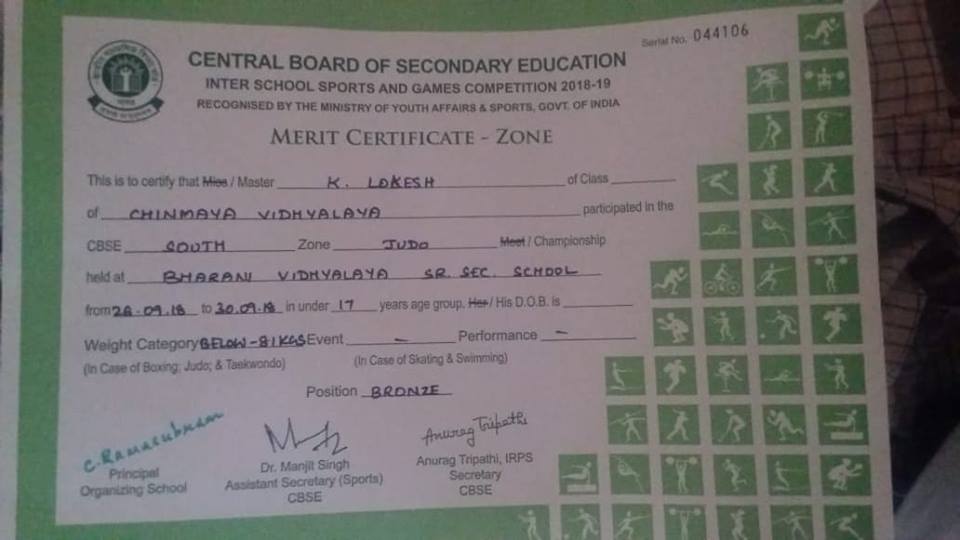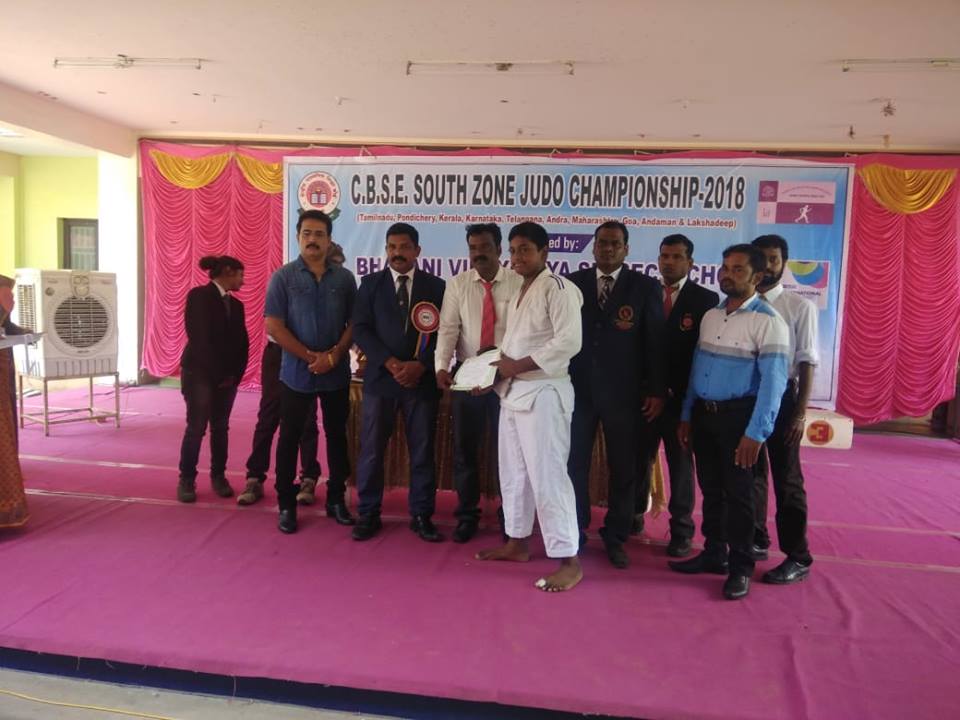 Our Vidyalaya students Hari Vignesh.U- X, Sanket mahipal -XI, Viswajeeth – VIII participated in CBSE Cluster VI (Tamil Nadu, Pondicherry and Andaman Nicobar) Table tennis tournament organised & conducted by Shristi Vidyashram- Vellore during the September month and bagged runner-up position in team championship . Hari Vignesh Umashankar has also received Runner up in Individual Championship. The same team will be participating in the National level during the month of November. Our Congratulations and Best wishes to the team members.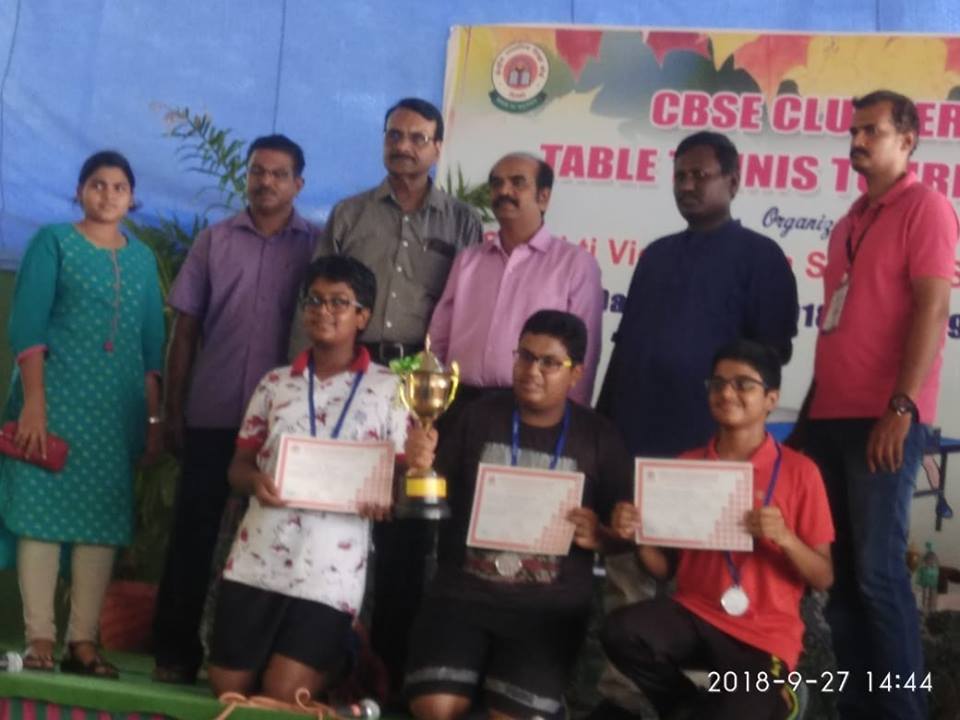 DAV senior sec school conducted 31st Smt.Ben Shanthilal Sharma memorial Badminton tournament for girls from 27/8/18 to 29/8/18 in which our school girls participated and won the I position out of 17 schools. The participants were N.A Saranya VIII, Keerthi Lakshmi VIII, B Neha VI.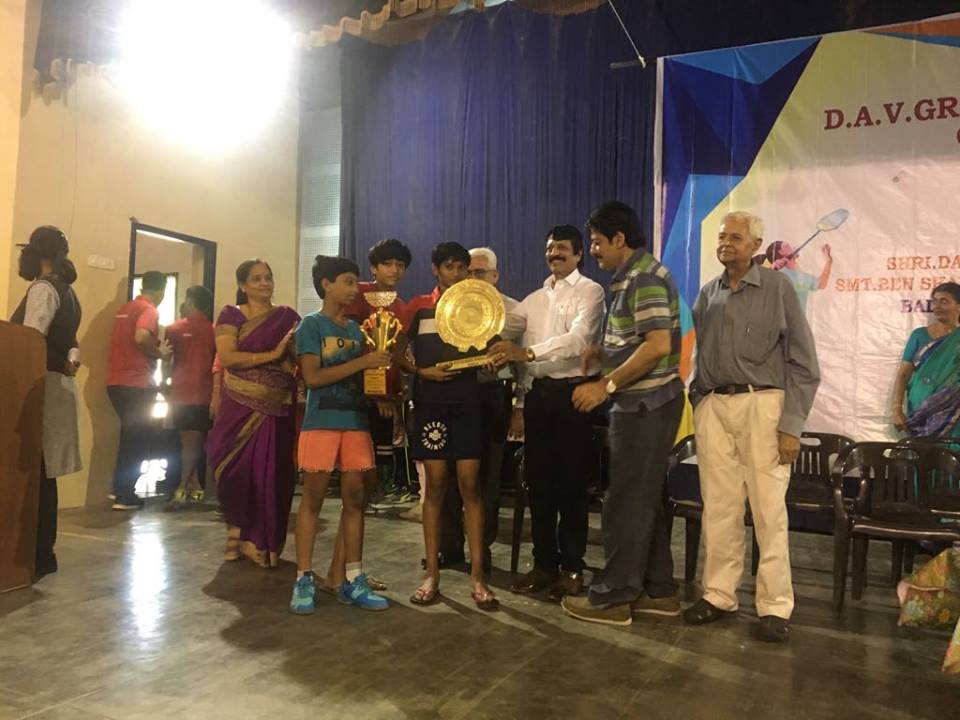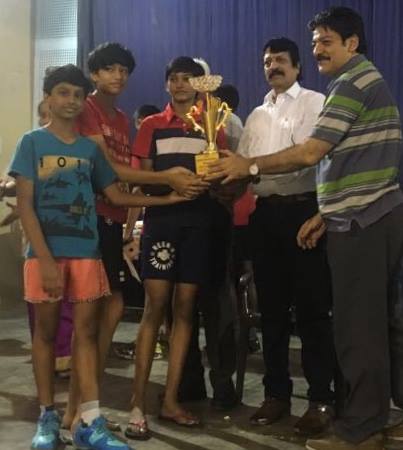 Britannia conquest I.Q Olympiad conducted Quiz competition in national level. 530 students from all over India participated, in which 150 students were selected for final round,  C P Aravindan of std 6th Recieved 3rd prize in the finals and bagged H P Printer. Oviya of Std II also recieved the printer as 3rd prize.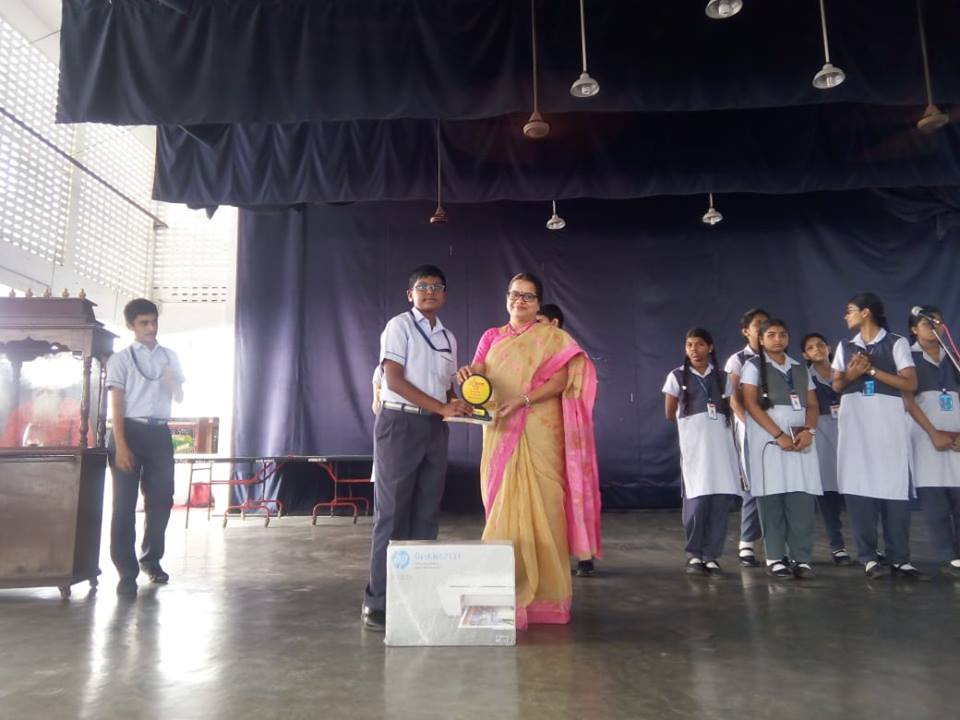 Sri Ganapathy Sachchidananda trust has organised a inter school bhajan Competition, In which our school choirs from Std VI & VII won the first prize. The participants were Thejashree S , Niranjani, Mangala Lakshmi, Sadhana & keerthana. Congratulations to the participants and Music Teacher Ms. Naganandhini.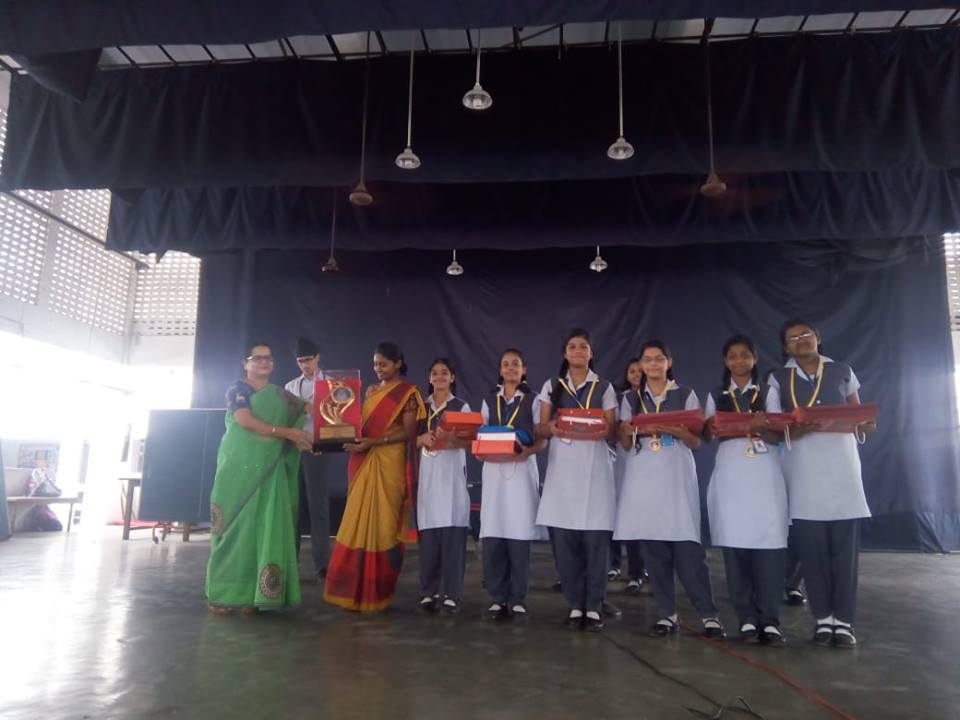 APL Global school conducted 5th Inter school Football Tournament which was conducted on 31st August and 1st September 2018 for U-14 Boys. Our school Boys won the runner up position out of 30 schools. The participants were Aravinda Krishna - IX, Kuganeshwaran P- IX, Adithya. G - IX, Mohan raj- VIII, Sri jay Krishna - VIII, Singaram - VIII, Abhinav P -VIII, Nagulan S -VII, Vignesh k -VIII , Aparajith - VIII. Congratulations to all the participants and the P.T Teachers.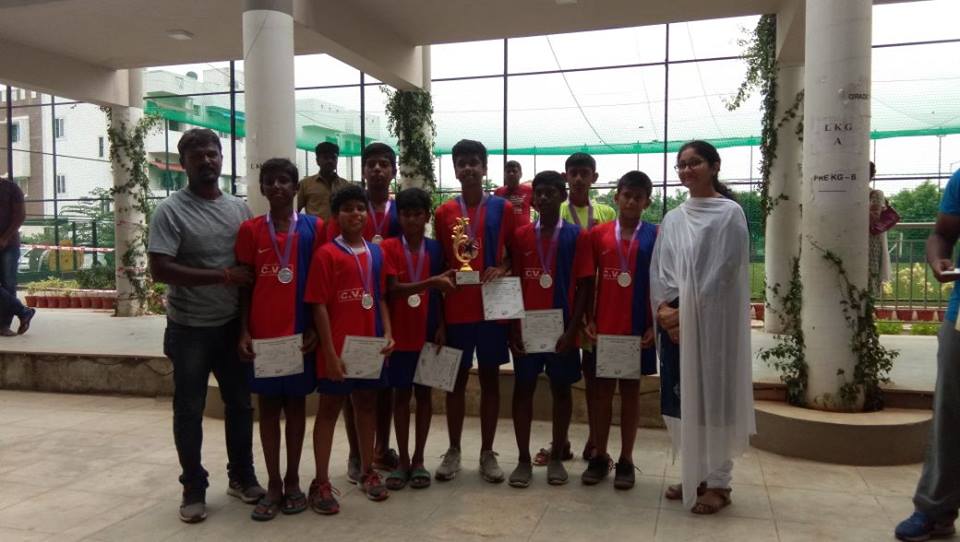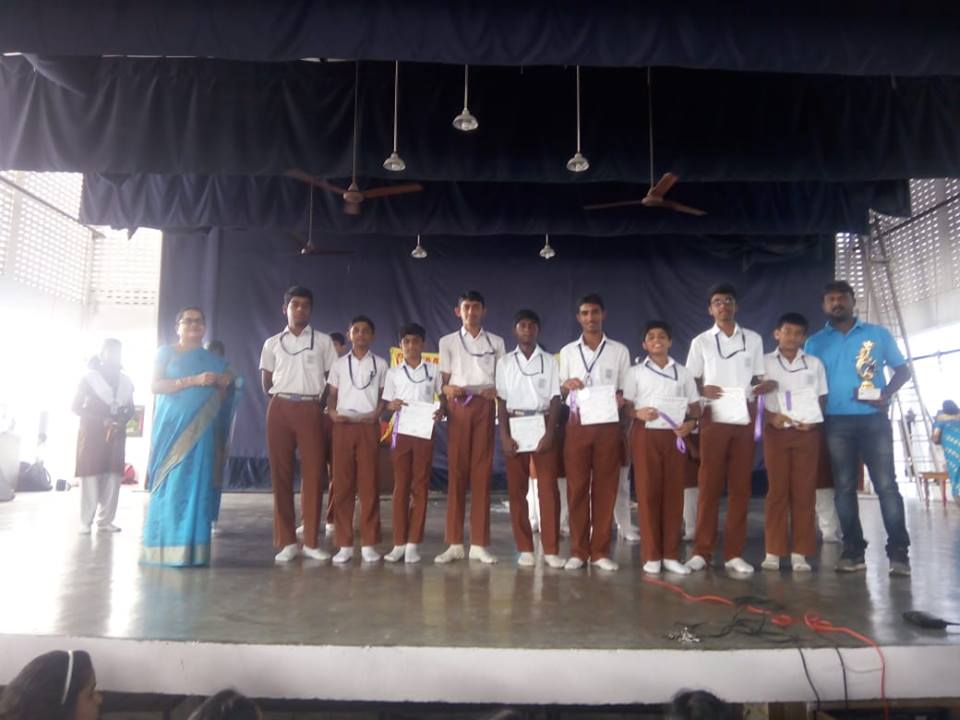 Loyola College, Chennai conducted 'Connaissance 2018', a business battle on 31st August. On various events like Debate, Quiz and Business Plan. 15 schools from the city level participated in this event. The participants were Teja XII- B, Shreya Sharma XII-B, Shreya S P XI-C, Yamini XII- B, Deshna XII –B from Commerce department won the first place in the Debate Competition. The school was also awarded the overall runners up trophy. Congratulations to the participants and the commerce teacher Mrs. G Latha, who was the guiding force for them to win the prizes.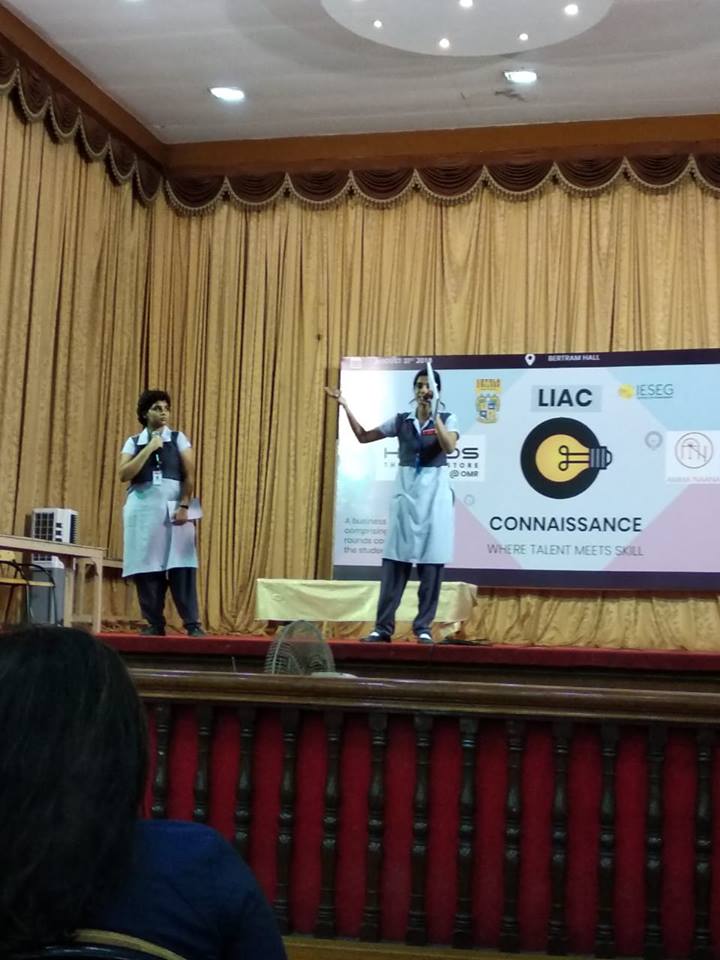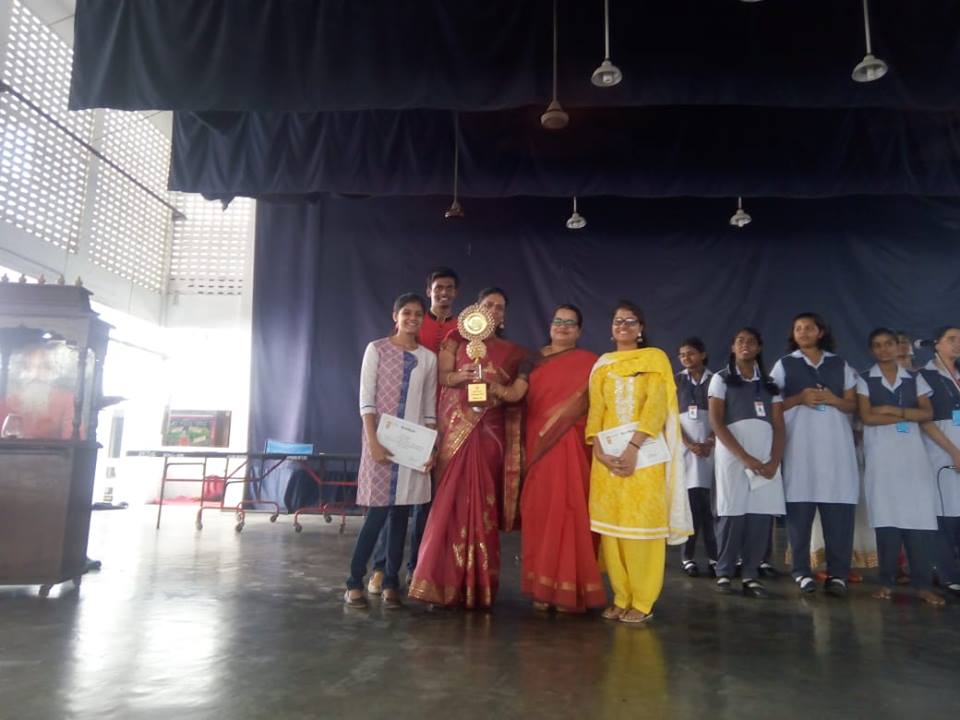 S Sarvesh of class VI D won 1st place in chess under 10 boys, organised and held at Vellammal Vidyalaya, on 4th August 2018 and he has also won Bicycle. In the same event U.C. Pranav from Std II got second place and received Rs.1000/- as cash award. Congratulations to both S Sarvesh and U.C. Pranav
S Sarvesh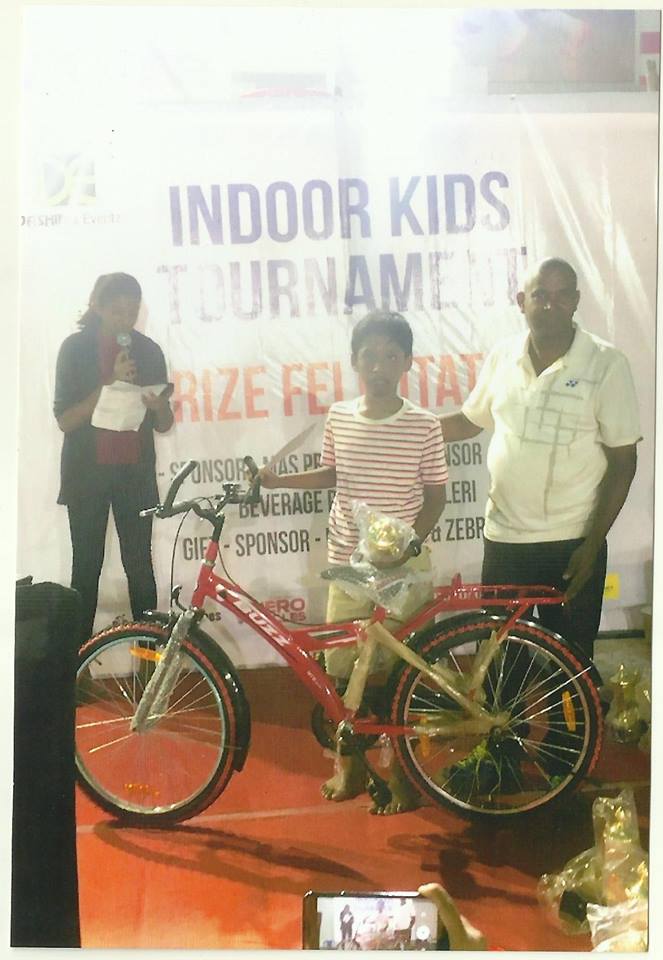 S Sarvesh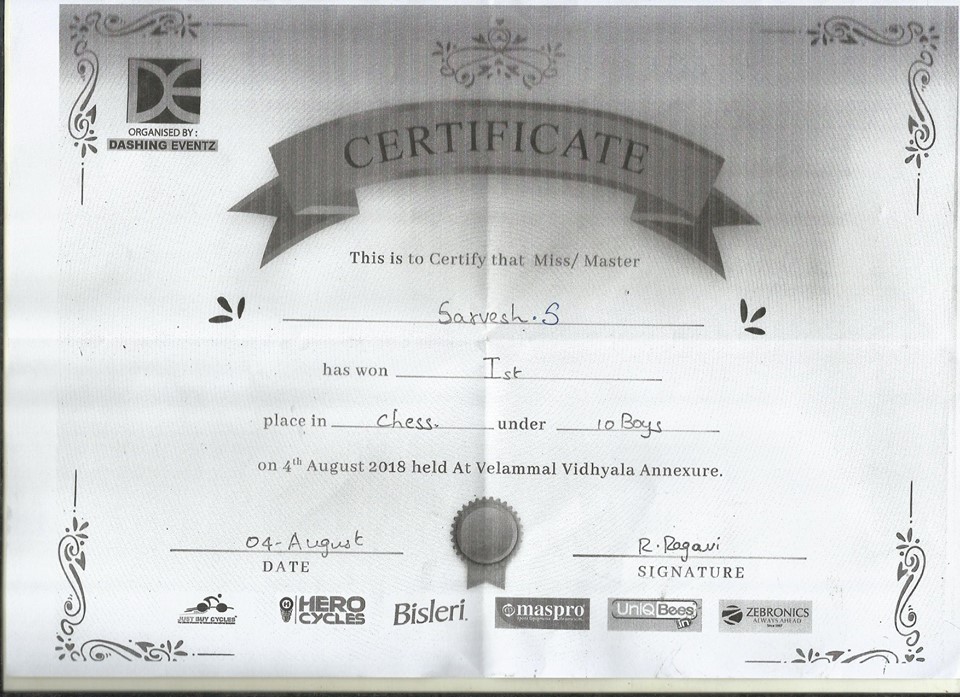 S Sarvesh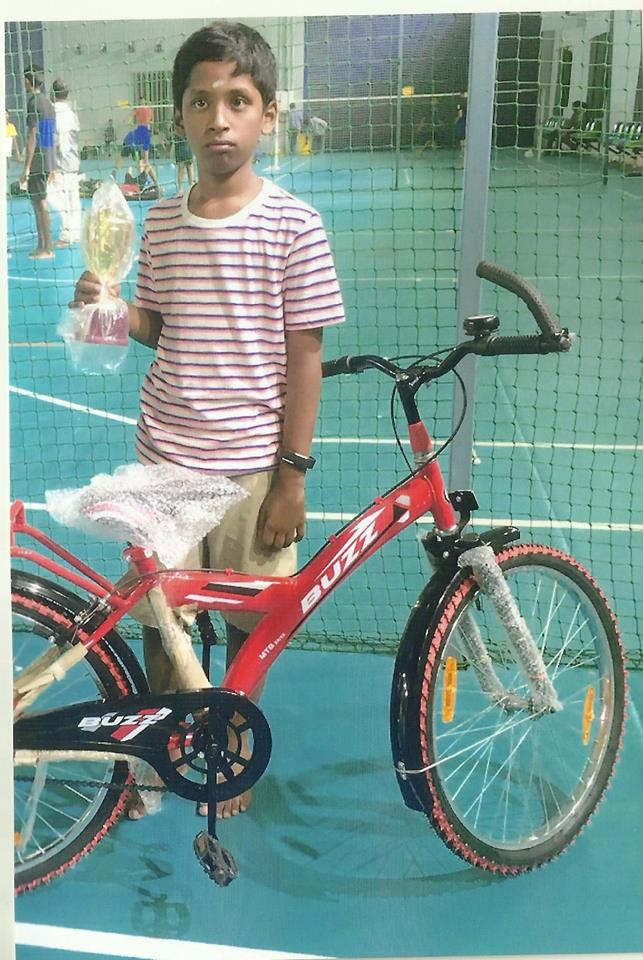 Students from Chinmaya Vidyalaya Annanagar participated in the National Group singing competition organised by Bharat Vikas Parishad on 04.08.2018. In the Hindi songs category (zonal level) our school students won first prize among 15 teams and qualified for the next level (state level) to be conducted soon.
Rashmi Narasimhan X
Mathumitha X
Varun X
Vinay P Ramesh VIII
Monisha A VIII
Anu varshini VIII
Aakansha VI
Sanjana VIII
Congratulations to all the students and the Music teacher  Ms. Naganandhini. Our Best wishes for their next level competition.
Bharat Vikas Parishad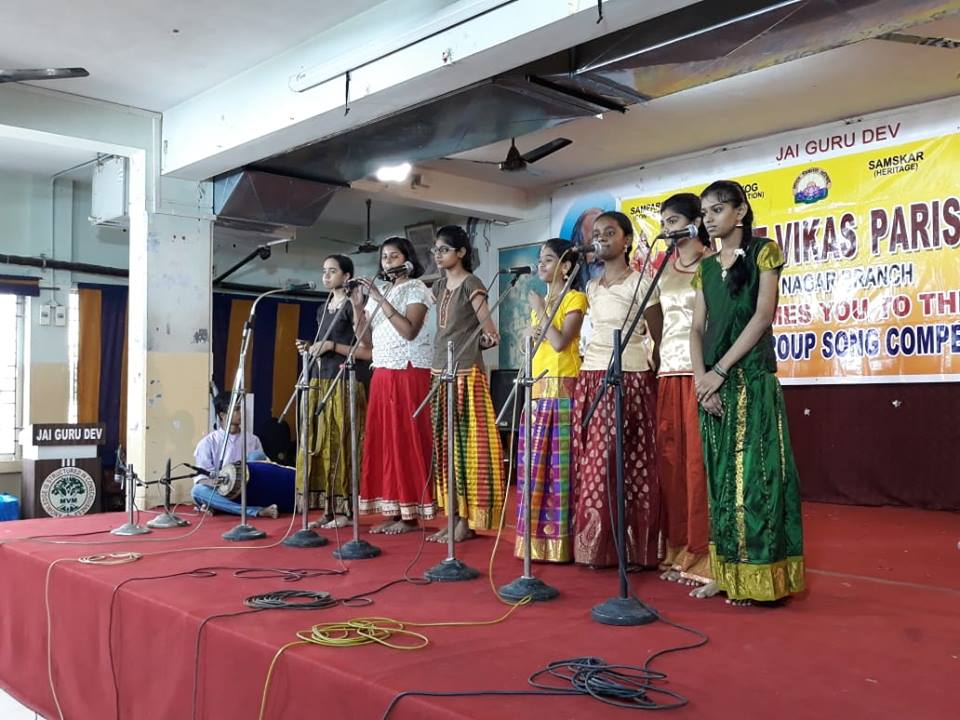 Bharat Vikas Parishad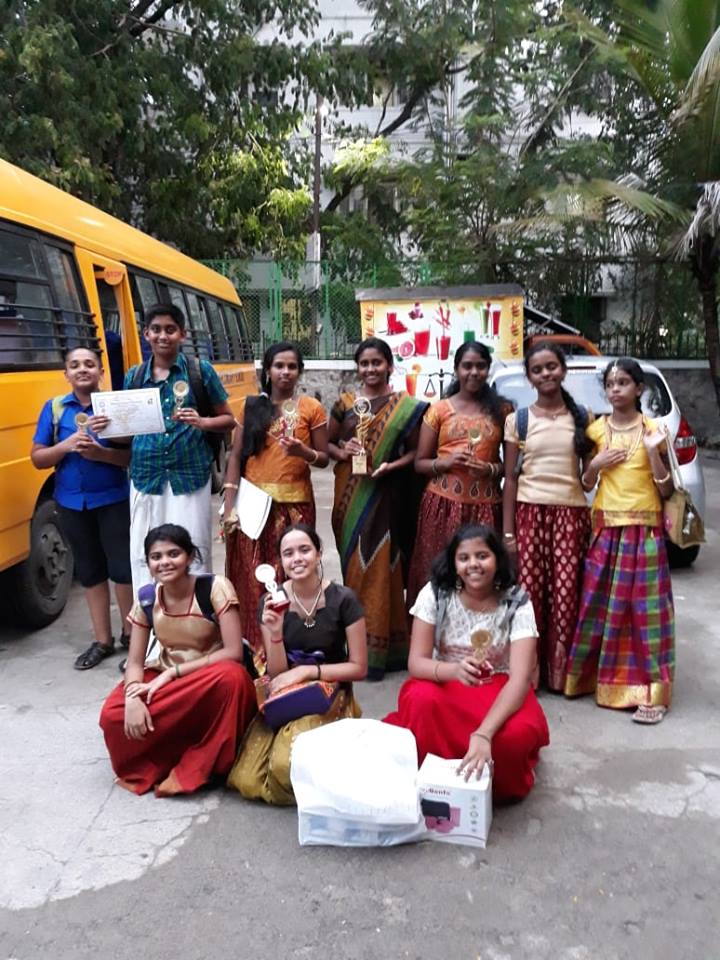 Anjana of class II D, participated in 32nd National Chess Championship, under 7 girls, which was held from 16th-24th July 2018 at Tumakuru, Karnataka. She won 4th place with a trophy and a cash prize of Rs.8000. Overall 148 girls from 22 states and 4 Union territories participated in this tournament. Anjana scored 9 points out of 10 and won 4th place.
Anjana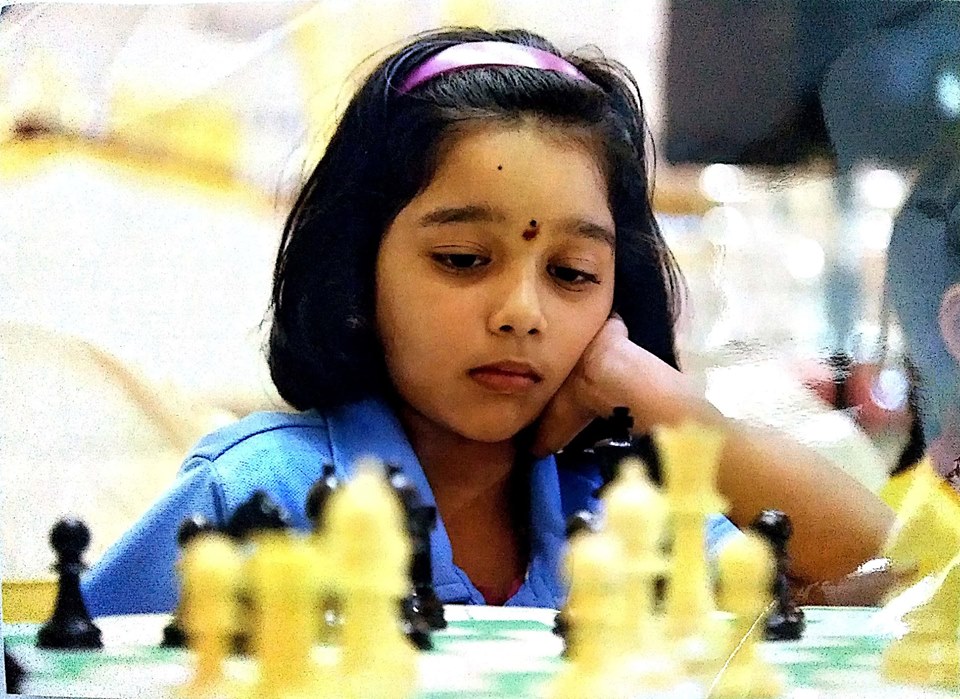 Anjana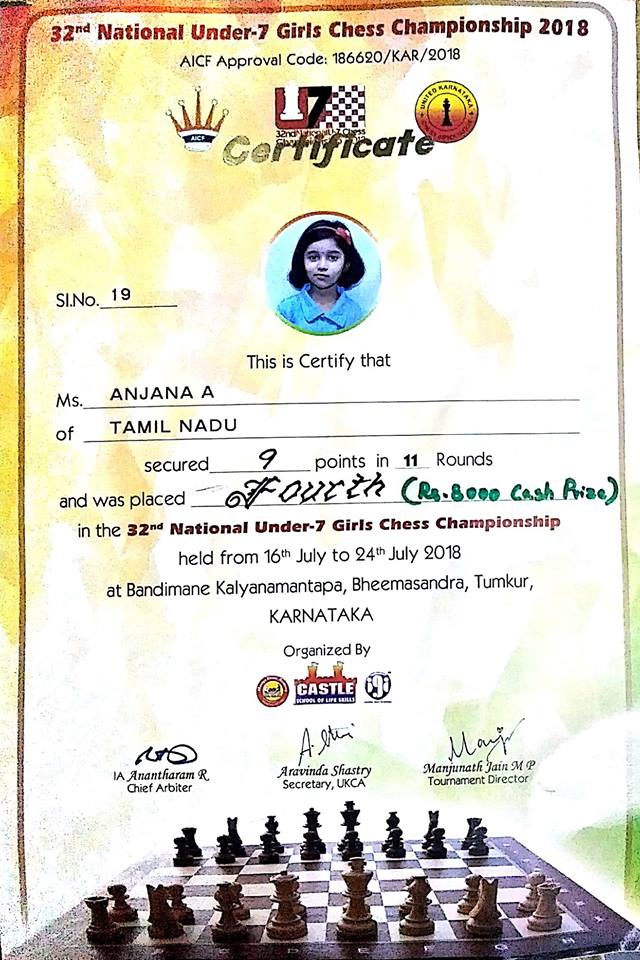 Anjana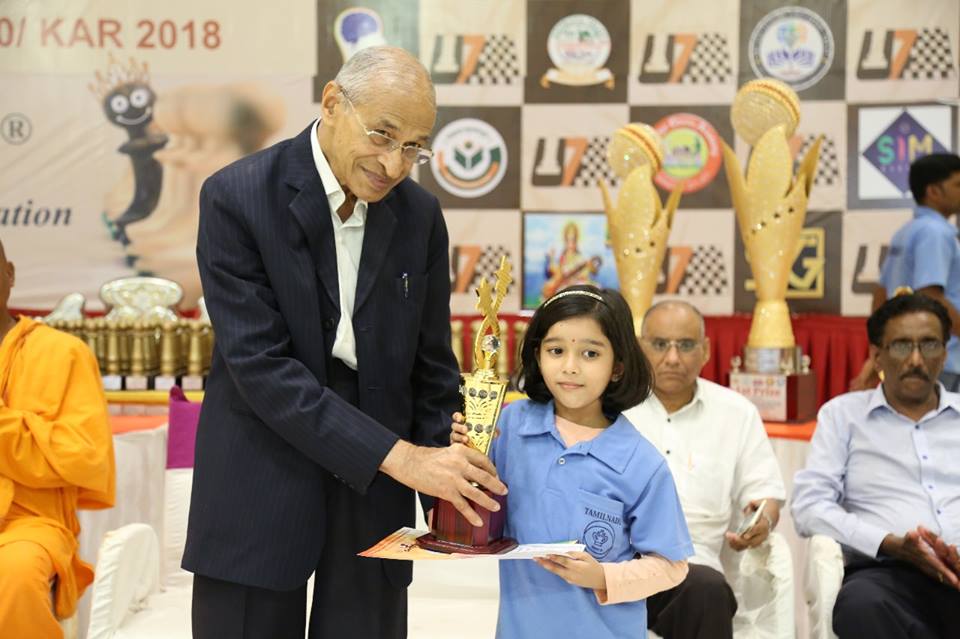 The greatest asset is a strong mind. If i know someone is training harder than I am I have no excuse." – P V SINDHU Inspired by these words, Saranya N A of Std VIII thirst to succeed huge in badminton shooted up. She started working at least four hours a day. After continuous efforts, she won the runner's position in the TAMILNADU STATE LEVEL TOURNAMENT conducted by YAAVARUM KELIR in which more than 200 students participated. Recently, in a tournament conducted by THE COLOSSEUM SPORTS, She won the kid's Singles-Intermediate category and runner's position in the Mixed doubles category. She was awarded with a cash prize of Rs.4000/-. She is determined to represent our Nation in the Olympics. Congratulations and best wishes to her.
Saranya N A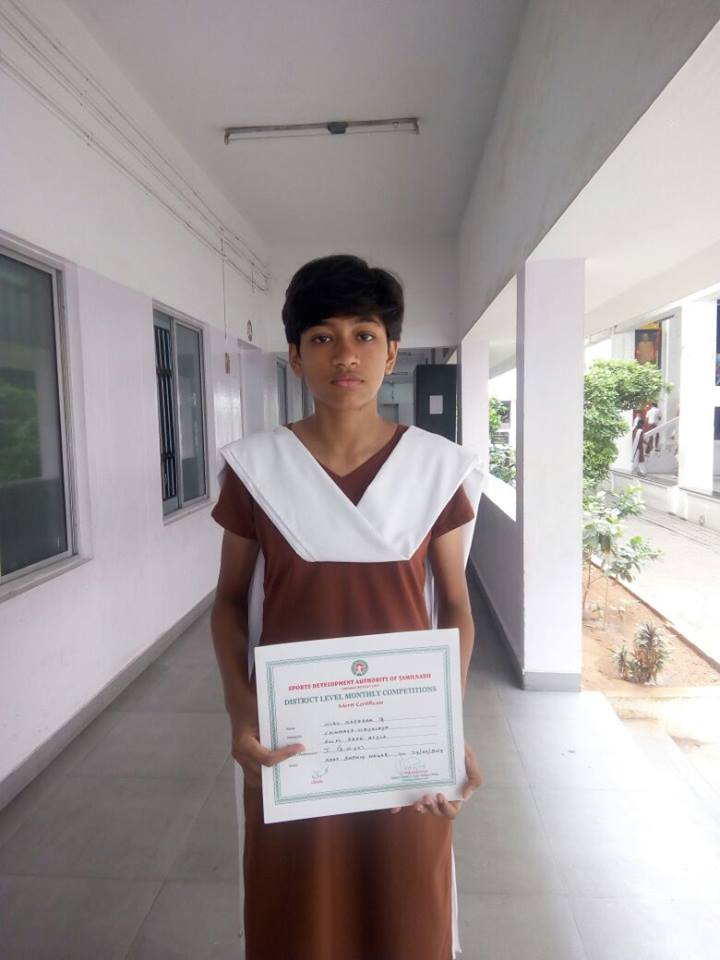 A Smooth sea never made a skilful sailor. Astra-2018 was an event that opened an ocean of opportunities that help our students portray their skills on 28th & 29th June at Bhavans Rajaji Vidyashram. Samaran from 11 B had bagged the ' Mr. Astra title' and had won exciting prizes like a macbook and cool headphones, on a whole this was a wonderful platform for the exposure to the students .
Samaran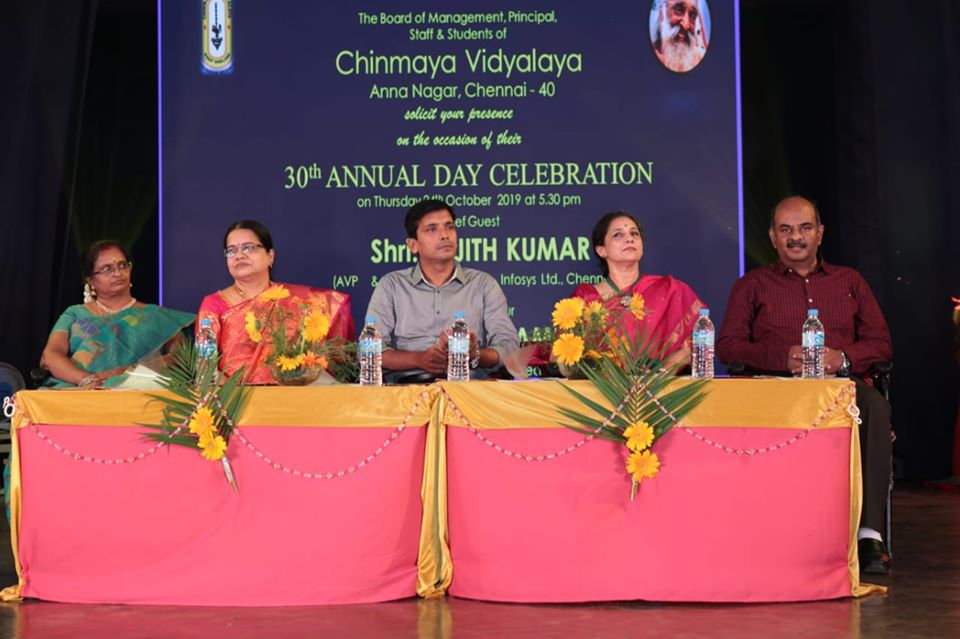 Samaran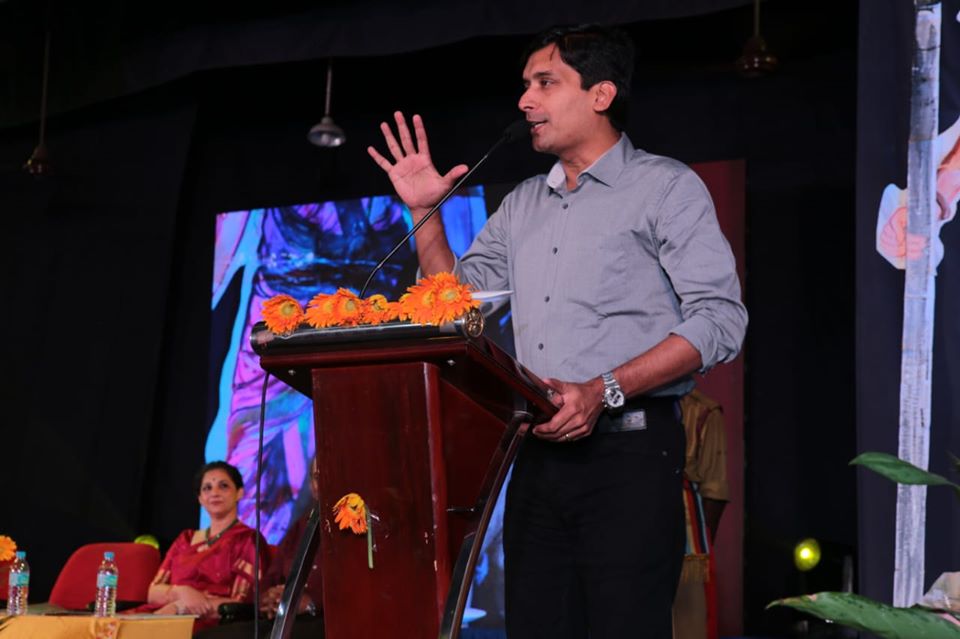 S A Vijaya Durga of std VIII participated in National cyber Olympiad and won Rs.2500/- cash award, medal and a Certificate by securing 11th Rank in International level and 3rd Rank in State level. She also won Rs.1000/- cash award, Certificate by securing 65 Rank in International level and 4th rank in State level by participating in National Science Olympiad
S A Vijaya Durga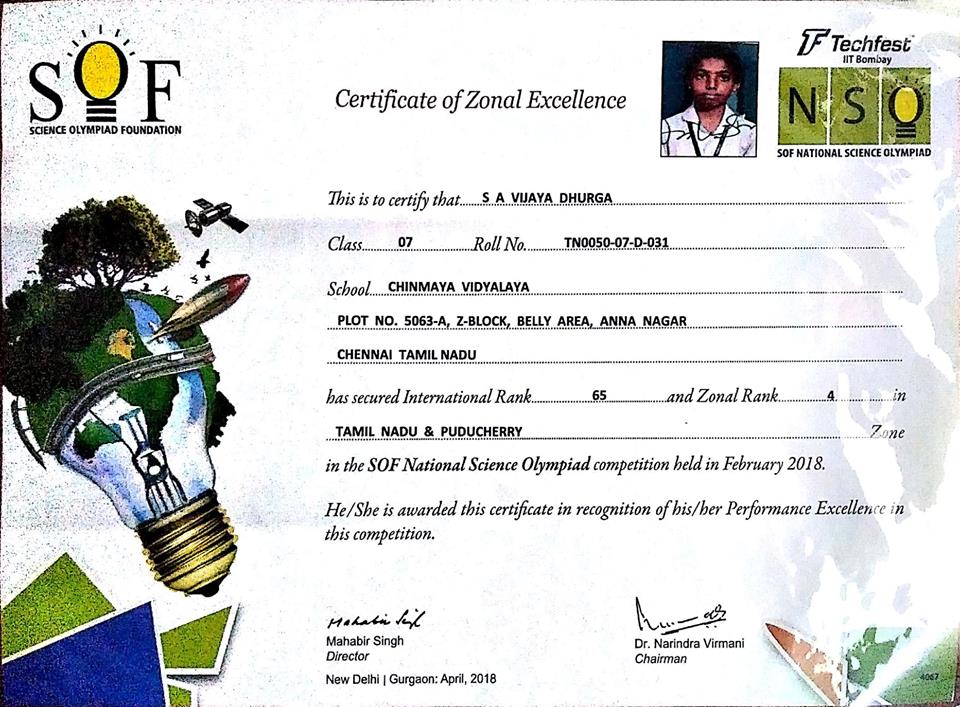 S A Vijaya Durga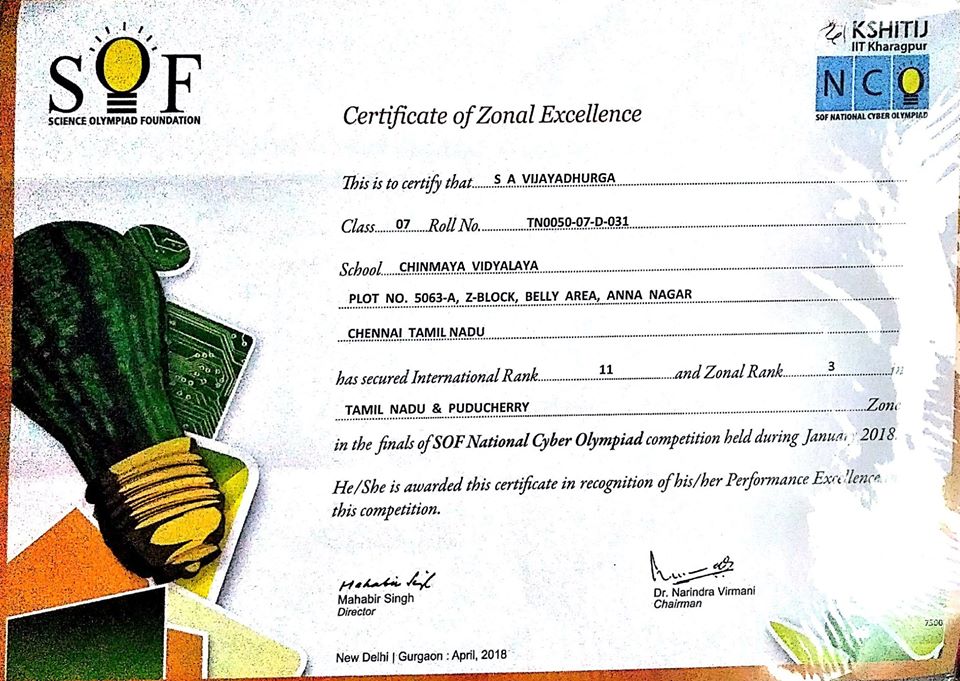 The world scholars cup is a global level annual academic event. It includes writing, debating and 6 different subjects which include science, special area , social science, History, Art and Literature. We are so proud to note that, Geetanjali of Std X-C of our school has remarkably secured the 9th position on the all Chennai Regional round, which was held in kualalumpur, Malaysia. This prestigious event was held with over 1800 seniors attending from 600 teams. Geetanjali's team stood 16th position in debate out of the 600 teams. She secured 6 medals in total 4 were gold and 2 silver medals.
GOLD
Writing – 108th place out of 800 selected scholars
Debate – 325th place out of 800 selected scholars
Debates (team)_-16th position out of 300 selected teams.

SILVER

Writing (team) – 187th place out of 300 selected teams
Arts - 279th place out of 600 selected scholars
Geetanjali's team were also been invited to the final round called the Champions showcase in the yale university, conneticut, USA.Congratulations and best wishes to Geetanjali .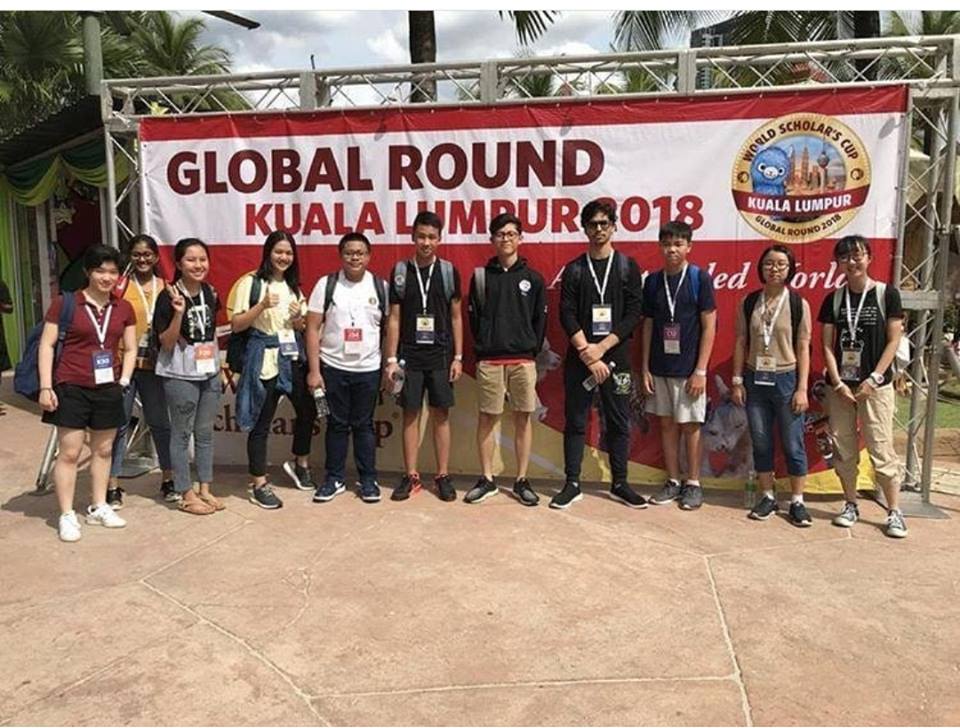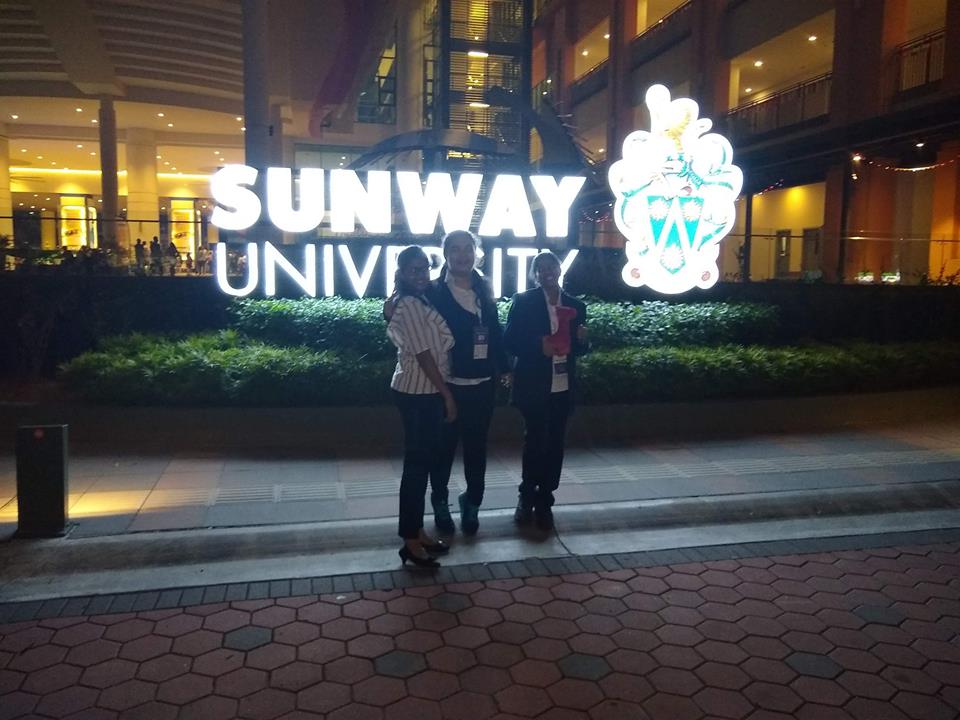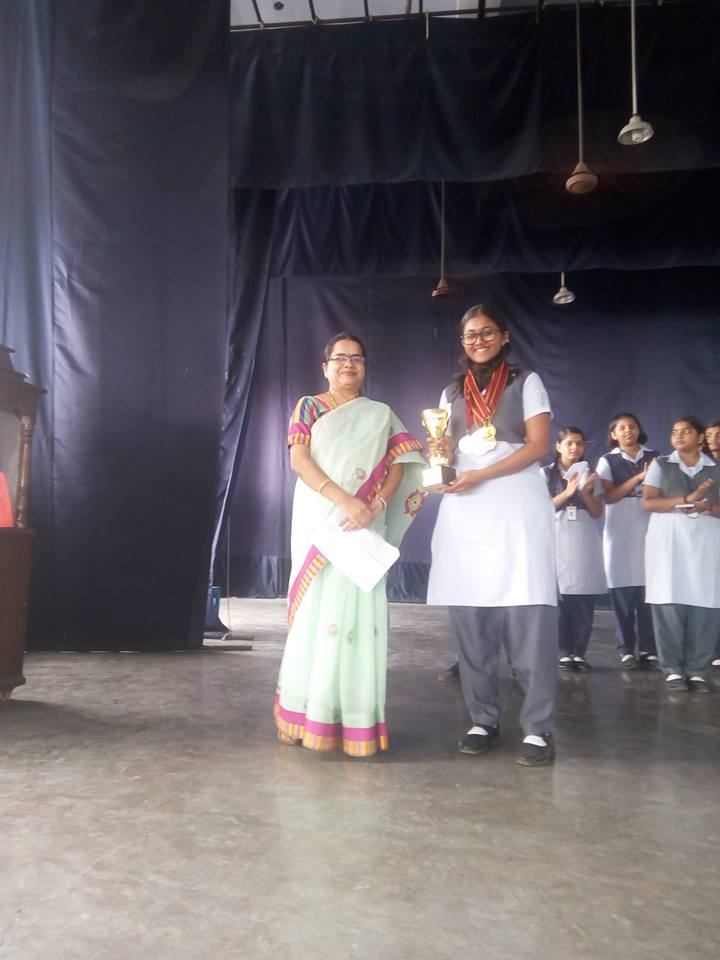 Sree Radha Sanjay from class III has secured Zonal Rank 8th in (Tamilnadu & Puducherry) in the SOF, IEO (International English Olympiad). Over 45000 schools from 1400 cities across 30 countries registered for this Olympiad. She has received the certificate and gift voucher of Rs.1000/-
Sree Radha Sanjay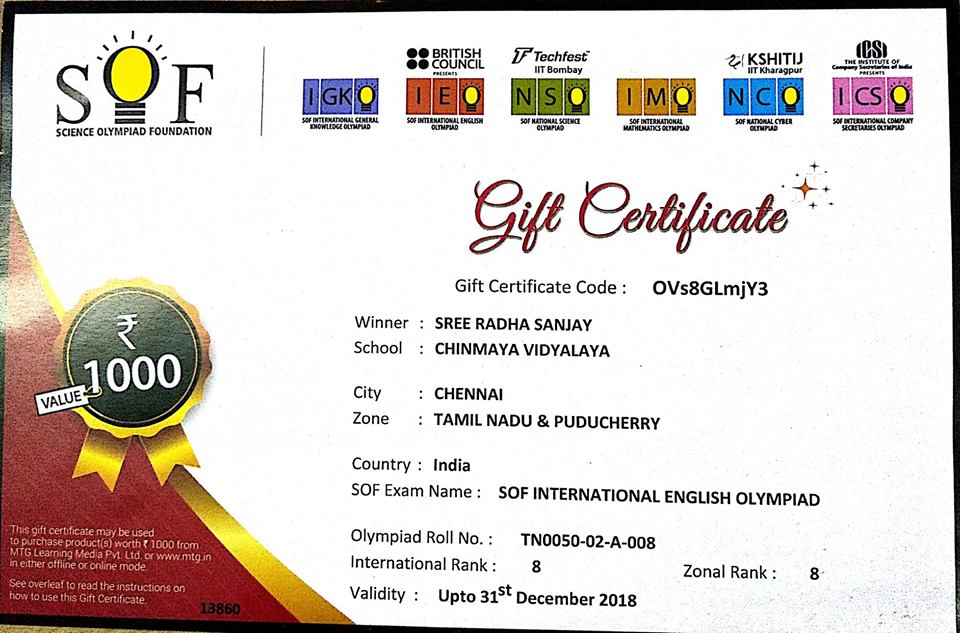 Examination for the Second (2nd) CS Olympiad has been conducted in 1300 schools and more than 34000 students from different parts of the country had participated. Ms. Varshini K from Class 12 and Ms. S Yamini from Class 11 participated and secured zonal 1st and 2nd rank respectively from Chennai. ICSI-SIRC distributed Certificate and an award amount of Rs. 10000/- and Rs. 5000/- to Ms. varshini and Ms. yamini respectively on 19.06.2018 during the School assembly at Chinmaya Vidyalaya, Anna Nagar.
Ms. Varshini K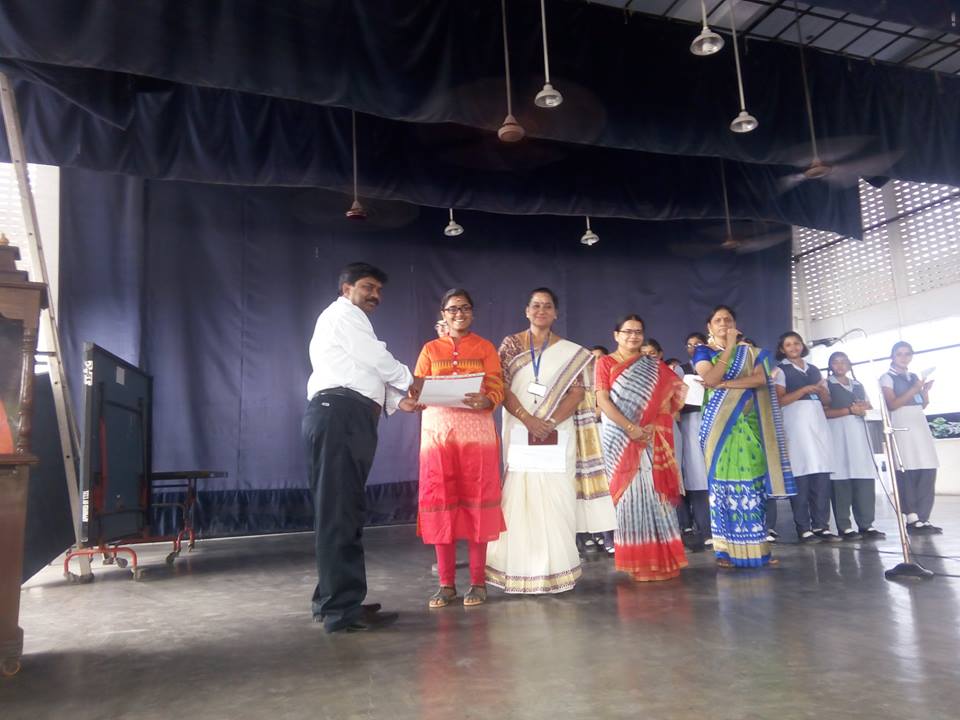 Ms. S Yamini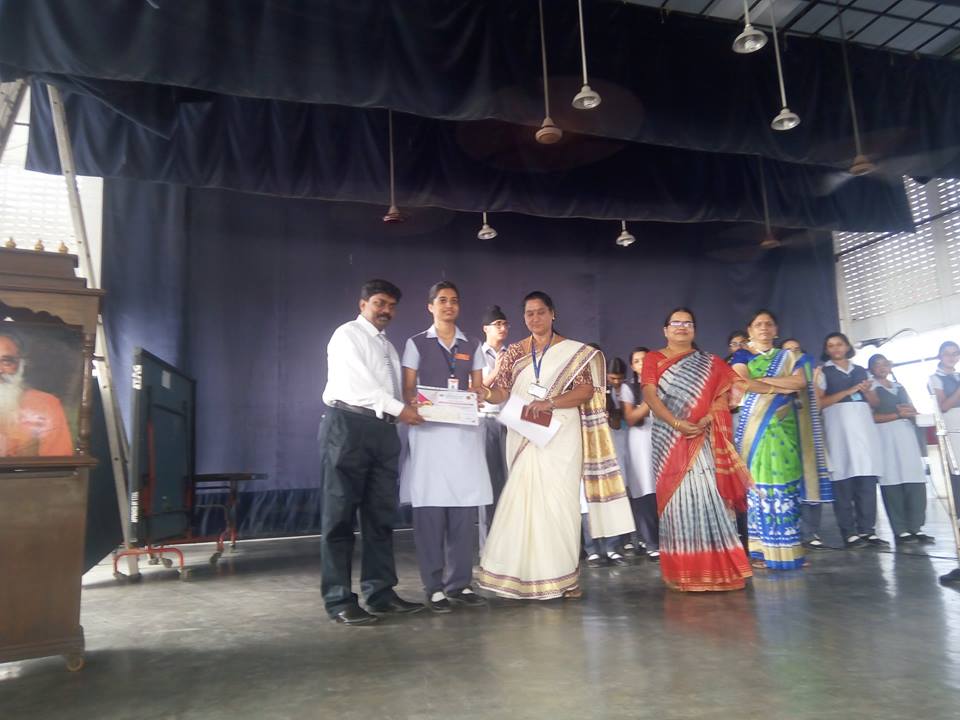 Our school Under-13 Football boys bagged the winner cup organized by Sports India and Plusportz Junior Futsal Open Tournament on May 19th 2018 at Plusportz Multi Sports Complex near K4, Police Station, Anna Nagar. They won against Nethaji Football Club. 16 teams participated in this tournament. Congratulation to the team members and the PT teachers.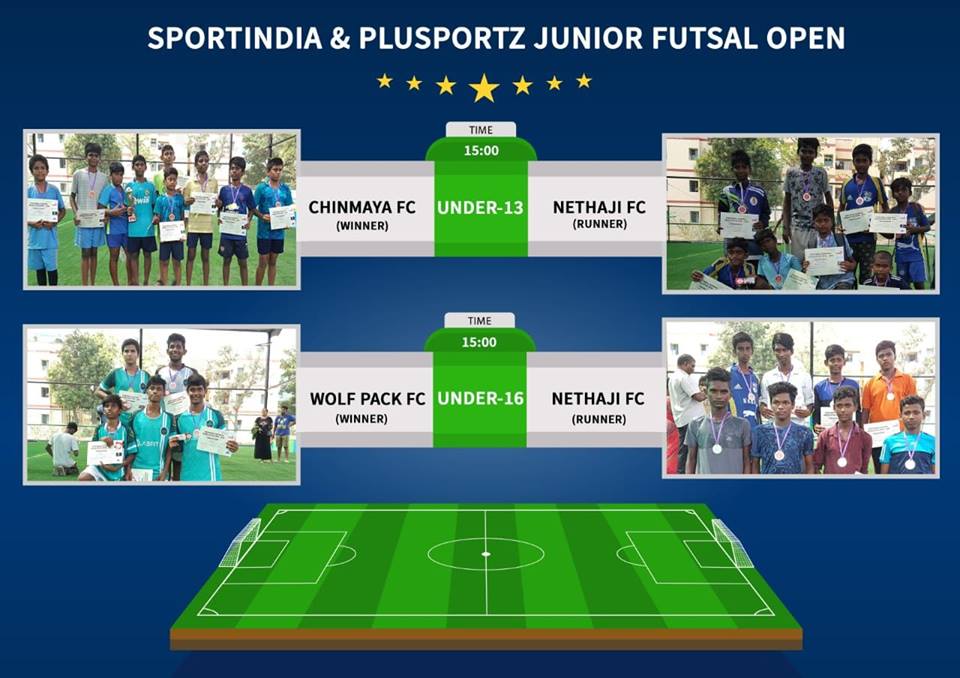 Our Congratulation to the School toppers & Subject toppers of Std XII & X–Board Exams 2017-2018.
STD XII - SCHOOL TOPPERS:

SAI SUBRAMANIAN B - 484/500(SCIENCE)
ATHREYA KRISHNAN - 483/500(SCIENCE)
VARSHA. M - 481/500 (COMMERCE)

STD X - SCHOOL TOPPERS:

SHREYA SP - 486/500
K JHANANI - 485/500
H AMRITHA - 485/500
P HARSHITHA - 482/500
RAGAVENDIRAN - 482/500
SAI SUBRAMANIAN B - 484/500(SCIENCE)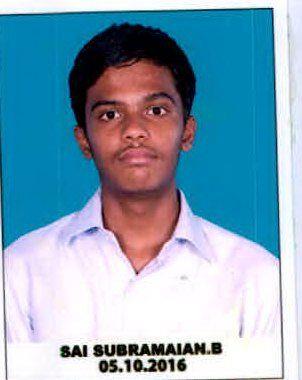 ATHREYA KRISHNAN - 483/500(SCIENCE)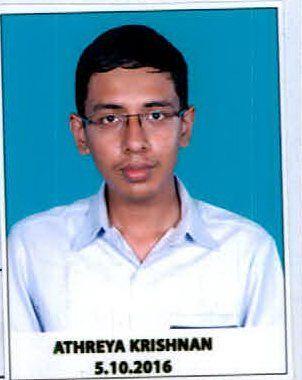 VARSHA. M - 481/500 (COMMERCE)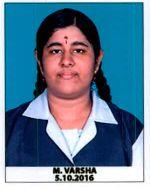 SHREYA SP - 486/500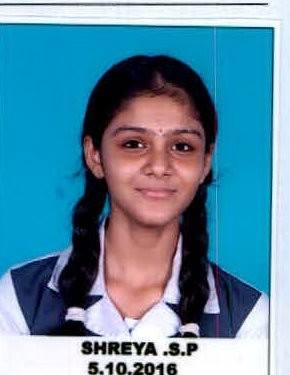 K JHANANI - 485/500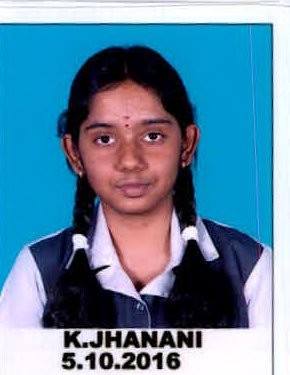 H AMRITHA - 485/500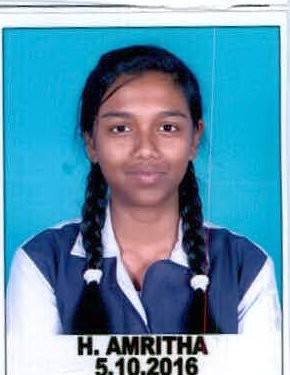 P HARSHITHA - 482/500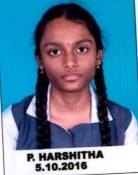 RAGAVENDIRAN - 482/500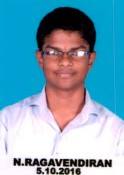 Adharsh studying in III Std, won the Championship title in 31st State Level U-07 Chess tournament held at AVM Rajeshwari Matriculation higher secondary school Virugambakkam. He is selected by the Tamilnadu State Chess Association to represent our State in the National Level U-07 Chess tournament to be held on Tumkur in July. He has been attending Chess coaching for the past 1 ½ years. He is trained by Mr. Vijayanand - Vijayanand Chess Academy, Mogappair.
Adharsh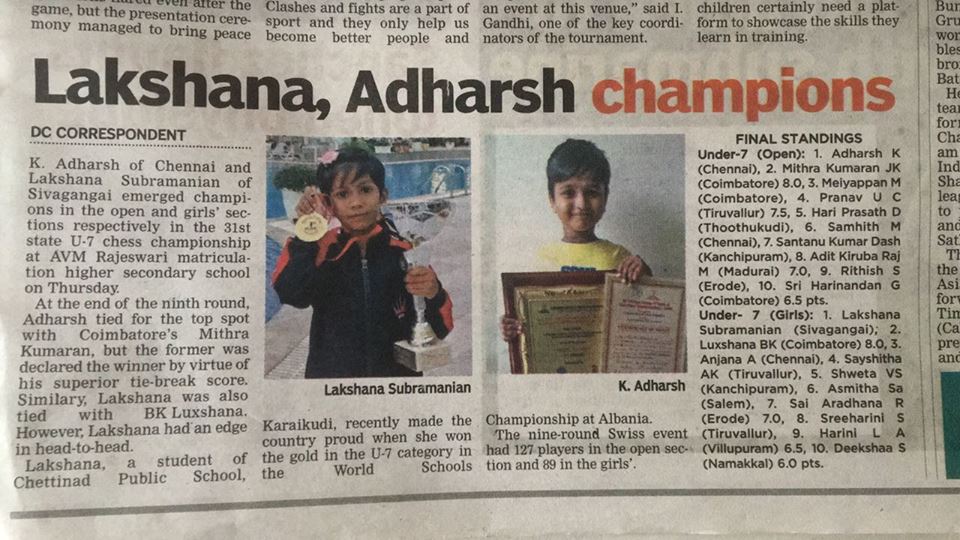 Adharsh
Induja S of Std XII was selected to participate in the National level Painting Competition, conducted by National Bal Bhavan, New Delhi, for the Bal Shree Award 2016. She was awarded a cash prize of Rs. 5000/- and received the same from the Minister Thiru K Pandiarajan at Tamil Nadu Art and culture Department for representing the state at the National level.
Induja S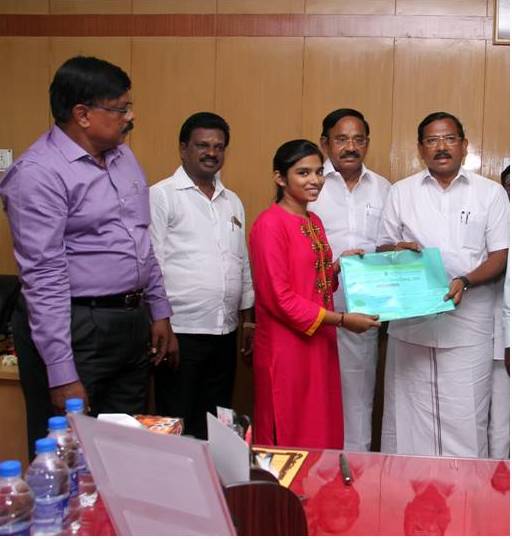 Induja S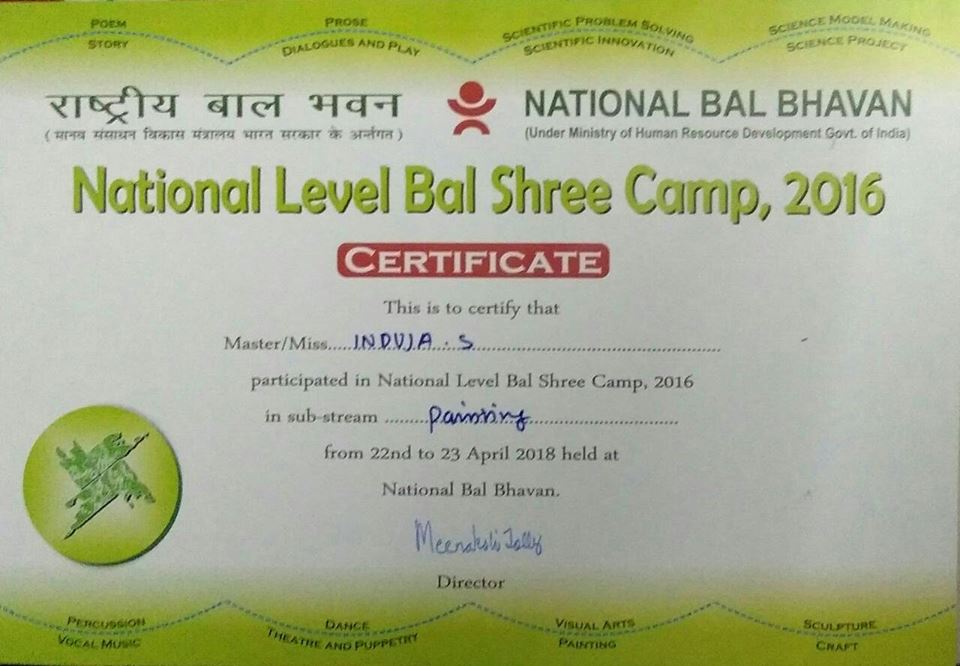 VM Global inter school Foot ball tournament was held on 21.2.2018 and 22.2.2018 in which 30 teams participated in Under 13 category. Our school boys team secured the Runner –up in the tournament. Congratulations to the participants and the PT Teachers.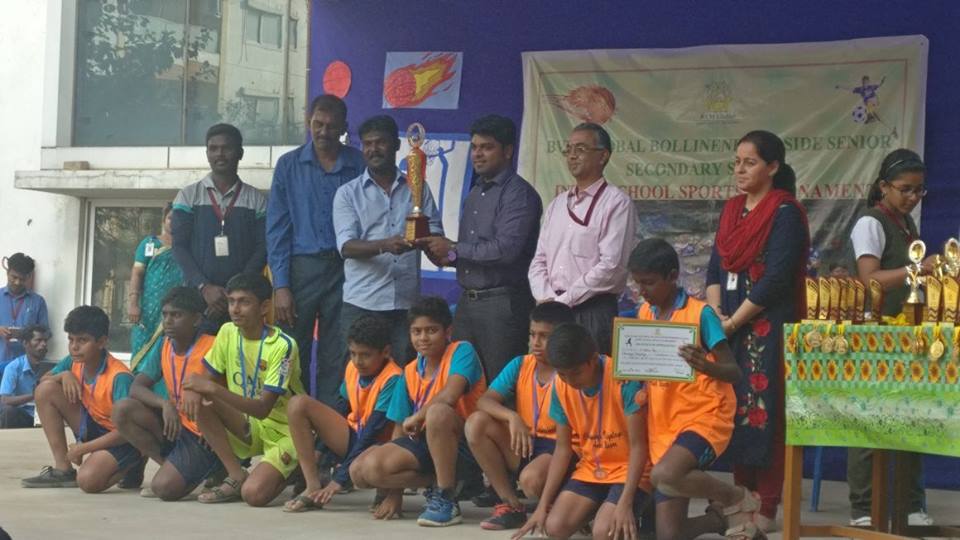 The west cluster sahodaya of Chennai has organised inter school Badminton tournament for the students of VI to VIII. Keerthi, Saranya, Srinidhi, Anumitha rajesh, Samyuktha were the winners of the Tournament. Keerthi has won the player of the tournament.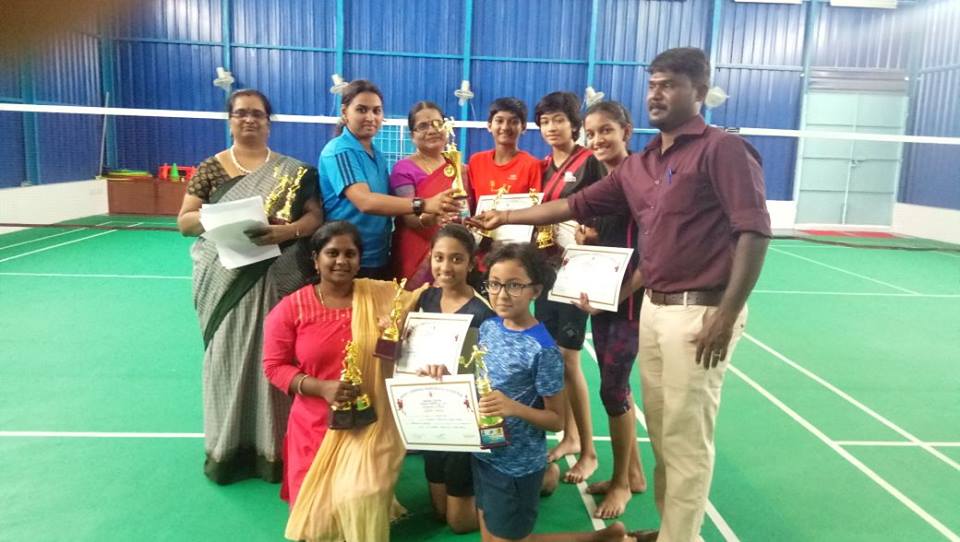 West sahodaya cluster has organised various sports events for the students of Std VI to VIII in which our vidyalaya students have won various prizes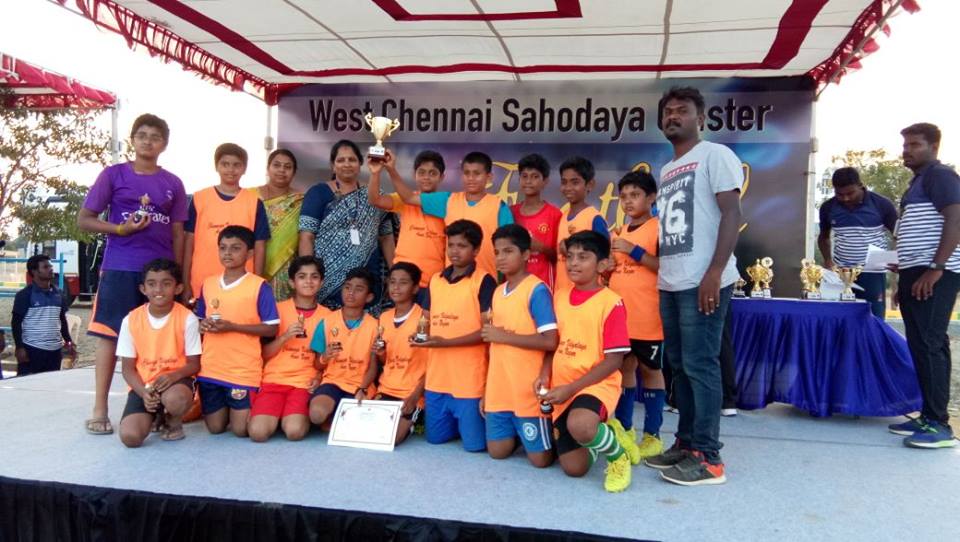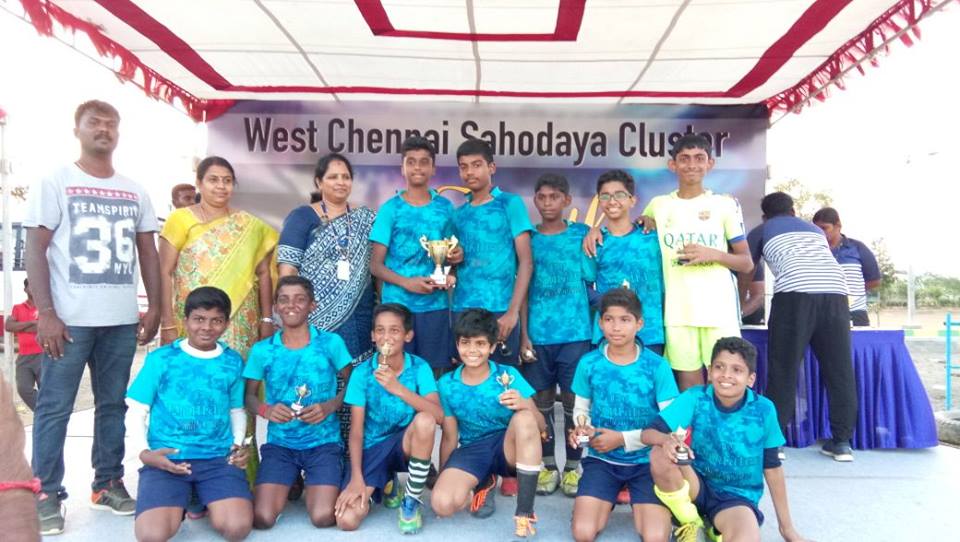 Yuvaa yoga Manthiram Trust -Guiness world record Ltd., U.K organised a programme, at Eliots Beach, Besant nagar on 2nd October 2017. In this record , 1134 students participated, in which Aryan Nithin of Std IX – A of our vidyalaya also participated and received the certificate of Guiness record. Our heartiest congratulation to him.
Aryan Nithin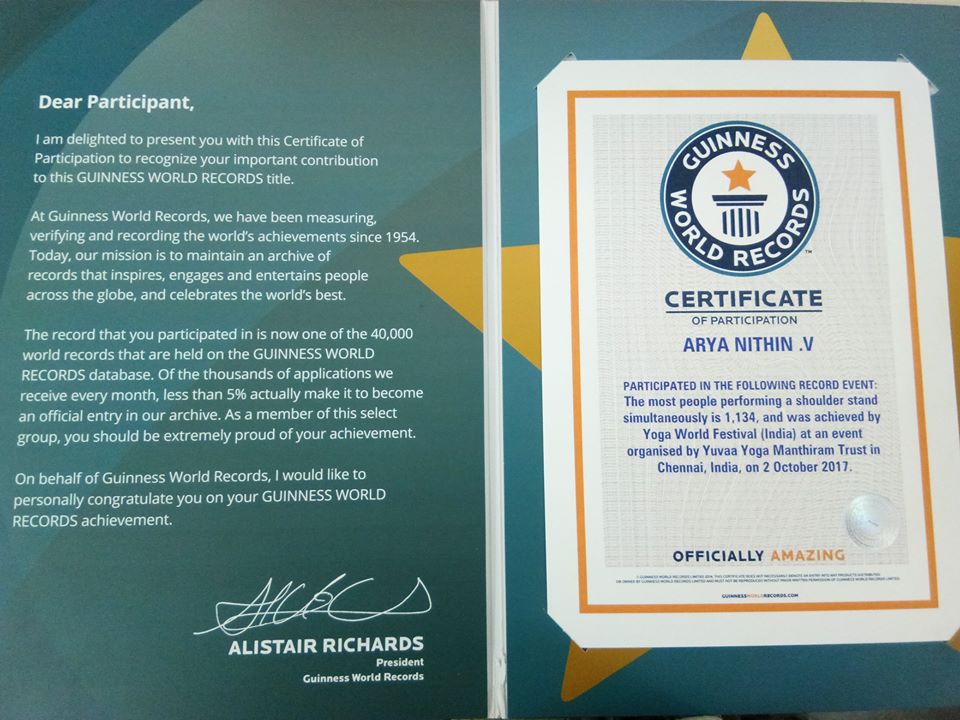 Aryan Nithin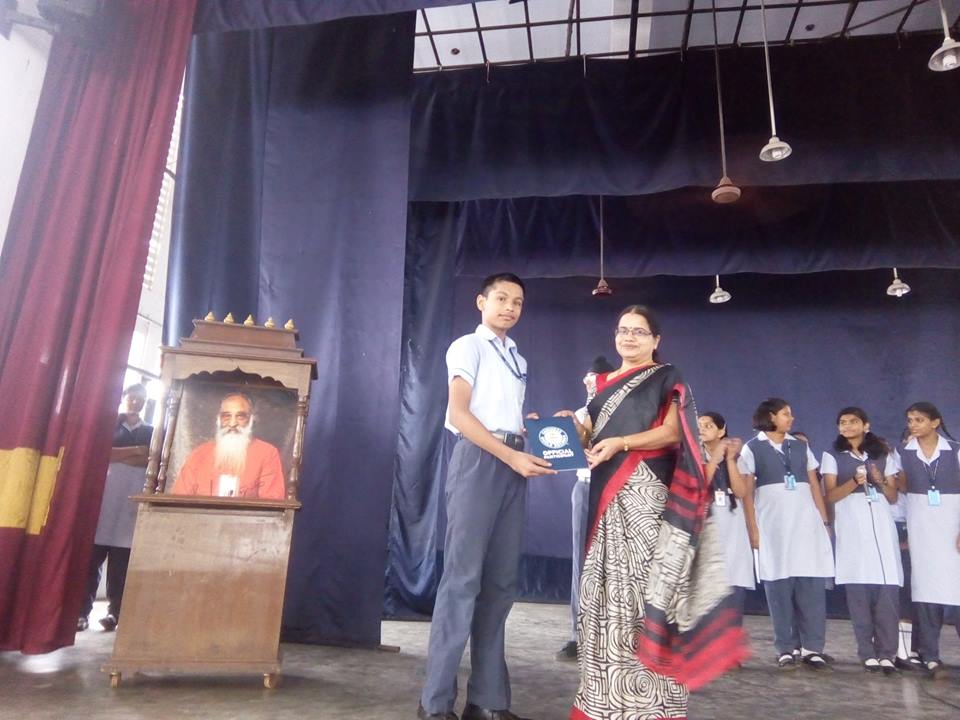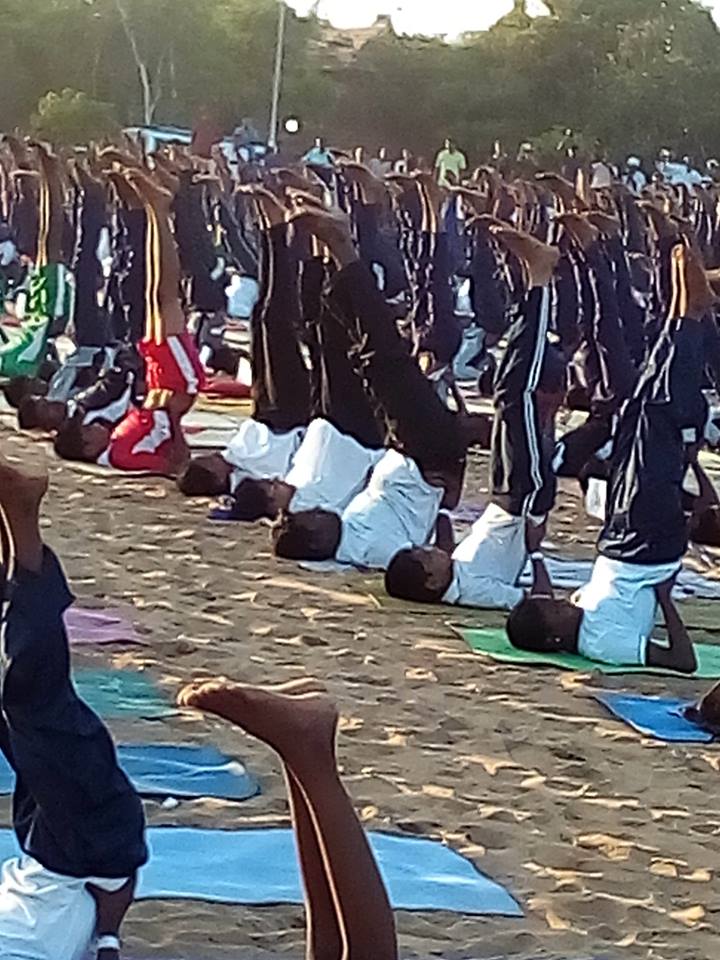 Science Quiz powered by FIITJEE - a state level quiz competition which was held on 15th April 2018 in Sir pitty Thyagaraja hall, T.nagar. Approximately 200-300 participants took part in the quiz. First round of the quiz was online, from which short listed students participated in the mega finals. The final round was a live onstage event, consisted of 6 rounds with questions based on all fields. We are happy that Master Abimanayu has emerged as a winner and won a Lenova Tab. Our Best wishes and Congratulations to him.
Master Abimanayu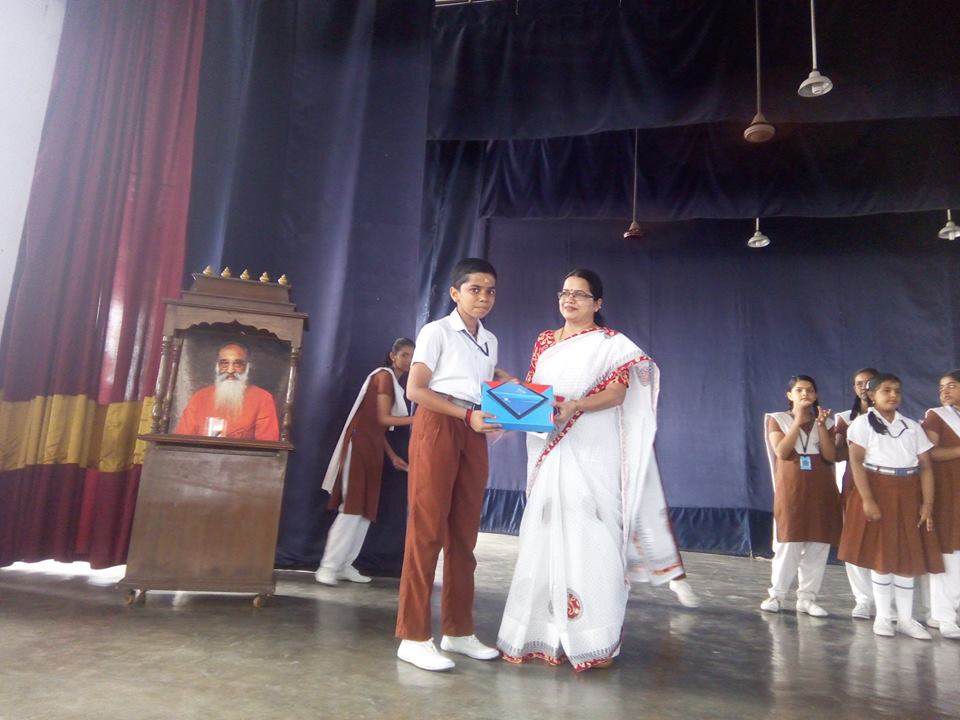 Chinmaya Football Team Under -15 participated in the tournament organised by Phoenix Veterans Football Club, on 06.05.2018. Twenty Four teams participated in this event. They played against SPFS in the Semi finals (4-3) and in the finals they won the tournament by winning the team YMFC (2-1). Aravind Krishna of our school won the award "Best Player of the tournament". In the same tournament Under -13 category our team was the Runners-up, there were twenty two teams and they played the finals with "Mahogany".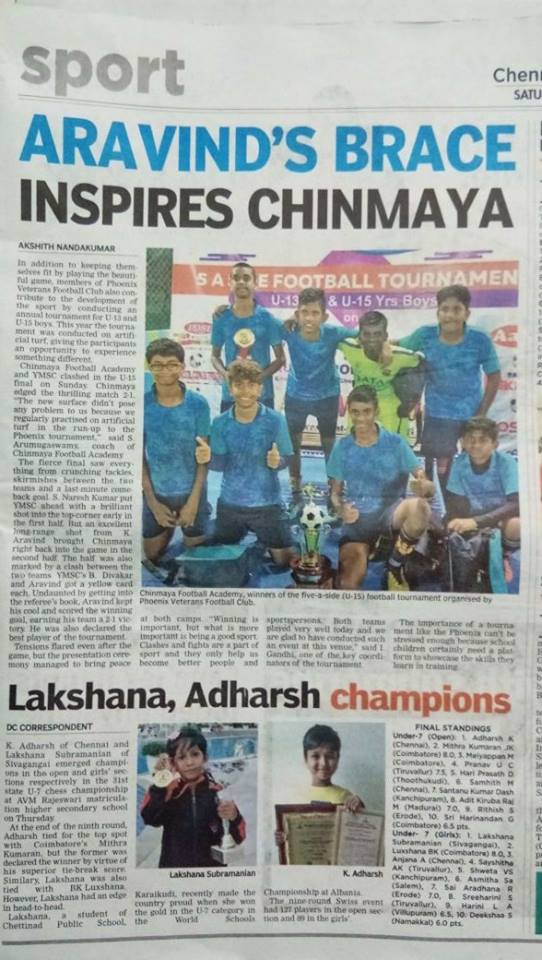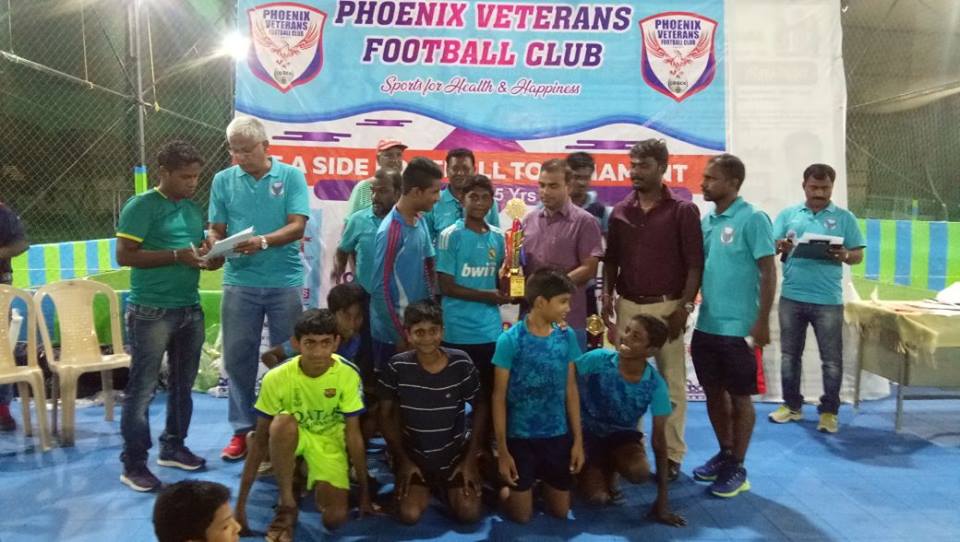 K Sahapthan, M Vishawajith, K S Bharat Vignesh and Srividhya S from 2017 batch and Rithik Srinivas , Nirmal R S and Manu S from 2016 batch received the 'Rajya Puraskar' award certificate. On 14 june thursday two of the students K sahapthan(scout) and Srividhya S (guide) got the privilege to receive the award from our State honourable Governor Shri. Banwarlilal Purohit along with state education minister Mr. Sengottiyan and many other important dignitaries. It was a great privilege and honour to receive the Rajya Puraskar award at Raj bhavan.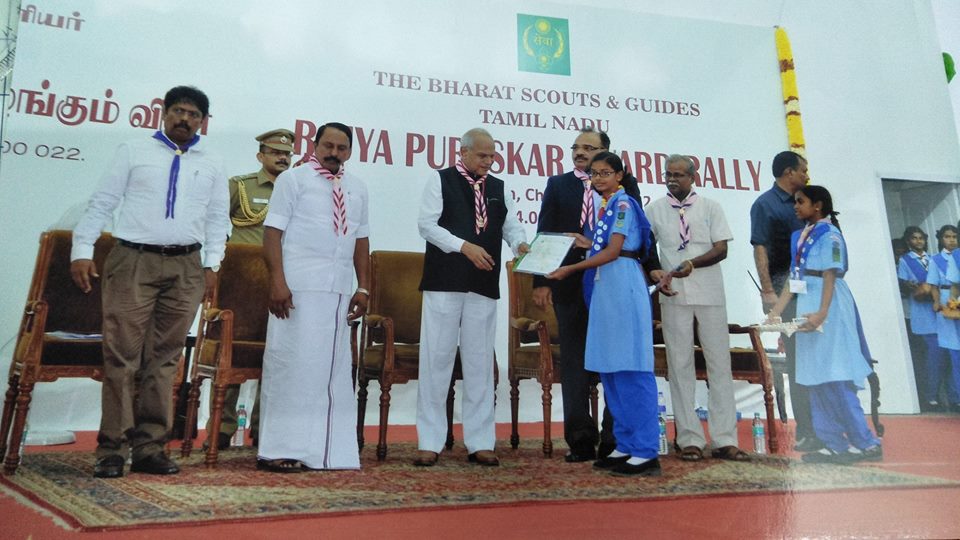 K S Bharat Vignesh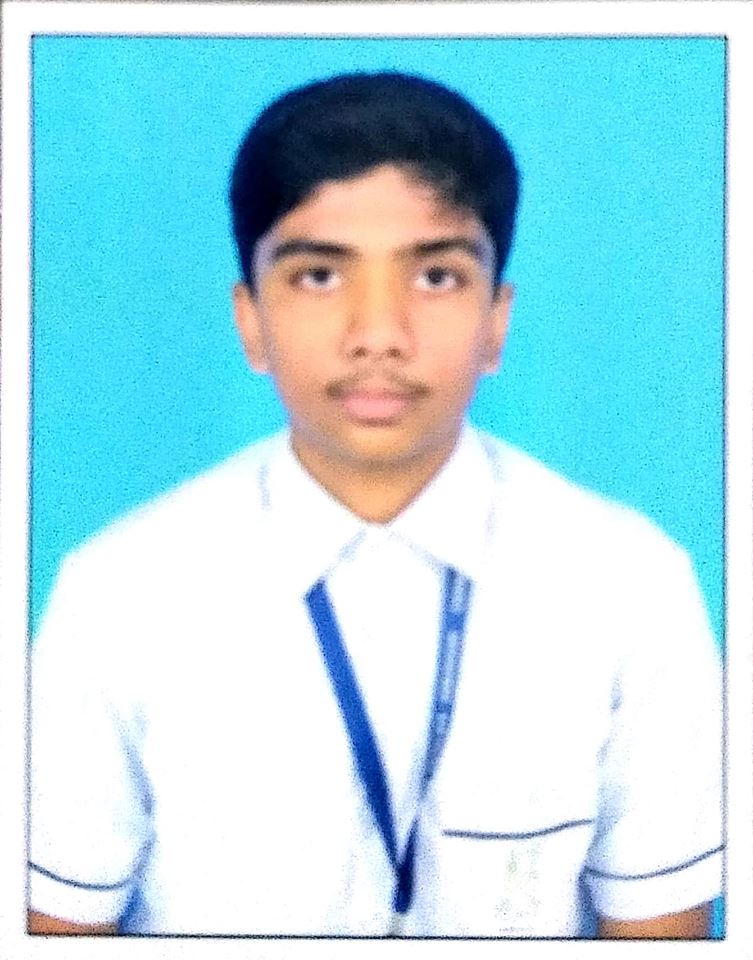 M Vishawajith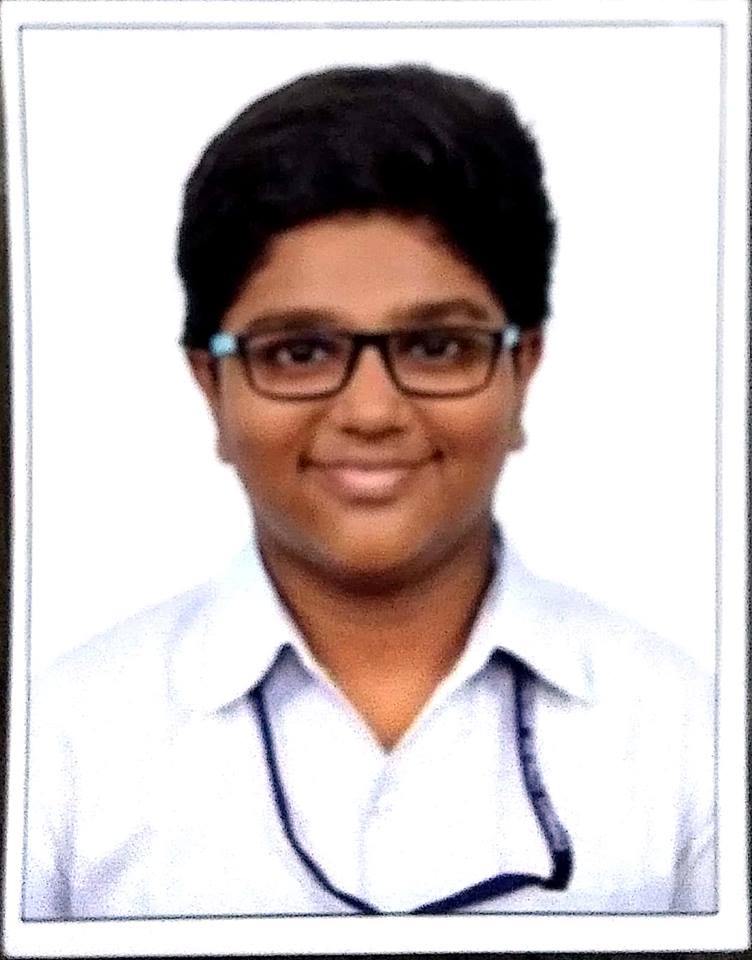 K Sahapthan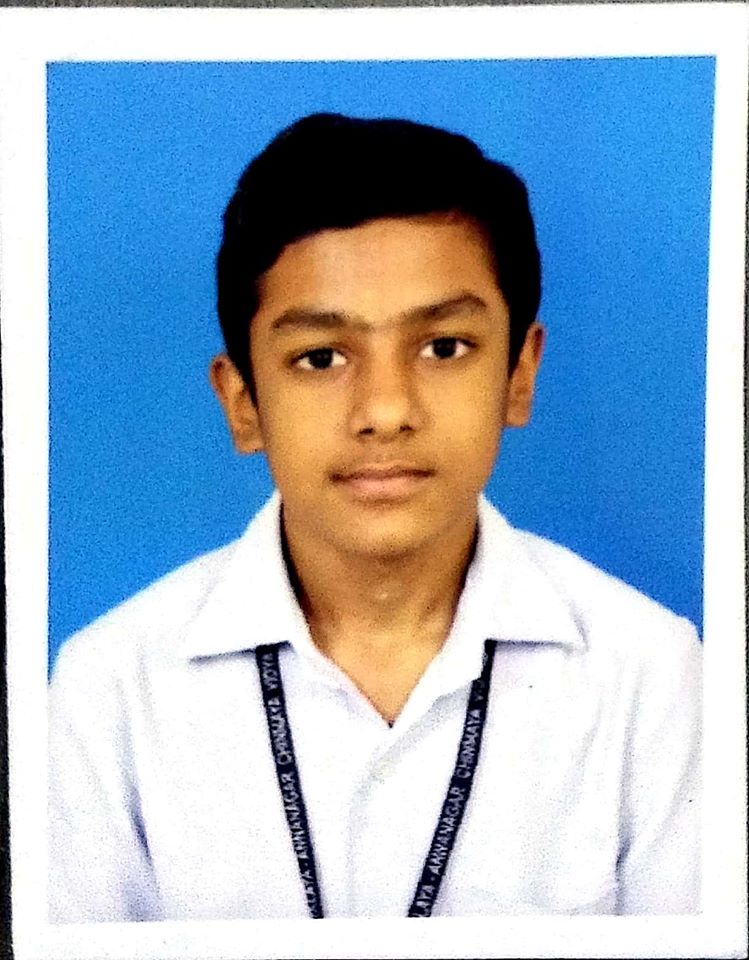 Srividhya S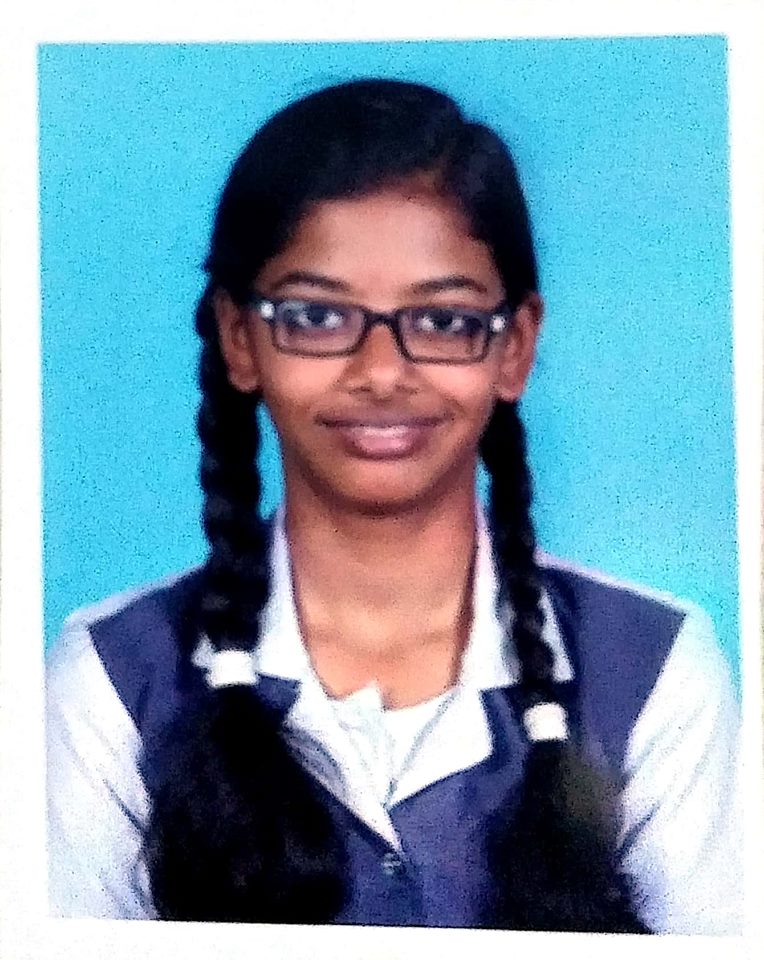 K Adharsh secured first place in U-7 category in the chess tournament conducted by Chennai District Chess Association held at Avichi school, Virugambakkam on 3rd-4th February. Hence forth he will represent Chennai district in upcoming chess tournament held within the state.
K Adharsh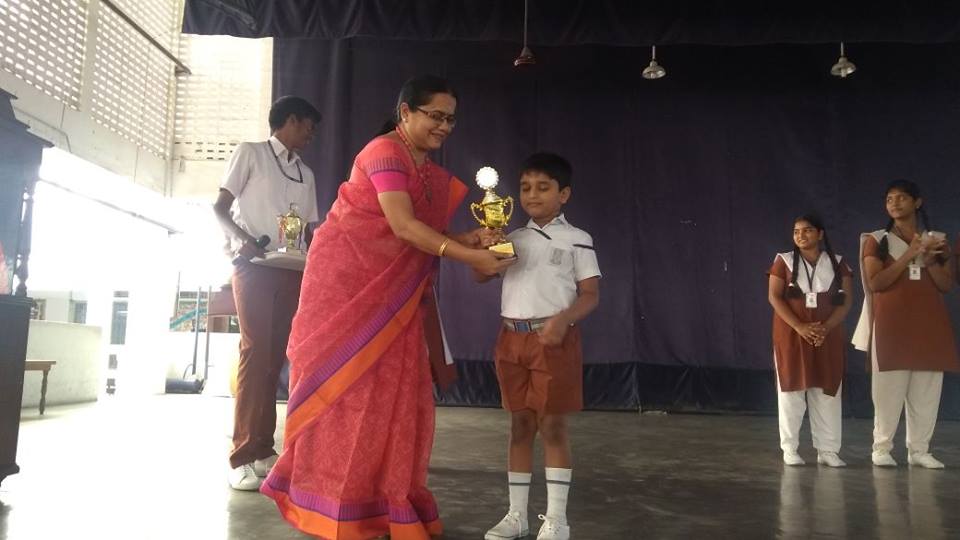 Rithanya R of std VI participated in field archery at the 63rd National school games in Madhya Pradesh between 14 and 18 January. Her team has won gold medal in Under-14 girls category. Congratulations to her.
Rithanya R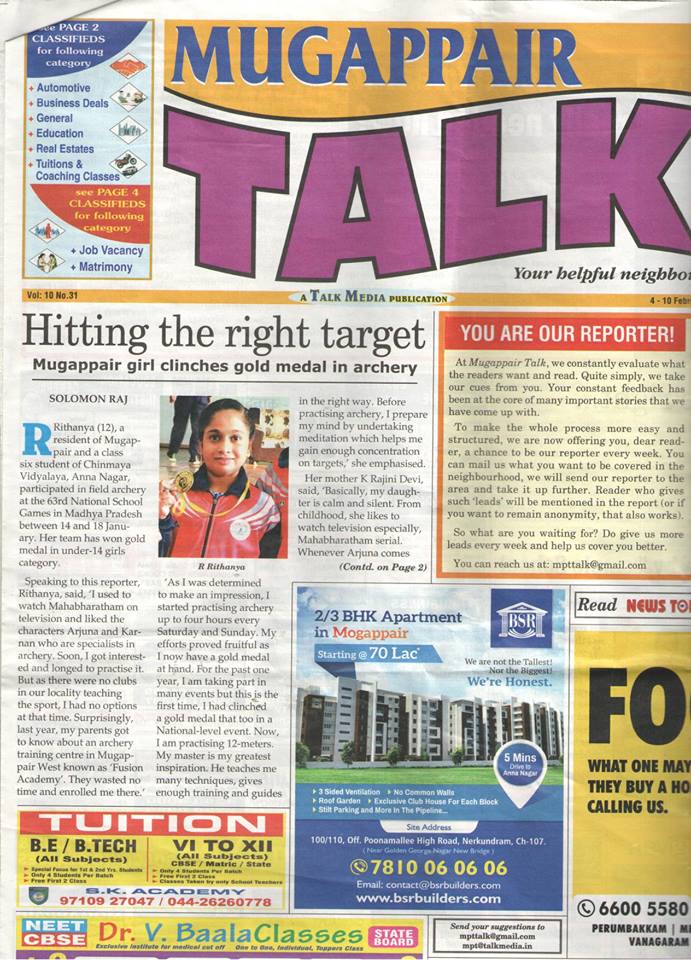 S Nitin ganesh of VIII A has participated in 32nd National ITF Taekwondo championship 2017, held at SMS stadium, Jaipur , Rajasthan from 28th December to 30th December 2017. Participants from 27 states participated in this event, which was organised by Taekwonda Association of India, headed by Mast. Rajendran Balan, 8th DAN Black Belt and Mast. Rachana Chourasia, 7th DAN Black Belt. Among the 27 students he was adjudged to win Bronze medal in individual sparing with the opponent teams from Delhi, Karnataka and Haryana.
S Nitin ganesh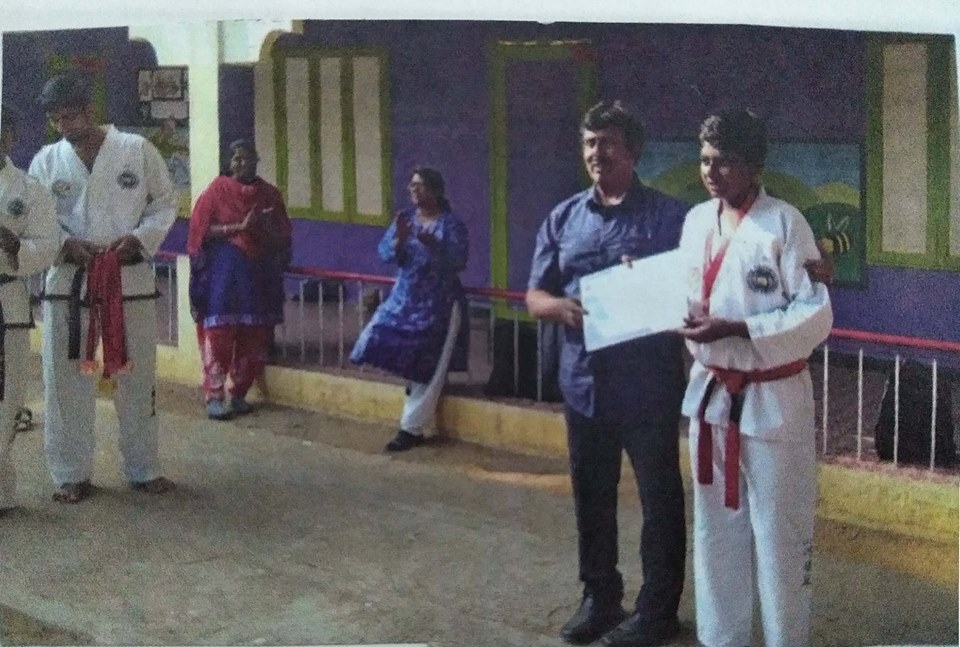 Mukund Dev. J. S, of Std VII B is a budding sports person of CVA. He participated in school level track events in the primary class level and won many prizes. He is also a Karate Black belt holder. At present Mukund is focusing on Badminton tournament. He was selected as state level quarter finalist in the year 2017. He is participating in All India Tournament with professional training and recently got an opportunity to meet and interact with P V Sindhu International player, after he won in the sports quiz organised by the Boost Company. His dream is to represent India in the Olympics.  Our best wishes and congratulations to Mukund Dev.
S Lohita of class XI is a winner of the my pedia reader contest. Her poem has been published in the first edition of my pedia reader in the year 2017. Congratulations and best wishes to her.
S Lohita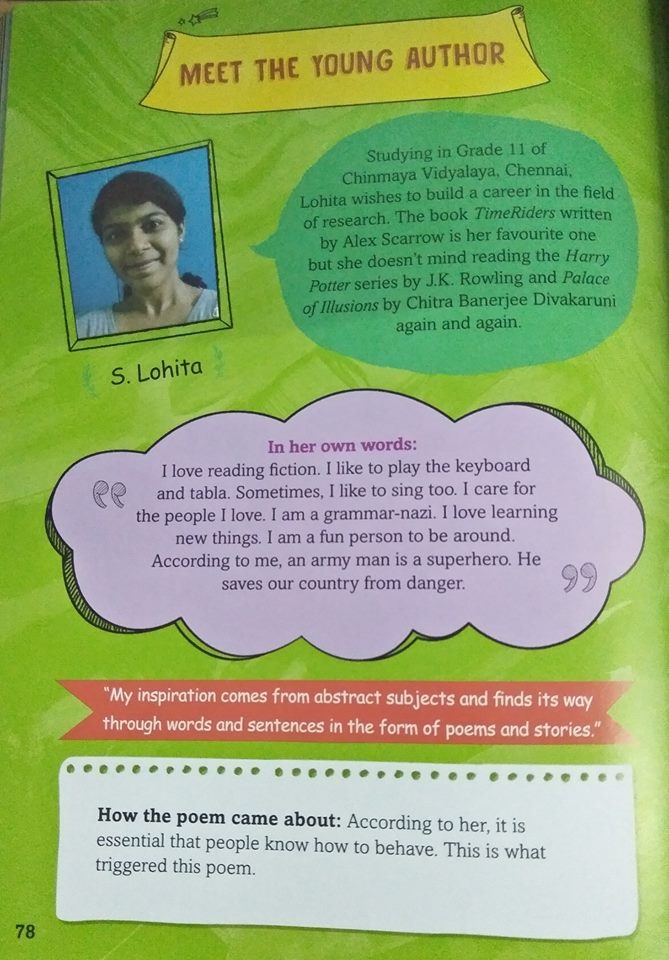 S Lohita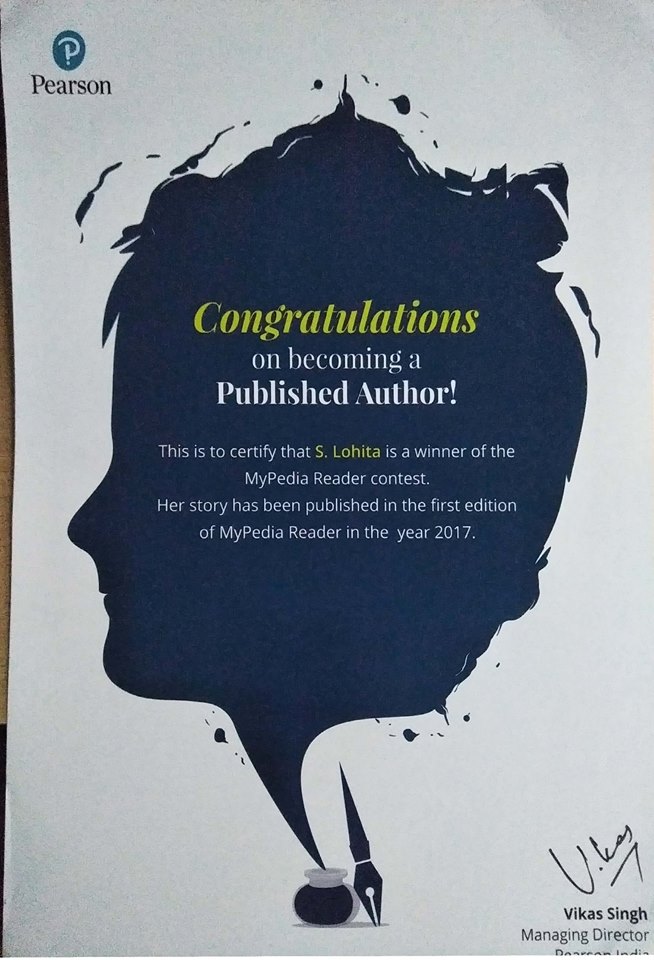 S. Vismitha of class XI participated in the 3rd Mastermind open FIDE rated chess tournament held from 27th December 2017 to 30th December 2017. Around 300 participants from all over the world took part in this event. she won the 3rd prize in the Under-18 girls category. We congratulate S. Vismitha for her remarkable achievement.
S. Vismitha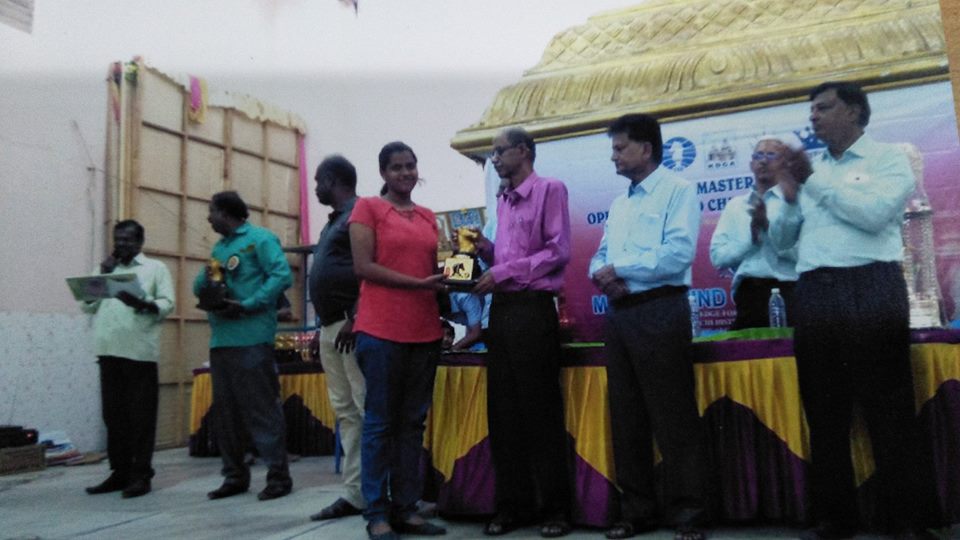 S. Vismitha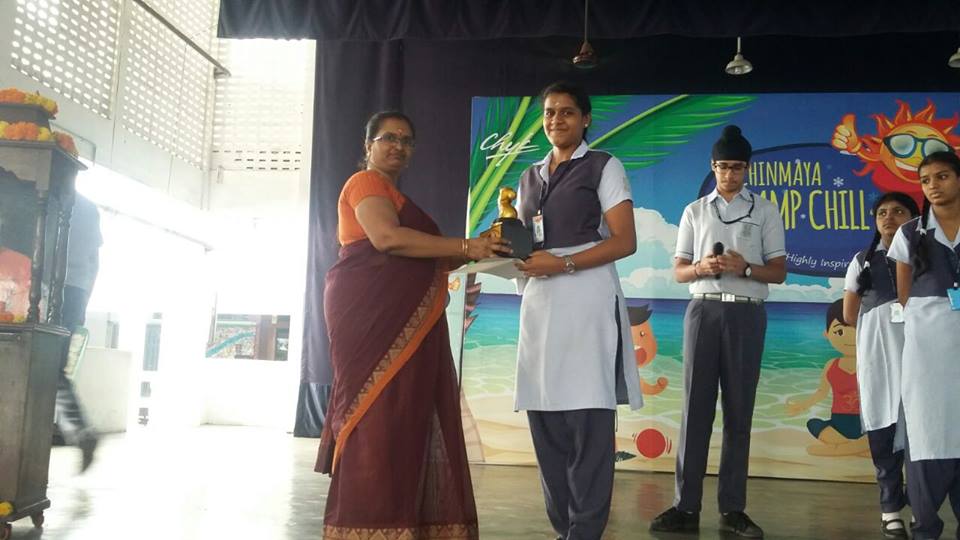 Lochanashree of VIII C played in the Presidency club open Annual Tennis Tournament in the doubles open category with Arivazhagan a student of other school as her partner and won the Runner up. In this event about 35 members took part which was conducted by presidency club of Chennai. Prize distribution was held on 24.12.2017.
Lochanashree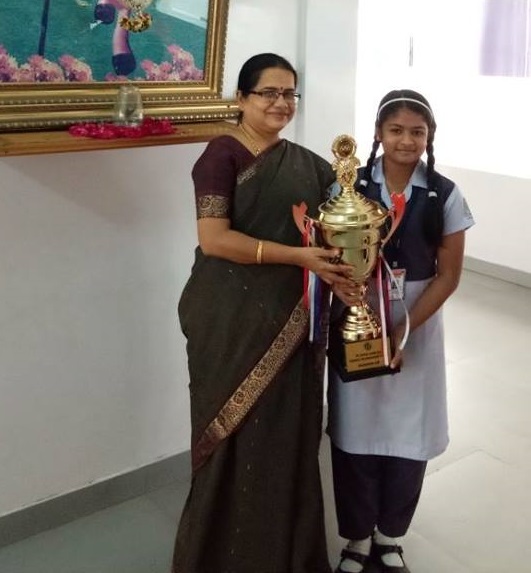 Congratulations to Thvarita Rao of class VII C who has won Bronze medal in National level Taekwondo federation of India (TFI). Her achievements during the year 2017-18.
Thvarita Rao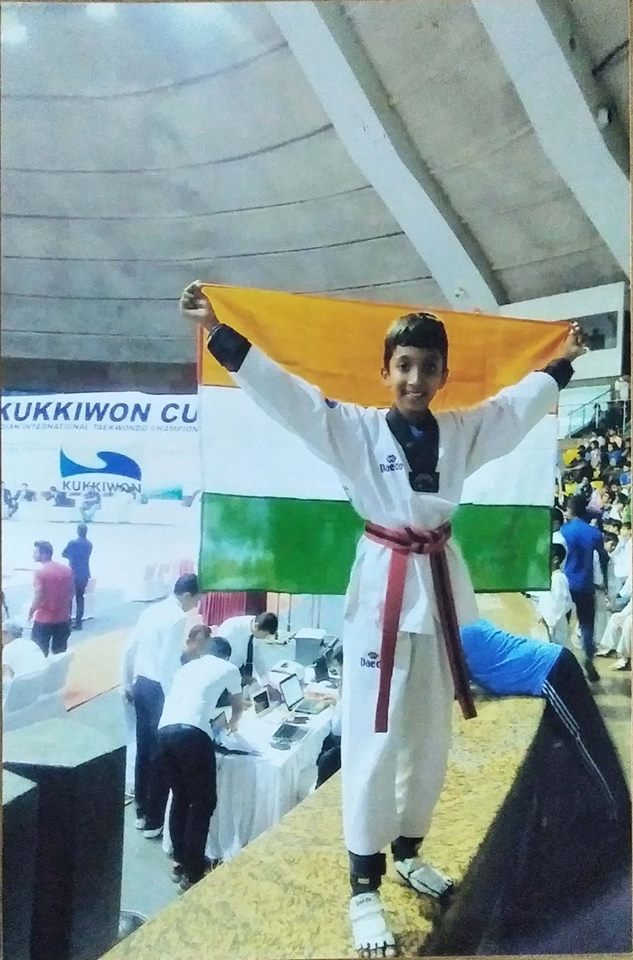 Thvarita Rao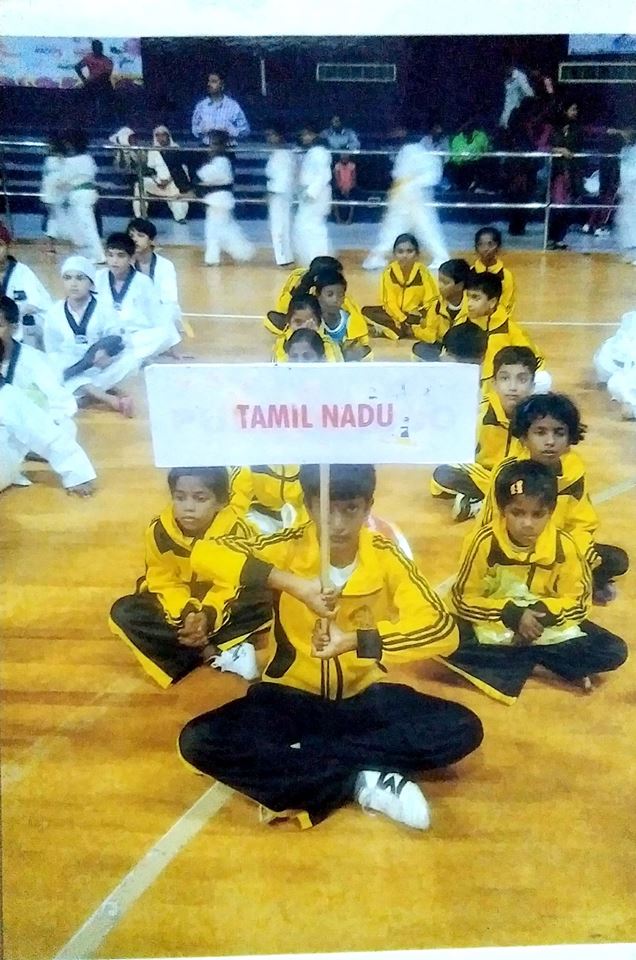 The best Teacher award - West Cluster chennai
On the occasion of Teachers day Mrs. Chitra Ashok from Social Science Department was awarded "The best Teacher award" from west cluster Chennai
Sahodaya School complex on 11.9.2017 at Chennai Public School, Annanagar. Congratulations to Mrs. Chitra Ashok.
West Cluster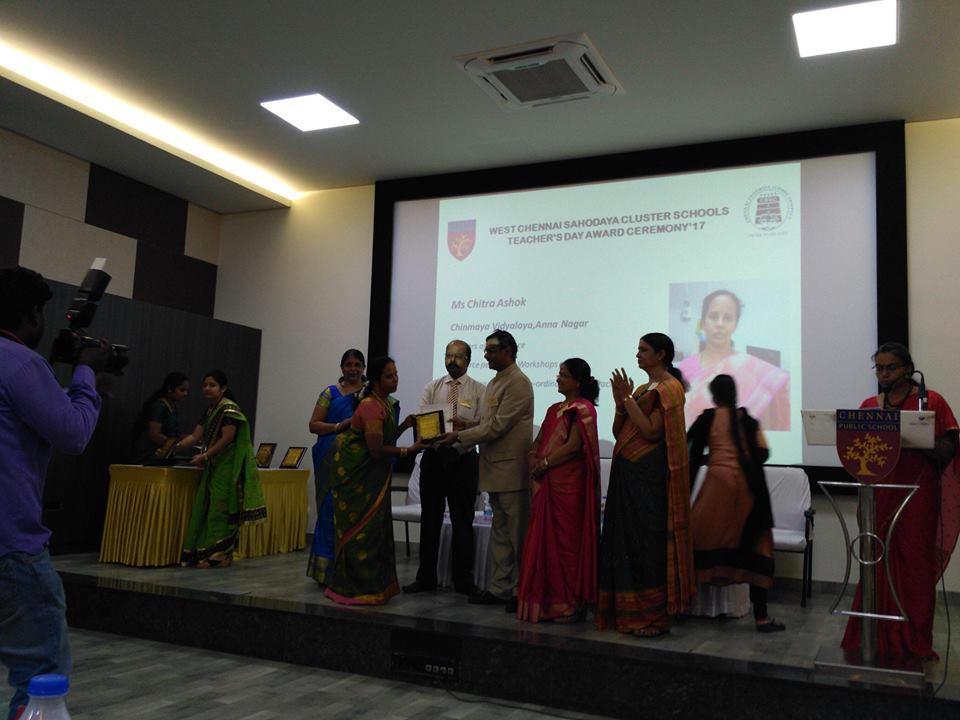 West Cluster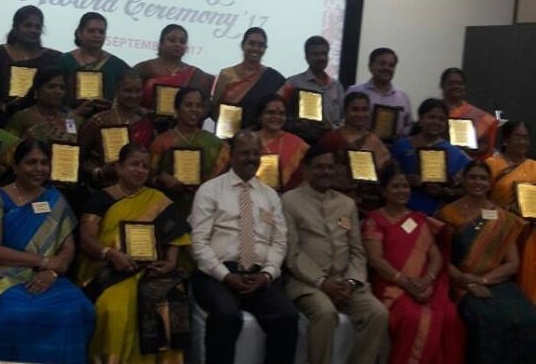 A Abhimanyu- International Space Olympiad

A. Abhimanyu of Std VII has participated in the International Space Olympiad, organised and conducted by Edu Mithra Intellectual Educational service Pvt. Ltd. Round I Quiz was held on February 26, 2017. Round II Intermediate level was held on May 20, 2017 and final level was held on August 5th, 2017. Under the following topics Space science and technology 1. Astrophysics 2. General science 3. Space history 4. Advanced physics 5. Astronauts, space manned missions and satellites. He got III prize, also got a special prize to visit NASA. It is a proud achievement for him and to the school.

A Abhimanyu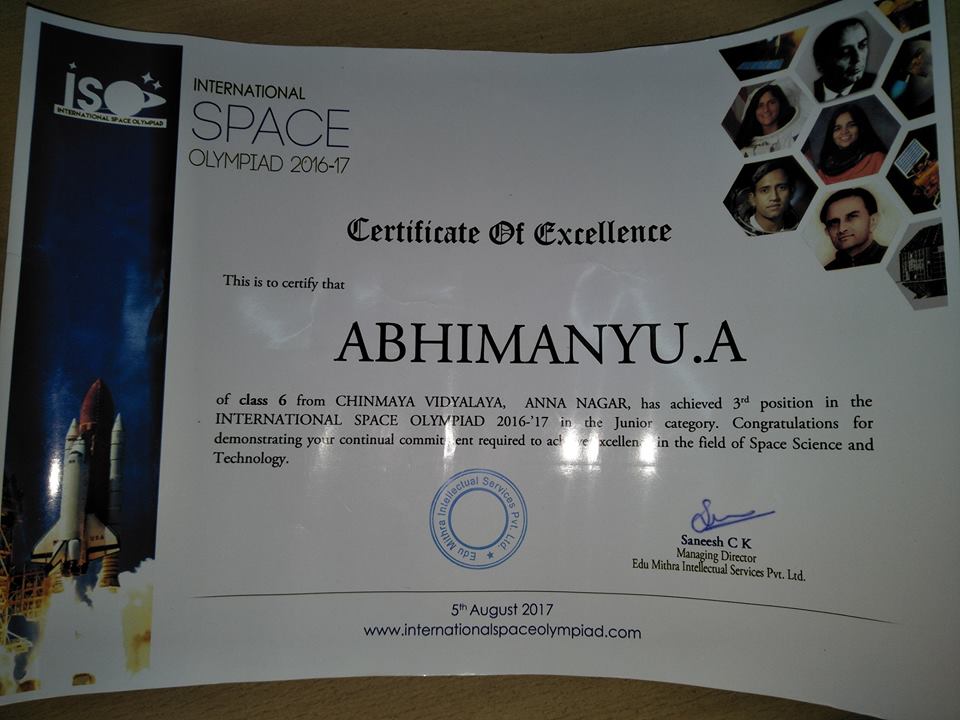 A Abhimanyu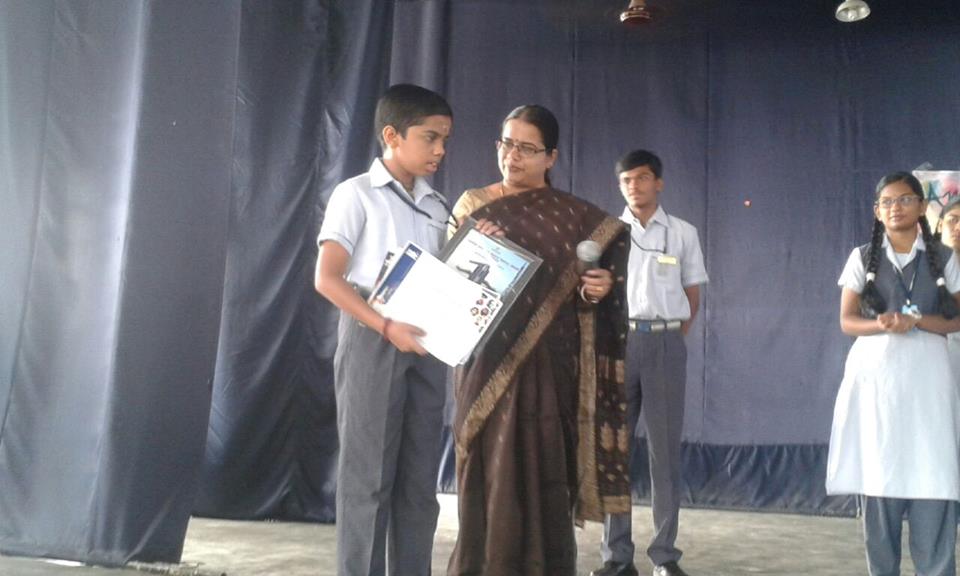 A Abhimanyu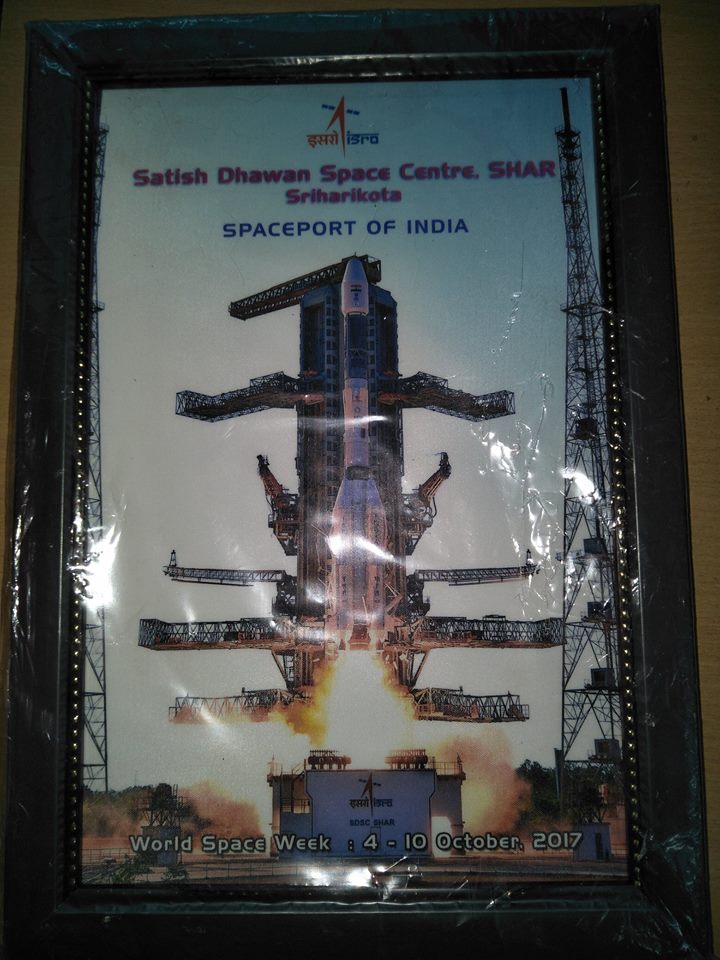 Badminton Tournament

Shasvat vijay of Std IX has participated in state sub Junior Ranking Badminton Tournament held in Sivakasi during 28th October to 5th November. More than 200 players from all over TamilNadu took part in this tournament and he was placed 3rd in the U-15 Boys doubles event. He was awarded a cash prize of Rs. 13750/- and a trophy. Congratulations and best wishes for his future endeavours.

Shasvat Vijay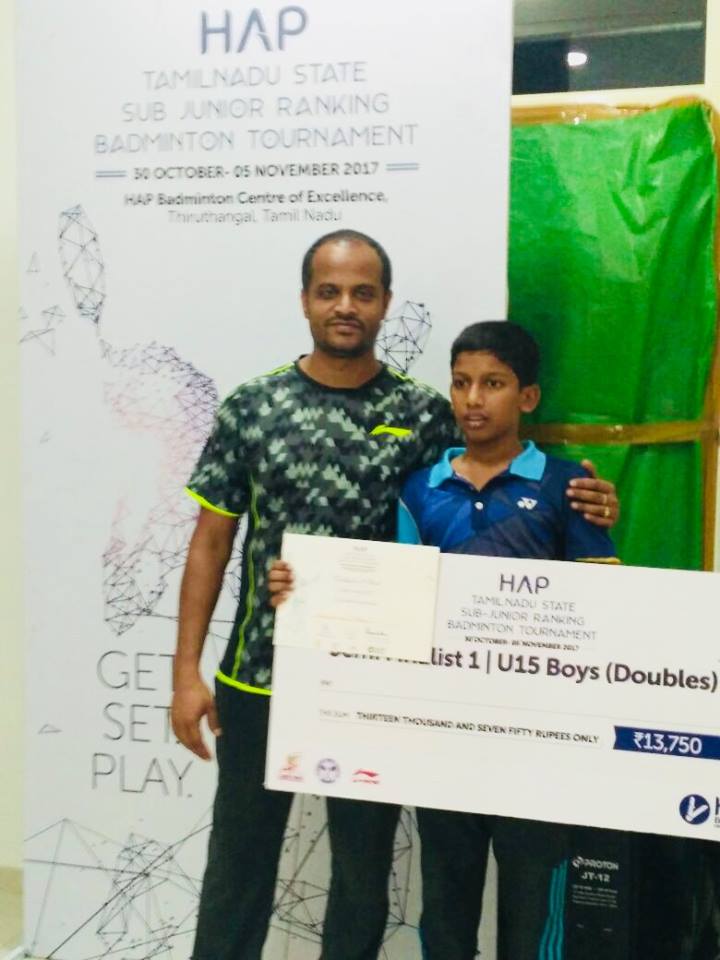 Shasvat Vijay
Badminton Tournament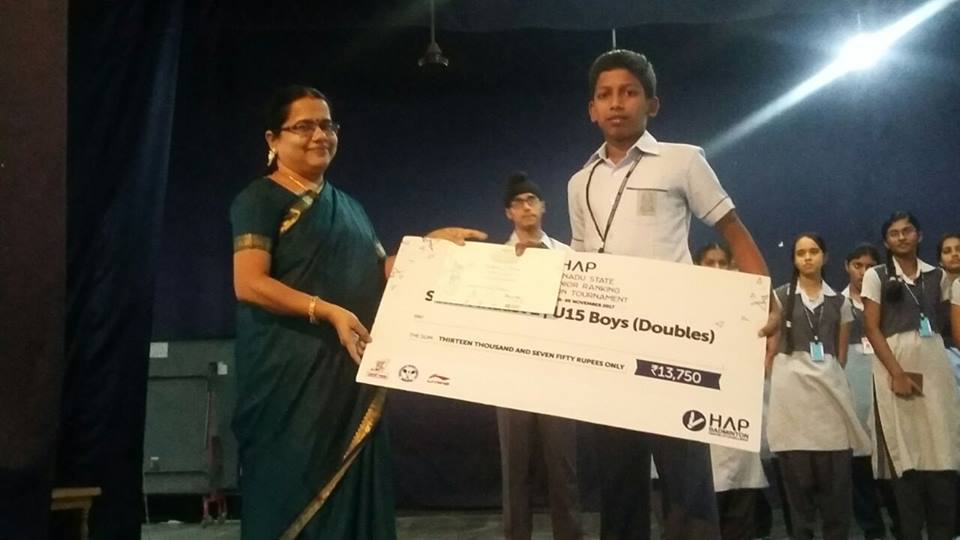 We are happy to inform you that Shenbaga Meena of Class XII B (commerce) has secured (492/500) in class XII Board Exam 2016-17 and also scored a centum in Economics. This has placed her as one of the city toppers of Chennai.Our Congratulation to the School toppers & Subject toppers of Std XII – Board Exams 2016-2017 and for the students those who have secured 10 CGPA in X Board Exams.
Topper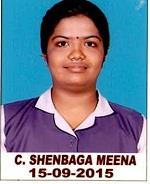 Topper