ONAM CELEBRATIONS AT SCHOOL – STUDENTS AND TEACHERS OF THE VIDYALAYA – SEP 9,2019
TEACHER'S DAY CELEBRATIONS –SHRI DAMODARAN addressing the teachers on SEP 5,2019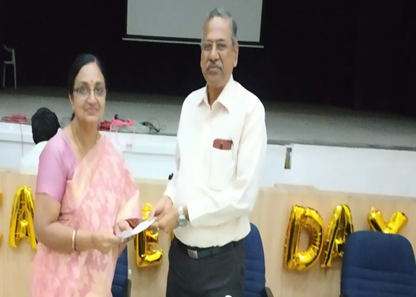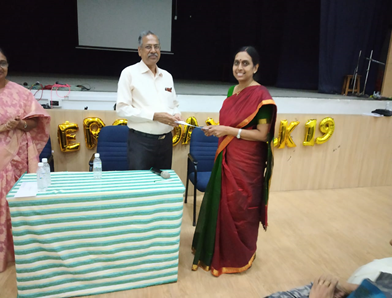 SPORTS DAY CELEBRATIONS – CHIEF GUEST Dr.L.AMUTHA SUMAN KUMAR , PHYSICAL EDUCATIONN DIRECTOR,MOP VAISHNAV COLLEGE
SPORTS DAY CELEBRATIONS – SEPTEMBER 3, 2019 – CHIEF GUEST Lt.Col.S.RANGANATHAN .,Commanding officer, NCC MEDICAL UNIT
PRP ORIENTATION PROGRAMME IN CAPACITY BUILDING IN CLASS X –MATHEMATICS – 27 & 28 AUG,2019 – CBSE TRAINING WORKSHOP – Ms.UMA SRIRAM attended the workshop
FIT INDIA PLEDGE – 29TH AUG,2019

WALK 10000 STEPS A DAY
3G(3 Generations) TOUR

Students of Std V,VI &VII accompanied by their parents and grandparents visited places of religious importance on Aug 25,2019- Organized by Chinmaya Mission
INTERACT CLUB – RYLA CAMP – SHAKTI FOUNDATION - 24 AUGUST 2019
CCA ACTIVITIES- QUIZ , JEWELLERY MAKING, RAKHI MAKING
KRISHNA JAYANTHI CELEBRATIONS-Aug 24 Students of Primary and KG celebrated Janmashtami with Bhakti and fervour
WORKSHOP ON DIFFICULTY IN LANGUAGE LEARNING – Mrs.LATHA VASANTH KUMAR – 24TH AUGUST ,2019
Workshop on Ancient Indian History ,Scientific validation of Narratives – Dr.Raj Vedam – 19 Aug,2019
CULTURAL SHOW – VIJAY DIWAS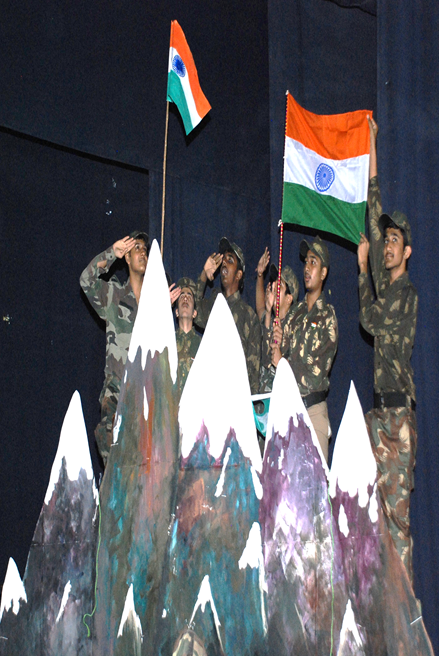 PRINCIPAL DELIVERING INDEPENDENCE DAY MESSAGE TO STUDENTS
73RD INDEPENDENCE DAY CELEBRATIONS-15 AUG 2019 – CHIEF GUEST Shri.S.R.JANGID I.P.S.
Workshop on Writing Trends in Sanskrit Literature –7,8 Aug

A glimpse of 21st Century Gadya Sahitya with special reference to the text Dharmasree
INTERACTION WITH PARENTS- Principal addressed parents of Std 6,7 & 8 – Aug 6,7,8 2019
TINY TOTS OFFERING REVERANCE TO PUJYA GURUDEV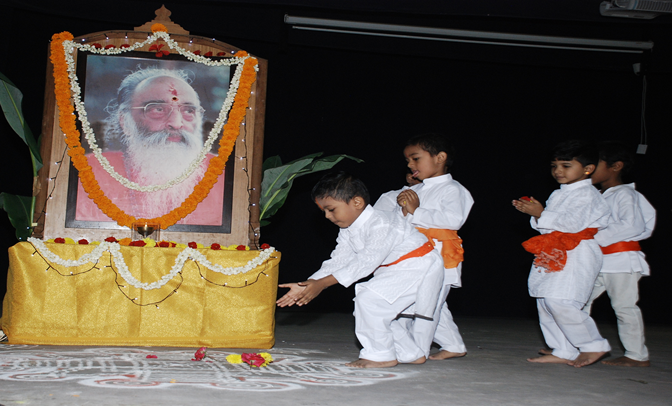 Pulses and Food Grains were distributed to Orphanage – Aradhana Day
ARADHANA DAY – AUGUST 3rd 2019
SANSKRIT DAY – AUG 2,2019 – Mr,G.S.Balaji,VicePrincipal,Kola Perumal Vaishnava Sr.Sec presided the event
CAPACITY BUILDING IN STRENGTHENING ASSESSMENT & EVALUATION PRACTICES was held on AUGUST 1- 2, 2019 at Kola Saraswathi Senior Secondary School, Kilpauk, Chennai. Ms.Uma Rameswaran attended the workshop.
CAREER COUNSELING AND GUIDANCE - July 27, 2019 -COMMERCE STREAM
GURU PURNIMA – JULY 16,2019
Training Programme - Karuna Club: July,13 2019
Ms.Shrilekha attended the programme
GURU PURNIMA –CLASS PRESENTATION Std VIII - JULY 12,2019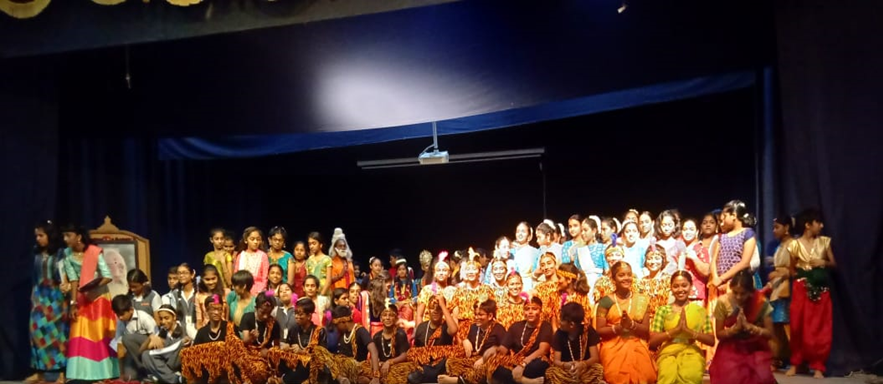 CCA - GOOGLE PAGE DESIGNING TIGER CONSERVATION,MENTAL HEALTH & WORLD CUP JULY 12, 2019
CCA - JAM AND HAIR STYLING
GANITH VIGNAN MELA – Students exhibiting their projects

1)BHAVI .S. & NAVYA MALPANI - V C
2)YESHIKAA CHALANI &RAKSHITHA
3)RUTVI GARG and SMRITHI .S.-V D

INTERACT CLUB INSTALLATION –JULY 8,2019
STUDENTS OF SEVA SANGAM – AWARENESS ON RAINWATER HARVESTING AND WATER CONSERVATION - July 6, 2019
GANITH VIGNAN MELA-2019-20 OVERALL TROPHY – July 6,2019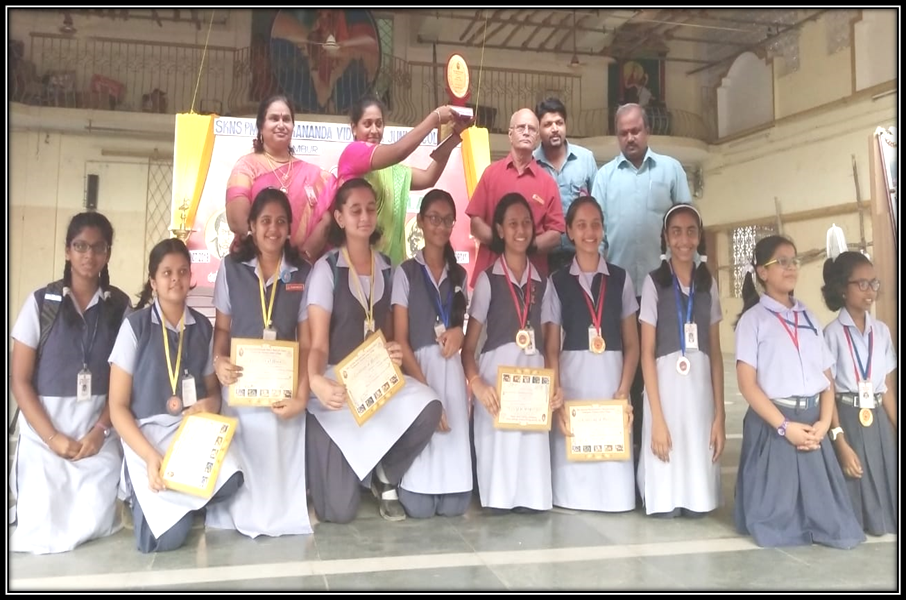 Orientation Programme on Inclusion & Inclusive Strategies:4 & 5 July, 2019
Ms. Radhika Kannan attended the programme
INVESTITURE CEREMONY – JULY 3, 2019
FIRE SAFETY DRILL – JULY 3, 2019
ECO WEEK – ENVIRONMENTAL AWARENESS – WATER CONSERVATION – GO GREEN INITIATIVE
JULY 1-6,2019
NCC CAMP – JULY 1- JULY 10, 2019
GURUJI'S BIRTHDAY – JUNE 30, 2019
KARUNA CLUB INAUGURATION – JUNE 22 , 2019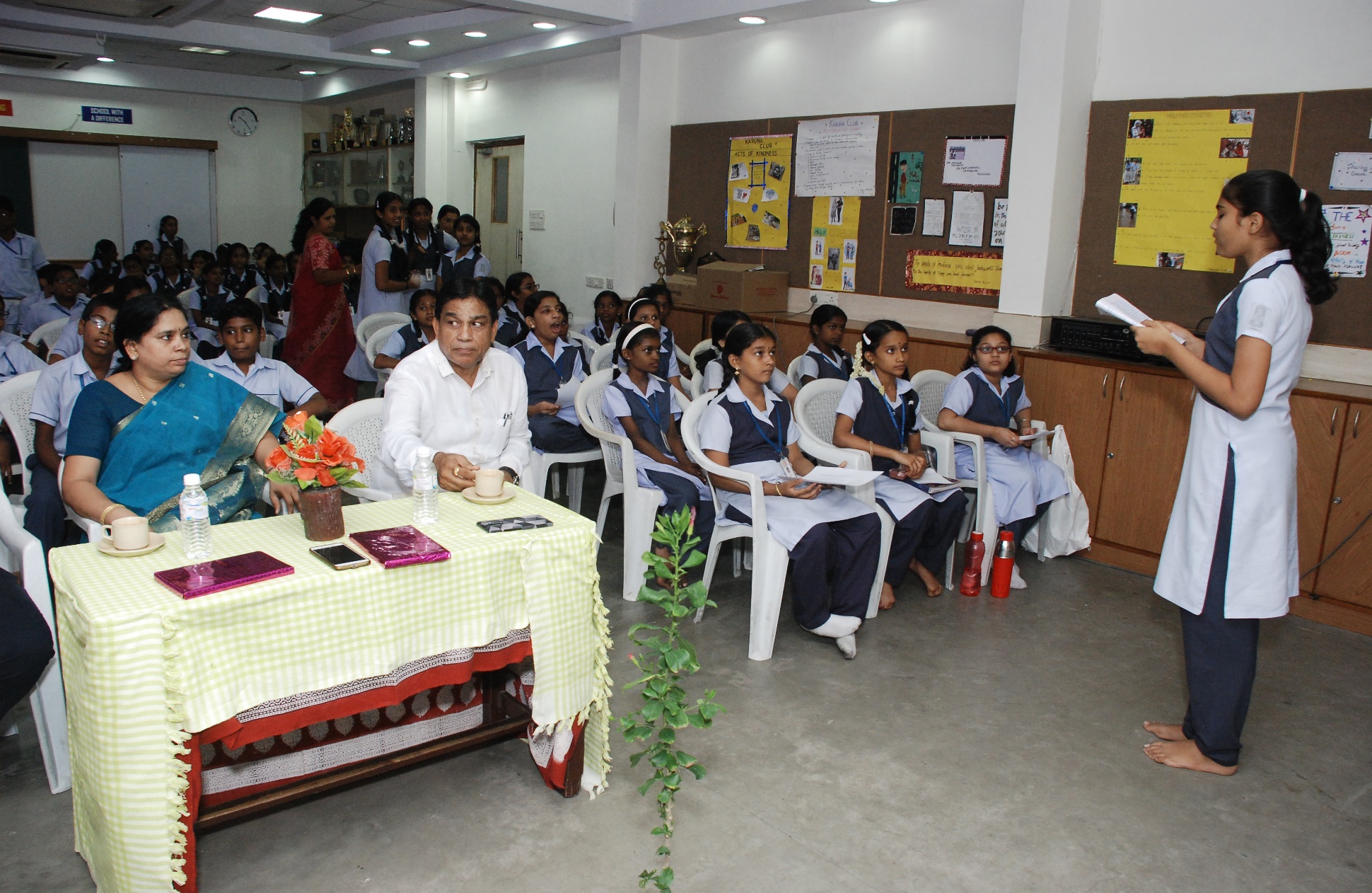 PROJECT PARIDHI – SCIENCE SPACE ACTIVITY – SUMMER SOLSTICE – JUNE 21, 2019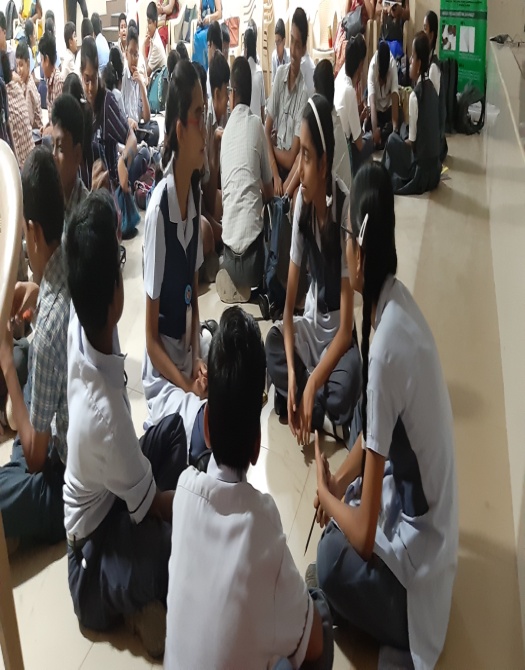 YOGA DAY – DRAWING COMPETITION - STD V - JUNE 21, 2019
INTERNATIONAL YOGA DAY – JUNE 21, 2019
QUIZ CLUB INAUGURATION – 20 JUNE,2019
SWACCHATA DRIVE – CCA(ESSAY WRITING COMPETITION)
CCA ( POSTER MAKING AND SLOGAN WRITING COMPETITION )
SWACCHATA DRIVE – CCA ( ART FROM WASTE – MODEL MAKING )
CAPACITY BUILDING PRORAMME
Capacity building proramme on competence building in physics-Ms. Vijaya devanathan attended the workshop.
CHINMAYA VISION PROGRAMME
Swami Anukoolananda conducted a workshop on 5/6/2019 on CVP aspects (Integrated development, Indian Culture, Patriotism, Universal Outlook).
SCIENCE WORKSHOP
Ms.Vasanthy and Ms.Vijaya conducted a workshop for Science teachers on 4/6/2019.
ENGLISH WORKSHOP
OXFORD UNIVERSITY PRESS Dr. Jesudoss addressing teachers of Chinmaya Vidyalayas04/06/2019
NETRITVA CAMP
Mr.Elangovan Jain attended the camp at Chinmaya Gardens, Coimbatore held between May 9-14,2019
GURUDEV SWAMI CHINMAYANADAJI 103rd JAYANTHI CELEBRATION MAY 8 , 2019
HARI SEVA CAMP
Students attended the camp at Chinmaya Gardens, Coimbatore (2/5/2019 – 6/5/2019)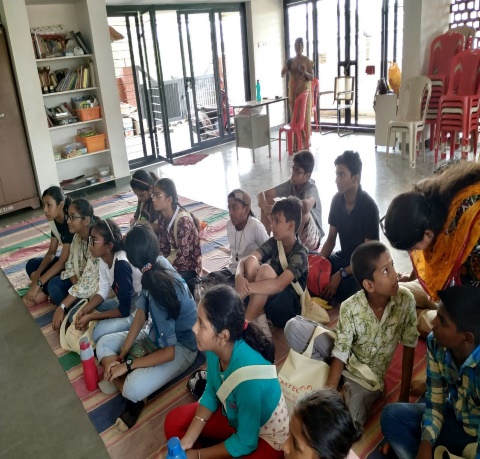 GANAPATHY HOMAM
The Vidyalaya commenced the new academic year with the Ganapathy Homam to invoke God's blessings for an auspicious start.
MATRU PUJA
Jhabhangadadash
YAGNA – SWAMI SWAROOPANANDA
Sw.Swaroopanandaji – Global head of Chinmaya Mission conducted a four day Yagna on Tame the Mind based on Chapter 14 of Bhagwad Gita. Students of our Vidyalaya presented Bhajans on Saturday , 29th September 2018
INTERACT CLUB
On 29th September 2018 , Annual Day for all the special children supported by the Shakti Foundation was held at the Music Academy. Students of various schools including 63 students from Chinmaya Vidyalaya , Taylors Road had assembled to show their support
WORLD RABIES DAY
On 28th September , the 12th World Rabies Day was celebrated in Chinmaya Vidyalaya , Taylors Road to raise awareness about rabies its prevention and safety measures
SAVE OUR NATION SAY NO TO CHILD LABOUR SAVE GIRL CHILD
CCA - Students of Std V presented a skit on Social Issues
Letter writing day
Students of Std 9 observed letter writing day on 14 September 2018. They expressed their opinions on the importance of cleanliness and all the Swachh Bharat programmes that have been organized in the school for over two weeks.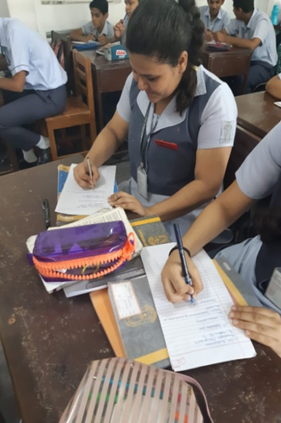 INTERACT CLUB - SWACHHATA DRIVE
Students of Std XI collected old papers, magazines, discarded pipes, furniture and cleared it from the school premises
PERSONAL HYGIENE DAY
The 8th of September 2018, was marked as PERSONAL HYGIENE DAY. Posters were also put up in strategic locations in the school highlighting the rules to be followed for personal hygiene and the importance of personal hygiene.
GREEN SCHOOL DRIVE
Segregation of waste as 'Biodegradablewaste '[ Green bin ] and 'Non-biodegradable waste'[Blue bin ] The students are encouraged to collect used notebooks and paper which is renewed to make a paper pad . This ensures a proper usage of resources and also prevents wastage of paper.The School follows a tradition of donating saplings to the school for events like birthdays , National days Plant inside the classroom taken care by the class students.
HAND WASH DAY
Hand Wash Day was celebrated in our Vidyalaya with a lot of enthusiasm and interest. During the break, the students stood near the washrooms holding posters, placards and banners to spread the word about the importance of Hand Wash Day and to increase awareness about the benefits of hand washing with soap.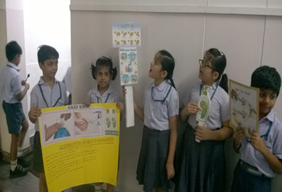 SHRAMDAN DAY
The students of Karuna Club, accompanied by teachers of the Karuna club Ms.Pavithra and Ms.Neelam went to Sri Chelliamman Kovil situated at Kilpauk Garden road, and undertook cleanliness work in the temple
SWACHH BHARAT - COMMUNITY PARTICIPATION DAY
On 17th September , Principal Smt. Valsala Gopakumar flagging off NCC Rally to spread the message of Clean City, Green city.NCC cadets take out a rally to spread the message of Clean City, Green city.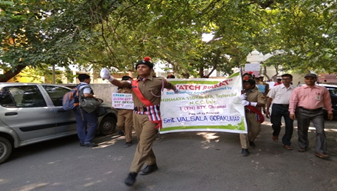 Ganesh Chaturthi
'Eco friendly Ganeshas' were created and displayed by students as part of CCA conducted on 12th September 2018.
Bharathiyar Nenaivunaal
Bharathiyar Nenaivunaal was observed on his death anniversary on September 11th. Students of Std 2 were dressed up as Bharathiyar and also sang the songs of Bharathiyar.
ANNUAL SPORTS MEET
51st Annual sports meet was held on 28th August at Jawaharlal Nehru Stadium , Periamet. Shri N.Seshasai.,I.P.S, IG Welfare took the salute and declared the sports meet open. Shri.G.Kamalakannan,Jt.Secretary ,Zonal Sports Promotion Committee was the Guest of Honour and distributed prizes to the winners and the winning teams.
KERALA FLOOD DONATION DRIVE
The students of the Vidyalaya donated essentials for the drive. Mrs. Vasanthy ,HOD of the science dept who was the teacher coordinator and Mrs. Geetha Ganesh, Vice principal donated 170kg of rice 20kg of dhal, Sugar, salt, sanitary napkins, and other toiletries
Chanting of Vishnu Sahasranama
⦁ Visva Vishnu Sahasranama Samsthan organized the chanting of Vishnu Sahasranama for the students of VI to VIII of Chinmaya Vidyalaya, Taylors road, on 16th August 2018 in the auditorium at 9 A.M. Mrs Radha spoke about the importance and chanting of the Vishnu Sahasranama and requested to chant it every day for the peace of the universe
INDEPENDENCE DAY
The Vidyalaya celebrated the 72nd Independence Day on 15th August 2018.Mr.V.Nandakumar, Jt.Commissioner.,Income tax,Ministry of Finance was the Chief Guest for the day.
As a noble endeavor,pulses and food grains were distributed to an orphanage on the occasion of Aradhana day.
PHOTO EXHIBITION ON ARADHANA DAY
A Photo Exhibition on CVP (Chinmaya Vision Programme – Integrated development, Patriotism, Indian Culture and Universal Outlook) was held on the occasion of Aradhana Day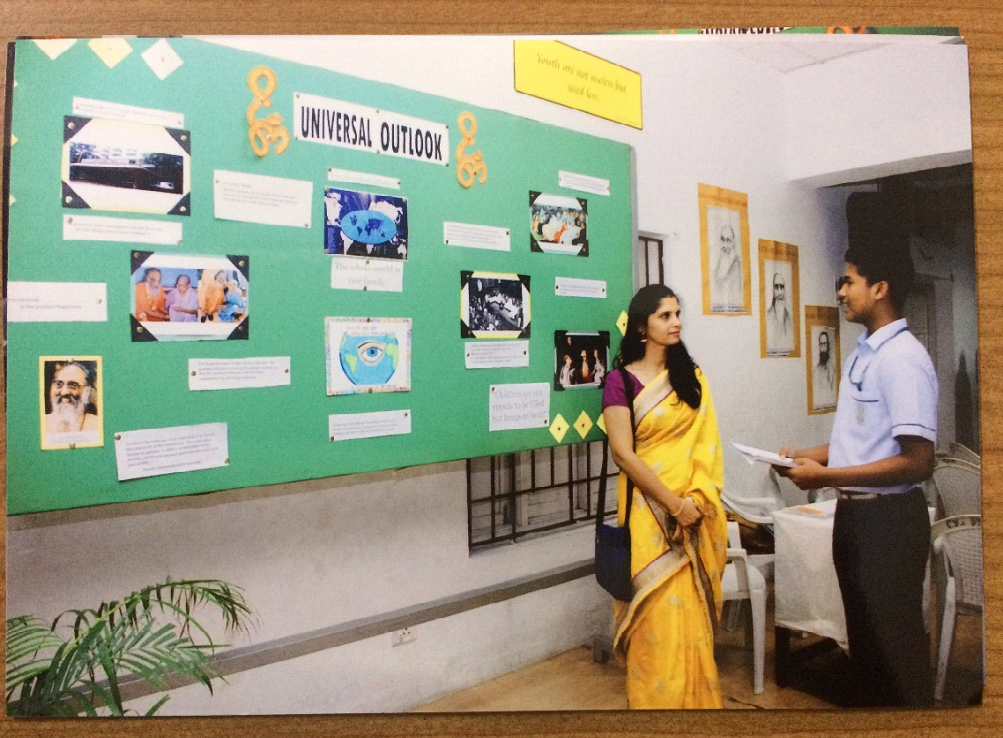 ARADHANA DAY
On Friday, August 3rd the Vidyalaya observed Aradhana Day of Pujya Gurudev with reverence and devotion . The Padukas were carried in a palanquin to the Auditorium amidst chanting of Bhajans and Gurudev's Ashtotara nama by students. Students, Parents and staff of the Vidyalaya chanted Chapter 18 of Gita and offered flowers to Gurudev's Padukas.
CHINMAYAM – INTER SCHOOL CULTURALS
GURU PURNIMA
On 27th July the Vidyalaya observed Guru Purnima – Vyaas Purnima with great devotion and fervour. Students, teachers of the Vidyalaya sang bhajans and performed Puja to Ved Vyas and Pujya Gurudev.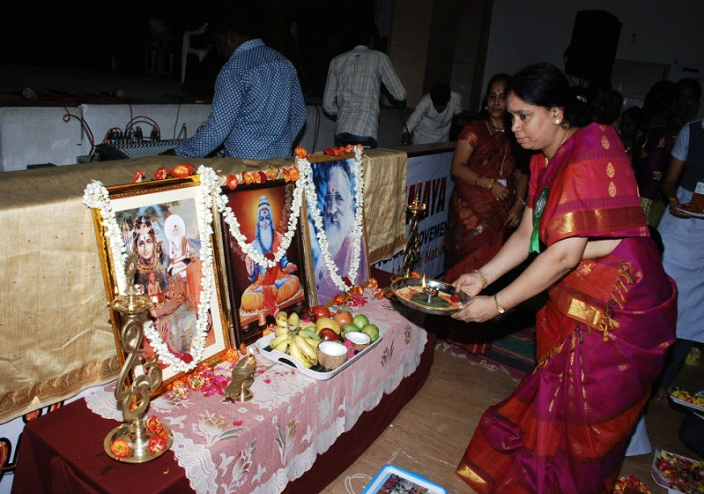 FLAG ADOPTION DAY
National Flag adoption day programme was held on 23rd July 2018. Students of primary presented a small skit about our National Flag adoption day. Students of standard V enacted a Hindi poem depicting the women Empowerment.Students also performed a dance based on our state's flag song
CAREER COUNSELLING
A counselling session was held for the students of class XII on 21st July 2018 by the members of SI-UK, a leading provider of independent guidance to students applying to universities in the UK. The session was held by Ms Sanofer Sultana, the chief educational officer of SI-UK. It was a very informative and enlightening discussion which will surely assist the students in deciding their future. 
ALUMNI ADDRESSING STUDENTS
On 21st July, Pritish Choudhary an Alumni of the Vidyalaya addressed students of Std IX,X and XI on the career opportunities in the field of Artificial Intelligence and Game Development. He also answered the queries of students and rendered ideas on effective time management
CCA Talent Show
Students of Std III presented a talent show on the theme : Folk Dances of India
CCA Talent Show
CCA on International dances was organized for children of Class IV on Chinese, Japanese, Spanish, and Egyptian style of dance forms
Doctor's Talk on Good touch and Bad touch
Dr. Selvi addressed students of Std 3,4 and 5 on 18th July 2018 on Good touch and Bad touch. The students were sensitized on this issue .
REMEMBERING Dr.KAMARAJAR
On July 15,the students of Vidyalaya celebrated our former chief minister Kamarajar's birthday as "Kalvi Vazharchi Naal" . Students enacted a skit and composed a song and also posted charts about his success stories. . "Intelligence plus character – the goal of true education"
KARUNA CLUB INAUGURATION
The inauguration ceremony of the Karuna Club was held on 14 th July 2018 at our Vidyalaya .The chief guest for the day was Mr. Sajjanraj Surana , the President of Karuna International, Chennai Kendra. The chief guest addressed the gathering with his empowering speech and spoke about the meaning of the karuna club's prayer.Through a poem on compassion he inspired the students to be kind towards all beings.The students of the Karuna club brought many charts depicting the moral values of compassion
WORLD POPULATION DAY
It is celebrated every year on July 11 and the theme for 2018 celebration is "Family Planning." Students of class 11 from our Vidyalaya also prepared posters showcasing the consequences of population explosion and actively participated in the celebration
QUIZ CLUB INAUGURATION
On July 4th 2018 CV Taylors Road set its foot in search of knowledge , a session with "think –a- thon' of Cerebrus group was held in our Vidyalaya. Many budding Quiz lovers with their parents assembled and got motivated by Mr. Abith's interactive session. The session consisted of a mock quiz which included visual round, science, current affairs movie's etc.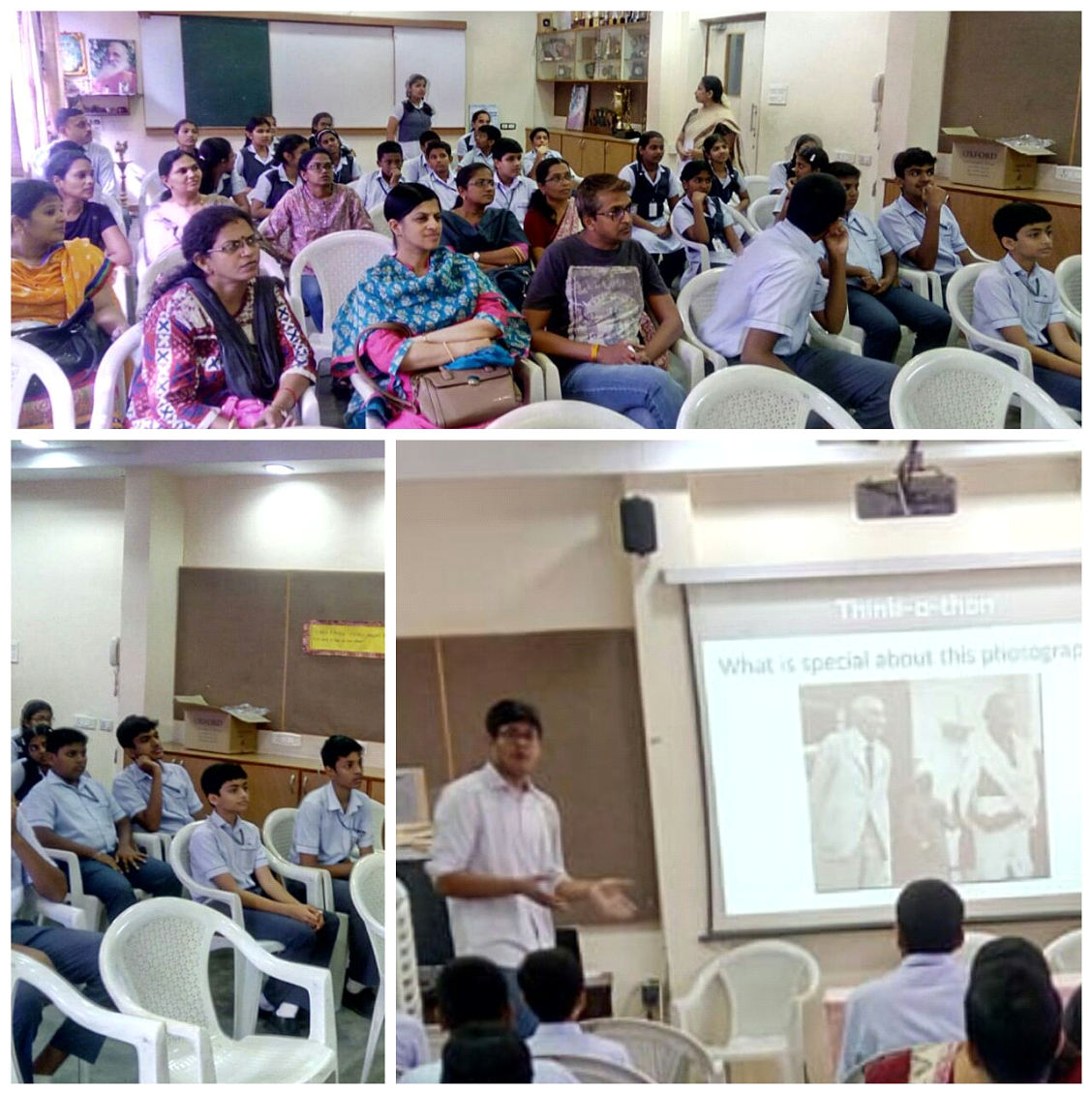 VAN MAHOTSAV
On 3rd July 2018 the students of Eco Club, Karuna club, Seva Sangam, Scouts and Guides together joined hands to spread the message of Van Mahotsav. The students formed a human chain holding the pluck cards with valuable messages on afforestation They performed a street play on 'Save Tree' that helped in conveying the message that how by saving trees we can save the environment.
Aradhana Day
On Friday,3 rd August the Vidyalaya observed Aradhana Day of Pujya Gurudev with reverence and devotion . The Padukas were carried in a palanquin to the Auditorium amidst chanting of Bhajans and Gurudev's Ashtotara nama by students. Students, Parents and staff of the Vidyalaya chanted Chapter 18 of Gita and offered flowers to Gurudev's Padukas.
INTERNATIONAL YOGA DAY
The international yoga day was celebrated in CV,Taylors Road on 21 June 2018. Around 200 NCC Cadets from various schools scouts and guides and students of our Vidyalaya participated. Sub major R Vivekanandan TN Battery NCC was part of the celebration. Smt Manjula Devi vice president TN Bharat scouts and guides was also an enthusiastic participant. The chief guest Mr NKT M Jayagopalan the founder of the Satyananda yoga education charitable trust (SYECT) addressed the students
INVESTITURE CEREMONY
"A leader is one who knows the way, goes the way and shows the way" The new batch of leaders took oath on 20th June 2018 in the presence of Principal,Mrs.Valsala Gopakumar and Vice Principal, Mrs. Geetha Ganesh. The former leaders presented the sashes and the Principal pinned the badges.
WORLD ELDER ABUSE AWARENESS DAY
WHO observes June 15 as World Elder Abuse Awareness day every year. The students of CV – Taylors road took a pledge on June 15 2018 to respect, revere and raise their voice against injustice to Elders.
EMERGING CHALLENGES TO LEARNING CULTURES
The teachers of class IX to XII were exposed to wonderful session by Mr G Balasubramaniam on 7 June 2018 at Chinmaya Vidyalaya .The session was really educative and provided insight to all the teachers to make teaching learning an innovative one.
CONNECTIVITY AND THE JOURNEY TO BECOME A SUPER TEACHER
Saraswathi publications organised a workshop at Chinmaya Vidyalaya Taylors Road on 6 June 2018 for the teachers of class VI to X. The Resource person Mr David Mohan explained in depth the need to be connected. Mr David Mohan highlighted the importance of goal setting and the course of action one must take to achieve the goals.
WORKSHOP ON MOTIVATION
Workshop on 'Motivation' was organised by the Oxford University Press in Chinmaya Vidyalaya Taylors Road on 5 June 2018 for the teachers of Class VI to VIII. The Resource Person Mrs Shyamala Ramesh Babu explained in detail the need to be motivated so that we grow from the fantasy stage of a teacher to a teacher who creates an impact.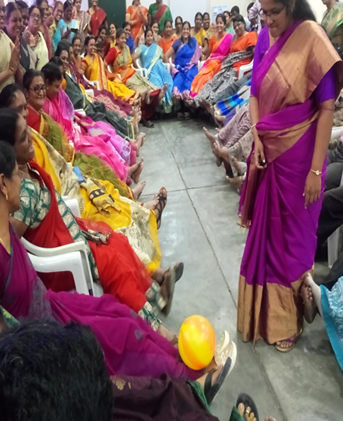 WORKSHOP - 'Feel Good at School'
Work shop on feel good at school was organised by the Vidyalaya on June 5,2018Primary Teachers of Chinmaya Viidyalayas attended a workshop by Prof. Jesudoss on the matters concerning Mood Disorder
CVP – WORKSHOP - A SESSION ON VALUE BASED TEACHING
Teachers of Chinmaya Vidyalaya Taylors Road were exposed to an excellent session on the Chinmaya Vision Programme, the fulcrum of all the activities of the Chinmaya Mission on 4 June 2018. The session was conducted by Mrs Vijaya Devanathan, a senior teacher of Chinmaya Vidyalaya Taylors Road. She explained the CVP aspects with lot of examples on how CVP can be implemented while teaching in the class.
FIRST AID
A Session on First Aid was organised for the teachers at Chinmaya Vidyalaya Taylors Road on the 24 April 2018. The resource person Dr Selvi, a gynaecologist at Padma Nursing home explained through an informative power point presentation the common problems health problems faced by students and how teachers can combat them. Dr Selvi explained the ABC of First Aid, Airway, Breathing and Circulation and how to handle students with sprain, fracture, cramps and fits.
A FIRE DRILL – A SESSION ON FIRE SAFETY
A Session on Fire safety was organised in Chinmaya Vidyalaya Taylors road on 17 April 2018 for the students of class VIII to X. Mr A K Kumar and Mr Elangovan from the Kilpauk and Vepery Fire and Rescue Cell elucidated how a chemical reaction takes place and the different methods of extinguishing fire like the cooling method, smothering method, solidification and extinguishing method.
GANAPATHY HOMAM – APRIL 4 2018
The Vidyalaya commenced the new academic year with the Ganapathy Homam to invoke God's blessings for an auspicious start .
SIDHBARI CAMP
Sw.MITRANANANDAJI HELD A CAMP FOR STD X STUDENTS BETWEEN OCT 18-19 , 2019
SEVA SANGAM – 19 OCT 2019
Students of Seva Sangam donated sweets and savouries to Balavihar
CAREER COUNSELING for students of Std XI and Std XII on Oct 31,2019 by Tom Goldstein (Dean of Journalism) &Mr.Rajkumar
RASHTRIYA EKTA DIWAS – 31 OCT 2019
RALLY ON UNITYDAY BY NCC AND SCOUTS AND GUIDES WAS FLAGGED BY PRINCIPAL Ms.VALSALA GOPAKUMAR AND VICE-PRINCIPAL Ms.GEEETHA GANESH
ACTIVITES HELD ON RASHTRIYA EKTA DIWAS
NATIONAL UNITY PLEDGE , POSTER MAKING AND ESSAY WRITING
AREA YAGNA by Sw.SWATMANANDAJI between Oct 30-Nov 3,2019 on the topic SMILE
WAR OF WORDSINTER-SCHOOL DEBATE COMPETITION
held on NOVEMBER 5,2019 – Sixteen schools participated and the winners trophy was bagged by Kola Saraswathi
CA FOUNDATION CAREER COUNSELLING- November 2,2019
Mr. M Sathyakumar, advisor to the Government of India addressed the students of Std 11&12 on the various career prospects available, emphasizing on Chartered Accountancy as a career
TALK by Major.GAURAV ARYA(Retd) –addressed the students of Std XI on Nov 12,2019
NATIONAL EDUCATION DAY – Nov 11,2019
K.M RAGAVARSHINI OF STD V C
K.M RAGAVARSHINI OF STD V C was declared Runner up in the State Level Badminton Tournament of U-10 Girls Event held at Chennai August 2018 organised by R.K Events Sports Organizer.
K.M RAGAVARSHINI OF STD VC took part in DECATHON LEAPSTART NATIONAL BADMINTON CHAMPIONSHIP and finished SECOND in the U-13 Girls Category.
PARAM OF STD IV B
PARAM OF STD IV B PARTICIPATED IN OPEN CHILDREN CHESS TOURNAMENT HELD AT BHAVAN'S RAJAJI VIDYASHRAM ON 24th OCTOBER 2019 AND WAS PLACED SECOND IN UNDER 10 BOYS CATEGORY ON THE MERIT LIST.
SHRAVAN CHINNI – STD V A
SHRAVAN CHINNI – STD V A –STATE LEVEL SKATING CHAMPION HAS WON 3 GOLD MEDALS IN ARTISTIC SKATING COMPETITION
SCINERTIA – SCIENCE EXPO CONDUCTED AT SBOA ON NOVEMBER 8, 2019 – WINNERS – 1. YESHIKA CHALANI –STD V , DHRUV CHALANI - STD III , YUKA SHRAVAN – STD IV , RAKSHITA – STD IV
HEMACHANDRA AND RISHI BHASKARAN OF STD VIII A -WERE THE FINALISTS IN THE NATIONAL CHILDREN'S SCIENCE CONGRESS 2019
52ND ANNUAL DAY – OCTOBER 12 ,2019
CHIEF GUEST -Ms.LEENA NAIR I.A.S.,(Retd)
52ND ANNUAL DAY – OCTOBER 12 ,2019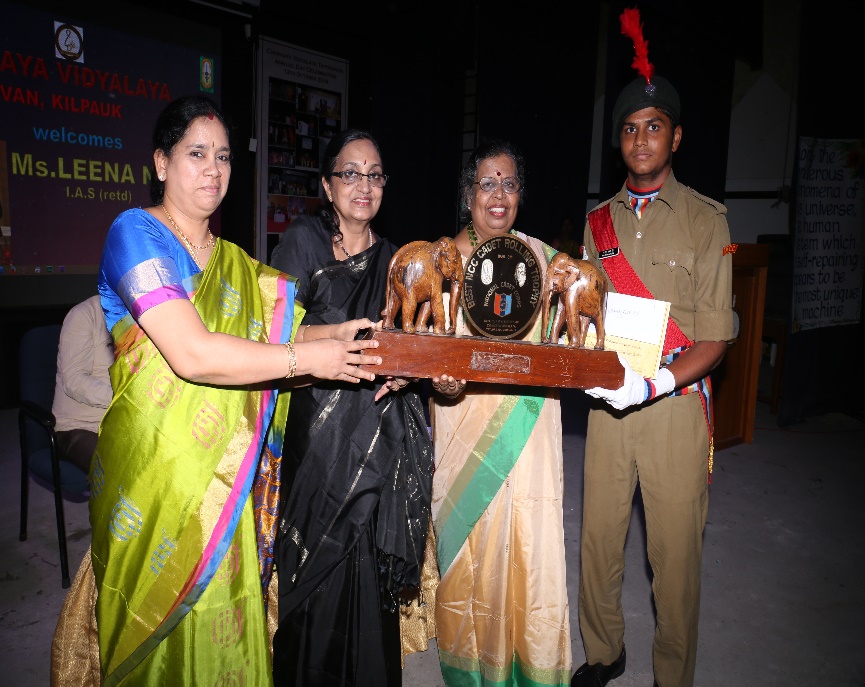 REGIONAL CONFERENCE OF PRINCIPALS
Oct 11,12 2019 – organized by Chennai Sahodaya Schools
NAVRATRI – GOLU
MATHRU PUJA – OCT 19,2019
CAREER COUNSELLING for students of Std XII on 22ND OCT 2019- RESOURCE PERSON – Ms.UMA
WORKSHOP ON CVP IMPLEMENTATION & ASSESSMENT on Oct 24,2019 – Shri. BISWARUP MUKHOPADHYAY
CAREER COUNSELLING SESSION
-Chinmaya Vidyalaya, Taylors Road, Chennai organized a career counseling session for the students of Std X on 3rd January 2019 .The resource person Ms. Uma Khanna Gopalakrishnan, a prolific educator conducted an interactive session with the students
PRINCIPAL'S CONCLAVE
Changing paradigm of leadership in School Education Swami Mitrananda, Director,All India Chinmaya Yuva Kendra (AICHYK) Chinmaya Mission, Shri.C. Sathiayamoorthy, Director, Shri Jaishankar Unnithan, Hony. Correspondent and Mrs. Valsala Gopakumar, Principal graced the occasion. Resource persons of the conclave Mr. Saravanan, Joint Secretary, MHRD and Ms.Arthi C Rajrathinam, Consultant Psychologist
MANAGEMENT HONORING AND FELICITATING FORMER TEACHERS OF THE VIDYALAYA
ALUMNI'S PARTICIPATION AND PRESENCE ADDED SHEEN TO THE GATHERING
GOLDEN JUBILEE CELEBRATION
HON'BLE GOVERNOR OF TAMILNADU THIRU.BANWARILAL PUROHIT GRACED THE CELEBRATION
CHINMAYA VIDYALAYA - FAMILY
STUDENTS OF OUR VIDYALAYA PARTICIPATED IN GANA SANGAM HELD AT DEVI ACADEMY ON 11TH JAN,2019
A LITTLE STEP TOWARDS MAKING THE ENVIRONMENT GREEN
The Karuna club students of Chinmaya Vidyalaya Taylors road donated plants to our school garden in the presence of Vice-Principal Smt.Geetha Ganesh
Field trip to the RAIL MUSEUM
Field trip to the RAIL MUSEUM on 7th December 2018.
COLLAGE MAKING, SOLVING PUZZLES - FOLLOW UP ON EDUCATIONAL TRIP
SUPER KID COP – ROAD SAFETY AWARENESS INITIATIVE
Mr.ADITYA ROONGTA (ALUMNI) AND Mr.RAJ BHARAT (YI CHENNAI CHAPTER) AWARDED THE PRIZE WINNERS OF SLOGAN WRITING COMPETITION ON 12TH DEC 2018.