S. HARSHIKKA - 2 A
She won a certificate of achievement , National Child Artist award conducted by [CIART] CENTRE FOR INDIAN ART RESOURCES and TRAINING , MUMBAI
DIVYADHARSHINI – 2D
• She won 3rd prize conducted by DSC purulia [ district Science Centre] – National Level • She won 1st prize conducted by National Science Centre – Delhi - National Level • She won 1 st place in Poster making contest conduted by Jawaharlal Nehru University • She won 2nd prize conducted by Dolphin P.G) Institute of Biomedical & Natural Sciences-Dehradun – National Level • She won 3 rd prize conducted by The Institution of Engineers(India) and Society for Aerospace and Mechanical Professional-Hosur – National Level • She won 1 st prize conducted by Shalini Chugh Foundation –Delhi – National Level • She won 2nd prize Sanskruti Samaj Seva Sansthan Trust Bharuch & Forest Department -Gujarat – National Level
ABHINAV ADITTYA – 3 B
He won a certificate of achievement , National Child Artist award conducted by [CIART] CENTRE FOR INDIAN ART RESOURCES AND TRAINING , MUMBAI
G.K. ADITIRI - 3D
She won 1 st prize conducted by All India Fine Arts and Research Institute • She won 2 nd prize in hand writing competition conducted by ALL INDIA FINE ARTS AND RESEARCH INSTITUTE
DIVYADARSHINI 2 D
• She won first prize conducted by ODIA YOUTH COMMITTTEE –BANGALORE - online competition. • She got best award conducted by Kids Academy –Odisha – Online competition • She won first prize conducted by MOMYS TEACHING CHRONICLE'S – Online competition. • She won first prize conducted by Nandalal Academy – Kolkata – Online competition • She won second prize conducted by Saffron Hospitality India- New Delhi – Online competition • She won first prize conducted by Ideation Design Studio-MTEI – Online Competition • She got third prize conducted by Jawaharlal Nehru University -JNU ENVIS RP – Online Competition • She awarded second prize conducted by Department of museum in Connection with the Children's Day
Abinav Adittya . M 3B
He participated in 1st round of GUNA GAAUN MAIN 2020, the 2nd online Bhajan competition organised by Chinmaya Naada Bindu Gurukula, Pune 2020
ADVIKA HAREESH OF 4C
• She won second place in events conducted in 13th BTF tournament(Sep 2020) and won First place in 5 min drawing competition conducted by BTF Sports and Arts committee. • She won 1st place in drawing competition conducted by BTF tournament ( 6th Dec 2020)
D Dhanurudh of 4 C won the original GUINESS RECORD CERTIFICATE for the most Hula Hoop rotation in the elbow in one minute in August 2020
STARTING A START UP - PHOENIX INNOVATIONS
Meenakshi – 12 B has begun a startup named Phoenix innovations which focuses on developing young innovators by providing the students guidance and workspace for them to work upon their idea and develop it into a product or service. There are five members in my team and all are student innovators. Later we will be helping them to reach the investors and pitch in their products to them. I have completed a three month course with the government council for students called AICGIM for the same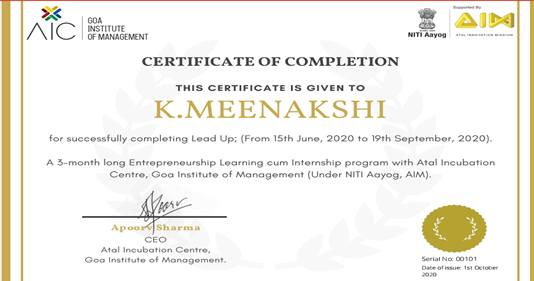 Shreya Somani of Std 9A has won recognition in the National level drawing and colouring contest conducted by CIART
INS Day celebrations: An online painting competition was conducted by Tamilnadu and Puducherry Naval area on the account of Navy day on 5th Dec 2020. Chinmaya Vidyalaya – Kilpauk students Janavi and Jinal participated and were felicitated for the same
Mythily Ravichandran of std 8A has won first place in the International Chessathon 2020 under 15 girls category
Don Bosco Cultural event : REVELATIONS 1.Block and tackle : Shubi.C 1st prize and Hashmitha Reddy 3rd prize 2. Spin a yarn...Aishwarya.K, 3rd prize 3. Face painting: Suhani Modi..1st place and Bansi.R won the 3rd place 4.Singing and instrumental...3rd prize... HASHMITHA REDDY WON THE MS RELEVATIONS TITLE IN THE FINAL COUNT DOWN
Rakshita Hebbar – X A has qualified to participate in the national selection camp for the Indian National Debating Squad for ISDS, the Indian Schools Debating Society
In the online competition conducted by the Chennai police on the topic "Crime against women" , Sunaina.S of Std XI won the first prize and she was awarded at the police station.
DIVYA DARSHINI. -2 C • She won 3rd prize + 1000cash conducted by Lion Club of Salem Majestic Online competition – National Level • Got 3rd prize conducted by Bio Mantra Natural skin care solution Online Competition – National Level • She won 2nd prize conducted by Minervaa Online competition – InterNational Level • Received consolation prize conducted by Sahara-Ganj Online competition – National Level • She won 2nd prize conducted by Sevalaya – Chennai Online competition for Gandhi birth Anniversary - State Level • She won 2nd conducted by TN-Forest Department Online competition for the Wild Life week Celebration – District Level • She received Gift Hamper by Jaipur International poetry library – Rajasthan Online Competition - National Level
ABHINAV ADITTYA. M - 3 B • Got a participation certificate and achieved 89% in ENGLISH MOCK TEST conducted by SAYEE ACADEMY. • Got a participation certificate and achieved 88% in MATHS MOCK TEST conducted by SAYEE ACADEMY.
DHANURUDH . D – 4 C • Got a certificate as a GAME DEVELOPER with deep UI/UX interface in WHITEHAT Jr. • Got a appreciation certificate as a APP DEVELOPER (ANDROID & iOS) in WHITEHAT Jr
SUHAS.K.B – 5 C • Won 2nd place in SUB-JUNIOR category in RUBIK'S CUBE competition organised by BTF SPORTS ACADEMY on 13th Sep 2020.
B.Divyadharshini - 2 D a. Dr. A.P.J. Abdul Kalam Dream Student Award - 2020 -State Level. b. 3rd prize in the World Telugu Cultural Fest - 2020 International level drawing competition. c. Participated in the IGEN ENVIRONTHON 2020, 15 hours marathon world record attempt and got the 2nd prize. d. Ranked 5th place - ISRO Cyber space competition [ICC - 2020] e. 1st prize (cash award of Rs. 25000) in the competition, Go Corona International Online Art contest, conducted by Velammal Vidyalaya for children in the age category of 5 to 15 yrs, on May 27, 2020 on the topic: Different Ways of Spending Time during Lockdown. She got the World's Best Artist award among 22,000 Participants across 63 countries.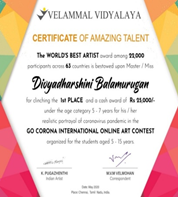 A.RIBUVANTH - 2 C Got the 3rd prize in Tamil elocution competition conducted by Shri Vidya Giri School, Karaikudi. He spoke on the topic Sirappanna Sirusemippu
G.K.SHARVESHRAM - 2 B Won the 3rd prize in Tamil Nadu State level Online & Drawing competition conducted by THE GREAT ART FEST 2020, which was held on August 2020.
Abhinav Adhittya.M - 3 B • Won the title of INNOVATIVE CONCEPT AWARD at NATIONAL ART COMPETITION (COVID 2019) conducted by SHURAPRAA ART BY P.C. in the month of June 2020. • Won the 1st Rank in State Level Arts competition organized by Centre for Indian Arts Resources & Training (CIART) –Mumbai in the month of August 2020. • Got a certificate for his performance in Raack Academy's – Raack Happy Feet In-House Dance, Grand Finale in the month of September 2020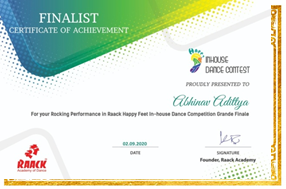 Ananya Barath of Std IX has participated in Indian Running Day on 15th August 2020 and has also participated in 13th Karate Tournament 2020 and won the third place in Black belt category
Twenty students have participated in Fit India Freedom Run organised by CBSE and got certificate
MURDER MYSTERY
A murder mystery event was organised by students of Taylors road and Anna Nagar branches of Chinmaya Vidyalaya.The first prize was bagged by Veren Chabria and Suhani Modi of class 12, and Kamalika of class 10 of Chinmaya Vidyalaya, Taylors road. Sahil Jhaver of class 10 and Veren Chabria of class 12 were chosen as the best interrogators. Nandana Mohandas from class 10 was given a special mention.
SCHRÖDINGER QUIZ
An Online quiz was organised by K.Iniyan and Tharun Gurunath of class 11th. In the senior category, team "Synergy" an individual team won the quiz with 150 points, finishing second with 124 points were team "John Snow" from Don Bosco, Egmore In the Junior category, team "ISE Isotopes" from Indian School of Excellence, Bengaluru won with 80 points, finishing second with 75 points were team "Comfortably smart" from Chinmaya Vidyalaya Taylors Road.
CHINZEST
On 28th July,2020 ChinZest the Chinmaya Quest was held. Megha and Sai Amrutha ,Meenakshi, Megha and Sai Amrutha –Std XII were the winners
E VIDHYUVA
E Vidhyuva was an online culture conducted by Vidya Mandir in the month of July. The following students won prizes in the respective events. Class 7 - poster making - safety and adaptiveness towards covid19 Class 8 - meme making - impact of covid19 on eduation. Class 9 - video making - frontline soldiers against covid19 Eshaan Modi -- class 7 Mansi Muthukumar -- class 8 Aditya Goel -- class 9 Harshamitran -- class 9 Hriday Gupta -- class 9 Kunsh Jain - class 9 .
CREED
Creed was also an online cultural event conducted by the students of Don Bosco, from 24th July to 30th July. The following students won prize. SHIPWRECK: Kamalika C- Std 10 - 3rd place TWO FACED : Khyati Chugani – Std 10 - 1st place CREED FASHION WEEK:Khyati Chugani- 3rd place
TRIVIATIC QUIZ
Conducted by Nandana Mohandas of 10-D and Dikshi of 10-C on 1st of August, Saturday 2020. 20+ teams from all around the city participated and had multiple rounds to decide the winners.
SUPER DELUXE
Super Deluxe was a cultural conducted by the students of Bhavans, from 27th August to 10th September. The following students won prize. TITLE RUNNER UP :Shalini Bhaiya – Std 11A BLOCK AND TACKLE: Shalini Bhaiya 1st place- Std 11 A WHOSE LINE IS IT ANYWAY: Shalini Bhaiya 3rd place MONO ACTING: Abith Singh – Std 11 D LAWYER UP: Shalini Bhaiya 1st place DANCE: Nandini Sarda 3rd place – Std 11 D POETRY: Ananya Gutgutia 1st place Std 9, Chavi Jain 2nd place , R Sanjay Ganapathi 3rd place MEME MAKING : Samy Modi 3rd place
PARAMPARA
Parampara was another online cultural conducted by GT group of instituitions ADZAP : Misbah and varshika - 3rd place SEMI CLASSICAL :Chavvi Jain - 1st place WESTERN DANCE: Dhwani Bisani and Nandini Sarda - 2nd place Disha Gupta and Lehar Bagri - 3rd place SHIPWRECK: Shubhi Choukse - 2nd place BLOCK AND TACKLE: Shubhi Choukse - 3rd place FINGER ART :Sarvesh Ram - 1st place TITLE WINNER: Shubhi Choukse class 11 OVERALL RUNNERS UP Chinmaya Vidyalaya , Kilpauk
POSTER MAKING
Urvi Garg 8D got 3rd prize in poster making competition conducted by SBOA on 11th September.
STATE LEVEL ART AND DRAWING COMPETITION
Mokshita of class 6 won 1st prize in state level art and drawing competition and has been selected for the national level
SPREE
pree was a cultural event :LOOK BOOK :Ishita Kothari 2nd place