Achievements
Visit Archives for previous year(s) achievements
Visit Interschool Competitions for other accolades won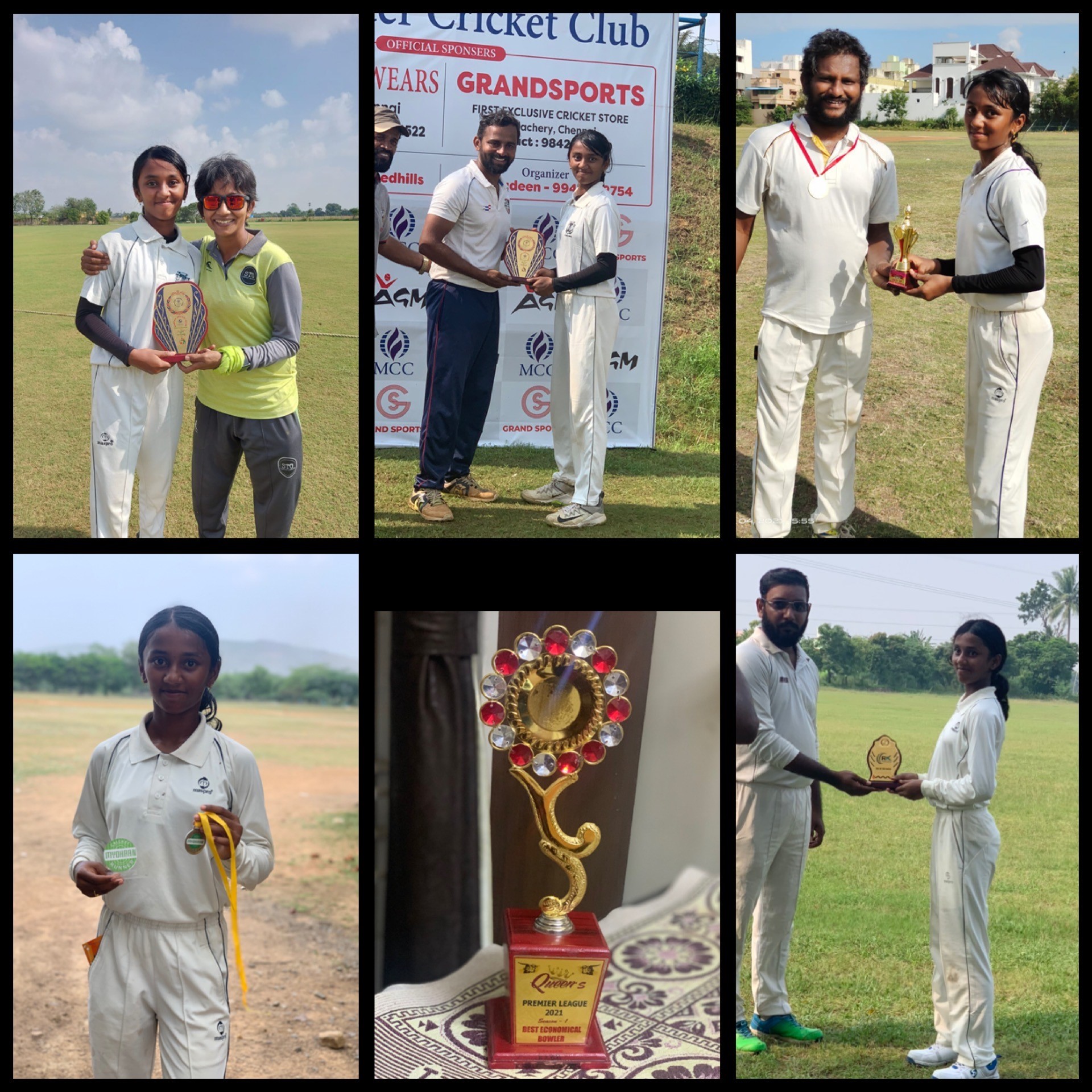 Under-19 Women's Cricket-TamilNadu
R Suganthashree of XI A, is an expert Medium Pacer/All rounder and has won many Accolades for her performances. Woman of the match(Elshaddai Trophy), Best Bowler of the series(Inter district tournament) and Woman of the Match(Senior State Women Vs Juniors) are just to name a few.
View Full details...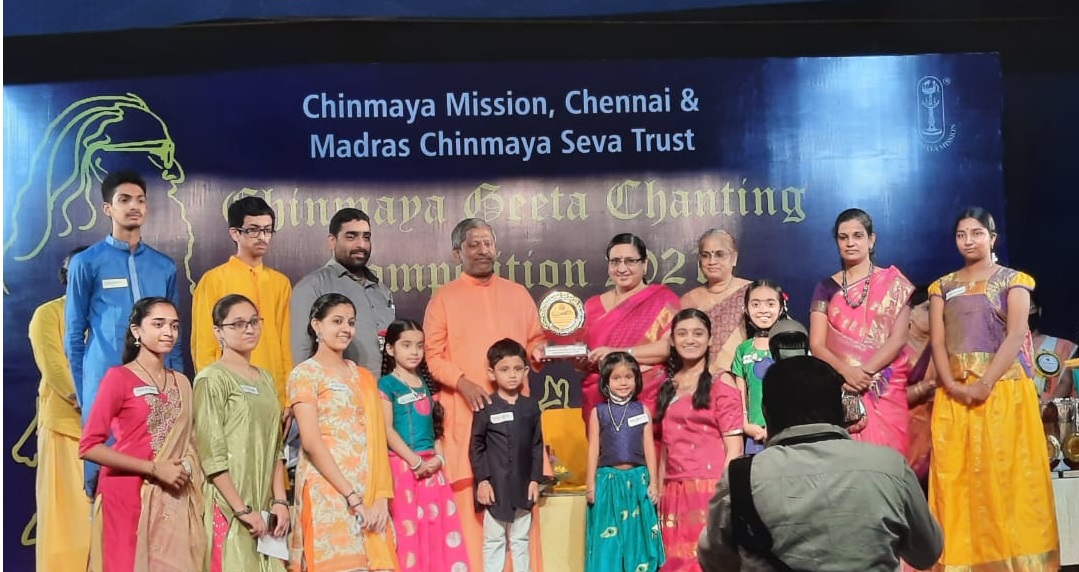 Gita Chanting Competition
Overall 2nd Prize was bagged by our Vidyalaya in Annual Gita Chanting Competition conducted by Chinmaya Mission.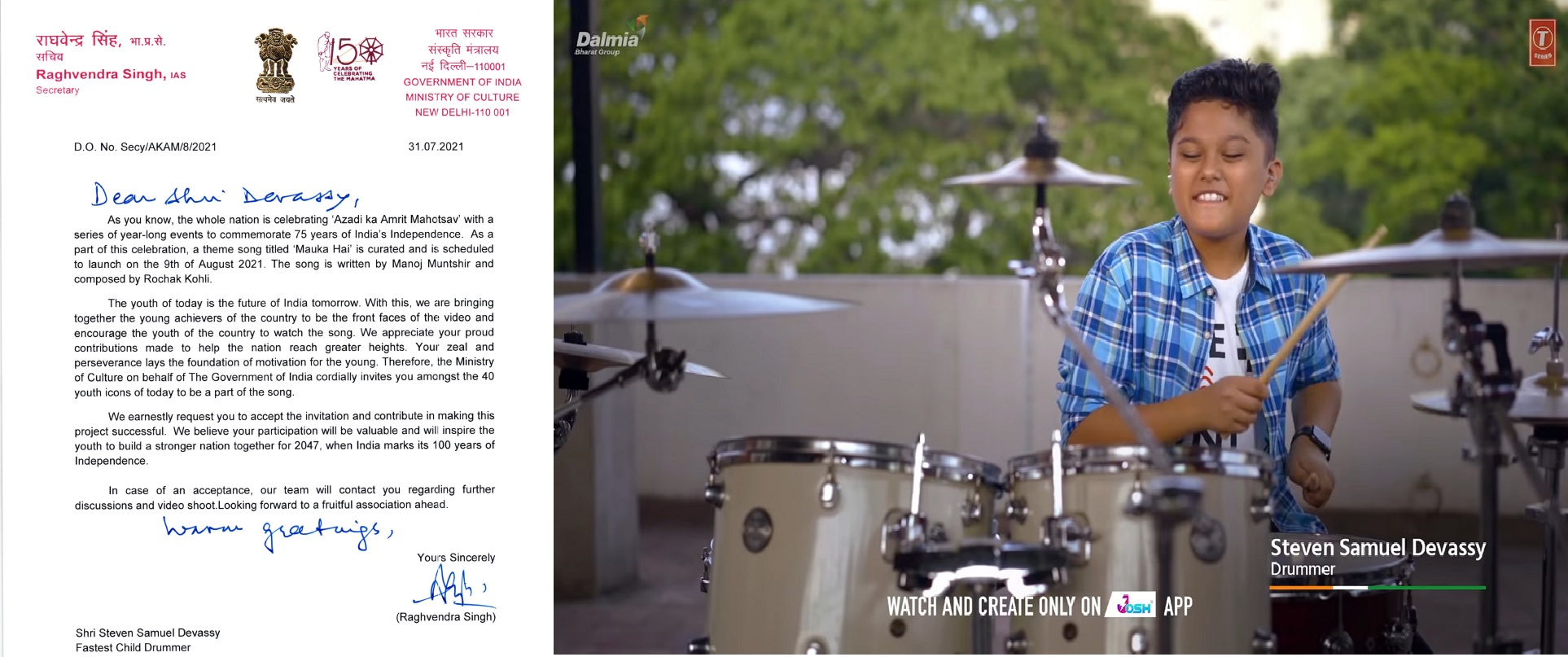 Azadi Ka Amrit Mahotsav
Steven Samuel from class X was one of the participants in the theme song "Mauka Hain" for Azadi Ka Amrit Mahotsav organised by Ministry of Culture, Government of India. The video of the song can be viewed at https://youtu.be/K0lQHseMJB4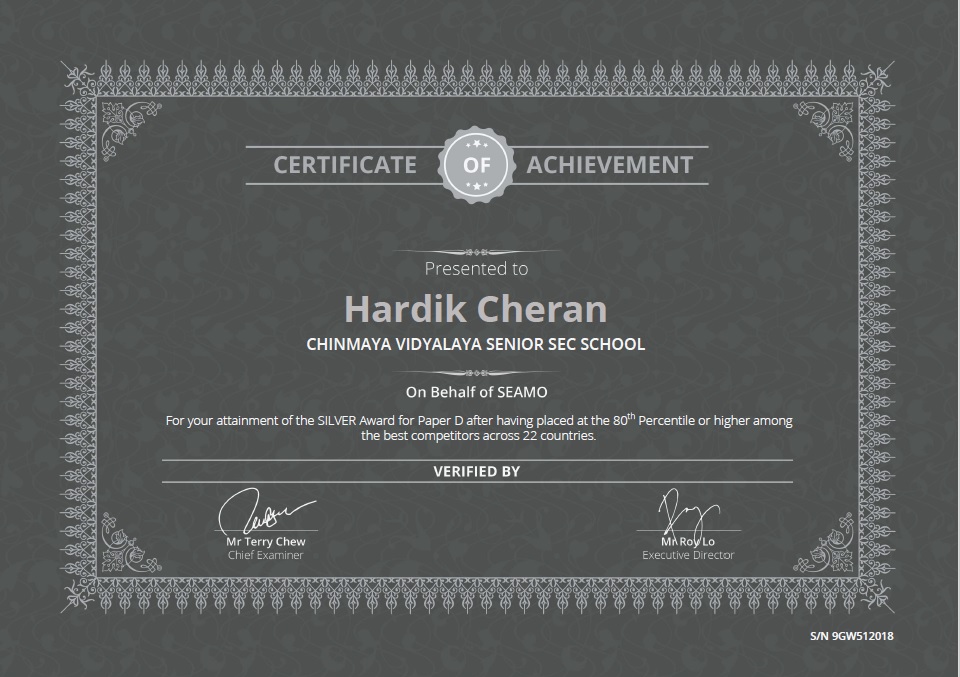 SEAMO (Southeast Asian Mathematical Olympiad)
Hardik Cheran (9D) has won "Gold Medal" in SEAMO Regional competition held on 26th Sep 2021 and represented SEAMO X (main round) International competition (15th Jan 2022) from India. He achieved 8th rank internationally and was awarded a silver medal and certificate for exemplary performance.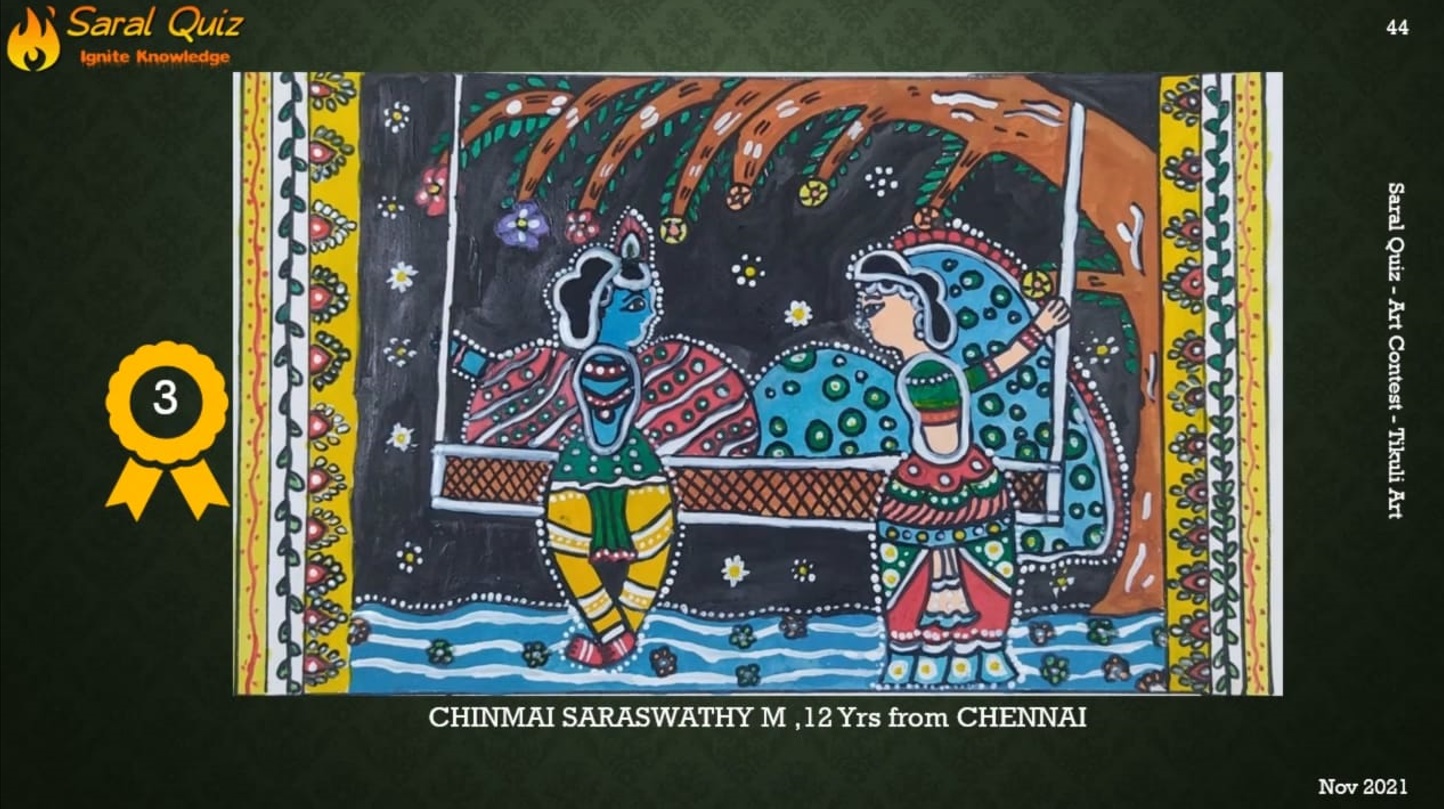 Saral Quiz
M Chinmai Saraswathy of class VII D participated in Tikuli Art Competition conducted by Saral Quiz and won Third Prize. Her drawing was published in their youTube channel.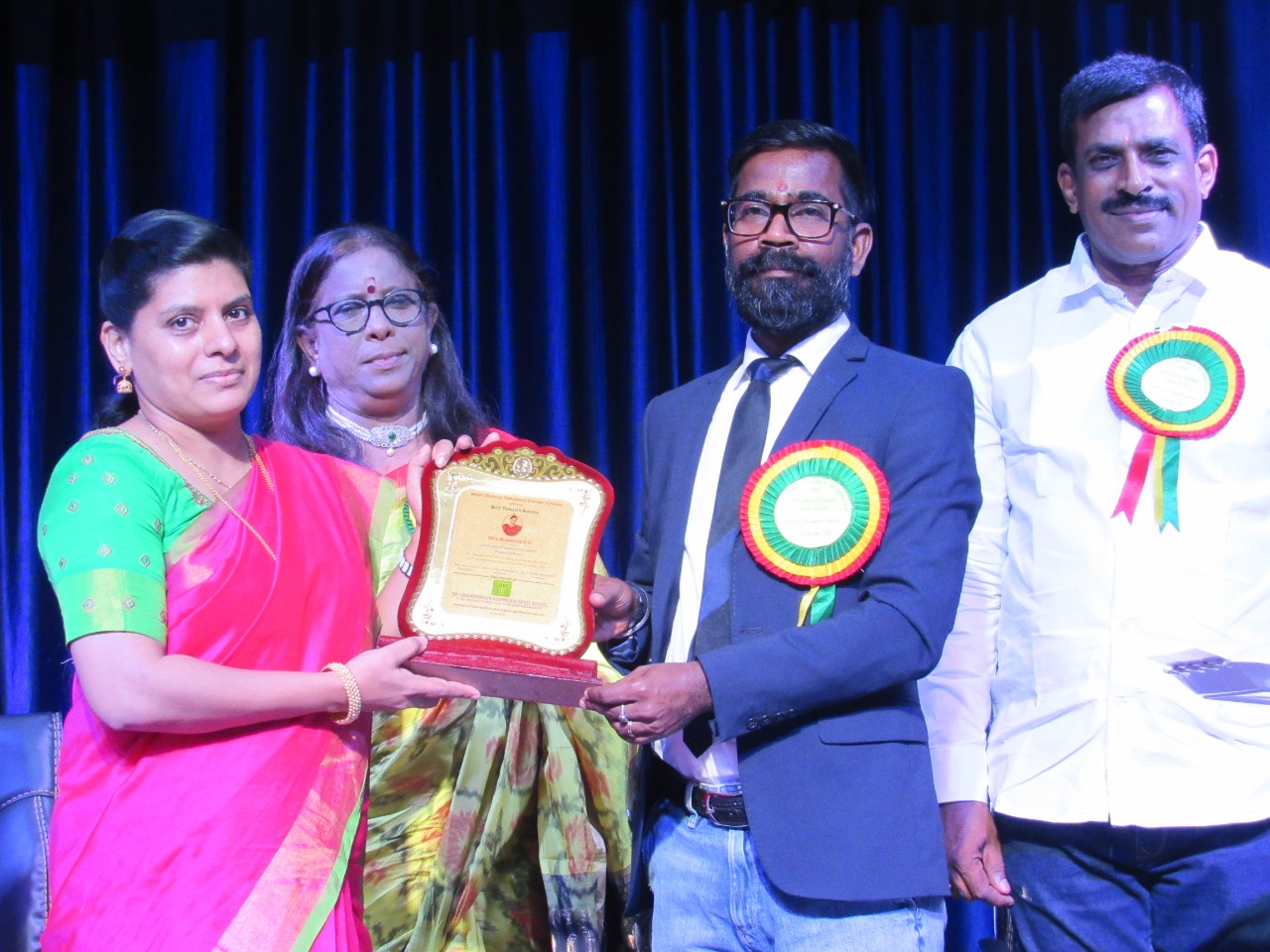 Best Teacher Award
Smt.K.V.Rubeena received the Best Teacher Award from Shri V.Nanda Kumar IRS, Additional Commissioner of Income Tax, on 25 Sep 2021, awarded by West Chennai Sahodaya Cluster Schools.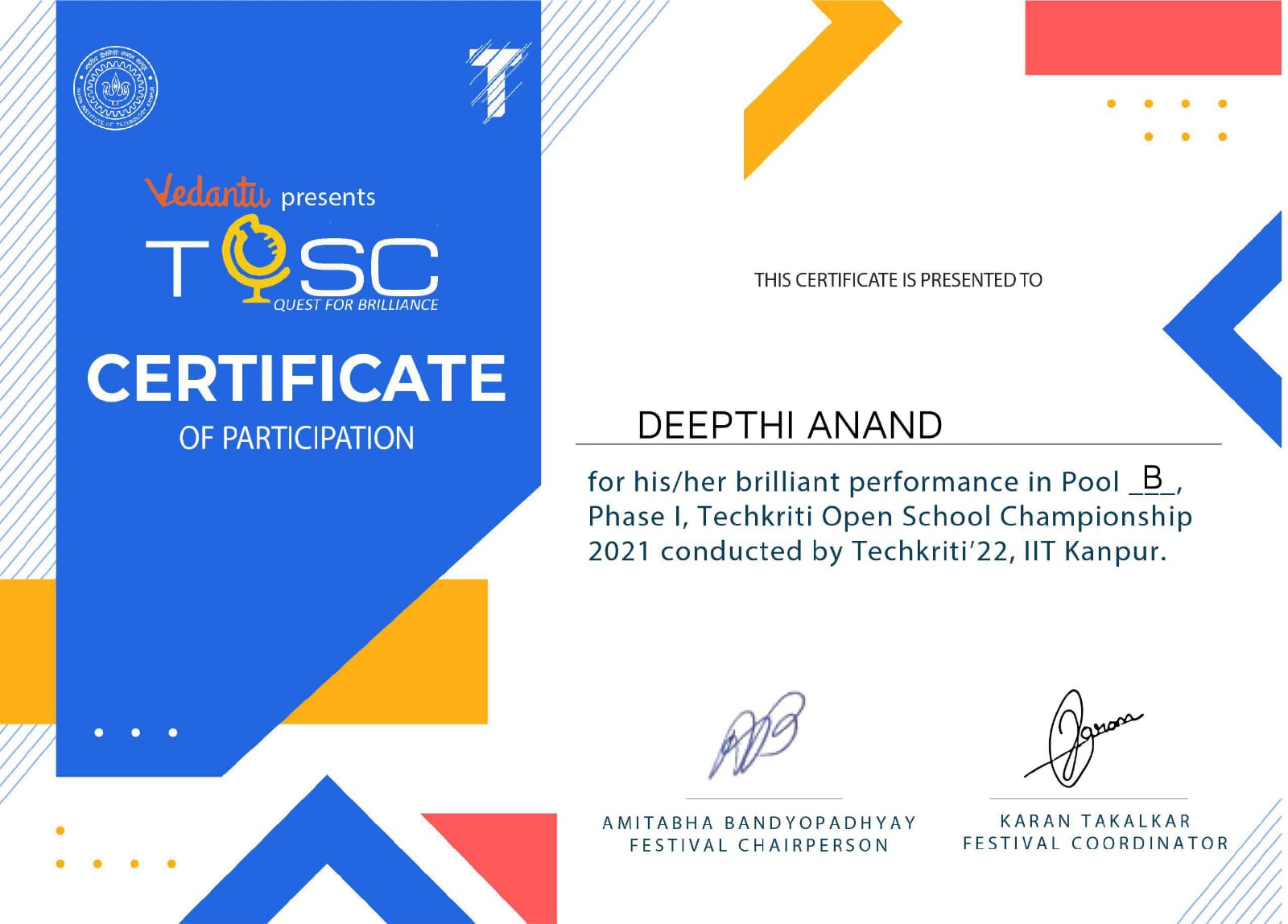 TOSC
A.Deepthi of Class X participated in TOSC (Techkriti Open School Championship) conducted by IIT Kanpur.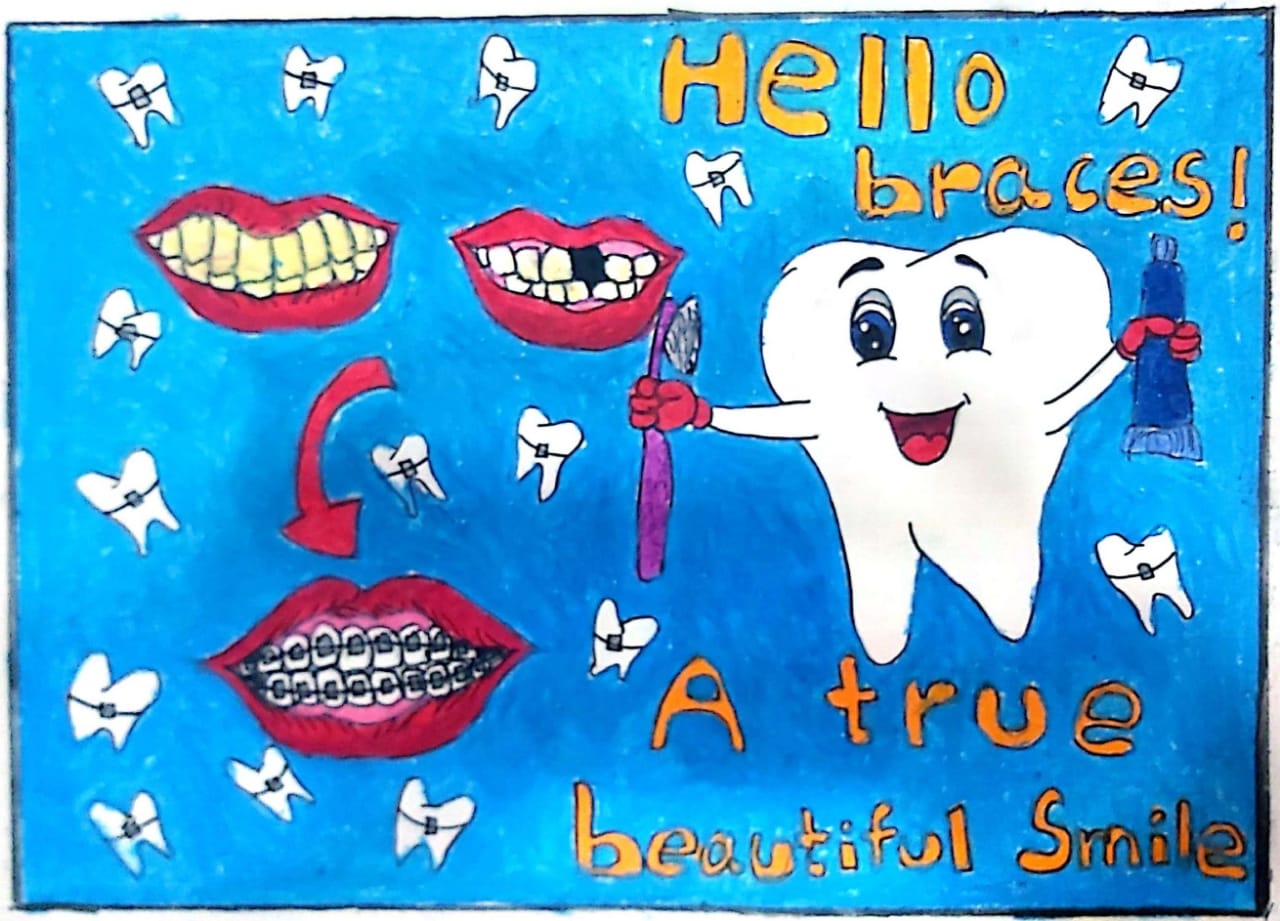 Creative Artwork Competition
Mihika Sudhakar of VII A has won second place in the Creative Artwork Competition as a part of Orthodontic week celebrations conducted by the Madras Orthodontic Study Group and Indian Orthodontic Society.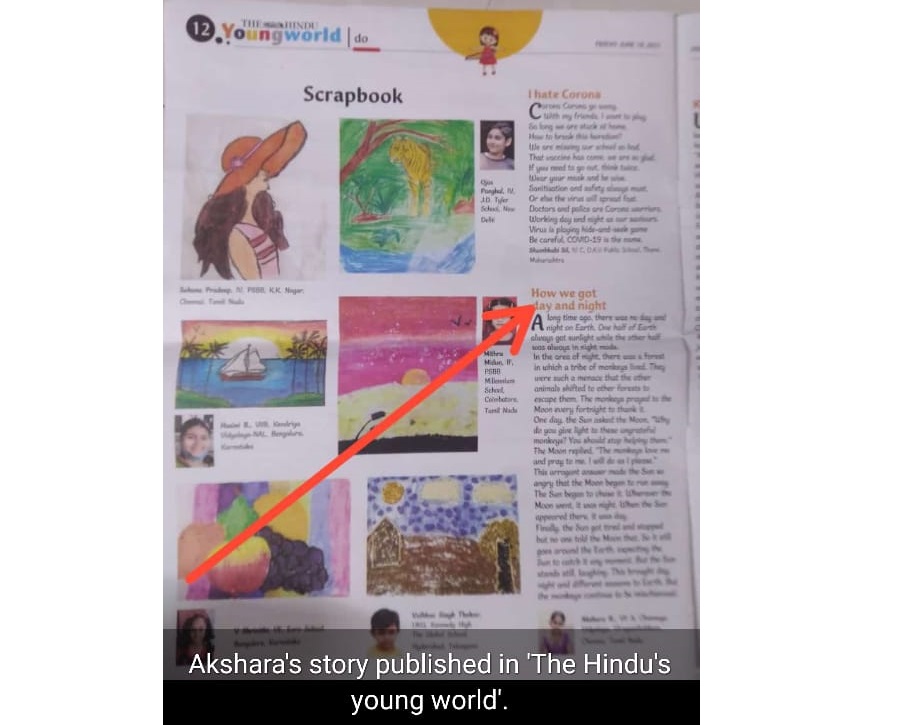 Hindu Young World
Akshara's short story is published in 'The Hindu - Young world' dated Friday, June 18, 2021, under 'Scrapbook' column.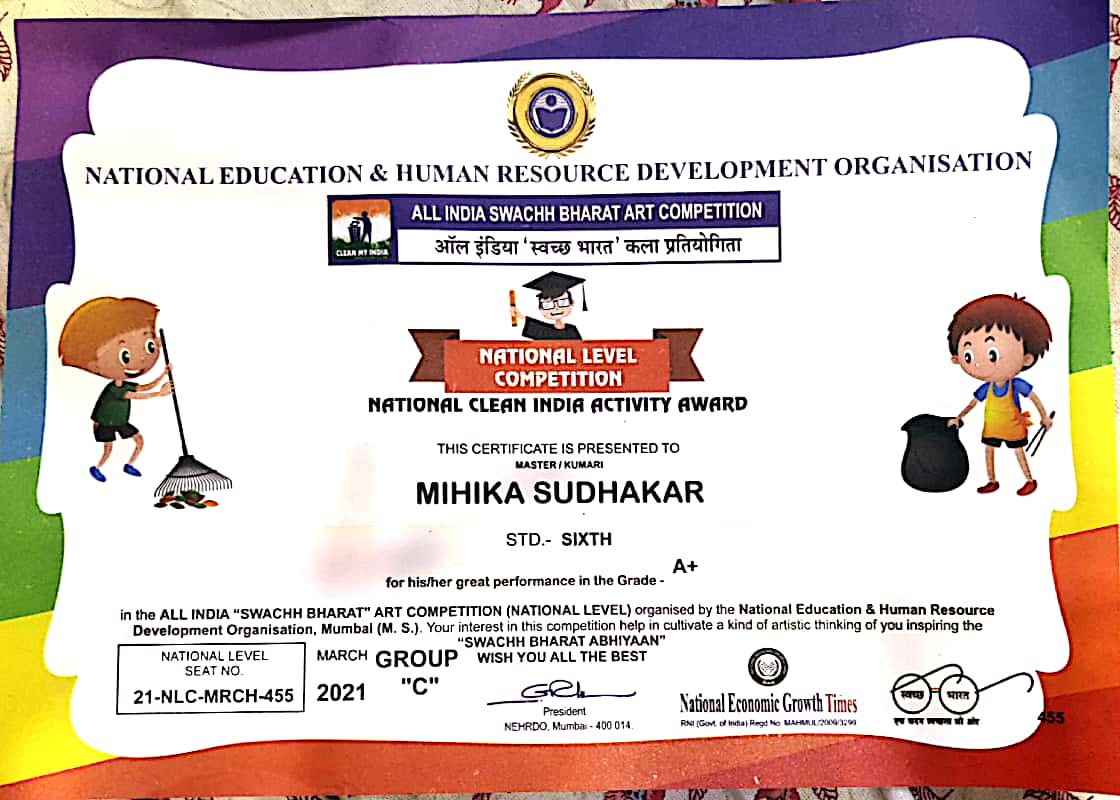 All India "Swachh Bharat" Art Competition
Mihika Sudhakar from class VI obtained A+ for great performance in the National Level Competition organised by National Education & Human Resource Development Organisation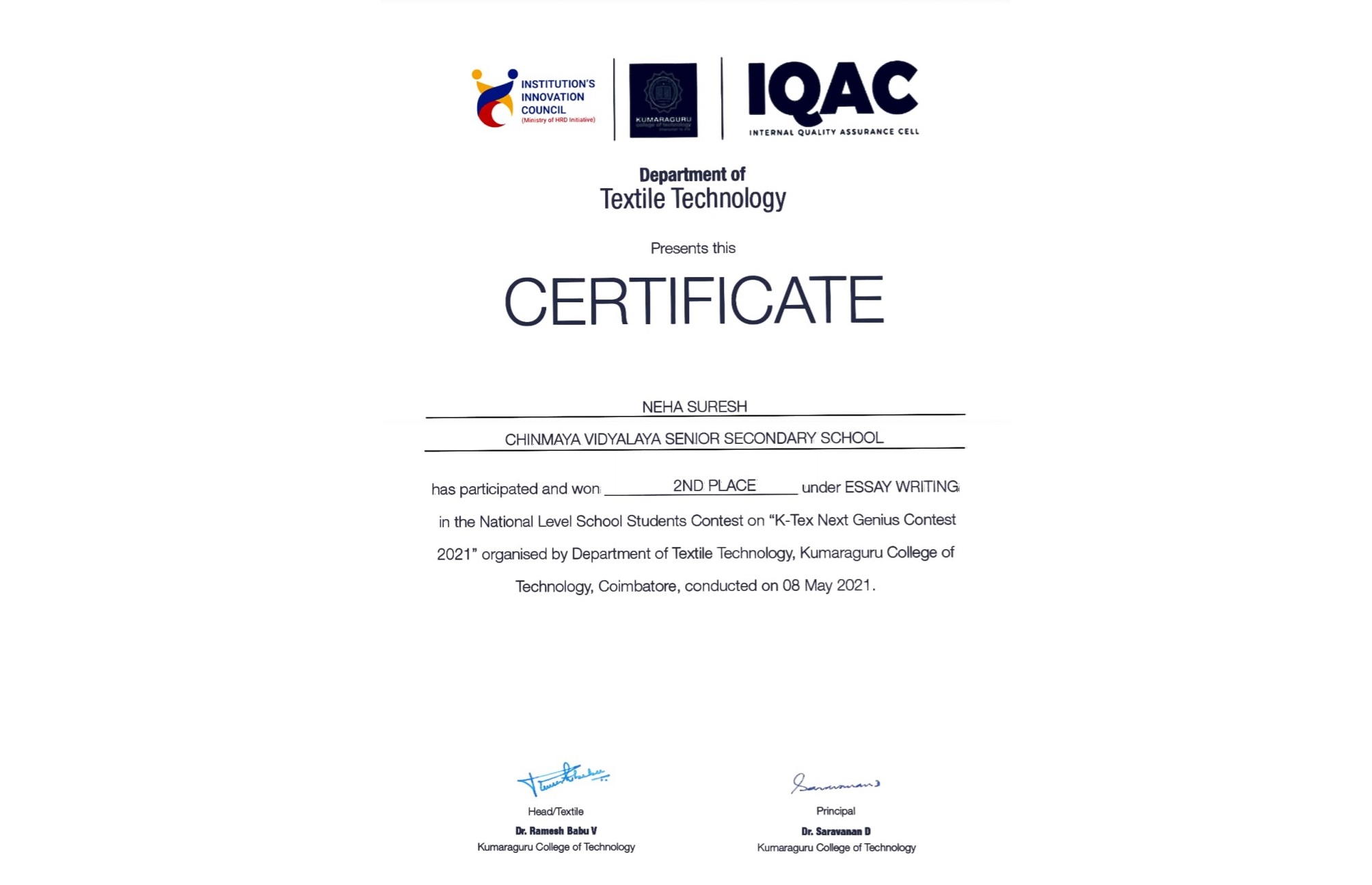 K-Tex Next Genius Contest 2021
Neha Suresh won SECOND Prize under Essay Writing in the National Level School Students Contest on "K-Tex Next Genius Contest 2021" organised by the Department of Textile Technology, Kumaraguru College of Technology, Coimbatore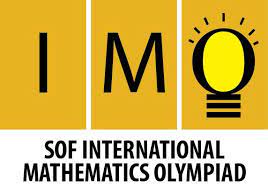 Medal of Distinction
Pranav.R of class VII D secured International Rank 84, Zonal Rank 20 and Class Rank 1 and won Zonal Medal of Distinction and Certificate of Distinction in International Maths Olympiad (IMO).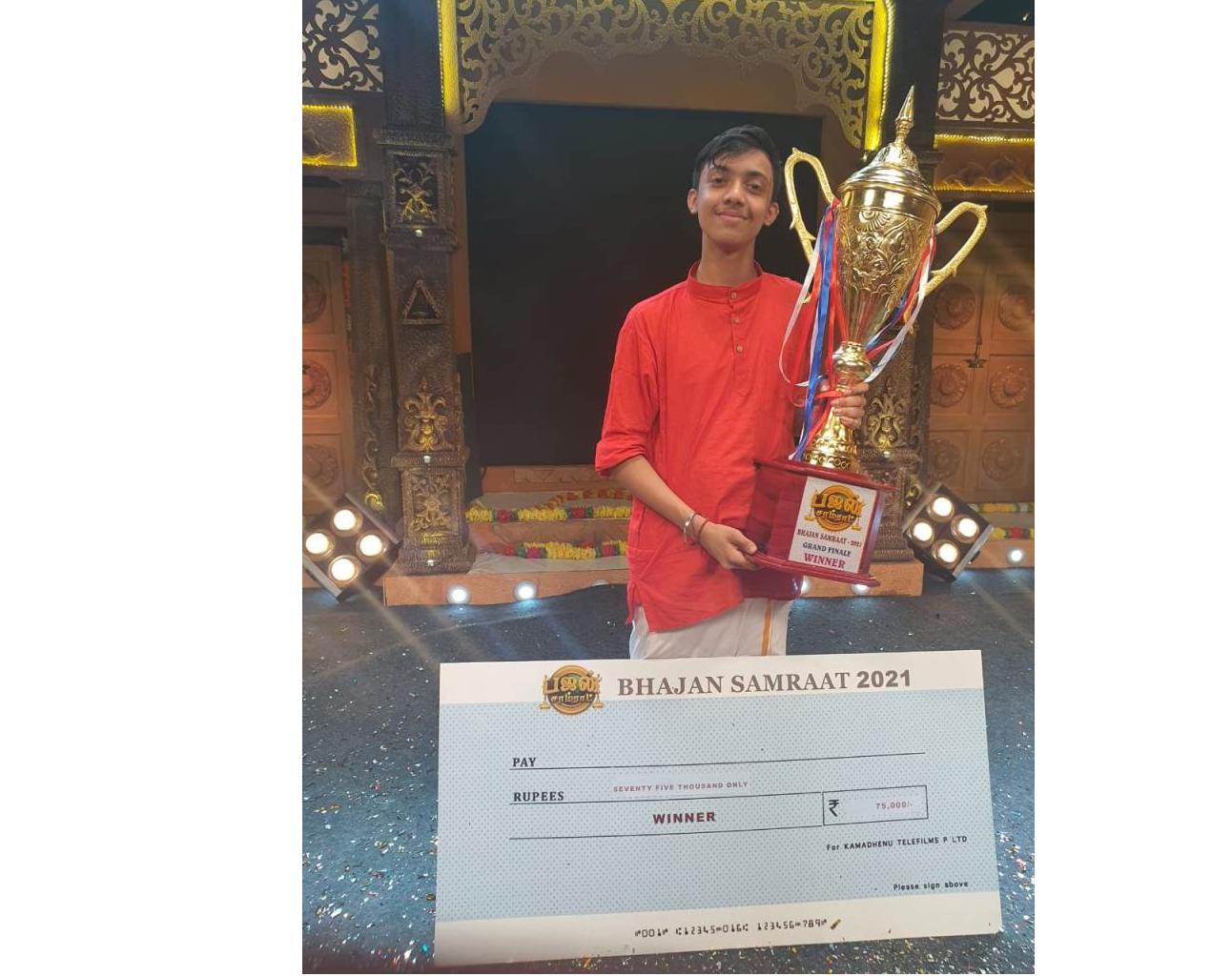 Bhajan Samrat Winner
L Aditya of class XI, C bagged I Prize in Bhajan Samrat Competition conducted by Sankara TV and Colors TV. The competition started in Nov 2020, after crossing all levels Grand Finale was held on 23rd March 2021. He supported Mohanam Academy of Music on Harmonium. Mohanam Academy of Music was one group among a total 24 groups from all over Tamilnadu. The team won the Trophy along with cash award of 75000/-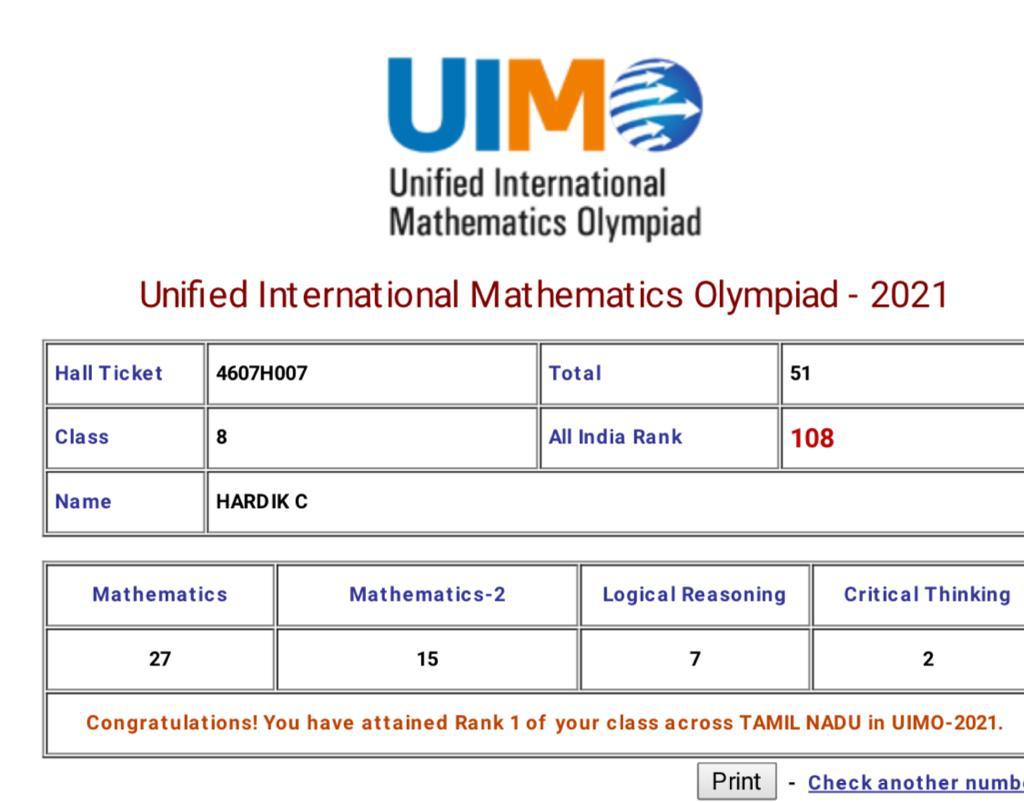 UIML State First Rank
Hardik C of class VIII has attained Rank 1 in Tamil Nadu in Unified International Mathematics Olympiad 2021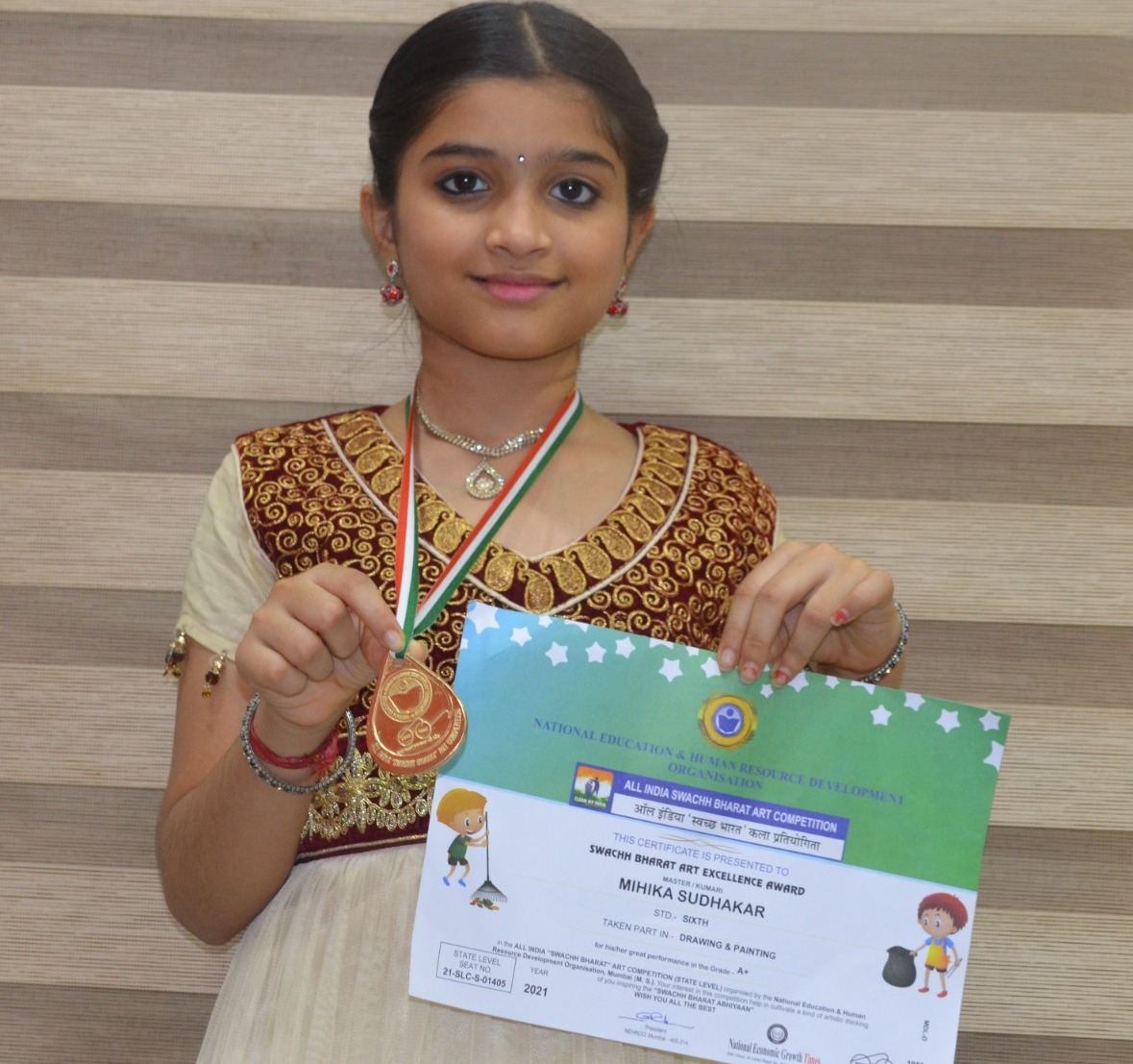 Swachh Bharat Art Excellence Award
Mihika Sudhakar of class VI A, has been presented with 'Swachh Bharat Art Excellence Award' with A+ Grade in the All India 'Swachh Bharat' Art competition(state level) Organized by the National Education and Human Resource Development Organisation, Mumbai. She was awarded with Medal and Certificate. She has been selected to participate in the National Level.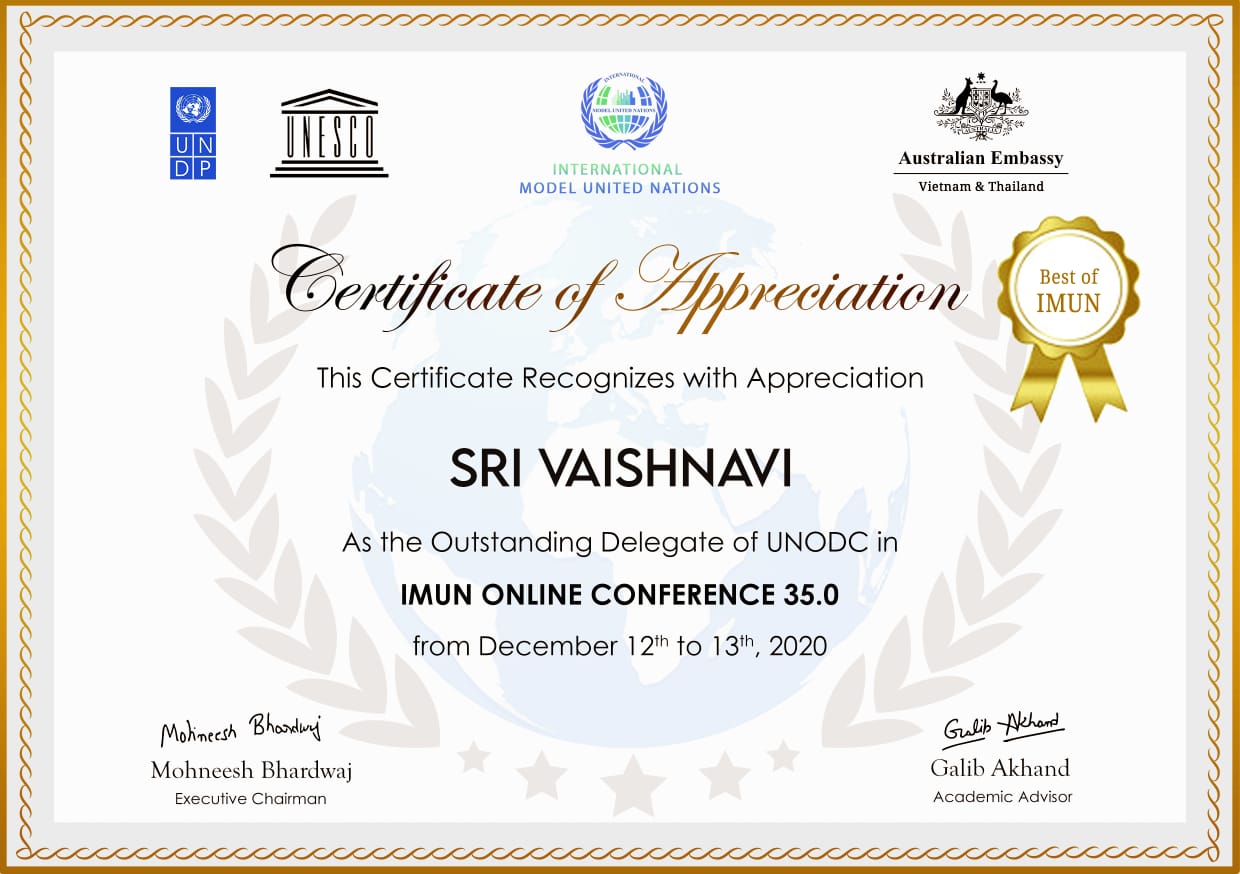 IMUN Online Conference 35.0
Sri Vaishnavi of class IX has been awarded the Oustanding Delegate of UNODC in the IMUN Online Conference conducted from December 12th to 13th, 2020.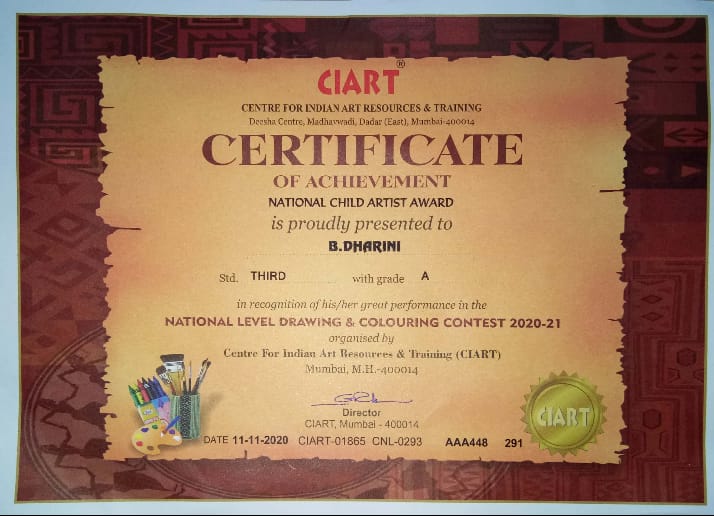 CIART
B.Dharini of class III A has been awarded NATIONAL CHILD ARTIST AWARD by Center for Indian Art Resources and Training(CIART) in the National Level Drawing & Colouring Contest 2020-21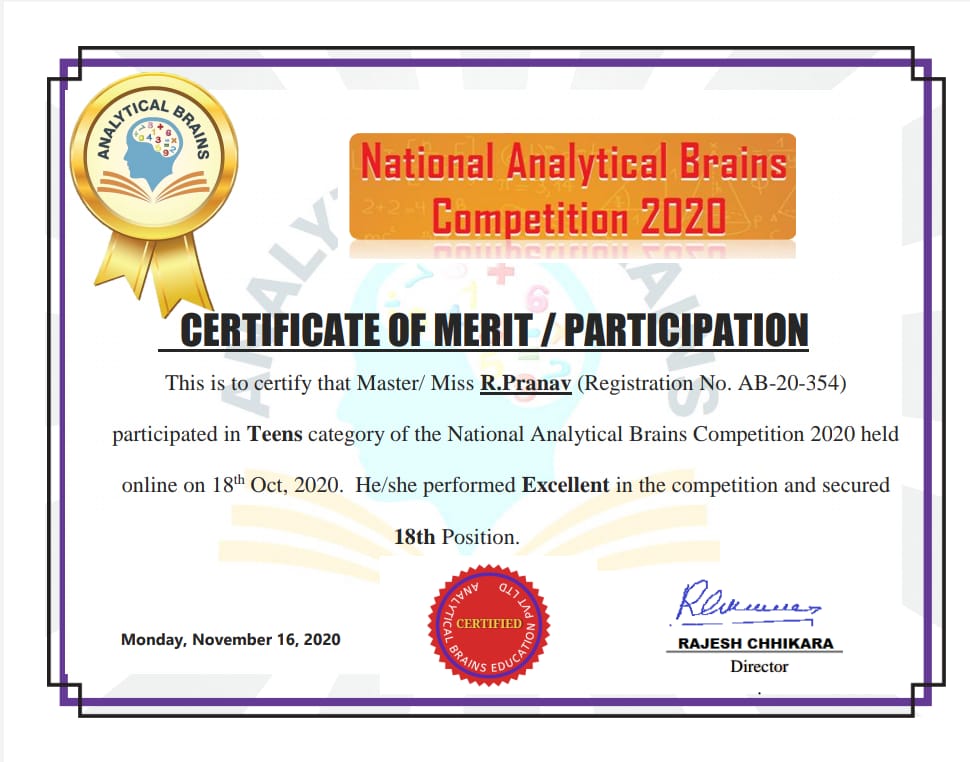 National Analytical Brains Competition 2020
R.Pranav of class VII Dsecured 18th Rank by scoring 86% in the National Analytical Brains Competition 2020 which was conducted all over India by Analytical Brains Education Private Ltd.

Painting Competition
A painting competition was organised as part of Vigilance Awareness Week by Indian Oil Corporation and Central Vigilance Commission. Cash Prizes for the same were Rs.10500/-, Rs.6500/-, Rs.4000/- and Rs.2000/- for First, Second, Third and Consolation respectively.Chinmai Saraswathy from class VI won First Prize, Anjana Venugopalan won Second Prize, Sruthi Won Third Prize and Vishal Venkat of Class IX won Consolation.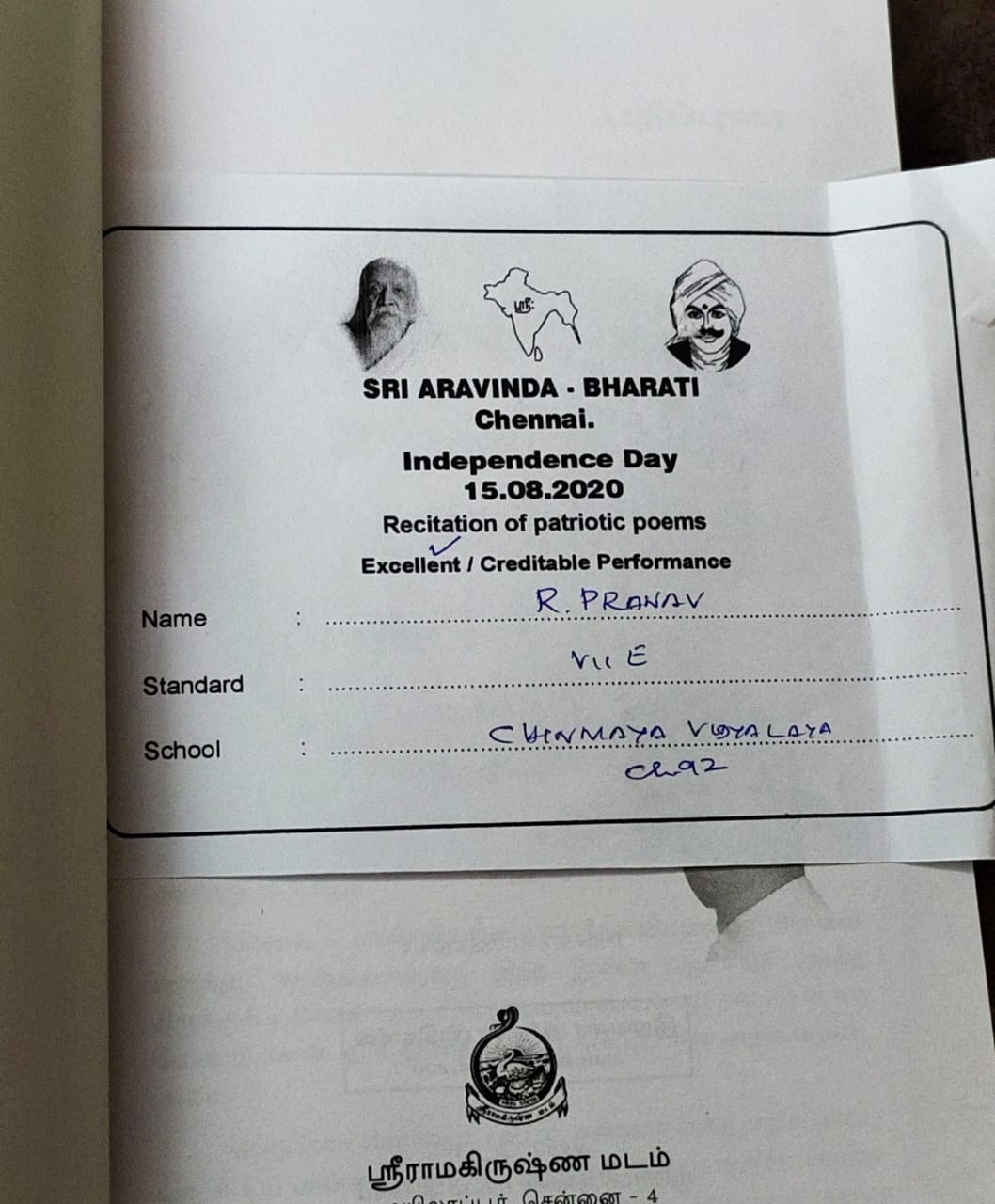 Independence Day Competitions
R.Pranav of class VII, has won a book for Excellent performance and M.Chinmai Saraswathy of Class VI D, has won a book for Creditable Performance in Recitation of Patriotic Poems, conducted by Sri.Aravinda Bharati.

National Level Hindi Group Discussion
Radhika Chaturvedi of class 10 B, has won III Prize and Rs.5000/- cash award at National Level. The Hindi Group Discussion Competition was conducted by Full Marks Pvt Ltd. in three stage: State, Zonal and National Level.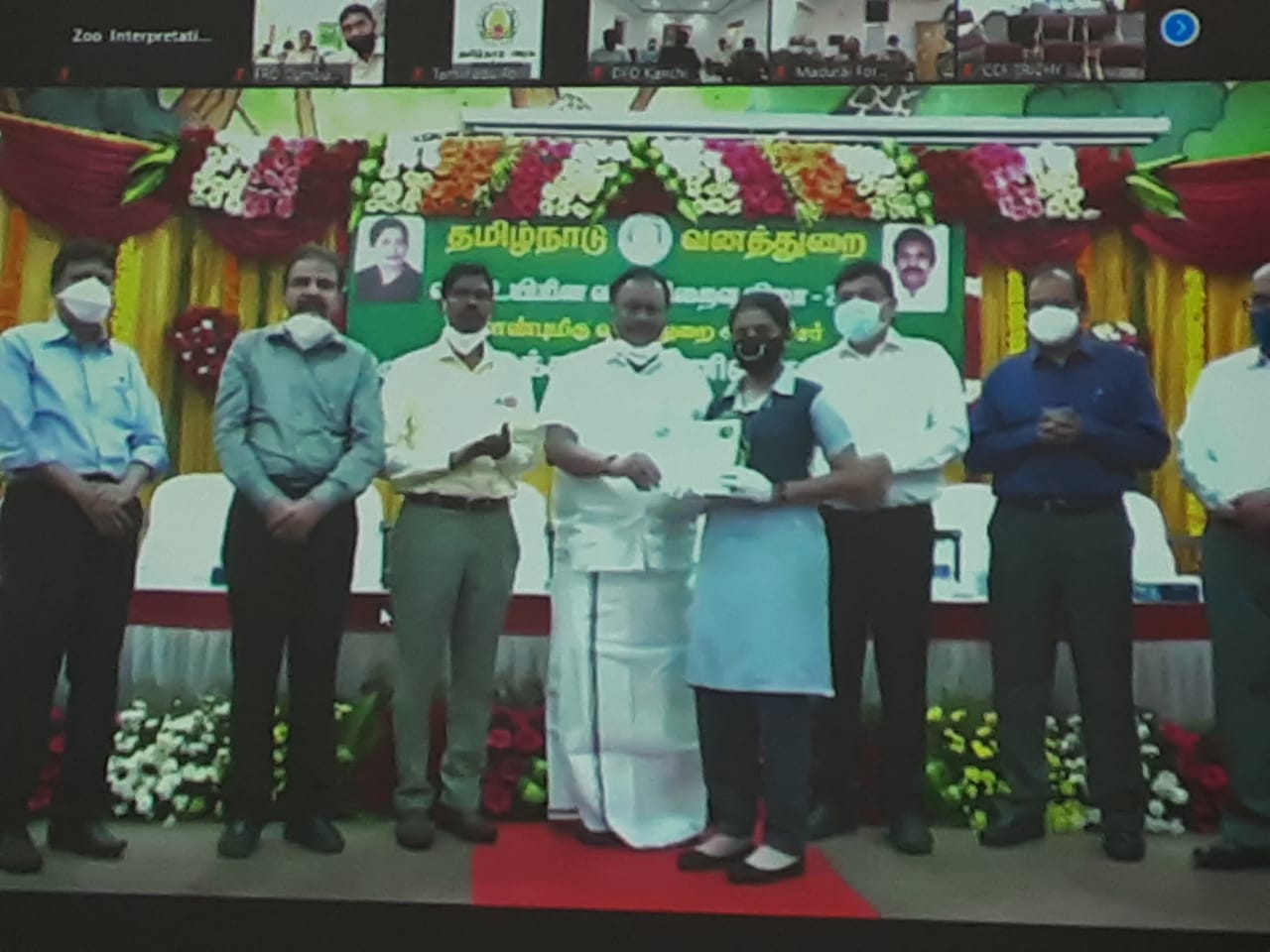 Wildlife Week 2020
Adrshyaa of class VIII has been awarded FIRST prize in Wildlife Week 2020, at State Level Painting Competition conducted by TamilNadu Forest Department. She had also been FIRST at District Level in state level qualifying round.Click here to view newspaper reports, photos and certificates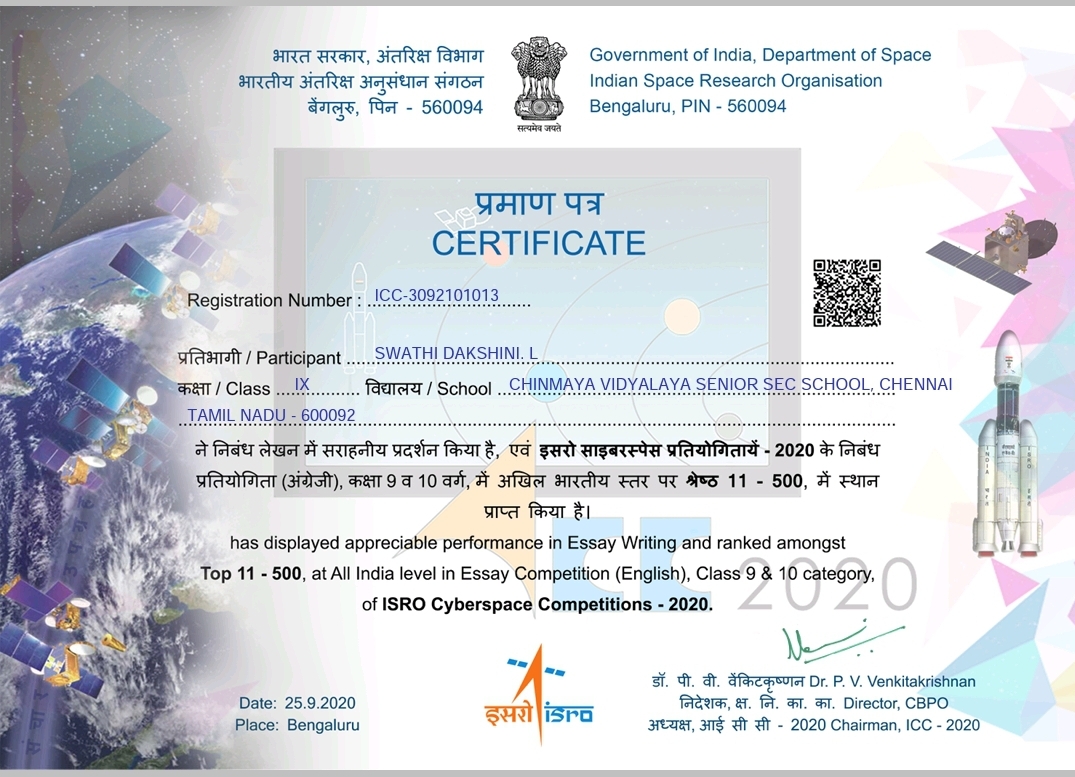 ISRO Cyberspace Competitions - 2020
Swathi Dakshini.L of class IX has been ranked amongstTop 11-500 at All India Level Essay Competition (English), 9 & 10 Category.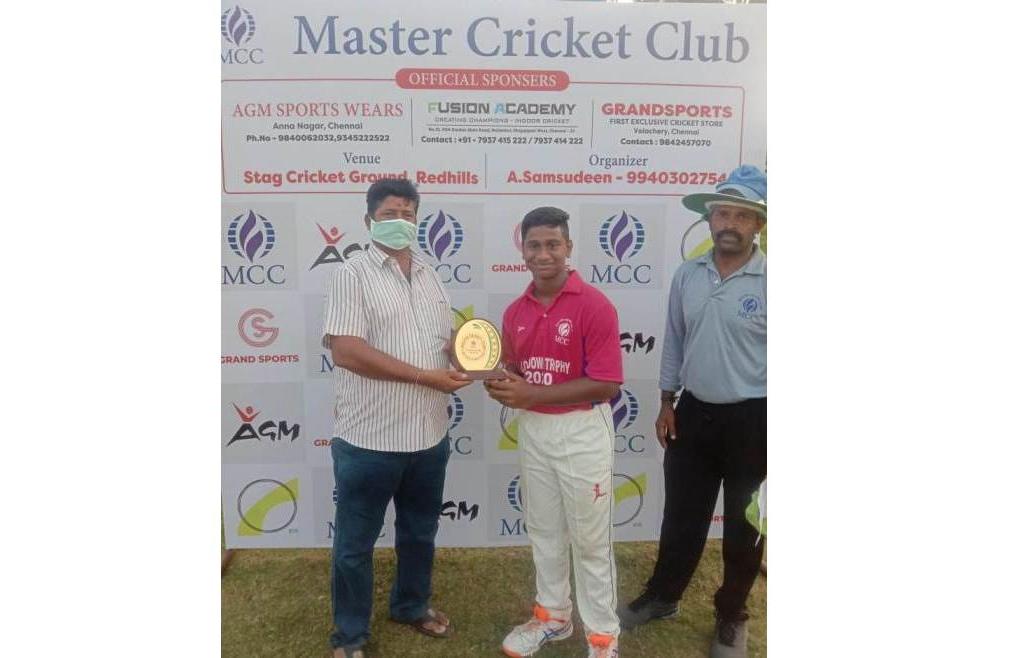 LockDown Cricket Tournament
Arjun of class VIII A has been awarded Man of the Match in a match against Evergreen Cricket Academy while representing St.Joseph's Cricket Academy.Click here to view scores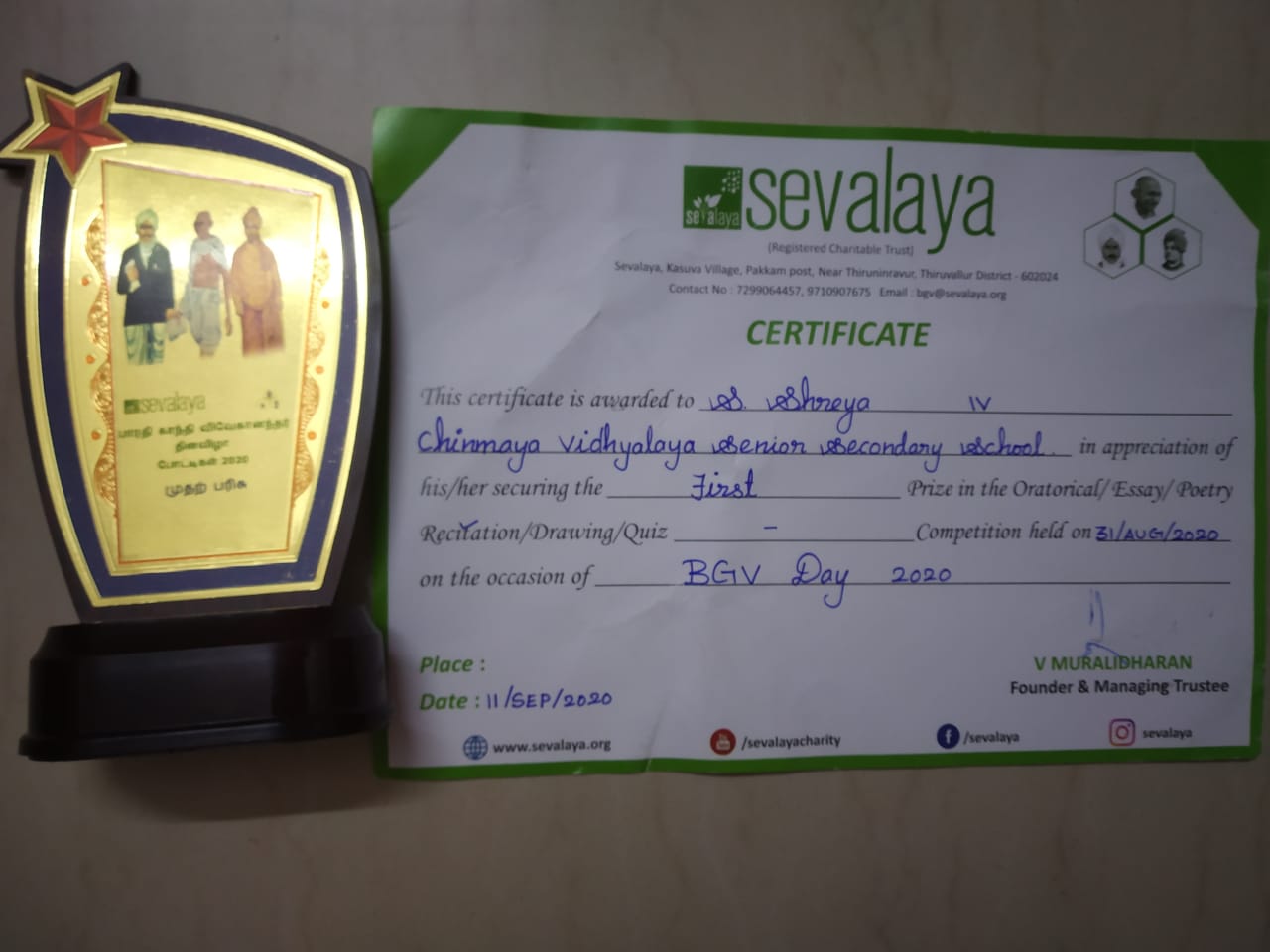 Drawing Competition
V.Shruthi of class X, S.Shreya of class VI and P.Sanjay of class VI won FIRST prize in Drawing Competition conducted by Sevalaya on the occassion of BGV Day.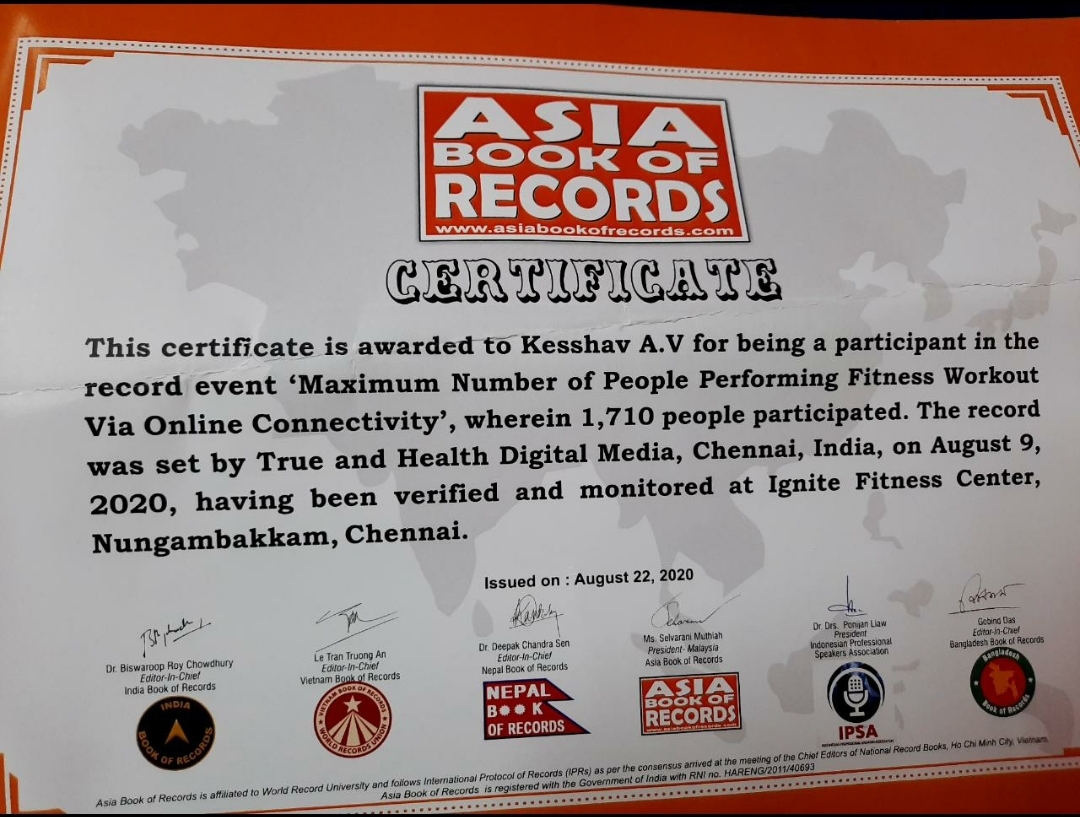 Asia World Records
Kesshav A V of class IX C, has been awarded appreciation certificate for participation in the record event 'Maximum Number of People Performing Fitness Workout Via Online Connectivity' in which 1710 people participated which was organised by True & Health Digital Media.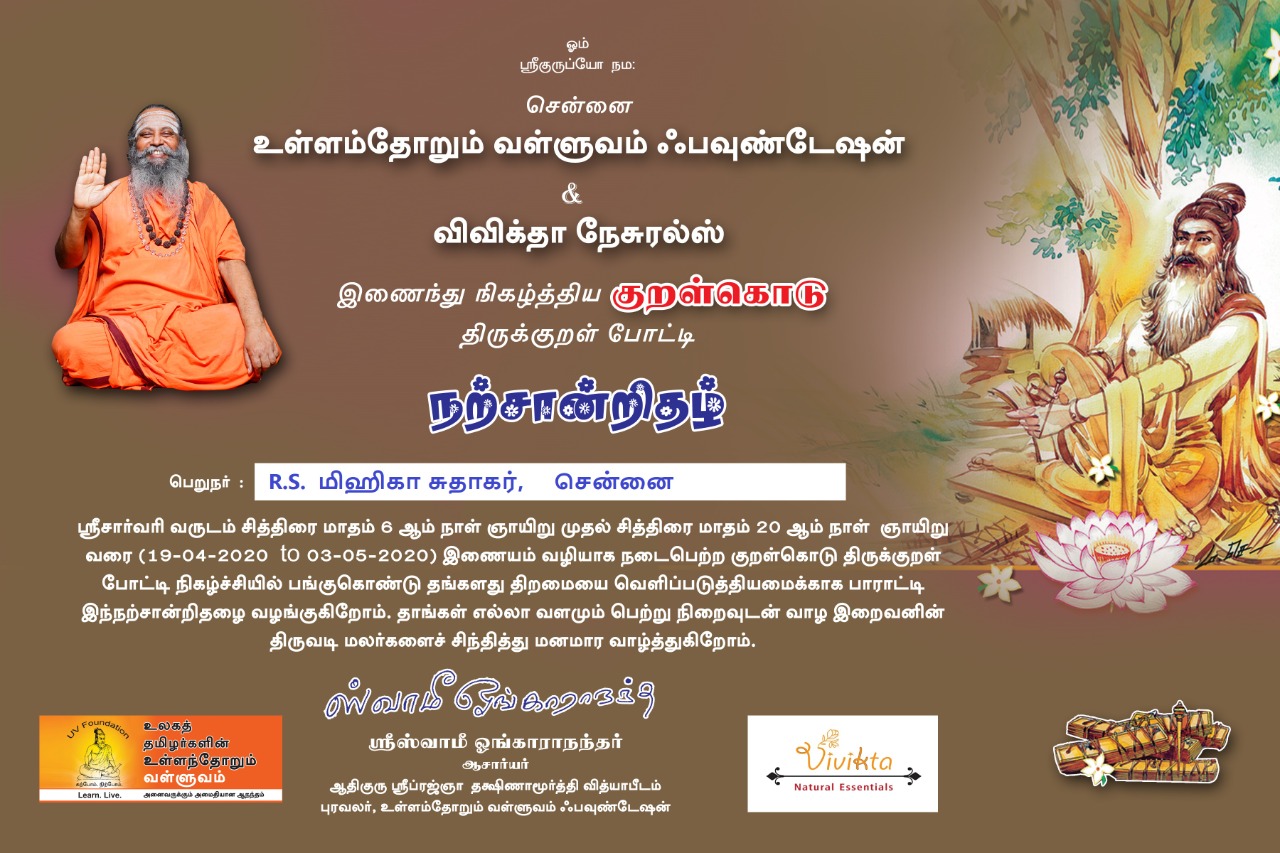 Kural Kodu Thirukural Competition
Mihika Sudhakar of class VI A, has been awarded first prize and a cash prize of Rs.3000/-, in kural kodu thirukural competition organized by Chennai Ullamthorum Valluvum foundation and Vivita Naturals under the category(9-15).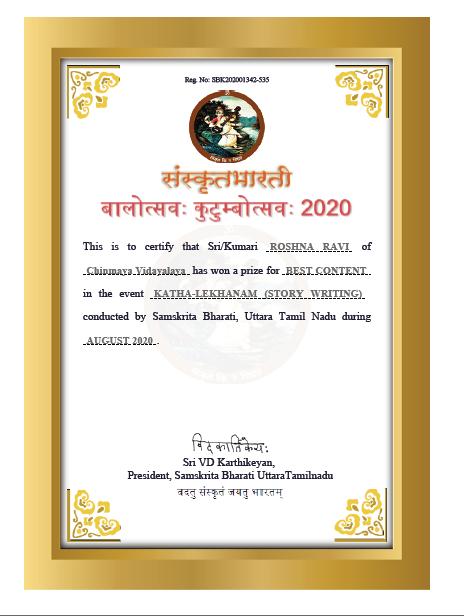 Balotsava : Kutumbotsava : 2020
ROHAN RAVI won Best Content prize in Katha Lekhanam, Runner-Up in Rasaprashnah, PRANAV SHANKAR U won Runner-up(Top 10) in Rasaprashnah competitions conducted by Samskrita Bharati, Uttara Tamil Nadu in August 2020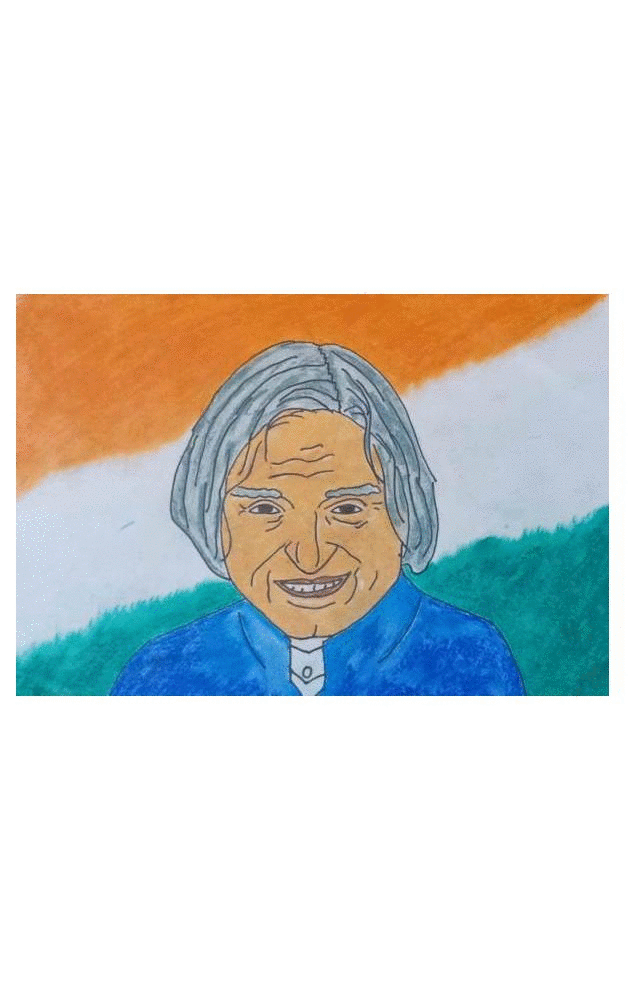 VRIKSHA BOOK OF WORLD RECORDS
A.V.KESSHAV and M.VISHAL VENKAT of class IX, received certificate of appreciation for being part of a team of 120 volunteer artists who created a world record by painting from home virtually on 27 Jul 2020. It was organised by MEBOC(Medical Education Blood Orphan Care) Udhavidathan Piranthom, a social welfare trust through various events in Painting, Wood carving, Pencil Painting, Paper Cutting regarding Dr.Abdul Kalam's Vision for India and scientific development of India.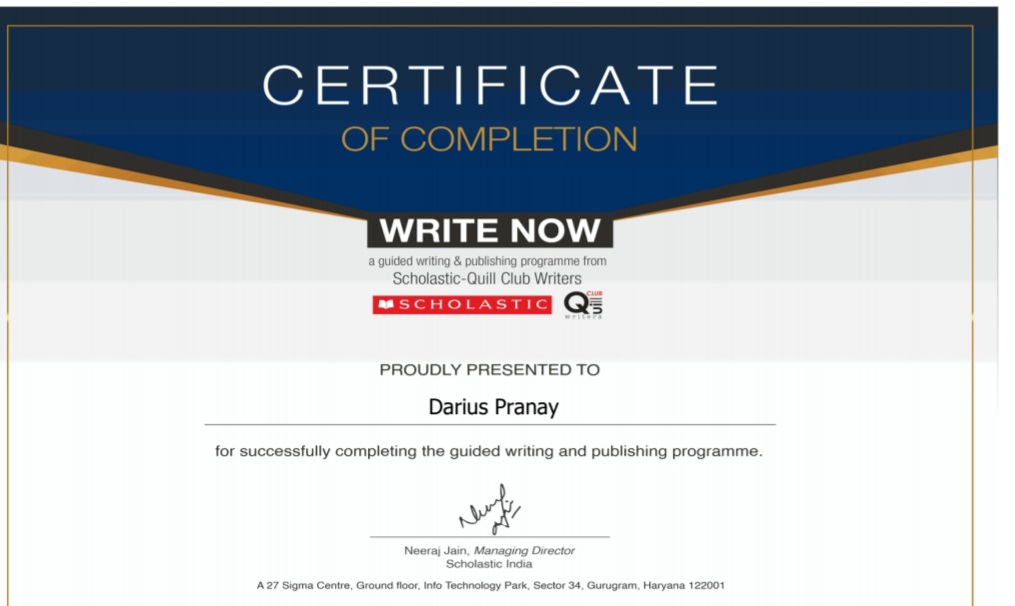 Scholastic Quill Club Selection
Darius Pranay of class V B has selected in Scholastic Quill Club and has written a short story which is expected to be published by Feb 2021.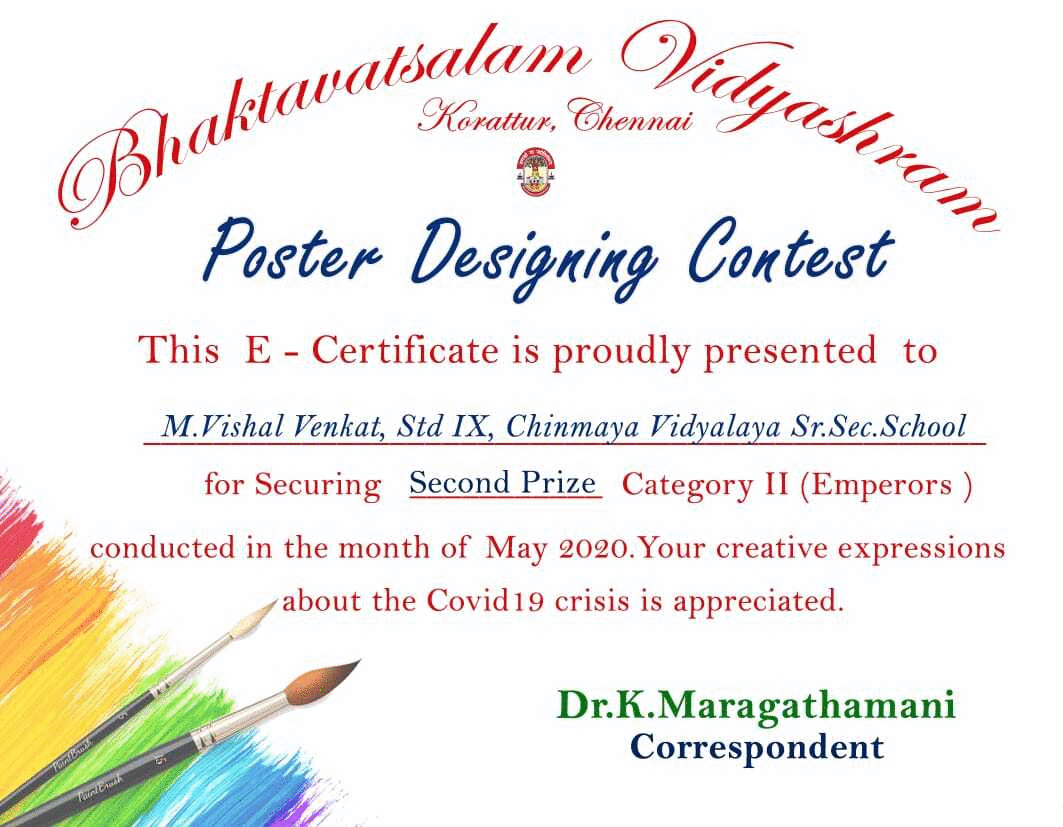 POSTER DESIGNING CONTEST
M.VISHAL VENKAT of class IX, won Second Prize and received a Gift voucher worth Rs.5000/- of GRT from Bhaktavatsalam Vidyashram in the category II(Emperors) conducted in the month of May 2020 about the COVID 19 Crisis.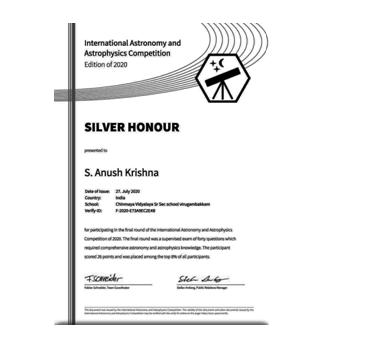 Silver Honour
S.Anush Krishna of X C, was given Silver Honour in the International Astronomy and Astrophysics Competition - Edition 2020 for being placed among the Top 8% of all participants in the final round. Click here to view certificate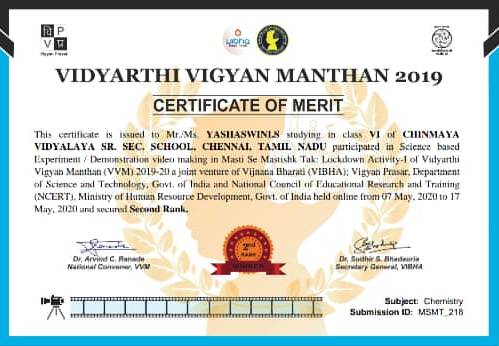 Second Prize
Yashaswini of 6B secured second rank in the national level science competition MSMT - A lockdown activity conducted by Vidyarthi Vigyan Manthan.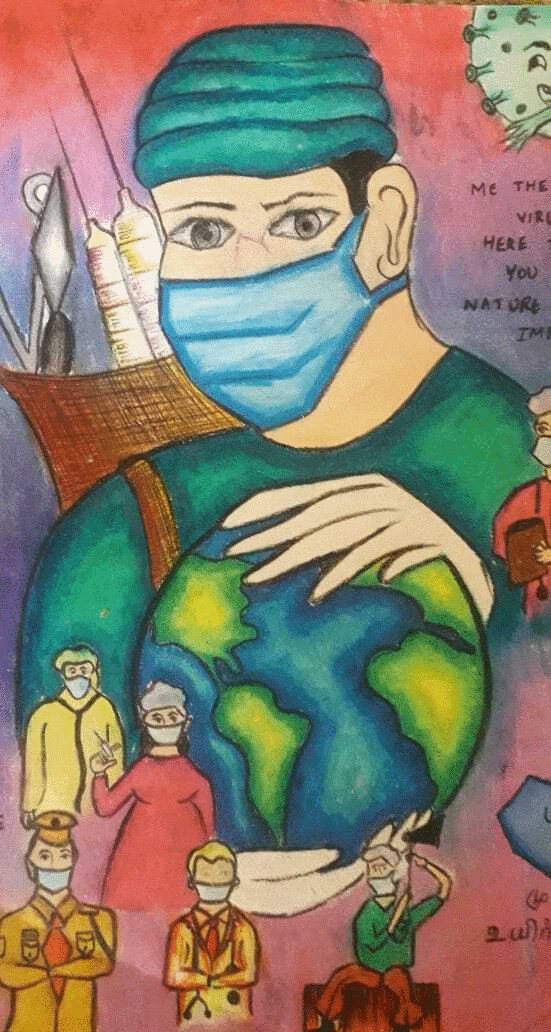 Second Prize
Harini Nadar of VIII C has won Second Prize in Drawing Competition with the theme "To be safe from Corona" conducted by Tamil Nadu Fire & Rescue Service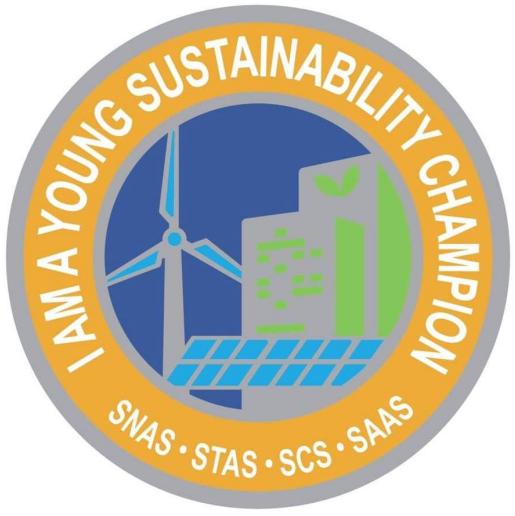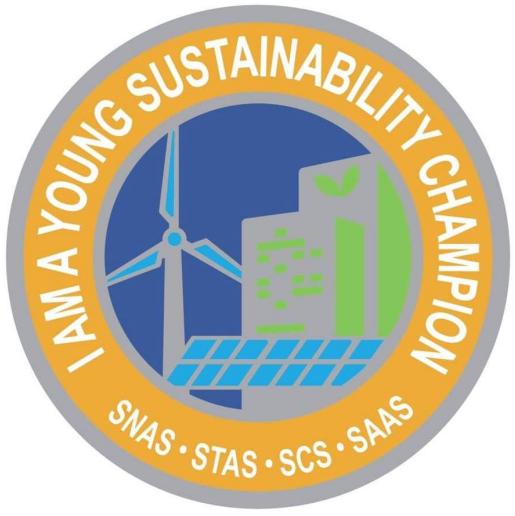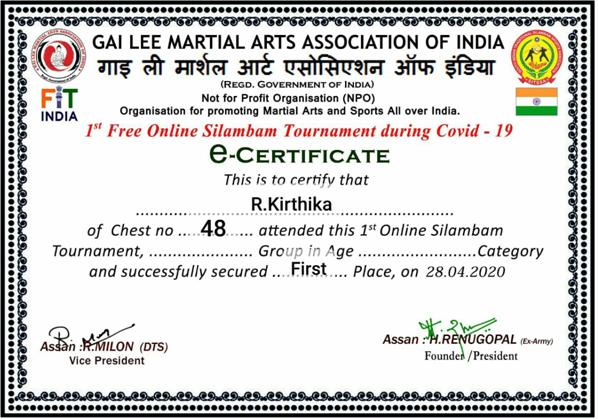 Gai Lee Martial Arts Association of India
R.Krithika of class II C, has won First Prize in Online Silambam Tournament conducted by Gai Lee Martial Arts Association of India.